Montclair High School
Class Of 1960
Welcome to the MHS '60 Website!
October 14, 2016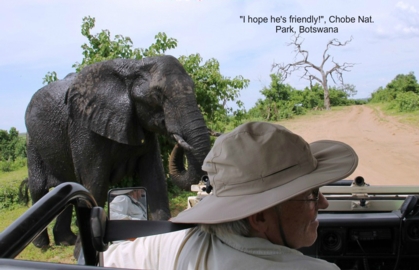 Intrepid world traveler Jack Brigham was in Botswana and South Africa in August.
He took lots of pictures on a 3-day "water safari" in the Okavango Delta in Botswana!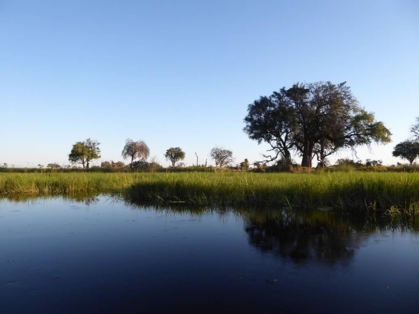 From the boat, Jack's group saw crocodiles, hippos, warthogs, baboons, antelopes, storks, impala, zebra and an "inquisitive giraffe."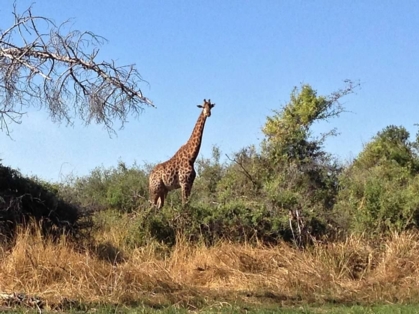 "This is a young crocodile in its nest. Our boat got really close."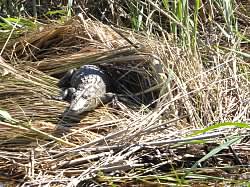 They also saw lots of elephants. This one "strolled through the campsite!"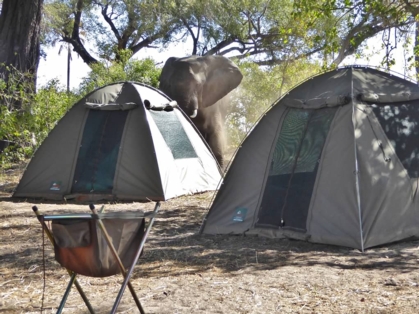 "The elephant stuck around. He grazed for several hours. They eat an incredible amount!"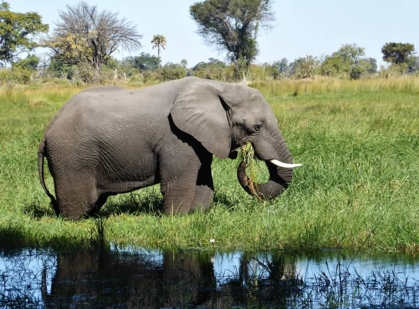 In South Africa, they enjoyed seeing a Penguin Colony at Boulder's Beach --
-- and made their way to the Cape of Good Hope, the southernmost point of the African Continent.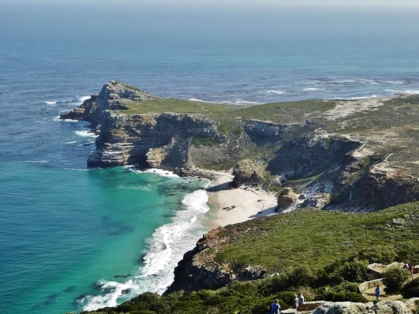 They also visited the prison on Robben's Island, where Nelson Mandela was imprisoned between 1964 and 1982.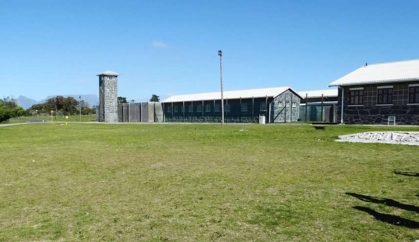 This was Nelson Mandela's cell.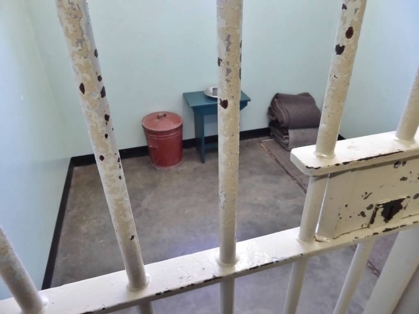 Here are Jack and his friend Anne Bardolph at a town called Stellenbosch, which "looks like a Dutch town." Jack asks, "Who is this sign referring to? Not us, surely."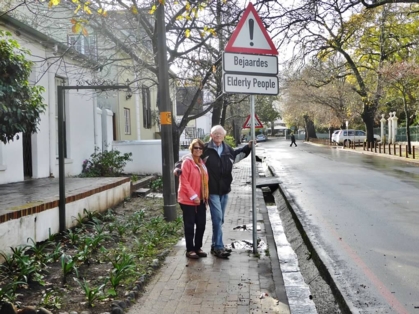 NEWS: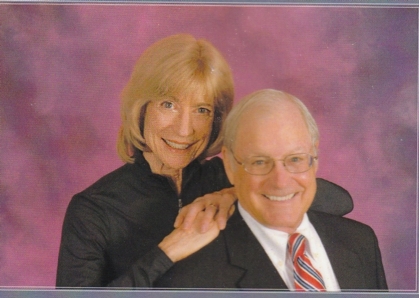 Donna Lake Wright and her husband Ken are the authors of a new book called Suddenly Alone: A Practical Guide to Prepare Yourself and your Loved Ones for When You are Suddenly Alone.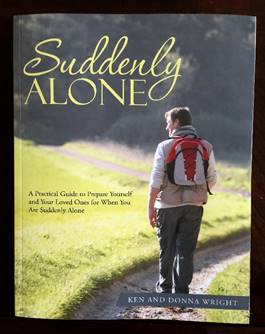 This is a book version of a seminar that Ken and Donna developed and taught many times to appreciative audiences over the past three years. Donna writes:
"Suddenly Alone is an easy-to-read volume containing a wealth of valuable, practical information to get one's personal affairs in order. We provide templates to be completed and optionally placed in acetates along with copies of important documents in a three-ring notebook. The notebook will serve as a reference document for the creator and his/her family members and/or heirs.
Aging and death are difficult to talk about, yet these inevitable life phases need to be planned for. We describe the necessary legal documents needed to protect one's assets and specify one's health directives. We describe choices to be made about handling one's arrangements upon death. The templates can be used to document one's personal contact information, daily activities, and the procedures to run one's household. There are suggestions to make one's home safe and one's life healthy and fulfilling. When one can no longer live independently, alternatives are presented and steps are outlined to ease the transition.
I found the notebook that my stepfather prepared so helpful when I was the Executrix of his and my mother's estate. Ken and I wanted to share our experiences with others."
Suddenly Alone is available in softcover 8½" x 11" and e-book from:
www.authorhouse.com www.amazon.com www.barnesandnoble.com
Visit on Facebook at: Suddenly Alone by Ken and Donna Wright
Email: suddenlyalone3@gmail.com
Phone: 561-776-8696
In Memory
David Appleton sends this memoir of Bob Mills, who passed away last June.
Our Friend Bob "Otto" Mills
Otto died suddenly last June.
The memory is very fuzzy but I think it was in 8th grade that I first met Bob Mills on a field in Edgemont Park, just across the street from the homes of Buddy Ducker, Liz Mackenzie, and Imogene Kennedy, and across the street from Edgemont School of course. The occasion was a pickup football game between George Inness and Mt. Hebron junior high schools arranged by GI's Tony Massi and someone from Mt. H., maybe Toby Wesson or John Wharton.
The rag tag bunch of us from GI showed up with minimal skills as did a similar group with equally fledgling skills from Mt. Hebron. We all sported whatever football gladiatorial attire we could find to engage in tackle football … pads and helmets optional. We all hoped to star someday on Clary Anderson's and Butch Fortunato's Montclair High School football team, following in the footsteps of the likes of Aubrey Lewis, a local folk hero and pioneering superathlete whose star ascended at MHS and Notre Dame during our junior high school years.
In contrast to these motley garbed kids on both sides of the football, Bob Mills showed up fully outfitted in a newly minted green (actually Kelly green) football uniform he had received as a birthday gift (I think). He stood out! He struck a pose, football in hand over his head in pass mode. He reminded us of Otto Graham! He was then henceforth and forever after, and to this day, known to friends as Otto Mills.
In Montclair High School a couple of years later, I met "Otto" again in late August football practice. Our minimal skills had not improved much, but those of others like Tony Massi and Toby Wesson and many other veterans of that Edgemont match had matured. We (Otto, me and many others) spent our high school football years on the bench. Bob, John Wharton, Henry Stake, and I called ourselves "The Four Horsemen" (of what apocalypse I do not know) as we sat and watched games from the end of the bench seldom getting on the field … . So much the better for our MHS Bulldogs. We watched, cracked jokes, and cheered our Bulldogs on … except for the time Yogi Berra showed up walking the track before the MHS stands and behind the players bench on which we perched! Thence we rose and cheered the Yogi with our backs turned to the field, joining the MHS Fans in the stands in shouts of adulation ignoring the play on the field. Clary & Butch were not happy.
Otto and I grew to be close friends through these terrifying teenage high school years. Our raging hormones were bad enough, but the Cold War threatened God knew what. We all were scared, well schooled in "duck & cover," and perhaps resigned. Some of us lived dangerously with the future looking grim to nonexistent. We remained friends.
A group of us decided to bring in the new decade on December 31st 1959 in the "place to be" -- Times Square. But the crowd was horrendous so we bought some booze and hopped the bus back to Montclair. As the ball dropped ushering in the 60s we were on a DeCamp bus somewhere on Route 3 in fragrant Secaucus. As dawn broke, 1/1/1960 we found ourselves puking drunk in Jack Hook's mom's apartment vowing abstinence in perpetuity. This vow proved more honored in the breach.
The night after we graduated from MHS was also memorable. Bob's father rented a Corvette for him to drive around parading his success in what many thought an enterprise destined for dubious success, graduating from HS. He did! We did! We all wanted a shot at the wheel, but Bob shouted "10 cents a mile!" Those were the days! Bob drove that Corvette into NYC. I followed in my father's Valiant. Things blurred from there… but I think we shot pool at Ame's Billiards made famous in "The Hustler."
Bob went to U MD, I went to Morris Harvey in W. VA along with Sanford Sherman and a few other Montclair incorrigibles. I visited Bob a few times at U of M, ate a few of Cy's "Death Balls" on the strip, and once slept in the extraordinarily funky smelling Sigma Chi dorm room with maybe 50+ farting snoring drunk "brothers".
And later I was able to attend Bob and Pat's magnificent Wedding on Long Island in 1964, getting leave from US Navy to do so. Otto was fond of referring to Pat as "Legs" due to some beauty event she had won. She was a lovely bride and they enjoyed a 50+ year marriage. But then we drifted further apart, as with all our fledgling life-forming MHS friends.
We just missed being neighbors in the '80s. Before Bob and Pat retired to Sarasota, they lived in New Britain, PA just prior to when Wendy and I moved to nearby New Hope in 1983.
Years later, during my sailing career, I visited Florida many times, a couple of which gave me the opportunity to look up Otto and Pat for a visit. Once I was able to enjoy their hospitality for a very pleasant overnight stay in their splendid retirement home.
Another visit in 2006 featured lunch in Bradenton FL with Captain Jon Pederson, another good friend of MHS 60 vintage. I had just sailed a delivery from Granada to Bradenton and, on my way into the area, called Capt. Jon who lived on Anna Maria Island. Jon sailed this area regularly and offered local guidance for the shoal waters entering the Manatee River new to me. We also arranged lunch with Otto, after which my mate Tom Giampietro snapped this picture.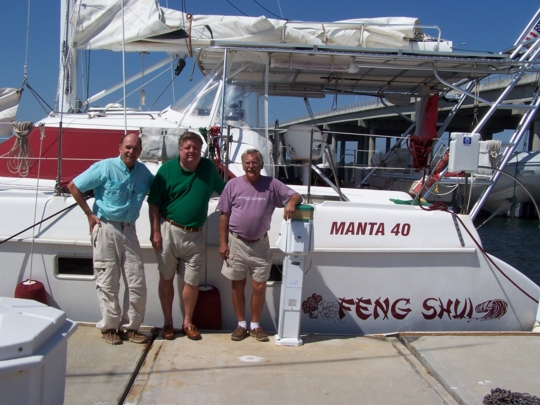 Just after Tommy took this picture, or rather just before, Otto said "stand in front of me, I'm too fat!" This next photo resulted.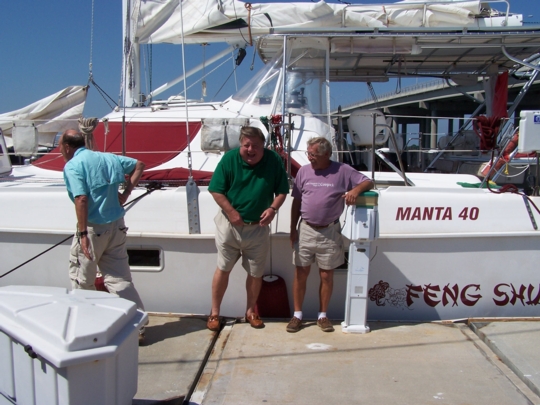 We laughed heartily, perhaps the most painful laugh of my life. You see, the night before I had attempted to chase off a bunch of boisterously obnoxious teenagers carousing around the docks near my boat and got myself beaten up, suffering 3 broken ribs, a concussion and a night in the Manatee County lock up. Laughing with broken ribs is not an experience I wish to repeat, nor is dealing with Florida constabulary!
I had several phone conversations with "Otto" and email exchanges as I tried to convince him to bring Pat to the latest flurry of MHS 60 reunions, last May being most recent. But they had other commitments.
Pat emailed in September to let me know Bob died suddenly last June. I was deeply saddened as I'm sure his many friends, colleagues and family are. He had a good life and enjoyed the benefit of an excellent sense of humor which he shared generously. My last laugh with Otto was quite painful, but I cherish it. Otto's laugh echo's in my memory. I savor all my memories of Robert "Otto" Mills, as do many others.
by David Appleton, October 1, 2016
Bob Mills's obituary is available in the "In Memory" section of this website.
In Memory
James McGlashan of West Milford, NJ passed away on August 24. He was the manager of Pompton Plumbing Supply and later a general contractor. Jim thoroughly enjoyed time spent with his family, the West Milford Presbyterian Church's Senior Saints, the Bald Eagle Commons dice, bocci, shuffle board players and time spent at the pool. He was always willing to lend a helping hand whether he knew you or not. You can read the full obituary in the "In Memory" section of this website. Thanks to Michael Sternbach '61 for sending the information about James.
...........................................................................................................
Rosemary DiGeronimo Sternbach would like your help in identifying these kids at Nishuane School. Some kids are on the stage doing a Square Dance. Others are playing in the band below.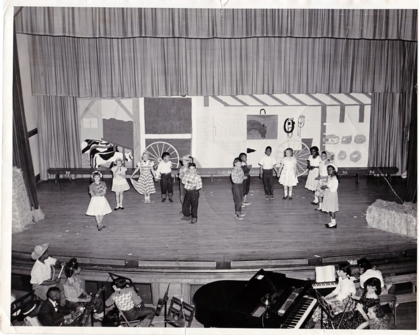 If you can help with names, email Rosemary at roesternbach@aol.com. Here's what she knows so far:
Left: Rosemary DiGeronimo, Helen Westee, Hanalora, Ronnie Dobson(?), Arthur Peerless, Tommie(?),
Right : Harry Robinson holding Susan Becker's hand, Edmonia Moore(?), Phyllis Wise wearing hat in front
Are you looking for reunion photos? You can still see all of them in the "Photo Gallery" section of this website.
Click on "Photo Gallery" in the blue sidebar directly under "Home Page." You'll come to a long list of "galleries." Scroll all the way down until you see a lot of square pictures with paperclips in the corner. The 2016 reunion photos are organized in two groups. The 1st "gallery" is called "2016 Reunion - Friday." The 2nd gallery is called "2016 Reunion - Saturday." I
Each photo gallery has up to 12 photos per page, and there may be several pages in a gallery, so be sure not to miss any. If you need help telling who's who, just hold your mouse over the photo and a caption should appear. Click on the photo if you want to enlarge it.
Do you have any reunion (or other) photos to share? We welcome them all. If you want to post them yourself, click on the place at the bottom of any gallery page where is says, "Create Your Own Photo Gallery here. You should see instructions that tell you how to upload your own photos.
Don't like your picture? If you would like me to remove a photo, just let me know which one, and I'll be happy to take it off the website. (Linda.andre@verizon.net)
If you'd like me to upload your photos, that is fine. Just send them to me and I will be happy to post them on the website for you. (Linda.andre@verizon.net)
What would you like to tell your classmates about reunion weekend? Send me your stories, thoughts, memories, and I will post them here.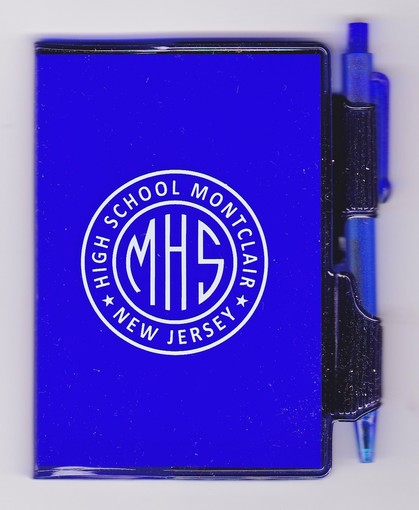 This is a "mini-notebook" that we gave out at the reunion so that everyone would have a place to jot down a name, address, or email address during the evening. It is about 3-3/8 by 4-1/4 inches and fits easily into a pocket. There are lined pages inside. We have about 30 left over. If you would like one, let me know and I will send it to you using our leftover stamps. Be sure to send me your correct address!
.....................................................................................................................................................
SENIOR YEARBOOK PICTURES
We now have all the pages of our senior yearbook pictures posted on this website, thanks to Gene Mazzola, who brought me his yearbook to be scanned. To see them all, just go to the blue sidebar on the left side of this page and click on Senior Yearbook Photos. Many thanks to John Sproston for initiating this project, and to Gene and Chris Graber for providing pages.
Would you like to find out whether other classmates share your special interests or activities? For example, I teach ESL (English as a Second Language) to adult students and would love to find out whether any other classmates do the same. Let me know if you have special interests that you would like me to publicize on this website.
HOW TO SEND MESSAGES THROUGH THIS WEBSITE
We'd like to hear from you!
If you'd like to send a message to the whole class:
1. Go to the "What's New" page at the very top of the blue margin on the left side of this page.
2. Look for the gray box on the top that says "Post a Comment to the Class."
3. Write your message in the box that says "Share Your Thoughts with Classmates."
4. Include a photo or video if you like (that would be great!)
5. Click on the blue "Post Message" box.
If you'd like to send a private message to a Classmate:
1.Go to the classmate's profile page. (Click on "Classmate Profiles" near the top of the left-hand blue margin on this page.)
2. Click on the envelope icon directly under the photo box where it says "Send [classmate's name] a private message."
3. When you get to the message screen, type in your subject and message in the boxes.
4. Click the blue "Send private message" box. That's all you have to do! It's easy!
Guest Members on this website
It is now possible for a member of another MHS class to join our website as a "Guest Member." Guest Members will be able to have their own profile page and they will be able to send and receive messages through the site. They will be able to remain guest members as long as they do not harass any class member or post objectionable material. If a member of another MHS class wishes to become a Guest Member, he/she should contact me directly to request guest membership and I will enter his or her information in the site's database and provide information about how to sign up. Nobody will be able to join the site without going through that process. If you have questions or concerns, please let me know. (Linda.andre@verizon.net)