Montclair High School
Class Of 1960
ANNOUNCEMENTS
60th Reunion in 2020? Still nothing ..........
We have a considerable amount of money in our class fund. Should we let it just sit in the bank in case somebody wants to plan a reunion in Montclair? Should we rethink the way we do reunions? Should we join forces with another MHS class? Should we split up the money and let classmates plan mini-reunions in various parts of the country? Should we use the money to establish a Class of 1960 Scholarship for MHS students? All ideas are welcome! Scroll down to the very bottom of this page to review the survey results.
The survey is still posted on this website. It takes only a few minutes. If you've already completed the survey, THANK YOU! If you haven't, just click on "2020 Reunion Survey" -- 3rd item from the top in the blue sidebar on this page. MANY THANKS!
Welcome to the MHS '60 Website!
November 28, 2019
Happy Thanksgiving to everyone!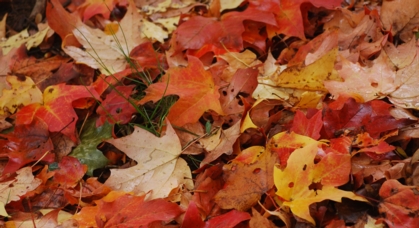 New recollections from David Appleton!
"As the holidays approach my thoughts, like all of ours, yearn to the days of our youth and growing up in Montclair. I find it extraordinarily satisfying, even comforting, to be able to reach out (hate that term) and touch friends over vast distances and time, to remember our time together growing up in an idyllic time and place. We were miraculously shielded and innocent.
Today's technology is both wonderful as well as terrifying. Our innocence was eroded quickly in the turbulent 60's, but it's soothing to recollect those days of gentle grace and affection. This makes me happy."
In this newsletter, David posts his recollections of Gordon Lightfoot's 1976 ballad Wreck of the Edmund Fitizgerald which tells the story of a shipwreck on Lake Superior. The references to the "gales of November" may make you glad that you're warm inside. Thank you, David.
Edmund Fitzgerald's Grave
By David Appleton
The legend lives on from the Chippewa on down
Of the big lake they called Gitche Gumee
The lake, it is said, never gives up her dead
When the skies of November turn gloomy
To read the entire 14-verse ballad, scroll down to the end of David's article.
To hear the song, go to: https://www.youtube.com/watch?v=9vST6hVRj2A
Gordon Lightfoot's "Wreck of the Edmund Fitzgerald" ranks high among my favorite ballads. So in September of 2011, when I found myself traversing Michigan's "UP" [Upper Peninsula] from Marquette to Mackinaw once again after many years' absence, and as a former sailor on big waters, I was irresistibly drawn to Whitefish Bay, the scene of the wreck. There I visited the Great Lakes Shipwreck Museum dedicated to the Fitzgerald tragedy along with many others.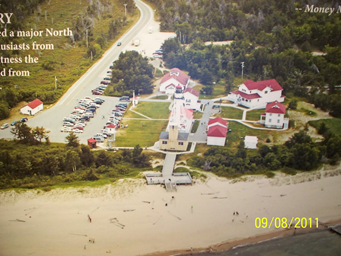 An aerial view of the Great Lakes Shipwreck Museum compound built around Whitefish Point's critical light house.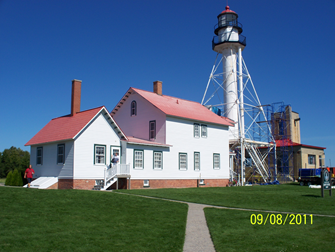 Whitefish Point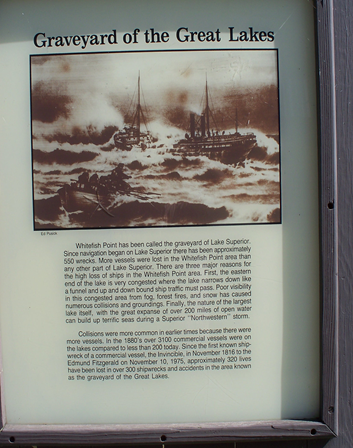 Whitefish Point is a legendary dangerous piece of water, like Cape Hatteras on North Carolina's Coast, the "Graveyard of the Atlantic." Both have a confluence of currents, winds, shallows, narrows, weather and traffic that conspire to create Neptune's Witch's Brew of boiling seas and general nautical mayhem. More than 260 wrecks occurred in the Whitefish Bay and Point area costing many lives, including the 29 crew on the Fitzgerald.
I've not sailed off Whitefish Point but I have sailed many times off Cape Hatteras, even daringly in November. Often while there, I felt something from foolish, to cautious and terrified. All sailors will empathize.
I lived on Michigan's Upper Peninsula for a couple of winters in the early 70's where I saw ice chunks piled high on Lake Superior's southern shore, hurled there by fierce North winds. These ice piles, sometimes reaching over 20 feet high, attested to the power of winds blowing unchecked across many miles of Lake Superior, from Thunder Bay to the UP. Such winds contributed to the demise of Edmund Fitzgerald and many more unfortunate "Lakers."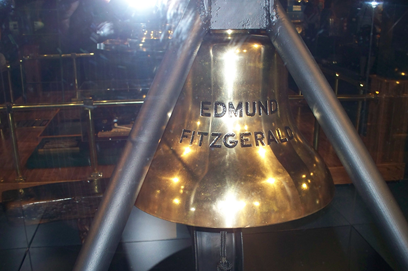 The carefully encased display of Fitzgerald's ship's bell summoned my tears. The effort to recover it from the wreck was heroic. This too is documented in the museum.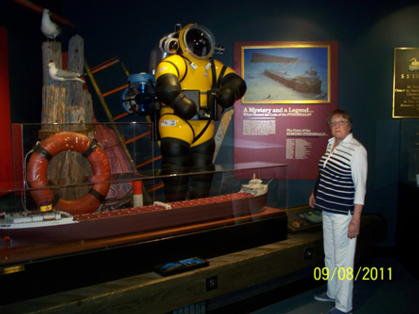 My wife, Wendy, contemplates the display depicting the July 4, 1995 recovery of Fitzgerald's Ship's Bell. The display features the atmosphere diving suit used in the recovery, a model of Fitzgerald, and a painting depicting how she lies broken in half like the hearts of her crew's families and Lightfoot's listeners.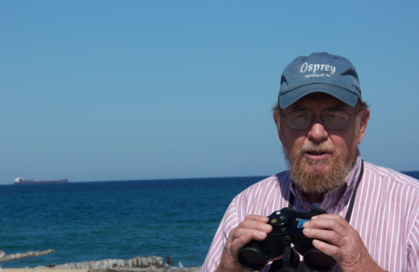 Here I'm standing on the Whitefish Point beach with the Bay in the background. Over my right shoulder looking NNW is an ore boat "Laker" similar to the Fitzgerald sailing East toward Sault Ste. Marie. She's near the area where the Fitzgerald went down on November 10, 1975. Fitzgerald lies there broken in half on the bottom in 530 feet of water -- her grave and that of her crew. Maritime authorities in Canada and the US have restricted diving on the wreck out of respect for the sailors aboard and entombed within the Fitzgerald wreck.
Wikipedia has an extensively thorough entry on the Fitzgerald covering all aspects of the ship and the wreck. https://en.wikipedia.org/wiki/SS_Edmund_Fitzgerald. But my interest in this event, like many, was poet Gordon Lightfoot's searingly poignant ballad that captures the emotion of the wreck, sharing it with all who listen and feel the peril of those who sailed on Fitzgerald's last voyage and all who sail on troubled waters.
The legend lives on from the Chippewa on down
Of the big lake they called Gitche Gumee
The lake, it is said, never gives up her dead
When the skies of November turn gloomy

With a load of iron ore twenty-six thousand tons more
Than the Edmund Fitzgerald weighed empty
That good ship and true was a bone to be chewed
When the gales of November came early
The ship was the pride of the American side
Coming back from some mill in Wisconsin
As the big freighters go, it was bigger than most
With a crew and good captain well seasoned

Concluding some terms with a couple of steel firms
When they left fully loaded for Cleveland
And later that night when the ship's bell rang
Could it be the north wind they'd been feelin'?
The wind in the wires made a tattle-tale sound
And a wave broke over the railing
And every man knew, as the captain did too,
T'was the witch of November come stealin'

The dawn came late and the breakfast had to wait
When the gales of November came slashin'
When afternoon came it was freezin' rain
In the face of a hurricane west wind
When suppertime came, the old cook came on deck sayin'
Fellas, it's too rough to feed ya
At seven p.m., a main hatchway caved in, he said
Fellas, it's been good to know ya

The captain wired in he had water comin' in
And the good ship and crew was in peril
And later that night when 'is lights went outta sight
Came the wreck of the Edmund Fitzgerald
Does any one know where the love of God goes
When the waves turn the minutes to hours?
The searchers all say they'd have made Whitefish Bay
If they'd put fifteen more miles behind 'er

They might have split up or they might have capsized
They may have broke deep and took water
And all that remains is the faces and the names
Of the wives and the sons and the daughters
Lake Huron rolls, Superior sings
In the rooms of her ice-water mansion
Old Michigan steams like a young man's dreams
The islands and bays are for sportsmen

And farther below Lake Ontario
Takes in what Lake Erie can send her
And the iron boats go as the mariners all know
With the gales of November remembered
In a musty old hall in Detroit they prayed,
In the maritime sailors' cathedral
The church bell chimed till it rang twenty-nine times
For each man on the Edmund Fitzgerald

The legend lives on from the Chippewa on down
Of the big lake they called Gitche Gumee
Superior, they said, never gives up her dead
When the gales of November come early
By Gordon Lightfoot
........................................................................................
Sad news about Don Tribus, husband of Janet Kipp Tribus
I am very sorry to tell you that Janet Kipp Tribus's husband Don Tribus passed away in Florida on November 17, 2019. Don was a friend to many of our classmates and joined us at our reunions with enthusiasm and infectious good cheer. You can read Don's obituary at https://www.strunkfuneralhome.com/obituary/donald-tribus . We send our heartfelt condolences to Janet and her family.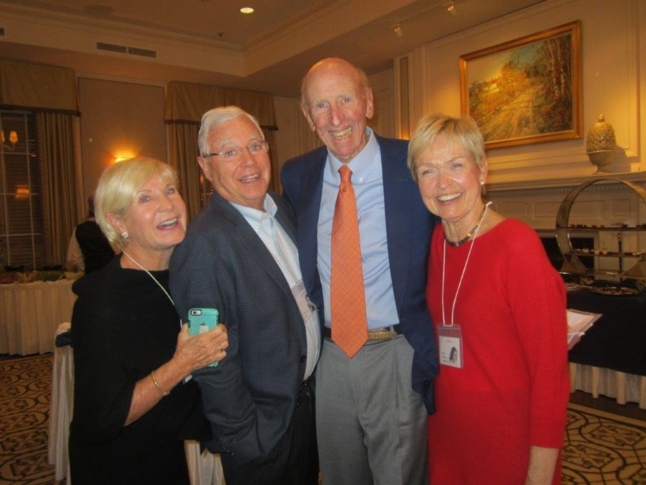 Don Tribus at our 2016 reunion with Janet Kipp Tribus, Warren Ross, and Roxa Kinsey Canovaca.
MHS FOOTBALL
Have you ever wondered how MHS has fared in football since our day? Would you like to see a complete history of every MHS football team from 1896 through 2019? Thanks to Russ Krauss for sending a link to Montclair Football Year-by-Year Results: A compilation of MHS football year-by-year results, achievements, and notes. Over the years, MHS has won 26 State Championships, has been nationally ranked 11 times, enjoyed 13 undefeated seasons, and won 13 League Championships.
https://www.maxpreps.com/high-schools/montclair-mounties-(montclair,nj)/football/records/year_by_year_results.htm
............................................................................................
I've moved a few things around --
I moved three of David Appleton's stories to the "Stories From My Past" section. (Click on it in the blue sidebar on the left side of the home page, 6th item from the top.)
In Spit Valve Humiliation, we see David auditioning to play the trumpet in the Watchung Elementary School Bend.
In Good Humor Man Career we drive with David on his ice cream truck.
In Patsy's and the Allure of New York: Bringing in the '60s, we join David and his buddies on a drinking expedition to New York City.
Since we are all about 77 years old, there must be a lot of good stories from our past out there, just waiting to be told. If you have your own stories to share, please send them to me (Linda), and I will add them to the site.
If you're looking for Jack Brigham's, Ralph Davidson's, or Lawrence Robinson's genealogy stories, just click on "Genealogy" in the blue sidebar on the left. If you have your own genealogy stories to offer, I'll be glad to add them any time.
If you'd like to write a memoir about a family member or friend, there's a link to a "Family and Friends Memoirs" section, also in the blue sidebar. Brad Stark's memoir of his father is in that space. Please feel free to write about someone important to you.
There's plenty of room for new contributions from you!
Looking back to graduation
Here's the 9th grade graduating class from Mt. Hebron.
(The photo is split up into 3 parts, kindness of Rick Boschen).
How many classmates can you name?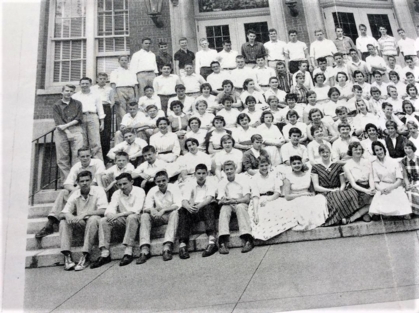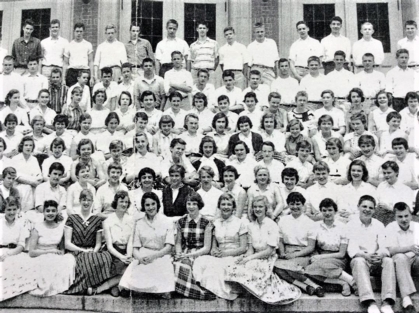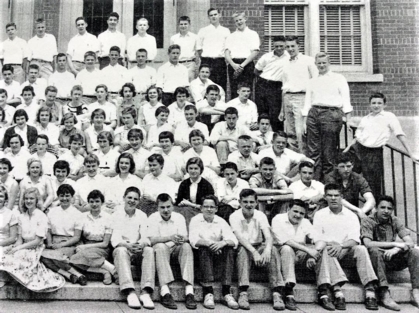 Mt. Hebron Update:
Mt. Hebron is now officially "Buzz Aldrin Middle School. It is a STEM magnet school (Science, Technology, Engineering and math) with an enrollment of about 640 students in grades 6-8.
There have been quite a few changes in the Montclair Public School System since "our day." Take a look at their website https://www.montclair.k12.nj.us/ To see the website of your old school, find the black horizontal band at the top of the page and click on "Select a School."
Here are a few changes that I noticed:
- Edgemont Elementary (K-5) is now a Montessori School.
- Nishuane (K-2) feeds into Hillside (3-5). Both have a Gifted and Talented focus.
- Edgemont and Hillside both feed into Glenfield Middle (6-8) which is a Visual and Performing Arts magnet school.
Charles H. Bullock (55 Washington St.) is an elementary school with an environmental science theme. It feeds into Renaissance at Rand Middle School.
Bradford, Northeast, and Watchung elementary schools all feed into Buzz Aldrin Middle (formerly Mt. Hebron Jr. HS)
George Inness Jr. HS is now the "9th Grade Academy." It houses the entire 9th grade for MHS in what is now called George Inness Annex.
Here's the Feeder diagram so you can see for yourself!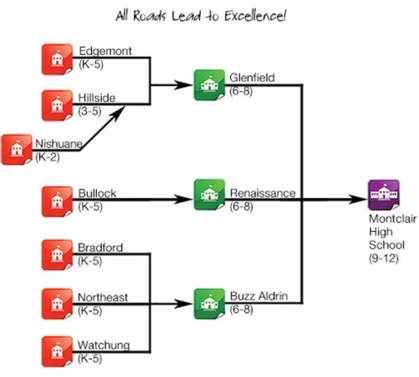 While you're at it, check out the courses that MHS offers these days at https://mhs.montclair.k12.nj.us/academics/course_syllabi
Scattered among all the old familiar courses are titles that show how times have changed: Robotics, African-American Literature, Satire and Protest Literature, Environmental Science, Forensic Science, Global Studies, Women of the World, Digital Design, Mandarin, and more!
.................................................................................................................................
Surely you recognize this man.
But do you know WHERE he is?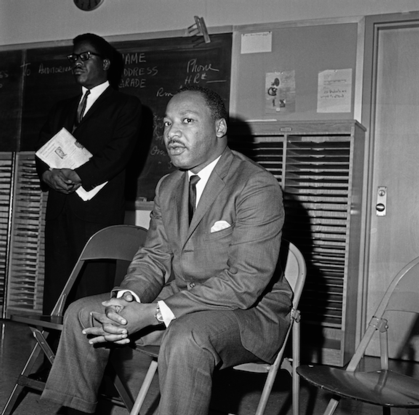 Lawrence Robinson alerts us to a recent article in The Montclair Dispatch entitled
"Lost in History: Dr. Martin Luther King Jr.'s Visit to Montclair High School."
The article of September 11, 2018 begins:
52 years ago, during a firey time in the United States and around the world, Dr. Martin Luther King, Jr. made a controversial visit to this very town, possibly at the peak of his notoriety. Just two years prior to his assassination and untimely death, King arrived in Montclair, making town history by stopping into the Montclair High School band room.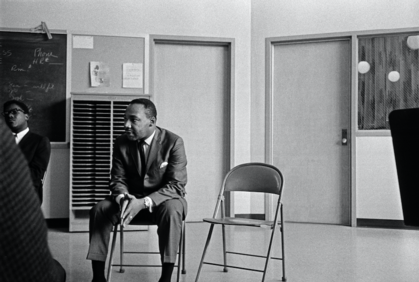 The article tells how Dr. King went to Montclair to speak to a local church congregation. But so many people in the larger community wanted to hear him speak that he appeared first in the high school gym, and later spoke to the church congregation in the high school auditorium. As he waited in the MHS band room before going onstage, protesters were demonstrating outside on Park Street. A plaque commemorating Dr. King's speech at MHS has been placed in the band room.
The entire article gives you a good sense of the mood in Montclair in 1966, six years after our graduation. You can read the whole article here:
https://montclairdispatch.com/lost-in-history-dr-martin-luther-king-jr-s-visit-to-montclair-high-school/?fbclid=IwAR0o0uJdQj88pTuz9AywzCx9nJqGiKj4cyBC4gpJGuBgxbydH0Pi4qbePqI
Thank you, Lawrence, for sharing the article with all of us.
...................................................................................................
Reunion Survey for 60th Reunion in 2020
33 classmates have responded to our Reunion Survey. (If you haven't returned the survey yet, click on "2020 Reunion Survey" -- the 3rd item from the top in the blue sidebar on this page.)
Here's a brief summary of what we have learned so far. Please feel free to respond with comments or more ideas about what kind of reunion you would like to have. (Email Linda.andre@verizon.net or use the "Post a Comment to the Class" on the "What's New" page described above.)
1. Of the 33 responders, 27 said they would "absolutely" or "probably" attend a reunion. However, many classmates have not responded to the survey. Does this mean most classmates are not interested in a reunion? Or ambivalent? If so, should we rethink the way we have always done reunions? For example, should we "downsize" and have a dinner at a private room in a restaurant instead of renting a hall with a DJ? Join forces with another MHS class?
2. Classmates who said they would not attend explained that they did not want to travel because of health or financial issues, or because they didn't like high school very much. Some preferred to "let the past stay in the past."
3. Spring and Fall were the preferred times of year for a reunion.
4. A weekend or long weekend was preferable to mid-week.
5. Most said they would attend both daytime and evening events although some said they would attend evenings only.
6. Most said they would be able to drive to events (day or night) although some indicated that they would be more interested in excursions to places outside of Montclair if they did not have to drive. Can local classmates suggest some interesting places to visit?
7. The great majority favored casual, informal, events with open seating and opportunities to mingle and roam. (Many people mentioned the wonderful atmosphere at our Friday night gatherings at Warren's house.) Again, can local classmates suggest suitable places for daytime gatherings?
More individual comments from various classmates:
Offer a FaceTime Virtual reunion with people who can't make the trip.
Hold the reunion dinner at a hotel location so people don't have to drive somewhere else.
Keep the price low so that everyone feels welcome.
How about having some programing on Sat. night (at dinner or cocktail party) that would mold us into a group rather than individual islands of "old" high school friends? Ice-breaking activities that would highlight individual personalities, experiences, and interest and get us moving around? One reward that I took away from previous reunions was meeting classmates with whom I had only a nodding relationship with in High School. I would like to have such opportunities repeated. We need activities to mix us up and introduce unexpected common threads.
I vote for no loud music that makes conversation during the greeting period or dinner an insurmountable challenge.
A balance between non-program time and group togetherness would work for me.
A visit to the High School on a Friday if that could be arranged. Perhaps ask if small numbers of us could observe a class to see how technology is used in classrooms today? Or perhaps we could use a high school classroom for interesting discussions among ourselves? We have a lot of money in our class account. Should we think about contributing to the High School's Scholarship fund?
Offers to help: We have quite a few people who have offered to help by phoning, emailing, texting, sending postcards to classmates, or helping in other ways to spread the word about reunion and encourage classmates to come. They are: Don Lefelar, Rick Boschen, Donna Lake Wright, Paul Doran, Gene Mazzola, Barry Hampton, Christie Calder Salomon, Rob Rutan, Michael Pecherer, and Susan Becker Knight.
However, at this point we do not have any information for them to disseminate! In order to have a reunion, we need to have a group of planners who could make some decisions about when and where it will be, and what kind of activities we would like to have. For most of our reunions, a group of Montclair area classmates met togther to enjoy each other's company and plan an engaging reunion weekend. Last time, there were no physical meetings -- everything was discussed and decided by email between committee members across the country.
The software system that operates this website (ClassCreators.com) also offers very straightforward FREE online systems for Event Planning (posting information, registration, taking payments, making nametags, etc.) This might be an option for classmates who would like to help and are comfortable with the computer.
So far, three classmates have offered to help with some aspects of reunion planning, but we clearly need more help to make a reunion happen.
Warren Ross has again offered to host a Friday night gathering at his Montclair house and reserve the golf course. Thank you Warren!
Barbara Mansell Ramsay, who served as treasurer on previous reunion committees has offered to help again. Thank you Barbara!
Delores Morton Munford has offered to help organize the reunion. Thank you Delores!
**************************************************************************************************************************
Are you looking for old reunion photos? You can still see all of them in the "Photo Gallery" section of this website.
Click on "Photo Gallery" in the blue sidebar directly under "Home Page." You'll come to a long list of "galleries." Scroll all the way down until you see a lot of square pictures with paperclips in the corner. The 2016 reunion photos are organized in two groups. The 1st "gallery" is called "2016 Reunion - Friday." The 2nd gallery is called "2016 Reunion - Saturday."
Each photo gallery has up to 12 photos per page, and there may be several pages in a gallery, so be sure not to miss any. If you need help telling who's who, just hold your mouse over the photo and a caption should appear. Click on the photo if you want to enlarge it.
Do you have any reunion (or other) photos to share? We welcome them all. If you want to post them yourself, click on the place at the bottom of any gallery page where is says, "Create Your Own Photo Gallery here. You should see instructions that tell you how to upload your own photos.
Don't like your picture? If you would like me to remove a photo, just let me know which one, and I'll be happy to take it off the website. (Linda.andre@verizon.net)
If you'd like me to upload your photos, that is fine. Just send them to me and I will be happy to post them on the website for you. (Linda.andre@verizon.net)
What would you like to tell your classmates about reunion weekend? Send me your stories, thoughts, memories, and I will post them here.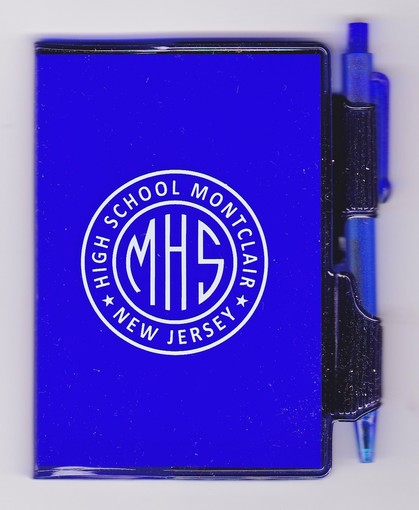 This is a "mini-notebook" that we gave out at the reunion so that everyone would have a place to jot down a name, address, or email address during the evening. It is about 3-3/8 by 4-1/4 inches and fits easily into a pocket. There are lined pages inside. We have about 24 left over. If you would like one, let me know and I will send it to you using our leftover stamps. Be sure to send me your correct address!
.....................................................................................................................................................
SENIOR YEARBOOK PICTURES
We now have all the pages of our senior yearbook pictures posted on this website, thanks to Gene Mazzola, who brought me his yearbook to be scanned To see them all, just go to the blue sidebar on the left side of this page and click on Senior Yearbook Photos. Many thanks to John Sproston for initiating this project, and to Gene and Chris Graber for providing pages.
Would you like to find out whether other classmates share your special interests or activities? For example, I teach ESL (English as a Second Language) to adult students and would love to find out whether any other classmates do the same. Let me know if you have special interests that you would like me to publicize on this website.
HOW TO SEND MESSAGES THROUGH THIS WEBSITE
We'd like to hear from you!
If you'd like to send a message to the whole class:
1. Go to the "What's New" page at the very top of the blue margin on the left side of this page.
2. Look for the gray box on the top that says "Post a Comment to the Class."
3. Write your message in the box that says "Share Your Thoughts with Classmates."
4. Include a photo or video if you like (that would be great!)
5. Click on the blue "Post Message" box.
If you'd like to send a private message to a Classmate:
1.Go to the classmate's profile page. (Click on "Classmate Profiles" near the top of the left-hand blue margin on this page.)
2. Click on the envelope icon directly under the photo box where it says "Send [classmate's name] a private message."
3. When you get to the message screen, type in your subject and message in the boxes.
4. Click the blue "Send private message" box. That's all you have to do! It's easy!
Guest Members on this website
It is now possible for a member of another MHS class to join our website as a "Guest Member." Guest Members will be able to have their own profile page and they will be able to send and receive messages through the site. They will be able to remain guest members as long as they do not harass any class member or post objectionable material. If a member of another MHS class wishes to become a Guest Member, he/she should contact me directly to request guest membership and I will enter his or her information in the site's database and provide information about how to sign up. Nobody will be able to join the site without going through that process. If you have questions or concerns, please let me know. (Linda.andre@verizon.net)