Montclair High School
Class Of 1960
ANNOUNCEMENTS
November 19. From John Wharton
I most likely tried to sleep through English class, but I do see the irony in a liberal caught up in the political correctness syndrome, along with taking information out of context etc., AKA known as fake news.
John Wharton
November 3. From Steve Clifford
It appears that some classmates slept through the English class that introduced the concept of irony.
Steve Clifford
November 2. From Mike Brodie
I'm not able to determine why this issue was put forward as an announcement to the class of '60 at this time. I read Steven's book, The CEO Pay Machine, and I know that he writes well and thinks clearly. While the article on PJMedia accurately quotes what Steven said, there are only two chances of it actually happening- slim and none.

I also think that while what Steven said is extreme, my guess is that it was to highlight how seriously he views the present political situation. Disenfranchising the straight, white male population is as anti-democratic as the situation he is decrying and my guess is that Steven knows this. It was a hyperbolic suggestion, but it just ain't gonna happen! It feels like any negotiation starting with an extreme position in the hope of moving toward the middle with something more to show at the end than 'a pocket full of mumbles, such are promises.'

So, again, why this issue at this time? There is no 'clear and present danger' of this happening. So, I think Michael P. is exactly correct in that he's as determined to vote, as I already have, and as I hope we all will do. And I think there are two things we all shouldn't do about this tempest in a teapot and both of them are care.
Mike B.
November 2. From John Sproston:
Got a real chuckle reading Michael Pecherer's comment about Steve Clifford's article on rescinding white males from voting in upcoming elections (assuming it was just a joke). Kinda reminds me of the current discourse on Cable News. Can't imagine an idea like this ever going anywhere. Wouldn't effect me in NC, as I early-voted two weeks ago. It is an interesting subject, though.
November 1. Michael Pecherer posted this article and video featuring our classmate Steve Clifford's ideas on voting in the upcoming elections:
https://pjmedia.com/election/former-tv-ceo-says-u-s-should-ban-straight-white-males-from-voting/
Michael says, "Steve has been on a tear lately and now wants to prohibit me from voting. I don't think I will go along with this suggestion."
Comments welcome one way or another. To comment, go to the blue sidebar on the home page. In the MEMBER FUNCTIONS section, click on "Post Announcement." I will approve it as long as it is civil.
Reunion in 2020?
Some classmates are begining to think about a 60th (!) reunion in 2020! There is a survey posted on this website where you can let us know your thoughts about attending. It takes only a few minutes. We hope to hear from as many classmates as possible so we'll have an idea about how to move forward. If you've already completed the survey, THANK YOU! If you haven't, just click on "2020 Reunion Survey" -- 3rd item from the top in the blue sidebar on this page. MANY THANKS!
Welcome to the MHS '60 Website!
August 11, 2018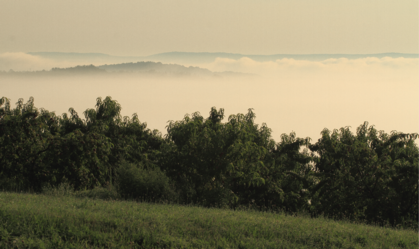 A summer photo from Michael Brodie.
He says, "There was a beautiful fog bank yesterday..."
In our last MHS '60 update, Jack Brigham wrote about his ambitious geneology project and the stories that he has discovered about his ancestors. (See Jack's story farther down on this page.) Now Ralph Davidson is sharing his story.
Ralph writes, "I have been into genealogy and family history since retirement 11 years ago. I have written hundreds of pages for my family and others. A lot of great stories. Elizabeth (Libbie) Bacon Custer (wife of General Armstrong Custer) is my one claim to 'celebrity fame.'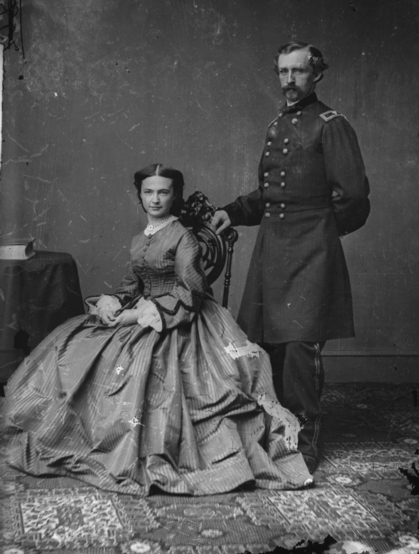 An online website says, "George and Libbie Custer made a handsome and glamorous couple."
I researched an ancestor from the American Revolution. I succeeded in gathering all the evidence needed for proving to the DAR our family descendency (from one 'Eljah Ward') to make it possible for for my sisters, 1st cousin, and female children of all to be eligible. My sister, Joan, is now in a very large DAR chapter in the Philadelphia area.
My approach to studying family history is different from what others often do. There are those who go after large amounts of data in order to find as many people as possible. They like elaborate trees and lists. My goal is to dig for interesting stories. I frequently use lineage lines in my writings but not large trees. Readers understand much better about their ancestry with this approach. My goal is to make history interesting.
Brad Stark
offers a memoir of his father, Leland Stark, Bishop of the Episcopalian diocese of Newark. You can read Brad's memoir of his father in the "Family Memoir" section of this website. Look in the blue sidebar on the right side of this page.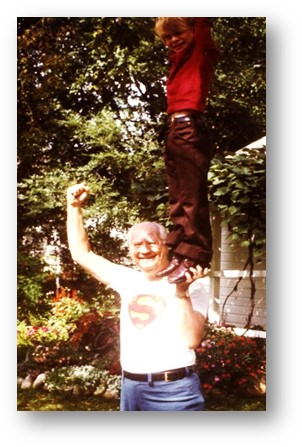 Brad says, "The young scamp in the picture is my son Will who was maybe 5 then [and is now] "pushing 50."
In Memory - Alex Imlay
When Ralph Davidson recently requested information about Alex Imlay, we found that Alex had passed away six years ago. Here is a portion of Alex's obituary. You can read the full obituary in the "In Memory" section of this website.
Alexander F. Imlay, Jr., 70, died peacefully at home in Houston, Texas, on August 23, 2012. He was born on November 2, 1941 in Passaic, New Jersey, the first child of Alexander F. and Jeannette G. Imlay. He graduated from Montclair (N.J.) High School in 1960 and attended Drew University in New Jersey and the University of Houston. Alex overcame his lifelong vision problems by enjoying job training and other activities provided by the Lighthouse for the Blind of Houston. He also used his keen mind and incredible memory to pursue his interest in history and in sports. He was his family's genealogical expert. Alex is survived by four sisters and their families.
Here is Ralph Davidson's tribute to his old friend, Alex.
I procrastinated too long in reaching out to him. Alex and I were very good friends in our Jr. High & High School years. Alex's father worked in the oil industry which I am pretty sure is why they ended up in Houston. Alex's sight was destined to fail. I do not know what the problem was. When Alex and I were buddies he was very nearsighted. We played baseball together and he did well with throw & catch. Hitting was difficult. Baseball was an intense interest for him. We frequently went to Yankee Stadium for afternoon games during the summers. When a game was winding down (and the Yankees usually comfortably ahead) we migrated over to the radio broadcast section and sat right behind Mel Allan & Red Barber. Then we would go outside the stadium to the exit used by the Yankee players. I remember one time Mantle's silver limo was waiting down in the exit way. We saw him (MM) being driven away. Then out comes Enos Slaughter walking. He walked down the street to grab a taxi. Alex was intense in keeping record of all NY teams - when there were still the big three (Yankees, Dodgers, Giants). I remember Alex showing me all the articles he had collected. His most treasured item was a recording of Russ Hodges calling Bobby Thompson's home run off Ralph Branca in the October 1951 playoffs (Giants vs the Dodgers at the Polo Grounds) - "the Giants win the pennant" repeated frantically 3 or 4 times by Hodges. [If anyone wants to both see and hear that call go to YouTube.]
David Appleton's story of how he became a Good Humor Man.
David first posted this story on Facebook's "Growin' Up in Montclair" site. It is a closed Group which you can join by going to:
https://www.facebook.com/search/str/growin'+up+in+montclair+nj/keywords_search
David says, "This is a great place for us codgers to browse and reminisce."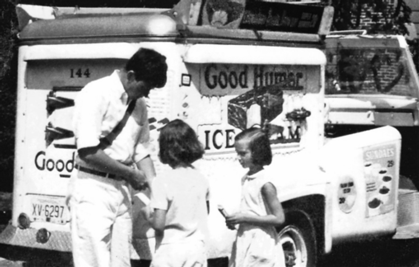 Good Humor Man Career, May to July 1964
by David Appleton
My Good Humor Man Career was short but it provided some enjoyable and/or memorable mini adventures.
I was inspired to become a Good Humor man by Horace, a black fellow from Newark, NJ who drove a Good Humor route in Montclair, NJ. He drove one of those classic Ford trucks with a four-speed stick transmission that made a lot of gear grinding noise going down the street, especially in first gear.
There was no roof over the cab of these white trucks which featured a large freezer on the back with two refrigerator-like doors, one in the back and one on the right side. We filled this cold box with various Good Humor popsicles and ice cream treats. As a kid, I loved Good Humor …. toasted almond was my favorite. I remember Horace visiting Woodman Field after football practice 1957-60 when I pretended to play both offensive defensive end and sometimes linebacker for Montclair High School. Mostly I warmed the bench. I devoured toasted almond ice cream popsicles on my walk home from practice.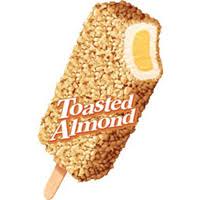 These Good Humor trucks also featured a set of bells on the front which the driver would ring with a rope lead to the driver position. These bells provoked a Pavlovian response from neighborhood kids as Horace cruised by slowly, bells a-ringing, stopping at regular spots so the kids could purchase Horace's GH treats. Kids flocked to the street like ducks chasing bread crumbs on Edgemont Pond!
Horace became something of a local hero in Montclair. He often visited Zeevalk's Sunoco on Valley Road in Upper Montclair, about a half block down the street from Bond's famous ice cream parlor. He'd come in, bells a-ringing, about 7:00 or 7:30 on spring and summer evenings in '60 through '64. I often would be working the pumps at Zeevalk's when Horace stopped by. I worked there evenings for a couple of years. And usually we had a bunch of my friends or other Zeevalk aficionados hanging around working on their cars and tellin' lies. We occasionally bought a popsicle but we were more interested in the freezer on the back his truck.
Since Horace was in his twenties, and he could legally buy beer and other goodies in New Jersey, we enlisted his aid. We (all 18 or less seeking suds) recruited him, giving him some money, enough for a case of beer or two plus an extra few bucks for a "runner" fee. Horace would drive off to the nearby liquor store, buy our order and return with this contraband cooling in his freezer which we denizens of Zeevalk's promptly transferred to the soda vending machine. This routine was limited to Friday nights and weekends mostly.
This went on for several years. Horace was exceptionally reliable, and well rewarded. I left college in June 1961 and worked at Zeevalk's on and off from then through July 1964 part time, mostly evenings and weekends. During Fall '61 I worked for Union Carbide in New York during the day. And at night I got off the 66 DeCamp bus in Upper Montclair near Zeevalk's at about 6:00 and ran down Valley Road exchanging my white shirt and tie for a Sunoco shirt to work the evening shift at Zeevalk's pumps until about 10 pm. Horace was always a welcome visitor during the summer months.
In January of '62, I had enrolled in college again locally but still worked at Zeevalk's to help pay tuition while living at home. I bought a '49 Willy's Jeep and plowed snow to augment my income. But my 2nd attempt at college did not work out well. I was asked to leave after spring semester of '64 due to academic underperformance.
At this point, I was at 6's and 7's not knowing what to do next. I thought of Horace.
So I asked Horace about becoming a Good Humor man and he gave me some advice, which I followed. I went to the Newark office on my '63 Honda 305 SuperHawk motorcycle and filled out the application. And in May of 1964, I became a Good Humor driver/vender, shortly after being asked to terminate my college career by the Administration. I went through the training and soon had my own classic Good Humor truck and route.
Actually I had several routes, mostly in Weehawken and Jersey City. I liked the Jersey City route best because it was the most lucrative. But mostly I was assigned to the Weehawken territory, which covered some of West New York as well. This soon became My Route on the Palisades overlooking the Hudson.
While Weehawken didn't pay as well as Jersey City (which actually belonged to a GH perennial, Jake, who lived in Florida during the winter but returned to Newark every year for the Good Humor Season) I was just a sub for his days off. So I settled for Weehawken which offered Hamilton Park (named for Alexander Hamilton and the famous duel) on the NJ Palisades directly above the Lincoln Tunnel. What a marvelous view of the Hudson River and New York City this site offered. This was a great place to park my truck and enjoy the view while peddling my wares.
I spent most of my time in Weehawken stationed in or near this park, high on the Palisades over the river. I loved the view of the New York Harbor and enjoyed working the park every day. I watched the ships come and go, even seeing the Queen Mary arrive and dock and depart. I have always been enamored of the sea and the vessels that sail thereon. Watching these ships stirred my soul.
On the weekend celebration of the 4th of July in 1964, I watched the annual arrival of the US Navy ships for Fleet Week. This spectacle was really impressive; the USS Forrestal (?), a couple of cruisers and a bunch of destroyers arrived and docked. I was stirred. I determined to join the Navy which I did 7/27/1964. But that's another story.
Often in Weehawkin I'd do the Horace trick and stop by a liquor store to pick up a six pack of Bud or Schaefer and a sub for lunch and throw them in the fridge of my truck and enjoy a nice lunch and brew in the park while contemplating the NYC skyline. Looking back, these seem truly halcyon days.
But it wasn't all pleasant. The drive from the Good Humor base in Newark to Weehawken and back was long and stressful. And the ride to Newark from my home in Montclair on my Honda 305 Super Hawk motorcycle was not without challenge. I rode to work for about an hour in the morning ending up in the bowels of Newark at 9:30 am. Then I'd get to my truck, check out my Good Humors and load up. Then I'd head out to Weehawken.
At the end of the day, say 7 or 9 pm, I'd head back to the Newark base to check in, count up my receipts, then head home at about 11 pm and to bed sometime after midnight. It was a long tiring day.
My Good Humor career was not lucrative. We Humor sales folk had to buy all we carried on the truck. So we had to account for all the items we signed for at the Newark GH headquarters. Well, when I ended my career in July of 1964, I found I was something like $40 short, meaning I owed Good Humor $40 because I had not accounted for all the popsicles I had drawn.
I attribute this shortage to the excessive number of "Nickel Whammy Sticks" I gave away. Whammy Sticks were a half a double stick popsicle which a kid could buy for 5 or 10 cents. I had a lot of kids answer my GH bells with no money but wearing a cute smile on a dirty face and I'd say, "OK kid. Here's a Whammy Stick!" Apparently I did this far too often. And I probably enjoyed more than several toasted almond Good Humors for dessert during this time. This combined with my lack of math skills accounted for the money I had to pay Good Humor on my severance in late July.
The drive from the Good Humor base in Newark to Weehawken was long and stressful. So was the drive back to Newark. But the drive home on my motorcycle was the most stressful. Usually this happened around after 11 p.m. or so.
My most memorable home-bound ride on my Honda 305 Superhawk happened mid-July when I collided with a car deep in Newark, not far from the Good Humor base. Riding slowly through the city streets I heard a horn barking frantically as I approached a green light (mine) intersection at under 20 mph. A car flashed through the crossing in front of me.
I swerved left to avoid a collision but failed. My bike struck the rear quarter of the car and stopped dead… I continued flight over the trunk of the car somersaulting onto the street head first, fortunately helmeted, and found myself seated in the middle of the intersection bewildered. The car continued on with no thought of stopping until a bunch of residents taking the evening air on their stoops jumped out in the street to stop the car. The horn continued to beep.
This happened in a predominantly unsavory neighborhood at midnight and I was scared. But the cops arrived and took information, most of which I forget, but my street had the green light so I was not at fault.
But there I was in Newark at midnight with my ride broken. Just then a big black guy rode up on a huge rumbling Harley Hog sayin', "What's happenin,' Bro?" I pointed at my Honda's twisted fork in despair. He dismounted, put the front wheel of my bike between his knees, grabbed the handle bars … and wrestled the fork back into line. "There!" he said, remounted, and rode off.
My faith in human decency and brotherhood enjoyed a strong boost. I was able to ride home and shortly thereafter, threated with the draft, I quit Good Humor to join the Navy.
At the end of the month I found myself in USN Boot Camp in North Chicago, IL where I learned of the Tonkin Gulf Resolution passed on August 7, 1964. I was in for the duration and not in good humor.
David Appleton, June 2018
Here's a Good Humor bar that David probably didn't have in his truck:
Alphabet in the form of a Good Humor Bar by Pop artist Claes Oldenburg, 1975. Painted fiberglass, 36" tall.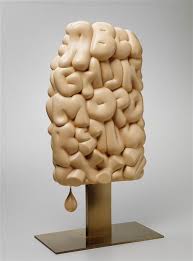 GENEALOGY
People sometimes ask me whether we have any movie stars, sports stars, or other celebrities in our 1960 class, and I have to say that I don't think we do. However, one of our classmates can point to a number of "especially interesting people" in his own family. Here's something to inspire all of you genealogy buffs:
Jack Brigham writes, "I have been interested in our Brigham family history/ genealogy for many years and have put together a 'book' of my research findings ... about 180 pages long." Jack's history covers 16 family lines for five generations focusing closely on the Brigham line. In a section called "especially interesting people," Jack describes his family's links to the 14th-century King Edward III of England, Mary Boleyn ("mistress of kings" and sister of Anne Boleyn - 2nd wife of Henry VIII), Stephen Bachiler (a Puritan pastor and religious maverick), three ancestors who came over on the Mayflower in 1620 including Pilgrim William Brewster (whom we read about long ago in US history class), Quakers who supported victims of the Salem Witch Trials, plus many more interesting characters.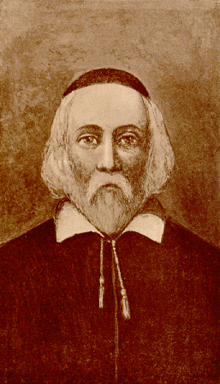 Jack's ancestors, King Edward III of England (1327-1377) and William Brewster of Plymouth, Massachusetts (1560-1644)
Jack's chronicle includes pedigree charts of family lines, maps, and tables that place his ancestors within the context of historical events in England and in the American colonies. There are lots of photographs of Jack and his sister and brothers growing up in Montclair. He also uses photos and stories to document the family life of his mother and father as young people. Lists of sources and a bibliography are included. Jack's next step on this "work in progress" will trace even more of his 1700 direct ancestors, going even farther back to those alive in the 1300s and earlier. If you are curious and want to take a look at Jack's history, the url below should enable you to see and download the whole "book."
https://drive.google.com/file/d/19QjzEyE7ufqs4AXHSquIsuasUW5q28ag/view?usp=sharing
Here are Jack's instructions: To access, click on the url above to get to it in Google Docs. Then click on the download button on the upper right (down arrow) so it will download. When it finishes downloading (you can check via the spinning circle at the bottom of page 1), it may say, "Whoops! There was a problem downloading more pages." Ignore that message and click on the box with the Word logo in the lower left corner of the screen. Mine says in that box, "Draft 4 Digital-5a … docx". Your system might say something slightly different. That should download it into Word and then you can Save it. If this doesn't work for you, you can contact Jack at brigham@psy.fsu.edu.
A final word from Jack: "I might mention, for any newbie genealogy wannabes, research is so much easier today than it was in the 1980s or 1990s. As in so many things, the internet has had a huge impact. Today, if you have the name and birth year of an ancestor born before 1900 or so, you can simply type it into Google and often it sends you to one or more genealogy websites that have that information on this person and often on her/his ancestors as well."
Do you have any Downsizing experience or advice?
(I have lived in my house for 43 years and there's an awful lot of stuff that should be tossed or given away, but it's hard to do.) Here are a few comments from classmates about downsizing. Do you have your own experiences to add?
Jim Newman: Starting the process of moving to a retirement community. Fifteen years ago, 5 acres on a hillside looked like fun. Now it just looks like a lot of work. Downsizing is going smoother than I expected, but we haven't come to my workshop yet.
Ed Hanke:
Had to give most of my accumulated "stuff" away when we moved into a carriage house but I still have a garage full, not to mention miscellaneous boxes hidden in out of the way places.
NEW ADDRESSES and PHONE NUMBERS
Jane Roberts Borrelli Email: janeborrelli@hotmail.com
412 Division Street, PO Box 1311, Northville, NY, 12134
Phone: 518-863-8267; Cell: 518-224-2577
Are you looking for reunion photos? You can still see all of them in the "Photo Gallery" section of this website.
Click on "Photo Gallery" in the blue sidebar directly under "Home Page." You'll come to a long list of "galleries." Scroll all the way down until you see a lot of square pictures with paperclips in the corner. The 2016 reunion photos are organized in two groups. The 1st "gallery" is called "2016 Reunion - Friday." The 2nd gallery is called "2016 Reunion - Saturday."
Each photo gallery has up to 12 photos per page, and there may be several pages in a gallery, so be sure not to miss any. If you need help telling who's who, just hold your mouse over the photo and a caption should appear. Click on the photo if you want to enlarge it.
Do you have any reunion (or other) photos to share? We welcome them all. If you want to post them yourself, click on the place at the bottom of any gallery page where is says, "Create Your Own Photo Gallery here. You should see instructions that tell you how to upload your own photos.
Don't like your picture? If you would like me to remove a photo, just let me know which one, and I'll be happy to take it off the website. (Linda.andre@verizon.net)
If you'd like me to upload your photos, that is fine. Just send them to me and I will be happy to post them on the website for you. (Linda.andre@verizon.net)
What would you like to tell your classmates about reunion weekend? Send me your stories, thoughts, memories, and I will post them here.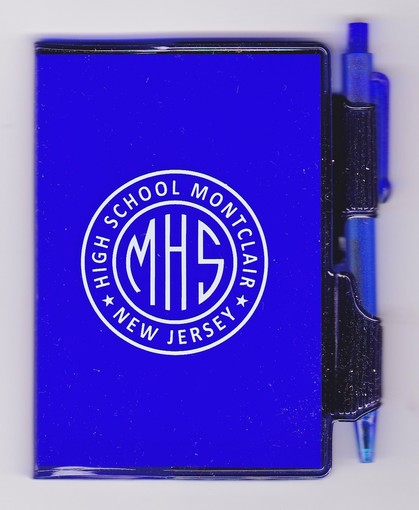 This is a "mini-notebook" that we gave out at the reunion so that everyone would have a place to jot down a name, address, or email address during the evening. It is about 3-3/8 by 4-1/4 inches and fits easily into a pocket. There are lined pages inside. We have about 24 left over. If you would like one, let me know and I will send it to you using our leftover stamps. Be sure to send me your correct address!
.....................................................................................................................................................
SENIOR YEARBOOK PICTURES
We now have all the pages of our senior yearbook pictures posted on this website, thanks to Gene Mazzola, who brought me his yearbook to be scanned To see them all, just go to the blue sidebar on the left side of this page and click on Senior Yearbook Photos. Many thanks to John Sproston for initiating this project, and to Gene and Chris Graber for providing pages.
Would you like to find out whether other classmates share your special interests or activities? For example, I teach ESL (English as a Second Language) to adult students and would love to find out whether any other classmates do the same. Let me know if you have special interests that you would like me to publicize on this website.
HOW TO SEND MESSAGES THROUGH THIS WEBSITE
We'd like to hear from you!
If you'd like to send a message to the whole class:
1. Go to the "What's New" page at the very top of the blue margin on the left side of this page.
2. Look for the gray box on the top that says "Post a Comment to the Class."
3. Write your message in the box that says "Share Your Thoughts with Classmates."
4. Include a photo or video if you like (that would be great!)
5. Click on the blue "Post Message" box.
If you'd like to send a private message to a Classmate:
1.Go to the classmate's profile page. (Click on "Classmate Profiles" near the top of the left-hand blue margin on this page.)
2. Click on the envelope icon directly under the photo box where it says "Send [classmate's name] a private message."
3. When you get to the message screen, type in your subject and message in the boxes.
4. Click the blue "Send private message" box. That's all you have to do! It's easy!
Guest Members on this website
It is now possible for a member of another MHS class to join our website as a "Guest Member." Guest Members will be able to have their own profile page and they will be able to send and receive messages through the site. They will be able to remain guest members as long as they do not harass any class member or post objectionable material. If a member of another MHS class wishes to become a Guest Member, he/she should contact me directly to request guest membership and I will enter his or her information in the site's database and provide information about how to sign up. Nobody will be able to join the site without going through that process. If you have questions or concerns, please let me know. (Linda.andre@verizon.net)