Montclair High School
Class Of 1960
ANNOUNCEMENTS
60th Reunion in 2020? No news to report.
Our survey indicates that 33 classmates would be very interested in attending a reunion. However, that number hasn't moved for months. Many of those 33 have offered to help contact classmates, but nobody has stepped forward to take the lead, and there doesn't seem to be any groundswell of interest in making actual plans. We still have a considerable amount of money in our class fund. Should we let it just sit in the bank in case somebody gets inspired sometime down the road? Should we rethink the way we do reunions? Should we join forces with another MHS class? Should we split up the money and let classmates plan mini-reunions in various parts of the country? Should we use the money to establish a Class of 1960 Scholarship for MHS students? All ideas are welcome! Scroll down to the very bottom of this page to review the survey results.
The survey is still posted on this website. It takes only a few minutes. If you've already completed the survey, THANK YOU! If you haven't, just click on "2020 Reunion Survey" -- 3rd item from the top in the blue sidebar on this page. MANY THANKS!
Welcome to the MHS '60 Website!
July 3, 2019
Thank you David Appleton for contributing a new story to "Stories From Our Past." David says, "We all have suffered failed hopes and ambitions, beautiful but unrealistic, but nonetheless helpful in forming our lives. Reflecting on them helps us understand who we are. So I share this one with you....
Spit Valve Humiliation
By David Appleton
I was in about 3rd or 4th grade in Watchung School on Fullerton Avenue in Montclair and I aspired to be a trumpeter like Louis Armstrong. Thinking about it now in 2019, I'm amazed at the heroes I worshipped as a kid. Many were black, and this was during the intensely racist 40's and 50's and I was a white kid. In baseball it was Roy Campanella, Brooklyn Dodger legend, so I aspired to be catcher; in music it was Louis Armstrong and later Harry Belafonte. Louis prompted my desire to play the trumpet, and Harry led me into the world of folk music which I enjoyed and practiced into my college years and beyond, even to today.
But my efforts to follow Louis Armstrong into cornet and/or trumpet fame proved most humiliating. At the tender age of 7 or so, inspired by Louis, I took trumpet lessons on Saturday mornings in George Inness Jr. High School on Park St. in Montclair, NJ. After achieving a smattering of competence I approached Miss Ellis, 6th grade teacher and music director of the Watchung School Band, a group of maybe 8 or 10 kids of varying degrees of musical ability, seeking membership in this elite group of fledgling musicians.
Miss Ellis granted me an audition. I was scheduled to appear before the band during an after school rehearsal and play a short piece, solo, this in front of this group of my peers all of whom had achieved membership in this band enthusiastically flaunting their accomplishment.
To say I was nervous would be a gross understatement. I was damn near peeing my pants. I got my "axe" and practiced the piece in a vacant classroom, " My Country, 'Tis of Thee," (or 'Tis a V as the case may be) several times before going to the audition. I had it down pat thus my nervousness subsided.
So I marched down the stairs and on through the hallways to the Watchung School Auditorium just across from the gym at the appointed hour with a measure of confidence and found there the band seated quietly with defiant smirks plastered on their faces awaiting the events. Miss Ellis introduced me, I smiled at the group as they smirked back, and I confidently began to play my audition piece….
Out of the bell end of my horn came the most Godawful sound imaginable. It was like an ill-formed fart, full of airiness but lacking proper timber or tone. I blew harder as if to banish this hateful noise but this only made it worse. My face reddened with the added effort and associated embarrassment. The audience's smirks morphed into suppressed giggles. This went on for a minute or so before Miss Ellis put a merciful end to my humiliation, suggesting I should, "Practice some more and come back in a week or two.."
I slunked out of the auditorium in tearful despair. Behind me I heard Miss Ellis admonish the band, whose giggles had now become near belly laughter, telling them they were being impolite to "our guest." My despair now grew into anger and visions of revenge danced in my brain as I returned to the classroom to put my horn back in its case.
"What happened??" I thought. I tried playing the instrument again….. same fartlike sound. I investigated, carefully surveying the rented trumpet. Then I discovered the culprit. The spit valve was operating properly, but missing the pad that keeps it sealed when not in use. Air leaked out with each blow into the mouthpiece thereby creating the hated fart sound.
Apparently during my practice sessions I had operated the spit valve too vigorously and the pad had come loose and ejected just before my audition. God knows my salivary glands worked overtime as my apprehension grew.
I frantically looked around the room scouring the floor looking for the errant pad. Not finding it I explored the notion of a substitute. The image of a rubber band insinuated itself and I found one. I balled it up and stuffed it into the spit valve hole with the valve lever sprung closed holding in place. It worked.
Thus repaired I played my audition piece again. The sound left the horn with something less than graceful beauty I might have wished for but at least without the vile fartlike sound of my audition.
I was overjoyed at discovering the flaw in my audition was not my fault. I thought of racing back to the auditorium to explain and retry my audition piece with my spit valve repair in place.
But then I thought of the smirks, the giggles and laughter and Miss Ellis's condescending remarks. I put my rented horn in its case and walked home.
I did not reapply to join the Watchung School Band. I gave up the trumpet and dreams of becoming the next Louis Armstrong.
June 30, 2019
........................................................................................
Looking back to graduation
Here's the 9th grade graduating class from Mt. Hebron.
(The photo is split up into 3 parts, kindness of Rick Bochen).
How many classmates can you name?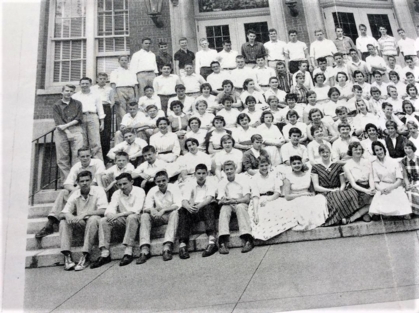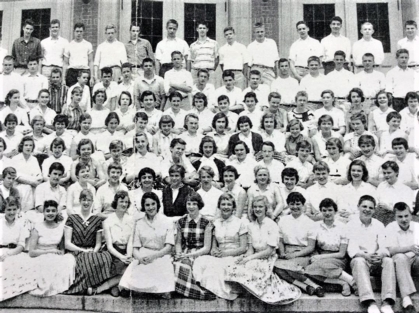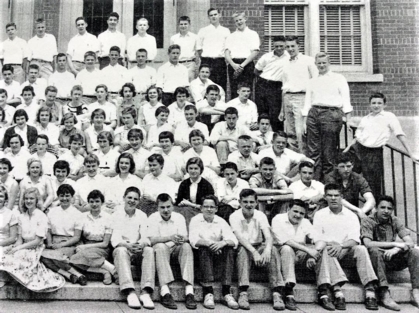 Mt. Hebron Update:
Mt. Hebron is now officially "Buzz Aldrin Middle School. It is a STEM magnet school (Science, Technology, Engineering and math) with an enrollment of about 640 students in grades 6-8.
There have been quite a few changes in the Montclair Public School System since "our day." Take a look at their website https://www.montclair.k12.nj.us/ To see the website of your old school, find the black horizontal band at the top of the page and click on "Select a School."
Here are a few changes that I noticed:
- Edgemont Elementary (K-5) is now a Montessori School.
- Nishuane (K-2) feeds into Hillside (3-5). Both have a Gifted and Talented focus.
- Edgemont and Hillside both feed into Glenfield Middle (6-8) which is a Visual and Performing Arts magnet school.
Charles H. Bullock (55 Washington St.) is an elementary school with an environmental science theme. It feeds into Renaissance at Rand Middle School.
Bradford, Northeast, and Watchung elementary schools all feed into Buzz Aldrin Middle (formerly Mt. Hebron Jr. HS)
George Inness Jr. HS is now the "9th Grade Academy." It houses the entire 9th grade for MHS in what is now called George Inness Annex.
Here's the Feeder diagram so you can see for yourself!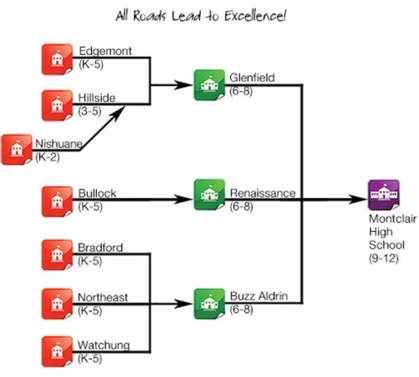 While you're at it, check out the courses that MHS offers these days at https://mhs.montclair.k12.nj.us/academics/course_syllabi
Scattered among all the old familiar courses are titles that show how times have changed: Robotics, African-American Literature, Satire and Protest Literature, Environmental Science, Forensic Science, Global Studies, Women of the World, Digital Design, Mandarin, and more!
.................................................................................................................................
Ed Fitt sent a message that updates the story of several months ago (see below) about the plan to built a 60,000 square foot home on the cliff of Undercliff and Lloyd Roads, abutting Eagle Rock Reservation. Apparently the application to build the estate has been withdrawn. https://www.montclairlocal.news/2019/04/17/lloyd-megamansion-montclair-nj/
Here's the original article:https://www.montclair.k12.nj.us/
Montclair residents are upset because a tech billionaire wants to built a "mansion bigger than the White House" backing up on Eagle Rock Reservation. If approved, it will have a bowling alley, billiard room, basketball court, gym, spa, indoor and outdoor pools, yoga room, and movie theater. See the architectural drawing and floor plan and read about how the property owner prepared the site in the middle of the night at https://www.northjersey.com/story/news/essex/montclair/2019/03/20/montclair-mansion-will-be-bigger-than-white-house-billionaire-owner-melih-abdulhayoglu-comodo/3152616002/
Are you feeling your age? If so, you have something in common with the MHS staircases that we used to climb up and down so many times. Ed Fitt shares a news article that tells how one MHS stairwell collapsed last September. Now there are plans to rebuild 4 of them. Read more at https://www.montclairlocal.news/2019/03/19/bids-staircase-montclair-nj/
Thank you for the articles, Ed.
..........................................................................................
Sad news about Peggy Scovil
I am very sorry to report that Peggy Scovil Marsac passed away from cancer on November 6, 2019. She lived in Clarkson Valley Missouri. Her son, Peter C. Marsac, sent this notice to our "In Memory" page.
Peggy was an amazing person that always had wonderful stories about growing up in Montclair. Her uncle, Sam Stewart, retired as Captain from Montclair Police Department in 1960. Her parents were Harold and Charlotte Scovil. Her brother Jim Scovil and sister Joan Scovil are still alive and reside in Green Valley, Arizona. Peggy's husband, children, and grandchildren reside in the St. Louis, Missouri area.
Peggy's son, Peter C. Marsac, can be reached at pmarsac@sbcglobal.net
Sad news about Edie Black.
A notice was posted on the Growin' Up in Montclair Facebook page on March 21 from Edie's brother Charlie Black. Forwarded by John Sproston.
To the class of 1960: It is with great sadness that I report that my sister, your classmate, Edie Black, died last night as the result of complications from pancreatic cancer. According to her husband, Fred, she passed quickly and without much pain. They had spent the last week in Mexico watching whales migrate among other things. It's nice to think that she spent at least part of her last days in her happy place.
Surely you recognize this man.
But do you know WHERE he is?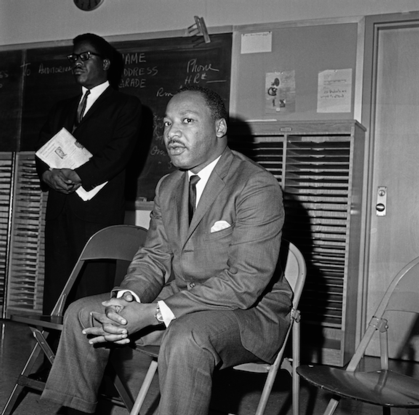 Lawrence Robinson alerts us to a recent article in The Montclair Dispatch entitled
"Lost in History: Dr. Martin Luther King Jr.'s Visit to Montclair High School."
The article of September 11, 2018 begins:
52 years ago, during a firey time in the United States and around the world, Dr. Martin Luther King, Jr. made a controversial visit to this very town, possibly at the peak of his notoriety. Just two years prior to his assassination and untimely death, King arrived in Montclair, making town history by stopping into the Montclair High School band room.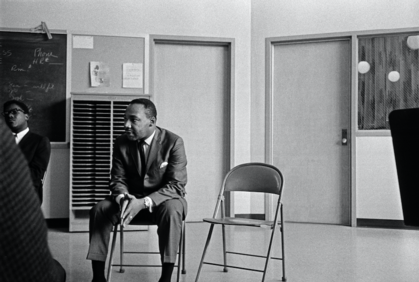 The article tells how Dr. King went to Montclair to speak to a local church congregation. But so many people in the larger community wanted to hear him speak that he appeared first in the high school gym, and later spoke to the church congregation in the high school auditorium. As he waited in the MHS band room before going onstage, protesters were demonstrating outside on Park Street. A plaque commemorating Dr. King's speech at MHS has been placed in the band room.
The entire article gives you a good sense of the mood in Montclair in 1966, six years after our graduation. You can read the whole article here:
https://montclairdispatch.com/lost-in-history-dr-martin-luther-king-jr-s-visit-to-montclair-high-school/?fbclid=IwAR0o0uJdQj88pTuz9AywzCx9nJqGiKj4cyBC4gpJGuBgxbydH0Pi4qbePqI
Thank you, Lawrence, for sharing the article with all of us.
...................................................................................................
I've moved a few things around --
If you're looking for Jack Brigham's, Ralph Davidson's, or Lawrence Robinson's genealogy stories, just click on "Genealogy" in the blue sidebar on the left. If you have your own genealogy stories to offer, I'll be glad to add them any time.
I moved David Appleton's story about being a Good Humor Man to "Stories from My Past," also in the blue sidebar to the left. Since we are all about 76 years old, there must be a lot of good stories from our past out there, just waiting to be told. THIS JUST IN: David has just sent a New Year's Eve story, Patsy's and the Allure of New York: Bringing in the '60s which you can also find in the "Stories from My Past" section. David says, "I'm thinking of all our classmates ploughing forth into the New Year and wishing them well. I'd like to share with them my memory of Bringing in the '60s. I hope you all find it amusing. I do, thankfully many decades removed from this experience." If you have your own stories to share, please send them to me (Linda), and I will add them to the site.
If you'd like to write a memoir about a family member or friend, there's a link to a "Family and Friends Memoirs" section, also in the blue sidebar. Brad Stark's memoir of his father is in that space. Please feel free to write about someone important to you.
There's plenty of room for new contributions from you!
Reunion Survey for 60th Reunion in 2020
33 classmates have responded to our Reunion Survey. (If you haven't returned the survey yet, click on "2020 Reunion Survey" -- the 3rd item from the top in the blue sidebar on this page.)
Here's a brief summary of what we have learned so far. Please feel free to respond with comments or more ideas about what kind of reunion you would like to have. (Email Linda.andre@verizon.net or use the "Post a Comment to the Class" on the "What's New" page described above.)
1. Of the 33 responders, 27 said they would "absolutely" or "probably" attend a reunion. However, many classmates have not responded to the survey. Does this mean most classmates are not interested in a reunion? Or ambivalent? If so, should we rethink the way we have always done reunions? For example, should we "downsize" and have a dinner at a private room in a restaurant instead of renting a hall with a DJ? Join forces with another MHS class?
2. Classmates who said they would not attend explained that they did not want to travel because of health or financial issues, or because they didn't like high school very much. Some preferred to "let the past stay in the past."
3. Spring and Fall were the preferred times of year for a reunion.
4. A weekend or long weekend was preferable to mid-week.
5. Most said they would attend both daytime and evening events although some said they would attend evenings only.
6. Most said they would be able to drive to events (day or night) although some indicated that they would be more interested in excursions to places outside of Montclair if they did not have to drive. Can local classmates suggest some interesting places to visit?
7. The great majority favored casual, informal, events with open seating and opportunities to mingle and roam. (Many people mentioned the wonderful atmosphere at our Friday night gatherings at Warren's house.) Again, can local classmates suggest suitable places for daytime gatherings?
More individual comments from various classmates:
Offer a FaceTime Virtual reunion with people who can't make the trip.
Hold the reunion dinner at a hotel location so people don't have to drive somewhere else.
Keep the price low so that everyone feels welcome.
How about having some programing on Sat. night (at dinner or cocktail party) that would mold us into a group rather than individual islands of "old" high school friends? Ice-breaking activities that would highlight individual personalities, experiences, and interest and get us moving around? One reward that I took away from previous reunions was meeting classmates with whom I had only a nodding relationship with in High School. I would like to have such opportunities repeated. We need activities to mix us up and introduce unexpected common threads.
I vote for no loud music that makes conversation during the greeting period or dinner an insurmountable challenge.
A balance between non-program time and group togetherness would work for me.
A visit to the High School on a Friday if that could be arranged. Perhaps ask if small numbers of us could observe a class to see how technology is used in classrooms today? Or perhaps we could use a high school classroom for interesting discussions among ourselves? We have a lot of money in our class account. Should we think about contributing to the High School's Scholarship fund?
Offers to help: We have quite a few people who have offered to help by phoning, emailing, texting, sending postcards to classmates, or helping in other ways to spread the word about reunion and encourage classmates to come. They are: Don Lefelar, Rick Boschen, Donna Lake Wright, Paul Doran, Gene Mazzola, Barry Hampton, Christie Calder Salomon, Rob Rutan, Michael Pecherer, and Susan Becker Knight.
However, at this point we do not have any information for them to disseminate! In order to have a reunion, we need to have a group of planners who could make some decisions about when and where it will be, and what kind of activities we would like to have. For most of our reunions, a group of Montclair area classmates met togther to enjoy each other's company and plan an engaging reunion weekend. Last time, there were no physical meetings -- everything was discussed and decided by email between committee members across the country.
The software system that operates this website (ClassCreators.com) also offers very straightforward FREE online systems for Event Planning (posting information, registration, taking payments, making nametags, etc.) This might be an option for classmates who would like to help and are comfortable with the computer.
So far, three classmates have offered to help with some aspects of reunion planning, but we clearly need more help to make a reunion happen.
Warren Ross has again offered to host a Friday night gathering at his Montclair house and reserve the golf course. Thank you Warren!
Barbara Mansell Ramsay, who served as treasurer on previous reunion committees has offered to help again. Thank you Barbara!
Delores Morton Munford has offered to help organize the reunion. Thank you Delores!
Bounced emails
Seventeen emails bounced after our most recent MHS '60 Update. If you have correct email addresses for any of these classmates, please let me know. (Linda.andre@verizon.net).
Lucy Bartel Kizirian
Judy Kirby Lyman
Gwynn Brown
Ed Watson
Elizabeth Mackenzie Martinez
Arnold Fox
Teddy Africano
Robert Tyson
Mary Beth Nevins
Sam Gugliotta
Heidi Fry Edelman
Joan Malone Decker
Dave Herbert
Connie Donatello Todd
Frank Pisano
Antonia Ballare
Lucille Buldo
**************************************************************************************************************************
Are you looking for old reunion photos? You can still see all of them in the "Photo Gallery" section of this website.
Click on "Photo Gallery" in the blue sidebar directly under "Home Page." You'll come to a long list of "galleries." Scroll all the way down until you see a lot of square pictures with paperclips in the corner. The 2016 reunion photos are organized in two groups. The 1st "gallery" is called "2016 Reunion - Friday." The 2nd gallery is called "2016 Reunion - Saturday."
Each photo gallery has up to 12 photos per page, and there may be several pages in a gallery, so be sure not to miss any. If you need help telling who's who, just hold your mouse over the photo and a caption should appear. Click on the photo if you want to enlarge it.
Do you have any reunion (or other) photos to share? We welcome them all. If you want to post them yourself, click on the place at the bottom of any gallery page where is says, "Create Your Own Photo Gallery here. You should see instructions that tell you how to upload your own photos.
Don't like your picture? If you would like me to remove a photo, just let me know which one, and I'll be happy to take it off the website. (Linda.andre@verizon.net)
If you'd like me to upload your photos, that is fine. Just send them to me and I will be happy to post them on the website for you. (Linda.andre@verizon.net)
What would you like to tell your classmates about reunion weekend? Send me your stories, thoughts, memories, and I will post them here.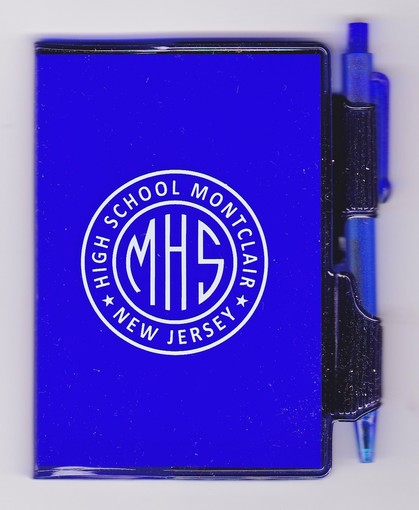 This is a "mini-notebook" that we gave out at the reunion so that everyone would have a place to jot down a name, address, or email address during the evening. It is about 3-3/8 by 4-1/4 inches and fits easily into a pocket. There are lined pages inside. We have about 24 left over. If you would like one, let me know and I will send it to you using our leftover stamps. Be sure to send me your correct address!
.....................................................................................................................................................
SENIOR YEARBOOK PICTURES
We now have all the pages of our senior yearbook pictures posted on this website, thanks to Gene Mazzola, who brought me his yearbook to be scanned To see them all, just go to the blue sidebar on the left side of this page and click on Senior Yearbook Photos. Many thanks to John Sproston for initiating this project, and to Gene and Chris Graber for providing pages.
Would you like to find out whether other classmates share your special interests or activities? For example, I teach ESL (English as a Second Language) to adult students and would love to find out whether any other classmates do the same. Let me know if you have special interests that you would like me to publicize on this website.
HOW TO SEND MESSAGES THROUGH THIS WEBSITE
We'd like to hear from you!
If you'd like to send a message to the whole class:
1. Go to the "What's New" page at the very top of the blue margin on the left side of this page.
2. Look for the gray box on the top that says "Post a Comment to the Class."
3. Write your message in the box that says "Share Your Thoughts with Classmates."
4. Include a photo or video if you like (that would be great!)
5. Click on the blue "Post Message" box.
If you'd like to send a private message to a Classmate:
1.Go to the classmate's profile page. (Click on "Classmate Profiles" near the top of the left-hand blue margin on this page.)
2. Click on the envelope icon directly under the photo box where it says "Send [classmate's name] a private message."
3. When you get to the message screen, type in your subject and message in the boxes.
4. Click the blue "Send private message" box. That's all you have to do! It's easy!
Guest Members on this website
It is now possible for a member of another MHS class to join our website as a "Guest Member." Guest Members will be able to have their own profile page and they will be able to send and receive messages through the site. They will be able to remain guest members as long as they do not harass any class member or post objectionable material. If a member of another MHS class wishes to become a Guest Member, he/she should contact me directly to request guest membership and I will enter his or her information in the site's database and provide information about how to sign up. Nobody will be able to join the site without going through that process. If you have questions or concerns, please let me know. (Linda.andre@verizon.net)