Montclair High School
Class Of 1960
ANNOUNCEMENTS
ZOOM Reunions ??? Are you interested?
Many of us have enjoyed reconnecting with each other at class reunions over the years. However, now that we are in our 80s, it seems unlikely that we'll be able to pull off any more wonderful weekend reunions in Montclair. But that's no reason to let our connections with old friends fade away.
Staying in touch with our MHS classmates can widen our world and help to fend off the isolation that may accompany retirement, loss of family and friends, and concerns about our health. Doctors tell us that loneliness is bad for us. If that's true, why not let Zoom help us out?
Our class funds can pay for a Zoom license that would allow up to 100 participants to get together online and share our stories and ideas as often as we like. The sessions would be free for you and for all of our classmates who would like to participate. All we would need is your preferred email address and your name -- both as you were known in high school and as you are known today.
Are you interested? A preliminary survey, posted here on this website, (montclair60.com) will help us figure out whether to proceed with this idea. Just click on "Zoom Reunions Survey for MHS '60" in the blue sidebar on the left side of this home page -- 2nd item from the top. There are just 16 quick-and-easy questions. Remember to click "Submit" at the bottom after Question #16 when you are finished. If you don't see the "Submit" button, make sure you have logged into the website. If you have trouble posting a comment, remember that you must be logged into the website. Go to the gray box in the upper right corner of the home page. Click on "Sign in." You should get to a "Log In" page where you provide your email address and password. Then click the blue "Log In" box. You can also check the "Keep Me Logged in" box so you don't have to go through this again. (If you don't know your password, back up and click "Forgot Password?")
To view the responses to the survey, click on "View Survey Results" under my message. THANKS!
Welcome to the MHS '60 Website!
November 9, 2023
Thanks to Dennis McHugh for this photo! Dennis says, "Bobbye Stoeber (Greene) and I met for lunch, first time seeing each other in many years. Spent two hours getting caught up. Had a great time."
...........................................
In Memory: Andy Widmark
April 3, 1942 - October 28, 2023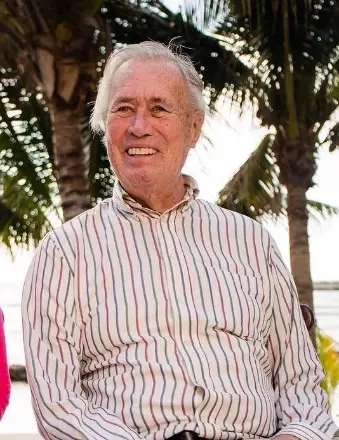 Andy's path in the world of business had a major impact on his community and those he mentored. He assumed the role of CEO at Kerr Concrete Pipe Co., made significant strides as a real estate developer and owner, and shared his wealth of knowledge as a professor at Duke's Fuqua School of Business. His leadership extended to the healthcare industry, where he served as the CEO of New Wave Surgical.
Andy's commitment to the community was unwavering. He was an active member of the Rotary Club and dedicated his time and resources to the Salvation Army. His compassion for others shone through his involvement in various charitable organizations.
When he wasn't engaged in his many professional pursuits, Andy cherished moments of leisure. He loved sitting in the sun with a beer or sharing a bottle of wine with friends and family. He had a love for travel, exploring new horizons, and embracing diverse cultures. Soccer was a passion he held close to his heart, and he enjoyed long walks, devoured books, and immersed himself in the joy of learning Spanish.
In lieu of flowers, the family kindly requests that donations be made to the Salvation Army, The First Presbyterian Church, or the Durham Rescue Mission, in honor of Andy's dedication to philanthropic endeavors.
Andy will be remembered for his passion for life, his tireless dedication to his community, and the love he bestowed upon his family. His presence will be deeply missed, but his legacy will continue to inspire and uplift those who had the privilege of knowing him.
Rest in peace, Andy Widmark. Your memory lives on in our hearts."
Obituary provided by Hall-Wynne Funeral Service and Crematory, 1113 W. Main St., Durham, North Carolina. There is no information about services at this time.
If you would like to share your memories and stories about Andy, please go to his "In Memory" page. In the blue sidebar on the left side of this Home Page, click on "In Memory" (6th item from the top). Click on "Andy Widmark." Scroll all the way to the bottom, and click on the "Post Comment" button. Write your memory in the empty box, then click the SUBMIT button underneath.
If you have trouble posting a comment, remember that you must be logged into the website. Go to the gray box in the upper right corner of the home page. Click on "Sign in." You should get to a "Log In" page where you provide your email address and password. Then click the blue "Log In" box. You can also check the "Keep Me Logged in" box so you don't have to go through this again. (If you don't know your password, back up and click "Forgot Password?")
....................................................
In Memory: Richard ("Dickie") Ross
January 24, 1941 - September 27, 2023
Obituary from Star Ledger, October 11, 2023
Our beloved Richard W. Ross, 82-year-old retired high school administrator from Montclair, New Jersey, departed the earth on September 27, 2023, in Houston, Texas. He left this world peacefully, with his granddaughter by his side. Richard was known as a passionate educator, an accomplished track & field high jumper, artist and author. He was a man of good character and resilience. His wisdom was imparted on the lives of all who had the privilege of knowing him.

Richard is survived by his wife Marva A. Ross; children Richard W. Ross II (Edith) and Stephanie M. Ross; granddaughters Asia M. Ross and Skylar A. Ross Ransom; great grandson Karter R. Demus; brothers Stanley A. Ross and Craig S. Johnson and numerous extended family members. Family and friends will gather to celebrate Richard's life and pay their respects on October 14, 2023 at Mabrie Memorial Mortuary, 5000 Almeda Rd., Houston, Texas 77004. The viewing will begin at 10:00 am and the funeral service will commence at 11:00 am.
https://obits.nj.com/us/obituaries/starledger/name/richard-ross-obituary?id=53306954
If you would like to share your memories and stories about Dickie, please go to his "In Memory" page. In the blue sidebar on the left side of this Home Page, click on "In Memory" (6th item from the top). Click on "Richard Ross." Scroll all the way to the bottom, and click on the "Post Comment" button. Write your memory in the empty box, then click the SUBMIT button underneath.
..........................................................................
Rita Levedag Fischel
Rita's photo from MHS '60 yearbook
On September 16, 2023, our classmate Bonnie Kerr Clarke wrote the following message to the class.
It is with profound sadness that I inform our classmates of the passing of Rita Fischel (nee Levedag), who passed away yesterday while in hospice care in Marietta, GA
I do not have an obituary or recent photo to post at this time. However, if you would like to share your memories and stories about Rita, please go to her "In Memory" page. In the blue sidebar on the left side of this Home Page, click on "In Memory" (6th item from the top). Click on "Rita Levedag (Fischel)." Scroll all the way to the bottom, and click on the "Post Comment" button. Write your memory in the empty box, then click the SUBMIT button underneath.
...................................................................................
David Appleton is back to amuse us with another of his life stories. This one tells of his athletic feats as a young Navy sailor aboard the USS Courtney back in 1964.
David writes:
As those of us MHS 60 classmates remaining prepare for Life's Ultimate Reward, such as has already reaped by many of us, I know we look back on our well-worn paths with joy and sorrow for our deeds and shortcomings. I wish to inject a note of levity into our memories from mine.
Avoiding the draft during a lapse in my academic achievements in 1964, I joined the US Navy on July 27th, two weeks before the Tonkin Gulf Resolution…. Talk about timing. A couple of months later, I found myself at sea in the North Atlantic. Here's one of my recollections:
Navy Racks
I saw my first USN sea duty in the fall of 1964 on USS Courtney (DE1021) as a FTSN (Fire Control Tech) striker. Fox Division (guns, my division) and First division (deck apes, Bosn's Mates) bunked in the forward end of this relatively small (at 300' LOA, almost tiny by USN standards), which offered remarkable challenges to just walking around (to say nothing about eating and sleeping and doing your job) when at sea in rough weather.
The USS Courtney
Our racks were stacked 3 high throughout our berthing compartment situated (under the forward duel 3"50 gun mount in the picture above) just aft of the peak locker serving as Bosn's Locker. My rack was the top rack near the ship's centerline, so it was relatively comfortable when the ship rolled. But when she pitched it was a different story. Being so far forward we enjoyed the full benefit of the violent pitching motion of a small ship when steaming into heavy seas.
I was a high jumper (though not a very good one) on the MHS track team in the late 50s. So when assigned that top centerline bunk when I reported aboard Courtney, I decided to use my developed high jumping skills, employing the Texas Roll technique (I think it was called - predecessor to the Fosbury Flop) to launch myself from the deck into my berth, rather than the usual mundane and accepted climbing technique employed by my shipmates. I thought myself innovative.
This practice served me well when in port or in mildly pitching situations. In fact I soon learned I could use the ship's pitching motion to assist my sack time leap. The upward thrust supercharged my jump, taking advantage of upward inertia for assistance. I'd carefully time my leap for moments just before when Courtney crested on a wave and began to sink into the trough behind the wave. As the deck went down, inertia would take over and I'd gracefully (or so I thought) land in my rack. This worked well in the gentle motion of the ship in moderate seas. I even bragged about my technique to my shipmates and gave demonstrations.
But not so much in heavy seas. One day at sea in November of '64 off the coast of the Carolinas, Courtney found herself weathering a tropical storm in the Gulf Stream, bouncing about somewhat erratically. I came off my 4 to 8 lookout watch topside pleased to get below out of the weather. I prepared myself for bedtime and positioned myself for my berthing leap.
I timed my jump up perfectly with the rising motion and sailed up to my rack on the wings of inertia, but then she crested and the ships bow went down and I continued soaring, crashing into the overhead (the ceiling on a ship) and started to descend just as the bow started up again and I smashed violently into the deck. Bruised but nothing broken I climbed gingerly into my rack.
This was the last time I employed my famous Bunk Leap technique. From this time forward I used accepted customary techniques for mounting my bunk throughout my Navy career.
There's a lesson in here somewhere, even a wise saying or aphorism…… something like, "The tried and true, is well tried and so true."
Anyway, that's my story and I'm sticking to it!
David Appleton
You can respond to David through this website.
1. Click on "Classmate Profiles" (2nd item from the top in the blue sidebar on the left side of the homepage.
2. Click on "David Appleton."
3. If you want to send a private message to David, click on the envelope icon (under the gray silhouette) and click on "Send David a private message." Fill out the Subject and Message boxes, then click "Send private message" in the blue box at the bottom.
4. If you want to post a comment that all classmates can see, look for a gray box that says "Post a comment on David's Profile." Write your comment in the white space that says "Share your thoughts with David (all Classmates can read.)" Then click "Post Comment" in the blue box at the bottom.
..........................................................................
Thanks to Michael Pecherer for sending this photo from his Watchung School class.
Michael writes, "Look what I found. ... I got a kick out of the faces and the way we dressed."
Janet Kipp Tribus
is showing her paintings
at Gallery 14 in Vero Beach, Florida
Red Umbrellas and Abstractions
Show Date: February 28 - March 31, 2023

Janet writes, "There are a few more weeks to go at this wonderful gallery…I hope you get a chance to see it…it's a compilation of many years of work! ❤️ Janet

"
Here is the statement that Janet wrote for her show.
"I have been painting and doing art for almost 40 years now. My first foray was pen and ink house portraits in 1981, which was self taught. My father was an architect, and I was fortunate to inherit those artistic genes, although my style has always been much looser.
After many years of pen and ink, and deeply yearning to work with color, I realized that if I couldn't draw, no painting could be successful in my eyes. I took the course "Drawing on the Right Side of the Brain" at the Montclair Art Museum in NJ. This was a major leap forward for me and my art.
In 1984, I began oil painting in earnest. I had enrolled in the Art Students League in NYC, and was lucky to work with some very influential teachers. I enjoyed many solo exhibits and awards, and progressed with the enthusiasm and encouragement of friends and collectors. The Morris Museum in New Jersey spotlighted my paintings in their new wing in April of 2008. Also at that time, I self-published a book entitled "A Sampler of Paintings" which depicts my artistic development from 1981 to 2007.
I have been living in Vero Beach, Florida for 20 years now. In 2013, I joined the Palm House Gallery & Studio on Ocean Drive; before that, I painted at home. I quickly learned that having a studio was another big step in the growth of my art, and I enjoyed the camaraderie of artists and gallery visitors as I worked. Again my work was eagerly pursued and appreciated. I became known as "The Red Umbrella Artist" - and I've sold almost every one of those paintings!
In 2017, I found myself deeply wanting to express my painting in abstract shapes. I enrolled at Oxbow, a summer residency program of The Art Institute of Chicago. It was there that I gave myself permission to pursue this new direction. Although many of my collectors were at first baffled to see this new bold undertaking, it has turned out to be another successful detour in my artistic development, and several clients have commissioned me to paint abstracts for them.
In March of 2018, I founded my own studio in Vero Beach, and it has enabled me to paint without 'other eyes' watching every step of a painting's creation. For me, painting the abstract piece is a process in which I have no idea what the final product will be. This privacy has freed me to concentrate without fear. I've happily been 'staying in' for the past few years creating these abstracts, but am now ready to have 'other eyes' see it, judge it, and hopefully enjoy my work!"
You can see Janet's paintings on the Gallery 14 website:
........................................................................................................................
80th Birthdays
It is very nice to see that as even as we finish off our 8th decade, we are still finding plenty of things to do and enjoy.
And now the "year of the 80th birthdays" is moving on to the Class of '61.
Wayne Hansen, MHS '61 (who has friends in our class) sent this picture of his wonderful birthday lunch with his wife Barbara and son Brian. He says, " I am now 80 years young. Yikes can that be possible? "
Wayne continues, "I don't really have any story to tell, or advice to offer. However as we all age, it is important to find things that stimulate us, are enjoyable, and provide opportunities to serve others. Helping our town as an election worker, being a member of the US Coast Guard Auxiliary and being able to continue flying do that for me."
Wayne, on the left, with the U. S. Coast Guard Auxiliary
Wayne, still flying.
............................................................................................................
John Wharton - A Remembrance
by David Appleton
It was 1955 or so when I first met John Wharton on the grassy field of Edgemont Park near Liz MacKenzie's, Imogene Kennedy's and Buddy Ducker's houses near Edgemont School, just to the west of the pavilion and pond where we fished for carp, fed bits of bread to ducks and swans, and sailed model boats in regattas during the summer park camp program, and donned our ice skates each winter for sometimes romantic evening forays onto the ice where we played "Ice-lot Hockey" during the day. … Edgemont, the center of the universe to many of us young folk growing up in lower Montclair in those halcyon days of the 40s and 50s.
John lived in Upper Montclair and went to Mount Hebron JHS; I lived near the High School on Park St. (lower Montclair) and attended George Inness JHS (8th grade at this time). So our paths never crossed until that crisp fall day in 1955.
Somehow Tony Massi of George Inness connected with folks in Mount Hebron to arrange a football game twixt the two schools on the fields of Edgemont Park. My understanding of the arrangement was vague at best, but the meeting and game happened and I was there.
Montclair High School was a football powerhouse at that time under the leadership of Coach Clary Anderson along with Butch Fortunato and others. State Championships abounded. So us kids coming up toward MHS sought to begin honing our skills to join the MHS Team.
A bunch of us from GI and MH schools showed up on the field that day with a half-vast skills and a motley collection of football pads, helmets and gear. The sartorial star of the show was Bob Mills, who wore a fully outfitted kelly green uniform with appropriate pads and helmet, head to toe a football fashion plate. It was on that day (wish I could remember the exact date) that Bob struck a pose and became "Otto" Mills…. named after the legendary Otto Graham.
The game began,and my memory fogged by years serves me little in the way of details…. But I do distinctly remember connecting with John Wharton, who played center for Mount Hebron, as I presented as defensive over center guard for Geo Inness. With each play, I SCREAMED VIOLENTLY and jumped over John as he centered the ball to I forget who was playing quarterback….. that's about all I can remember about our first meeting…. Other than it was fun.
There were (?) or may have been more such games I fail to recall. But later, in MHS, John and I became fast friends, hanging out together after school, drivin' around town and beyond with whoever had a license and a car, learning to play poker, and finally on the MHS Football Team.
On that MHS Football Team we played many positions, but mostly served as bench warmers. With John, Otto Mills, Henry Stake and myself, we called ourselves "The Four Horsemen." We sat on the end of the bench making jokes; we seldom took the field and served little to advance the MHS cause when we did. But we did enjoy the game and watching Tony Massi & Co. prevail often.
I last saw John at one of our MHS 60 reunions a few years ago. We were both aged and somewhat grumpy, but thoroughly enjoyed seeing one another again. I last communicated with John on Facebook recently where we differed on some issues but where I charged him to "Remember the Four Horsemen!"
John was a good friend about whom I have many more cherished memories from those days.
.....................................................................................................
If you went to George Inness Junior High School
--- and even if you didn't ---
you might be interested in learning about the artist whose name is familiar to all of us who grew up in Montclair.
Carol Gaylor Patterson came upon a recent Wall Street Journal article that praised the Montclair Art Museum and its new exhibition of paintings by George Inness, who worked in and around Montclair in the late 1800s. Thank you, Carol!
Here is one of Inness' paintings, Early Autumn, Montclair, 1888.
The museum's current exhibition 'George Inness: Visionary Landscape" examines how the artist captured the shifting light on the land "from dawn to dusk to moonrise." The exhibition is on view through June 30, 2024 in the museum's George Inness Gallery, the only gallery in the world dedicated to Inness.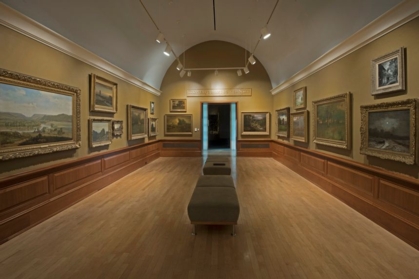 The George Inness Gallery at the Montclair Art Museum.
Here are excerpts from The Wall Street Journal's review: "Enchanted by the Light."
Inness was enamored less with capturing a sense of place than he was with conveying an emotional, spiritual feeling for light .… [Inness's landscapes] spark at dawn, brighten into full day, and are engulfed by sunsets, dissolved by dusks, and enveloped by nights illuminated by yellow moons."
Born in Newburgh, New York, Inness traveled widely. He lived in numerous cities in the American Northeast and for extended periods in Florida, Italy, and France. Early on, he worked as a map engraver in New York, which led him to become a landscape painter. This skill ... landed him commissions from the Delaware, Lackawanna and Western Railroad to commemorate, in landscapes, industrialization's manifest destiny. ..."
Credit: By Lance Esplund. Copyright 2023 Dow Jones & Company, Inc. All Rights Reserved
Here are the titles of some of the gallery's paintings that show how deeply Inness was affected by nature:
Delaware Water Gap ... Winter Moonlight (Christmas Eve) … Winter Morning, Montclair … Moonrise, Montclair … Breaking Through the Clouds … Out of My Studio Door, Montclair … Early Autumn, Montclair … Sunset Glow … Pool in the Woods … Montclair Sunset … Gathering Clouds, Spring, Montclair, New Jersey
To see more of Inness's landscapes inspired by scenes in and around Montclair, google "George Inness Montclair" and click on the "Images" tab.
A note about George Inness' namesake:
George Inness Jr. High School, named in the artist's honor, was built in the 1920s, about 30 years after the artist's death. Sadly, for those of us who attended "G.I.", the official name of the school is now "Ninth Grade Academy" and the building has been demoted to being called the "George Inness Annex" or "Freshman Building." (So much for the opening lines of the school's song we memorized: "In old Montclair there is a school whose fame will never die… And the refrain: "George Inness to the end. We'll sing your praises long and loud… ")
One more thing ...
When I was googling "George Inness," I stumbled upon two Wikipedia lists of important people from Montclair. If you're ever bored and looking for a way to spend some time, here are two sites to explore:
An alphabetical listing of names of celebrated people from Montclair
A very similar (but not identical) list, organized by profession.
The great majority of names on the lists are unfamiliar to me, but here and there, a name pops out -- like Stephen Colbert. There are also a bunch of athletes, such as football star Aubrey Lewis, (MHS '54) and other high achievers such as Rees Jones, (MHS '59) who became a big-time designer of golf courses.
......................................................................................
Dave Conine
: daveconine@icloud.com
Jane Tompkins
Carnoy: jane.carnoy@gmail.com
Lawrence Robinson: valius324@gmail.com
Address: Shipp Circle, Conyers, GA 30012 Phone: Phone: 631-568-2071
A message from Lawrence:
We are not human beings having a spiritual experience.
We are spiritual beings having a human experience.
.........................................................................................
A new episode in the onoing series of stories and ruminations from David Appleton:
(Previous episodes have been moved to "Stories from David Appleton." (Click on the 6th item from the top in the blue sidebar on the left side of this home page.)
My Insurance Imbroglio
By David Appleton
On Thursday, January 5, 2023 at about 9:30 pm, I hit a deer with my 2019 Toyota Highlander on Route 179 about 2 miles north of Lambertville, NJ while driving a paying passenger from Newark Airport to Lambertville. I wasn't going very fast, no one was hurt, and the car remained drivable, so I continued on and delivered my client to her home. The damage was minimal but proved expensive, in excess of $3000. I had the damage appraised by several body shops and learned deer strikes will not affect premiums. So I made a claim to my provider, USAA.
After several exchanges with USAA, they denied my claim because I was driving with a paying passenger. I was flabbergasted. I had told USAA I was driving for pay with LYFT and for myself when we initiated our policy for this car, two others, and our home. I paid extra for the rideshare coverage…. BUT I misread or misunderstood the coverage.
After much phone time with USAA, my wife Wendy (far superior to me at this sort of thing), was guided to understand the nature of our coverage, which was considerably less than I had assumed. It seems our USAA insurance covered something called a "gap" which covered me when "on line and driving for LYFT on the way to pick up a LYFT passenger." Once I had that passenger on board, LYFT insurance covered me. Once I dropped off the LYFT passenger, insurance coverage reverted to my private coverage with USAA. That's my understanding (perhaps not totally accurate … insurance can be mystifying) of the USAA coverage.
Achieving this understanding, I remained flabbergasted….and saddled with a $3K+ repair bill. But now I waxed TERRIFIED! I realized that for 6 years of driving folks in and around my neighborhood to meet their trains and planes or hospital appointments and to get them home from their adventures, I HAD BEEN DRIVING FISCALLY NAKED-----UNINSURED!!!! One bad accident could possibly bankrupt me and my family. We could loose everything.
This deer strike proved fortunate. I returned to the scene of the encounter on Route 179 to see this deer again to thank him for providing this new understanding while causing minimal damage. He was unavailable. No carcass at the point of impact; he must have escaped. I hope he's doing well.
So I scrambled to get insurance to get myself covered for doing what I truly like doing … helping folks get to where they need to be and enjoying their company and conversation on the way while earning a few bucks to fuel this enterprise. USAA was unable to provide what I needed and sent me to Progressive, who provided adequate commercial coverage for only $5,000.00 a year.
YIKES! This is around 20% to 23% of my gross for the year. But I guess it's a reasonable price to pay for doing what I enjoy and keeping busy in my retirement while serving my neighbors. I enjoy life, both my own and others!
2/10/2023
.....................................................................................................
Charlotte Gerber Turner
announces her photography website.
Charlotte Gerber Turner invites you to enjoy more than 100 of her photographs on her new website www.CharlotteGTurner.com .
The photographs are organized in 10 categories: Awards, Momentary, People, Architecture, Documentary, Abstract, Street, Black and White, Scenery, and Travel.
Charlotte writes:
THIS is a LOVE story over time. My romance with photography started in 6th grade at Grove Street School. In 2019, our classmate Michael Brodie invited me to join him in an online photography class which resulted in a new adventure into photography and the creation of this website. I hope you will enter my website and come along with me on this EXCITING journey.
Here is one of Charlotte's award-winning photographs, Topsy Curvy. Can you figure out how it was made? (Charlotte did not use any photoshop techniques.)
Need some help? You can get a few clues by clicking on "Charlotte Gerber Turner's photos" in the blue sidebar on this home page.
The 100+ photographs on Charlotte's new website will open your eyes to places and people of New York City (and elsewhere) that you might never notice on your own. A page called About decribes Charlotte's personal involvement with photography over the years. Another page called Contact provides an easy way for you to send her a message or question.
Enjoy! www.CharlotteGTurner.com
..............................................................................................
Do you have a personal website that you would like to tell us about? Just let me know, (Linda.andre@verizon.net) and I'll be glad to post a link on this website.
...............................................................................................
CAROL GAYLOR Patterson
Carol Gaylor Patterson lives in San Antonio, Texas where she has been deeply involved in environmental issues, especially water management. She is devoted to making sure that people in south central Texas have the water they need for personal, agricultural, commercial, and industrial use. Carol has enjoyed reading about the activities of many of our classmates. Here she tells us what she has been doing in Texas over the years.
"..... In the 1970's, my husband and I, together with a great assortment of people from different walks of life, succeeded in getting "Wild and Scenic River" designation for 192 miles of the Lower Canyons of the Rio Grande. It was a five-year effort. At that time, a thousand letters to the congressman, 10,000 signatures, press conferences, and taking a congressional candidate on a 5 day-6 night canoe trip down the river plus the help of the Sierra Club locally and the American Rivers Conservation Corps and Representative Philip Burton in Washington was unusual. The effort made it across the finish line by my husband's securing the deed records showing that only 5 miles of the riparian zone on the U.S. side were locally owned for the benefit of our local congressman, Bob Krueger. It was a joyful, bi-partisan success. Now it is matched by a park on the Mexican side of the Rio Grande as well.
I became a calligrapher while our wonderful daughters were young, teaching in the community program of the San Antonio Art Institute. Then I turned my life upside down and ran for public office, serving on the board of the Edwards Aquifer Authority (and the predecessor district) for more than 30 years now (just re-elected).
[Note: The Edwards Aquifer is the region's primary water resource.]
I first thought I should learn how water moves through rocks and I studied geology--Now I know that soil is equally important. We need to store rainfall both in ASR (Aquifer Storage and Recovery in a sand aquifer as opposed to karst) and also in soil to temper the floods and tide us over the droughts. (An acre of soil will store approx 27,000 gallons of water per one percent of carbon content according to NRCS, the Natural Resources Conservation Service). Those approaches are cost effective--and also take regional collaboration. But if NYC succeeded in protecting it's watershed, that's an example to inspire and encourage us all. In any case, it gets me up in the mornings!
I first ran for office in 1991. Now, many years later, we are finally getting to the issue I ran for in the first place--to add recharge to the aquifer as a cost-effective and least environmentally destructive means of adding water supply. My middle name seems to be persistence!
Now the vision for recharging an aquifer has become much greater and involves a lot more people and entities--a collaborative soil regeneration project over a 5400 sq mile contributing zone. It may happen in geologic time!
We were all so lucky to have been launched by MHS '60!
Do you want to learn what an aquifer is?
Visit the Edwards Aquifer Conservancy website at https://www.eaconservancy.org/mission-2/
Read Carol's biography at https://www.edwardsaquifer.org/eaa/board-of-directors/ . According to the Edwards Aquifer Authority website, Carol has "a long track record of advocacy and leadership on regional water issues... She has organized and lead numerous symposiums and forums on groundwater management and policy, authored publications, and testified before the Texas legislature on water-related matters."

....................................................................................
Dick Loomis updates his work on the Malaria Project in Ouelessebolugou, Mali in Africa.
"I am fortunate to stay involved with the Ouelessebougou Alliance, and after 2-1/2 years of working on getting western-style mosquito abatement technology to the villages in Mali, Africa - we are FINALLY going to be killing mosquitos and saving babies from malaria starting this spring!
................................................................................................
BECOMING and BEING 80 or 81!
Do you have an 80th or 81st birthday story to share? Or do you have advice on how to thrive ? Just send it to me (Linda.andre@verizon.net) and I will be happy to post it for you on this web site.
Mark Streuli
suggests, "We are getting to the point where we should be writing obits before we die. That way we could share our appreciation for each other's lives. Obits for me always seem to be too late. The person they are about should be part of it."
Barbara Mansell Ramsay celebrates her 80th birthday!
(In case you can't tell, Barbara is in the front row, center.)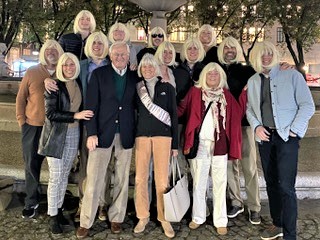 Barbara writes, "My immediate family went to Broadway, and then I was treated to a Flashdance in a pocket park at 58th and Madison by a very tall group of silver-haired blondes, before dinner."
Here's the link to Barbara's Birthday Flashdance video, which she describes as "pretty silly." Be sure to turn up your sound.
[Select and copy the whole link, then click "open link" or paste it into your browser. It should be available as a download. That's what works for me and I hope it works for you. If it doesn't, let me know, and we can try something else. ]
https://dl-mail.aolmail.com/ws/download/mailboxes/@.id==VjN-OZ3GB5-ajEEsEPxmuGS-etzLVwsx1cH3UE6COqW5WmUNv4_m-Mp6-32nOjVBJ0c5RvwBEmPBJUBBLcNMHeNvhw/messages/@.id==AFMA-rNB_FW-Y7LurAILcD4dcQ4/content/parts/@.id==3/raw?appid=aolwebmail&ymreqid=c1b46f0c-3c88-56b1-2f2c-5a0042011100&token=B4JqzXNJ8jmQlo-wEglMlmY4EG6LPzz89zVKYLu0DQaHHUufWW9tHZuPtwI7FhRV_NjkRoRwWFfcG0VMzRLAwQ2_j-b4ynr7fac6NUEnRzlG_AESY8ElQEEtw0wd42-H
Nick Serpico on his 50th wedding anniversary
Nick writes, "Here is a pic from 2020 when my wife, Joan, and I celebrated our 50th wedding anniversary at our daughter's home during Covid."
Bob Rutan at his granddaughter's wedding.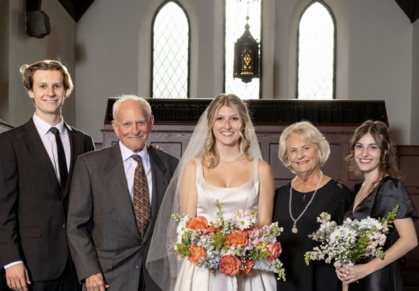 Bob
writes, "Here's a pic of Carole and me at our granddaughter Jessica's wedding October 29, along with her brother Jake and sister CeCe. This is the first wedding out of our brood of 10 grandkids, and life is good."
Ed Hanke
, Commander of the Syria Shrine Legion of Honor, avoids covid and comments on being 80.
Ed
writes, "I too have managed to hold the virus at bay for the past however long and then this past month, came down with a runny nose, cough and a sore throat which of course caused some panic. Trying to pass it off to a dry dusty house to no avail so I hauled out the "test kits" and found one that had not yet expired and in my best qualitative chemical analysis protocol from some sixty years ago at the University, I carefully followed the directions and after waiting the obligatory 20 minutes I was greeted by negative test results. I've been vaccinated, boosted and cautious to the extreme on account of my dear wife's frail health; so, you can well appreciate my level of concern as her sole caretaker. If I get sick, our collective world faces challenges that we are prepared for but don't want to have to implement.
Turning 80 has been not without its' traumas. My son is gone some five years now, claimed by cancer. My brother Chris (13 years younger), died on the 15th of November after calling me on the 11th to wish me a happy Veterans Day.
There has been good news as well, with my Oncologist telling me that there is no reason to make any more appointments as I am two years beyond my radiation treatments and appear totally cured. I begin my second year as the Commander of the Syria Shrine Legion of Honor and it looks like we will be having more activity and parades for this coming year.
Victoria Zobian Woodrow celebrates being 80 years old.
Victoria Zobian Woodrow (who went to Edgemont Elementary School with our class (and later graduated with MHS '61) sent this picture of herself as an 80-year-old Christmas Elf. The adjoining black and white photo of Vicky Zobian comes from Miss Truex's 1st-grade class picture at Edgemont.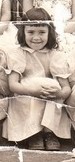 Linda Olsen Patton on her 80th birthday
September 8, 2022
Rick Boschen on his 80th birthday
May 11, 2022
Mustang Dad with Rob, Kyle, and Rick 3
Advice and observations from Paul Stephanus:
I am amazed and surprised that I am 80. ...The latest thing that caught up to me is cataracts. You can lose your eyesight if they are not removed. An eye doctor will tell you that you will need that operation before your eyes get really bad because you can get used to it somewhat before you know it. You will notice it most in seeing lights at night time.
Just had the operations, one eye at a time. It was a quick, painless, easy operation to remove them. However, the eye drops sting because my eyes were always sensitive to water. Many people can get improved eyesight so as not to need glasses except perhaps for reading. In my case, I am now at 20/30 so I will still need glasses, but there will be thinner glass.The funny thing now is that the government wants ID pictures of people without glasses.
There are so many things that older people have wearing out on them, beside their old cars. I have hearing aids, but I do not wear them when I am working around the house especially when handling paper. Also, I dared not wear my hearing aids when working with our horse, not because he talks loud, but I do not want to have to find them in the manure. As for other things that wear out, especially for me is my teeth. My wife would not like me to brag about how few real teeth I have left. Then also there is that right knee joint that has been replaced.
For more comments from Paul Stephanus, read https://www.montclair60.com/class_profile.cfm?member_id=2372358
Here's an 80th birthday photo from Janet Kipp Tribus.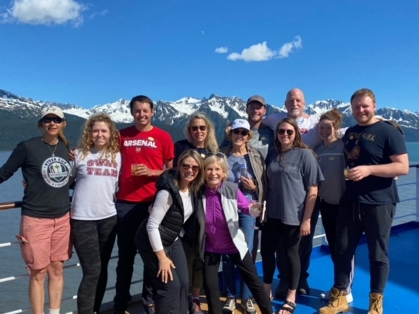 Janet says, "I took my family on an Alaskan cruise this June! " Janet (in purple) doesn't look any older than the rest of her family. Happy 80th Birthday , Janet!
An 80th birthday report from DAVID APPLETON
This very significant Natal Day Celebration found me waking up in Longmeadow, MA in the lovely home of lifelong friend, sailing Mate, and general co-conspirator on many an ill-fated venture,
Ned Watson
(now prefers Ed as I do David) where I wound up after one of my longest chauffeuring gigs. We had a lovely long overdue visit. I bought Ed dinner in his favorite Italian Restaurant in Enfield the evening before as we reminisced amid gales of laughter. Ed cooked me breakfast Monday after which I mounted my trusty steed (Toyota Highlander Hybrid) and spent most of the day driving home to
New Hope. Arriving there I crashed (in the '60s sense of the word) exhausted. Best to all who wished me well, and even to those who wish me otherwise. Fair Winds!
Sheila Albright Hogan (Hillside Jr. HS). I had an amazing 80th Birthday. All my children gave me a party in Phoenix that was spectacular. The backyard was big enough to invite everyone in the area. Anne Ramee Bennett, my lifelong friend, came to support me. The whole family showed up, except for two grandchildren. There was even a show with hula dancers, and that put everyone in a festive mood.
Anne Ramee
Bennett has advice for being 80. Please enjoy your families and friends. Also, don't complain that you are in pain. They don't want to hear it. ...My body says "old", but my mind says "let's go."
And while we're on the subject of getting older, what do you think about living in a CCRC (Continuing Care Retirement Community)?
CCRCs are residential communities that provide a continuum of services and care, allowing older adults to "age in place." Residents may live completely independently upon entering the community, but may transition to Assisted Living or Skilled Nursing Care if needed. CCRCs are generally a collection of apartments, town homes, or cottages, and include common activity areas such as a library, activity and craft rooms, fitness centers, a restaurant-like dining room, an assisted living facility, and nursing home. Our Poll (in the upper right of this page) asks "What are your thoughts about living in a CCRC? " Take the poll and let us know how you feel.
If you would like to share your ideas about turning 80, you can post them on your profile page or send them to me (Linda.andre@verizon.net) and I will post your ideas for you.
Do you have an 80th-birthday or other special photo to share? Just send it to me at Linda.andre@verizon.net and I'll be delighted to post it on this website.
................................................................................
Michael Brodie would welcome your comments on his new photograph entitled An Important Question. The question on the TV screen says, "ARE WE GONNA BE OK?" Michael calls his image "timely and relevant."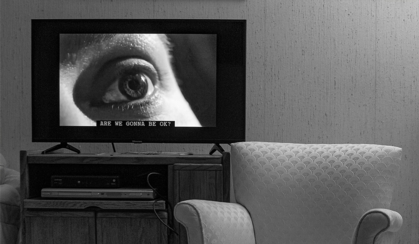 How do you respond to Michael's image and its pressing question? Is this an eye of anxiety? Alarm? Urgency? Tranquility? Worry? Belief? And whose eye is this? What is it seeing?
Could it simply be a close-up from an over-the-top made-for-TV story that arouses our emotions? Or has this eye seen too many harrowing real-life events that TV brings into our homes? Perhaps this eye is looking out at us, appealing for our assurance that "we are gonna be ok" in our very uncertain world. Does it matter that the chair is empty and nobody is paying attention?
Michael says that he recently entered this photo in a contest called "The Spider Awards," which (according to the contest website) is "one of the biggest black-and-white photography contests in the world." You can read about the contest at https://www.thespiderawards.com. Thank you, Michael, for sharing your achievement with the class! We wish you well in the contest.
What does Michael's photograph mean to you? I'm happy to post your comments. Just send them to me at Linda.andre@verizon.net
You can respond to Michael personally through this website or at mbrophoto@gmail.com
.............................................................................................
c
Does this photo take you back to our high school days when we carried our books home in our arms (no backpacks) and parked cars on the street (no parking lot). Thanks to Sanford Sherman for sharing this photo that he took in 1958-59.
Sanford identifies Richard Yaeger, Jerry Brown, and Otto Mills. Is that Pete Snyder on the far left? Who is on the far right?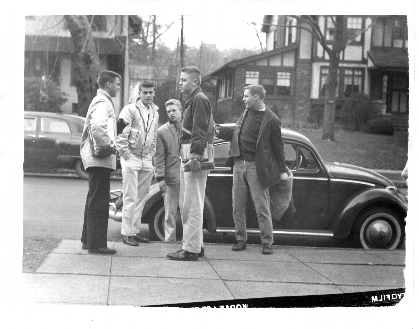 ***************************NAVIGATING THE WEBSITE **********************
I've created 5 new sections in the blue sidebar of this website.These sections contain articles and information that have recently appeared on the home page of this website, but must be moved now to make space for future contributions.
"New contact information" - 4th item from the top of the blue sidebar on the left side of this page includes new addresses, phone numbers, or emails for any classmate who requests that I make their contact information public. I will not post any contact information in this space unless you ask me to. (But please keep me informed about changes to your contact information so that I can keep our database up to date.)
In Memory - 5th item from the top. Recent notices about the passing of John Wharton, Chris Philips, Joan Bookhart Malloy, Shelley (Rochelle) Caggiano Schait, Jenny Kelsey, Stephen Holzel, Patricia Payne Wallace, Ron Philpott, Frank Rubino, and Sandy Toth Guido have been moved to the "In Memory" section of this website. Click on "In Memory", then click on the classmate's name. To add your own tribute, anecdote, or memory, scroll to the very bottom of the page, then click "Post Comment." Write your message in the empty box. Click "Submit" at the bottom.
"Stories from David Appleton" - 6th item from the top. In Dry Ice Bomb, we join David Appleton and his band of co-conspiratoros in a Montclair sewer. In Aunt Elsie Reed and Miss Ardella Watts Bondurant, we meet two important women from David's youth. In Spit Valve Humiliation, we see David auditioning to play the trumpet in the Watchung Elementary School Bend. In Good Humor Man Career we drive with David on his ice cream truck. In Patsy's and the Allure of New York: Bringing in the '60s, we join David and his buddies on a drinking expedition to New York City.
"Remembering Montclair" -7th item from the top. You'll find Roxine Clark Garriss' fond memoir of Montclair, especially her neighborhood around Glenfield School. There's also a photo of the entire 9th grade class at Mt. Hebron Jr. High School, information about the current feeder system of the of the Montclair Public School system, and an article about Martin Luther King's visit to MHS band room.
"Good Works"- 8th item from the top. Read about what Dick Loomis, Ben Ritter, and Rick Boschen have been doing to make the world a better place

"60s Wearing Covid 19 masks" -9th item from the top. Photos of classmates wearing masks at the beginning of the Covid-19 pandemic.
Older Articles
If you're looking for genealogy stories by Jack Brigham, Ralph Davidson, or Lawrence Robinson, you'll still find them in the "Genealogy" section of the blue sidebar. If you have your own genealogy stories to offer, I'll be glad to add them .
If you'd like to write a memoir about a family member or friend, you'll find the "Family and Friends Memoirs" section, also in the blue sidebar. Brad Stark's memoir of his father is in that space. Please feel free to write about someone important to you. There's plenty of room for new contributions from you!
Are you looking for old reunion photos? You can still see all of them in the "Photo Gallery" section of this website.
Click on "Photo Gallery" in the blue sidebar. You'll come to a long list of "galleries." Scroll all the way down until you see a lot of square pictures with paperclips in the corner. The 2016 reunion photos are organized in two groups. The 1st "gallery" is called "2016 Reunion - Friday." The 2nd gallery is called "2016 Reunion - Saturday."
Each photo gallery has up to 12 photos per page, and there may be several pages in a gallery, so be sure not to miss any. If you need help telling who's who, just hold your mouse over the photo and a caption should appear. Click on the photo if you want to enlarge it.
Our Class Fund
We have a considerable amount of money in our class fund. Should we let it just sit in the bank in case somebody wants to plan a reunion in Montclair? Should we rethink the way we do reunions? Should we join forces with another MHS class? Should we split up the money and let classmates plan mini-reunions in various parts of the country? Should we forget about reunions and use the money to establish a Class of 1960 Scholarship for MHS students? All ideas are welcome!
............................................................................................
Do you have photos to share? We welcome them all. If you want to post them yourself, click on the place at the bottom of any gallery page where is says, "Create Your Own Photo Gallery here. You should see instructions that tell you how to upload your own photos.
Don't like your picture? If you would like me to remove a photo, just let me know which one, and I'll be happy to take it off the website. (Linda.andre@verizon.net)
If you'd like me to upload your photos, that is fine. Just send them to me and I will be happy to post them on the website for you. (Linda.andre@verizon.net)
This is a "mini-notebook" that we gave out at the reunion so that everyone would have a place to jot down a name, address, or email address during the evening. It is about 3-3/8 by 4-1/4 inches and fits easily into a pocket. There are lined pages inside. We have about 24 left over. If you would like one, let me know and I will send it to you using our leftover stamps. Be sure to send me your correct address!
............................................................................................................................
SENIOR YEARBOOK PICTURES
We now have all the pages of our senior yearbook pictures posted on this website, thanks to Gene Mazzola, who brought me his yearbook to be scanned To see them all, just go to the blue sidebar on the left side of this page and click on Senior Yearbook Photos. Many thanks to John Sproston for initiating this project, and to Gene and Chris Graber for providing pages.
Would you like to find out whether other classmates share your special interests or activities? Let me know if you have special interests that you would like me to publicize on this website.
HOW TO SEND MESSAGES THROUGH THIS WEBSITE
We'd like to hear from you!
If you'd like to send a message to the whole class:
1. Go to the "What's New" page at the very top of the blue margin on the left side of this page.
2. Look for the gray box on the top that says "Post a Comment to the Class."
3. Write your message in the box that says "Share Your Thoughts with Classmates."
4. Include a photo or video if you like (that would be great!)
5. Click on the blue "Post Message" box.
If you'd like to send a private message to a Classmate:
1.Go to the classmate's profile page. (Click on "Classmate Profiles" near the top of the left-hand blue margin on this page.)
2. Click on the envelope icon directly under the photo box where it says "Send [classmate's name] a private message."
3. When you get to the message screen, type in your subject and message in the boxes.
4. Click the blue "Send private message" box. That's all you have to do! It's easy!
Guest Members on this website
It is now possible for a member of another MHS class to join our website as a "Guest Member." Guest Members will be able to have their own profile page and they will be able to send and receive messages through the site. They will be able to remain guest members as long as they do not harass any class member or post objectionable material. If a member of another MHS class wishes to become a Guest Member, he/she should contact me directly to request guest membership and I will enter his or her information in the site's database and provide information about how to sign up. Nobody will be able to join the site without going through that process. If you have questions or concerns, please let me know. (Linda.andre@verizon.net)