Montclair High School
Class Of 1960
ANNOUNCEMENTS
For most of us, this is the year of our 80th birthday. Do you have any thoughts about reaching this milestone? Do you have 80th birthday story to share? Just send it to me (Linda.andre@verizon.net) and I will be happy to post it for you on this web site.
Welcome to the MHS '60 Website!
July 10, 2022
New address for Nan Peppard Krauss
51 Calhoun St., 1st floor
Torrington, CT 06790
Email: npepcar@yahoo.com
New phone: 860-201-4822
Nan writes:
I am settling in my new place. I never want to move again!! I am still unpacking and looking for my things! But this soon shall pass, I hope!! It is nice to be around my children. But I miss Russ so very much. My kitty seems to have adjusted very well. He is a world traveler. From Idaho to CT.
................................................
Here's a new, thought-provoking photograph from Michael Brodie entitled An Important Question. The question on the TV screen says, "ARE WE GONNA BE OK?" Michael calls his image "timely and relevant."
How do you respond to Michael's image and its pressing question? Is this an eye of anxiety? Alarm? Urgency? Tranquility? Worry? Belief? And whose eye is this? What is it seeing?
Could it simply be a close-up from an over-the-top made-for-TV story that arouses our emotions? Or has this eye seen too many harrowing real-life events that TV brings into our homes? Perhaps this eye is looking out at us, appealing for our assurance that "we are gonna be ok" in our very uncertain world. Does it matter that the chair is empty and nobody is paying attention?
Michael says that he recently entered this photo in a contest called "The Spider Awards," which (according to the contest website) is "one of the biggest black-and-white photography contests in the world." You can read about the contest at https://www.thespiderawards.com. Thank you, Michael, for sharing your achievement with the class! We wish you well in the contest.
What does Michael's photograph mean to you? I'm happy to post your comments. Just send them to me at Linda.andre@verizon.net
You can respond to Michael personally through this website or at mbrophoto@gmail.com
............................................................................
IN MEMORY
Roxine Clark Garriss sent sad news about the passing of our classmate Joan Bookhart Malloy. The photo and partial obituary below appeared in Montclair Local, June 23, 2022. https://montclairlocal.news/obituary-joan-marie-malloy
To share your own tribute, anecdote, or memory of Joan, go to the "In Memory" section of this website (18th item from the top of the blue sidebar on the left side of this home page. Click on "In Memory," then click on Joan's name. Scroll to the very bottom of the page, then click "Post Comment." Write your message in the empty box. Click "Submit" at the bottom.
Joan Bookhart Malloy
Joan Marie [Bookhart] Malloy of Montclair, an executive assistant for Hoffman LaRoche for more than three decades, died on Thursday, June 16, 2022. She was 80.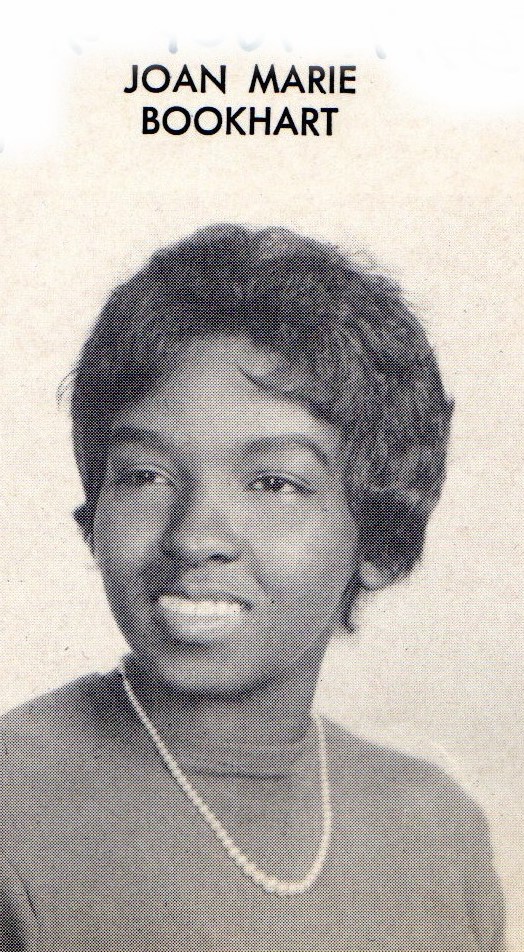 Mrs. Malloy was born in 1942 in Harlem to John M. Bookhart Sr. and Elsie L. Leach.
She graduated from Montclair High School in 1960 and then attended Bennett College in Greensboro, North Carolina. Years later, she attended Katharine Gibbs School, where she acquired her secretarial skills.
Mrs. Malloy worked at Hoffman LaRoche as an executive assistant for c-suite executives for 31 years. During her tenure at the company she relocated to Livermore, California. After retirement, she relocated back to New Jersey to be near her family.
She was a loving and caring mother and grandmother; she was also a confidante and an amazing friend to many.
A visitation and service were held on Friday, June 24, at Christ Church, 68 Church St., in Montclair. Interment was at Rosedale Cemetery. Arrangements were by Caggiano Memorial Home for Funerals.
A full list of survivors is included in Joan's obituary in the "In Memory" section of this website.

..................................................................................................

Here's a photo from Janet Kipp Tribus, responding to my question about our 80th birthday celebrations.
Janet says, "I took my family on an Alaskan cruise this June! "
Janet (in purple) doesn't look any older than the rest of her family. Happy 80th Birthday , Janet!
.......................................................
A Fourth of July Afterword:
For all you out there who may still be wondering how fireworks work, Wayne Hansen, dug up some interesting facts for you. (Wayne is one of our website's "guest members" from MHS '61.) Thank you, Wayne.
Metallic Compounds Give Fireworks Their Different Colors
Whether they're Roman candles or falling leaves, fireworks share the same underlying science. Rocket fireworks consist of a mortar, a fuse, propellant powder, a shell, a bursting charge, and pellets known as "stars." When the fuse is lit, a lifting charge fires the shell out of the mortar and into the air. Once in the air, a time-delay fuse triggers a second explosion and bursting charges release the stars, which contain metallic compounds that give fireworks their color. Each compound has a different shade when ignited: Magnesium is white, copper is blue, sodium is gold, and so on. The style or design of the fireworks display depends on how the stars are arranged inside the shell.
How can fireworks actually shift their shade in mid-air? It's pretty simple. The stars, or pellets, are coated in multiple metal salts. After burning through the outer layer—like magnesium, giving off white sparkles—the second layer is ignited, emitting a different hue.
..................................................................................................
New address for Nan Peppard Krauss
51 Calhoun St., 1st floor
Torrington, CT 06790
Email: npepcar@yahoo.com
..........................................................................................
Ron Philpott passed away on May 14, 2022 in Arizona.
Jesse Filkins sent the sad news.
Photos of Ron Philpott from 1960 MHS Amphitheater and Ron's Facebook page.
From Jesse Filkins:
Sorry that our communications are limited to announcements of the deaths of our classmates, but I sadly have to convey that Ron Philpott passed away on Saturday May 14th. As usual, Ron was in great spirits and proceeded comfortably to heaven.
Ron was in poor health for the last couple of years and resided in assisted
living homes in Arizona, close to his son Brian, three grandsons and three great grandchildren.
As you know, Ron was a proud member of the class of 60 and was involved in many activities over the years. He stayed in touch with many of his former classmates via the telephone and social media; I can attest that his voice mail was always full.
Basketball was our lives during our teen years, with many hours spent at the Colored "Y" on Washington Street and throughout the east coast playing at other segregated facilities.
I hope our classmates appreciated Ron's contributions to our lives. He was most proud of his intellectual accomplishments, particularly in his three-time ascension to the World Series of
Poker finals in Las Vegas; he cashed handsomely twice, once after winning the Arizona qualifying event where he proudly defeated Ferguson Jenkins, a Chicago Cubs laudatory of our generation.
Ron's family greatly misses "Pop Pop".
From Linda:
I got to know Ron at George Inness and always enjoyed his warm and genuine friendship throughout our school years. Later, he'd get in touch through email from time to time to share his love for jazz and tell me about his successes at the World Series of Poker.
To share your own tribute, anecdote, or memory of Ron, go to the "In Memory" section of this website (18th item from the top of the blue sidebar on the left side of this home page. Click on "In Memory," then click on Ron's name. Scroll to the very bottom of the page, then click "Post Comment." Write your message in the empty box. Click "Submit" at the bottom.
................................................................................................
Ben Ritter
honored as Community Hero
CONGRATULATIONS, BEN!
The $50,000 Lightning Foundation grant will be donated to Self-Reliance, Inc.
You can see Ben in this live video of the award presentation at the Tampa Bay Lightning hockey game at the Amalie Arena in Tampa on February 1, 2022.
Here's the link:
https://tampabay.box.com/s/7gr90zr286v2o2en7ru7nucidrwo16by
Here's more information about Ben's accomplishments and his award.
TAMPA BAY -The Tampa Bay Lightning [professional ice hockey team] honored Ben Ritter as the" Lightning Community Hero" this evening during the first period of tonight's game against the San Jose Sharks. Ritter, who received a $50,000 donation from the Lightning Foundation and the Lightning Community Heroes program, presented by Jabil [manufacturing company] will donate the money to Self-Reliance, Inc. [Center for Independent Living].
Ritter emulates everyday how to overcome obstacles and climb any mountain, no matter the challenge. After losing use of his legs due to a failed back surgery in 1988, Ritter visited Tampa and found a community and culture that was very supportive of individuals with disabilities, especially those who had served in the military. This visit led him to find employment and move to Tampa. Since his move in 1997, Ritter has been an advocate for persons with disabilities. He has been instrumental in ensuring public spaces such as Sparkman Wharf, Riverfront Park and Raymond James Stadium were easily accessible and ADA compliant. Ritter's advocacy for infrastructure improvements in the area and societal acceptance for persons with disabilities puts them on a level playing field with all citizens in the pursuit of happiness.
The $50,000 grant tonight will be used to strengthen and build the capacity of an array of services. Self-Reliance plans to strengthen their ramp program, durable medical equipment program, grassroots support group events, and educational programs for the deaf and hard of hearing consumers. All of these improvements will result in three modified ramps over the next year, the ability to rent handicap accessible vehicles for 24 months, drivers education teaching for the deaf and hard of hearing, and two additional events over the next year.
Ritter became the 475th Lightning Community Hero since Jeff and Penny Vinik introduced the Lightning Community Hero program in 2011-12 with a $10 million, five-season commitment to the Tampa Bay community. Through tonight's game, in total, the Lightning Foundation has granted $24.85 million to more than 600 unique nonprofits in the Greater Tampa Bay area. During the summer of 2021, the Viniks announced that the community hero program will give away another $10 million over the next five seasons.
Press Release @LightningFDN / TampaBayLightning.com; Feb.1, 2022
.......................................................................................
Wayne Hansen (Guest member from MHS '61) takes a nostalgic trip from his home in Massachusetts to Montclair.
Visit to Montclair High School
Our youngest son Jonathan, treated me to a four-day trip to New Jersey last week.
Of our three boys, he is the only one who seems interested in our family roots. The purpose of this wonderful opportunity was to show Jonathan where I grew up, the houses I lived in, the schools I attended, and the cemetery in Clifton where my dad Norman is buried. Here are two photos from our high school (front and back).
Here's my son at the cemetery.
Jonathan teaches art in a middle school here in Massachusetts. And it was his idea to make a rubbing of my dad's bronze military grave marker. This was a special time as Jonathan was born five years after my dad died, never knew my dad, and never visited this place before.
Best regards, Wayne Hansen – MHS Class Of 1961
For all our out-of-town classmates:
Have you been back to Montclair recently? How does everything (the town, your old house, the stores, the school) look to you? What has changed and what remains the same as you remember? Just send me your thoughts, and I'll post them for you on this web site. (Linda.andre@verizon.net)
.........................................................................

For most of us, this is the year of our 80th birthday. Sheila Albright Hogan (Hillside Jr. HS) tells us about her 80th birthday celebration.
I had an amazing 80th Birthday.
All my children gave me a party in Phoenix that was spectacular. My oldest daughter, Patty rented a house near where Dave and I used to live while in Phoenix. There was room enough for me to stay, plus Patty's family.
The backyard was big enough to invite everyone in the area. Anne Ramee Bennett, my lifelong friend, came to support me.The whole family showed up, but two grandchildren. There was even a show with hula dancers, that put everyone in a festive mood. I think a good time was had by all.
I had invited friends up in the mountains, where I now live. Since they didn't come, they decided to give me another party here. Twelve of them decorated two tables at a local restaurant, and then my good friend, Jeanette, had us all over to play bridge and eat ice cream and cake. I feel so blessed to have a wonderful family and such good friends. Actually, I was overwhelmed in a good way.
Do you have an 80th birthday story to share? Just send it to me (Linda.andre@verizon.net) and I will be happy to post it for you on this web site.
.....................................................................................
David Appleton remembers two women with great affection.
Aunt Elsie Reed
A personal Favorite
In the fall of about of 1957 or 1958 I got thrown out of Montclair High School for some long forgotten infraction. I experienced expellation (a word?) from school countless times for many reasons during my thoroughly tarnished academic career at Watchung through GI and MHS. This time I was expelled and told not to come back until I brought my parents with me.
This was a problem since my parents were off in Canada or Florida on a well deserved 2 week vacation, leaving me and our elderly Park Street roomers in the care of our housekeeper, Ardella Bondurant. My parents had just left, so I could not expect to return to school for at least 2 weeks! I couldn't bring Ardella to school as my advocate since she was black and I didn't think Mr. Boyd, Assistant Principal, ICD (In Charge of Discipline), would consider her a reliable executioner of punishment. He would have been correct since Ardella was a wonderful friend as well as my surrogate parent in this situation. She would prove a magnificent defense attorney.
So I thought about this dilemma a bit and came up with a plan to ask Aunt Elsie Reed to act as my surrogate parent for this situation. This was not an easy decision since I knew Aunt Elsie to be fierce in her belief in justice and unlikely to spare the rod.
We were a close family in those days. Aunt Elsie was the youngest of 4 Appleton siblings living in close proximity in Montclair, NJ between South Mountain Avenue and Park Street in the 40's and 50's. there were three sisters: Anita Baker, Marion Volz and Elsie Reed. My father, Charles J. Appleton Jr. was third in this sibling parade. Elsie, the youngest, was, I thought, the most likely candidate to pry me off the horns of this dilemma, even though I knew she was tough and it would cost me dearly in some way.
I screwed up my courage, picked up the phone and called her. She was furious and directed her ire at me for bringing such shame on the family. Nevertheless, appreciating the value of my education, she accompanied me to school and into Mr. Boyd's office to get me reinstated. There she was acquainted with the compendium of my infractions, which were many. The latest of these, the cause for my dismissal, was extremely petty.
Thus Aunt Elsie perceived it and was appropriately (I think) outraged by the audacity of Mr. Boyd and the school for throwing me out for such a minor offense.
Aunt Elsie, enraged, was up off her chair swiftly and laying into the astonished Mr. Boyd with a spirited diatribe, the content of which I wish I could remember. But the fierceness of her finger pointing lecture and Mr. Boyd's wide-eyed shock was unforgettable. I watched with jaw dropped in amazement, followed by a rush of familial pride. Ate that moment Aunt Elsie Reed became my "Most Favored Aunt." I wished I had a medal to pin on her.
I was allowed back into school. Elsie told my parents of the event, coloring me in a more favorable light than I deserved. And Ardella and I shared laughs and beers over this memory years later.
Fun times!
MISS ARDELLA WATTS BONDURANT
A Rememberance
As a child I was fond of admonishing folks speaking to or of Ardella, saying, "She's 'Our' Della, not 'Your' Della!!!"….. a nice distinction.
Miss Ardella traveled north to New Jersey from Henderson, NC as a teenager in the early '30s to work as a domestic for several families including mine. Her life was not easy in the South and wasn't that much better in the North. But she persevered, working hard with characteristic Faith and good humor as best I could tell. And she helped her family find better prospects there.
She came to work as housekeeper for my parents, Anna Winter Appleton and Charles J. Appleton Jr, in the '40s, just after WW II when they started a boarding house for older women in Montclair, NJ. Among her duties was riding herd on me, a particularly cantankerous 4-year-old child through teens, and organizing what my father called "the wrecking crew" consisting of Ardella with sisters Edna and Bunch and others to storm through the house each spring and fall leaving the place spotless.
She remained with our family, actually a part of it, through the 60's until my mother retired and sold that house and business in 1968. Ardella found work elsewhere but always remained in contact with our family, even after she retired and moved to Chase City, VA.
Miss Ardella visited us on several occasions over the years… Perhaps the most memorable was at the 1991 wedding of my brother Jim's oldest daughter Karin to David Magness which featured a reception at the prestigious Congressional Country Club in Potomac, Maryland. Ardella was an honored guest and I enjoyed dancing with her and observing her telling fortunes. She was in her glory with her other family.
In recent years our visits have been by phone,… though not perfect, somewhat satisfying. She enjoyed talking about her friends in Chase City, and especially her Church, The House of Prayer, and the close ties she made with that congregation.
My big brother Jim passed away at 80 last February which saddened Ardella along with the rest of us. My nephew David Magness delivered the eulogy for Jim, mentioning prominent figures in his life. Ardella was chief among these.
Miss Ardella has been a major influence in my life, from my formative years into adulthood as a caretaker, then friend and confidant. I'm most grateful for her abundant wisdom and good humor which she offered most generously. I know all her friends and family in VA and elsewhere share in this.
So she really is All of Ours, "Our Della." And we are all blessed for having known and enjoyed her love.
............................................................................
David sent this photo from our last reunion. He is seen here with his "best friend through school, 2nd grade and cub scouts and on, Barry Hampton."
David R. Appleton
2469 North River Road
New Hope, PA 18938
dwapple@verizon.net
..............................................
Memorial notices for
Shelley (Rochelle) Caggiano Schait, Jenny Kelsey, Stephen Holzel, Patricia Payne Wallace, Frank Rubino, and Sandy Toth Guido
are still available in the "In Memory" section of this website. Click on "In Memory" (17th item from the top of the blue sidebar on the left side of this page). Then click on the classmate's name. To add your own tribute, anecdote, or memory, scroll to the very bottom of the page, then click "Post Comment." Write your message in the empty box. Click "Submit" at the bottom.
Paul Stephanus
writes, "I am amazed and surprised that I am 80."
It's true -- the number "80" is somewhat alarming when applied to ourselves. But with good fortune, we can look forward to celebrating an eightieth birthday sometime in 2022 (unless we're a year younger or older than most classmates).
1. Does the number 80 take you by surprise?
Anne Ramee Bennett: I was originally surprised, but friends and I are going to celebrate our 80th birthdays next September by taking a cruise from Boston through Canada and we are planning to have a lot of fun along the way.
2. What makes you feel "old?" What makes you feel "young"?
Anne Ramee Bennett: My body says "old", but my mind says lets go.
3. What body parts have been replaced? Where would you be without modern medicine?
Anne Ramee Bennett: No body parts have been replaced.
4. Do you enjoy having work to do? Or do you enjoy being released from the requirements of work? Or some of both?
Anne Ramee Bennett:
I retired twice before I said that's it. I keep very busy as the Secretary of my Women's Club, working on a 50th anniversary dinner where I live, Block Watch captain, and a member of the Phoenix Neighborhood Patrol. We patrol our location and back up the police when necessary. I also arrange vaccinations and flu shots for my community. I guess I am busier than I was when I worked.
5. What new pleasures or skills have you discovered that you didn't have in younger days?
Anne Ramee Bennett: I don't really have a lot of new skills, but I enjoy reading books, knitting, and getting together with my friends.
6. Bette Davis famously said, "Getting old is not for sissies." Are you getting braver as you get older?
Anne Ramee Bennett: Bette Davis was correct.
7. Do you have any advice for classmates?
Anne Ramee Bennett: Please enjoy your families and friends. Also, don't complain that you are in pain. They don't want to hear it.
If you would like to contribute to this conversation,
please send comments to me (Linda.andre@verizon.net) and I will post them.
If you have not already read Paul Stephanus's letter in his email posting of December 27, you can find it in its entirety on his profile page [Click on "Classmate Profiles" in the blue sidebar of the web site's home page.] Or click on this link https://www.montclair60.com/class_profile.cfm?member_id=2372358. Paul reflects on incidents and accidents in his earlier years that could easily have cut his life short. And he offers advice about healthy eating habits and companionship, with the hope that his insights will help each of us reach 80 and well beyond.
And while we're on the subject of getting older, what do you think about living in a CCRC (Continuing Care Retirement Community)?
CCRCs are residential communities that provide a continuum of services and care, allowing older adults to "age in place." Residents may live completely independently upon entering the community, but may transition to Assisted Living or Skilled Nursing Care if needed. CCRCs are generally a collection of apartments, town homes, or cottages, and include common activity areas such as a library, activity and craft rooms, fitness centers, a restaurant-like dining room, an assisted living facility, and nursing home.
Our Poll (in the upper right of this page) asks "What are your thoughts about living in a CCRC? " Take the poll and let us know how you feel.
...............................................................
Now as we finish off 2021 and venture into 2022, take a few minutes to read about what some classmates have been up to.
First -- a few updated email addresses:
John (Jack) Taylor
: John.Taylor0129@gmail.com
Bob Rutan
- robertrutan1776@comcast.net
Dick Loomis writes, "2021 has been a busy and fulfilling year." The photograph below shows Dick in Spain, but much of his time and energy has revolved around his involvement with an organization called the Ouelessebougou Alliance -- a 35-year partnership between people from Utah and people of the Ouelessebougou region in Mali (West Africa). The Alliance aims to break the cycle of poverty and empower villagers to achieve self-reliance by collaborating in sustainable progams in health and education. To read about the Ouelessebougou Alliance: https://www.lifteachother.org/why-mali/
Dick
serves as Project Manager for Ouelessebougou Alliance's new Malaria Initiative. He is raising funds for the first Western-style mosquito abatement program in Mali.
Dick writes, "Together with my partners in Mali and the U.S., we are setting up the first ever Mosquito Abatement project in Mali. We have a 40-foot container loaded with equipment and supplies ready to send to Mali, but we are challenged by the global shipping crisis. If you know anyone in the shipping business that may be able to help, please let me know. Contributions to the Malaria Project are most appreciated."
For more information you can contact Dick at his email:

8150telford@gmail.com
Scroll down to the "Malaria Abatement" video under "Program Highlight." You'll see Dick appearing off and on in the video.
...........................................................................
Congratulations to Rick Boschen!
From TCPALM.com, Sunday, November 7, 2021
Here's a slightly abbreviated (but more legible) version of the text:
Congratulations to Rick Boschen, a sales professional at Berkshire Hathaway HomeServices Florida Realty's Stuart office, for receiving the Habitat for Humanity of Martin County's 2021 Golden Hammer Award. This impressive honor recognizes Rick's dedication, passion, and commitment to raising funds for Habitat for Humanity Martin County through the Golf Tournament. ...
Rick was Chairman of MCRTC's Golf Tournament for its first three years and has served on the golf tournament committeee for the last seven years. Over the 10 years, Rick has been instrumental in soliciting sponsorships for the Hole-in-One, Par 3 Hole, Longest Drive Hole, and Putting Contests as well as Tee signs. He has hosted a foursome for all 10 years, and has been a member of the winning group for two years.
Rick said, "I am incredibily grateful to receive this award. Every year the golf tournament gets bigger and better, and through the generosity and hard work of the committee and participants, we have been able to raise more money year after year. I look forward to being a member of the Golf Committee for many more years."
Rick can be reached at 772 -5211-3535 or at flrickb2@yahoo.com. His office is located at 2363 SE Ocean Blvd, Stuart, FL
..............................................
Ben Ritter writes about a project of his wife, Alder Allensworth.
My wife, Alder Allensworth has a video program designed to help children and families understand and learn ways to maintain a relationship with relatives and friends afflicted with Alzheimer's disease [and other types of dementia].
Alder was recently interviewed about the video on Spectrum Bay News 9 TV in Tampa. Here's a link to a segment of the interview: "Bay Area nurse creates Alzheimers video for children."
Click on the link, then click on the arrow below Alder's face. Click on "Ask Later" and the video will begin.
You can view Alder's free Alzheimer's video here:
Here's the link to the entire Mackenzie Meets Alzheimer's Disease Story Song Program. Click on this link and scroll down to read comments from users:
Ben also notes that Alder published a book, Celebrate the Journey, that describes how she lost her left eye to tear duct cancer. After she was declared cancer-free, Alder sailed a 12' sailboat from St. Petersburg, Florida, down the the west coast of Florida in the Gulf of Mexico through the Florida Keys and up to North Carolina. See:
https://www.amazon.com/dp/194581232X
Alder Allensworth, Cell:

727-560-7502
Ben Ritter, Cell:

(813) 205-5506
................................................
Mark Streuli writes, "things are good for me. living in Idaho missing Vermont. getting to the end game on building a house here. plan on heading east soon to set up a yurt on some land I have near stowe, VT.
the picture is me this fall ... the house is my work in progress.
Mark adds, "here is a thought that will not fly. we are getting to the point where we should be writing obits before we die. that way we could share our appreciation for each other's lives. Obits for me always seem to be too late. the person they are about should be part of it. oh well. just an idea."
Do you agree with Mark? It seems in line with
Paul Stephanus's
idea that "
Now is a good time to share reflections on our lives and how we got to be 80 years old."
If you would like to share your ideas about turning 80, you can post them on your profile page or send them to me (Linda.andre@verizon.net) and I will post your ideas for you.
Ourselves in Masks
Now, more than ever, we are still wearing masks and there's always room for more mask pictures!
Send your photo to Linda.andre@verizon.net
Here are David Appleton and his wife Wendy sporting their new masks. SEE MORE MASKED CLASSMATES BELOW!
..............................................................................
A. Who is this?
B. Who is this?
C. Who are they?
D. Who is this? (2 photos)
E. Who is this?
F. Who is this?
G. Who is this?
H. Who is this?
I. Who is this?
J Who is this? (Hint: Guest member from MHS '61)
.
Now -- SEND YOUR PHOTO to Linda.andre@verizon.net
...............................................................................................
Mask Photo Answers
A. Patsy O'Shea in Oregon
Patsy explains that she is wearing a surgical mask while waiting to be called into a doctor's office for MOHS surgery that had been delayed due to the pandemic.
Patsy adds, "I loved seeing Mike Brodie's hilarious shot -- especially his array of "golf clubs."
B. Mike Brodie in Connecticut (?)
Mike writes, "I took this picture of myself in home-grown COVID-19 attire."
C. Carol Letson Christensen and her husband, Erik, in Florida
Carol writes, "Erik and I recently celebrated our wedding anniversary outside, safely distanced, with neighbors."
D: Susan Becker Knight in Connecticut
E. Suzy Bruett Gumm in New Jersey
Suzy writes, "Mildred Ferrara Scola lives near me so on some nice days (which have been rare) we have had fun visiting spacing ourselves at least 6 ft apart. A friend made my mask and now I am making some masks for a local organization and Mildred's was more of a paper one."
F. Mildred Ferrara Scola in New Jersey
G. Rosemary DiGeronimo Sternbach in New Jersey
H. David Appleton in Pennsylvania
I. Linda Linnard Andre in Maryland. "I made my mask out of cloth from an old ironing board cover. I made my husband's mask out of his old plaid flannel pajamas."
J. Wayne Hansen, MHS '61. "This is not exactly what is being suggested or recommended here on Massachusetts. But had this mask from doing field work in a chemical plant many, many years ago.
...................................................
Jim Cestone sent these photos of the pandemic of 1918. It looks like we have a lot in common with these people from about 100 years ago when our parents were young. Thank you, Jim.
Here's a poem that's just as good now as when it was written.
Our Class Fund
We have a considerable amount of money in our class fund. Should we let it just sit in the bank in case somebody wants to plan a reunion in Montclair? Should we rethink the way we do reunions? Should we join forces with another MHS class? Should we split up the money and let classmates plan mini-reunions in various parts of the country? Should we forget about reunions and use the money to establish a Class of 1960 Scholarship for MHS students? All ideas are welcome!
............................................................................................
I've moved a few things around --
I moved four of David Appleton's stories to the "Stories From My Past" section. (Click on it in the blue sidebar on the left side of the home page, 6th item from the top.)
In Spit Valve Humiliation, we see David auditioning to play the trumpet in the Watchung Elementary School Bend.
In Good Humor Man Career we drive with David on his ice cream truck.
In Patsy's and the Allure of New York: Bringing in the '60s, we join David and his buddies on a drinking expedition to New York City.
There must be a lot of good stories from our past out there, just waiting to be told. If you have your own stories to share, please send them to me (Linda), and I will add them to the site.
If you're looking for Jack Brigham's, Ralph Davidson's, or Lawrence Robinson's genealogy stories, just click on "Genealogy" in the blue sidebar on the left. If you have your own genealogy stories to offer, I'll be glad to add them any time.
If you'd like to write a memoir about a family member or friend, there's a link to a "Family and Friends Memoirs" section, also in the blue sidebar. Brad Stark's memoir of his father is in that space. Please feel free to write about someone important to you.
There's plenty of room for new contributions from you!
Looking back to graduation
Here's the 9th grade graduating class from Mt. Hebron.
(The photo is split up into 3 parts, kindness of Rick Boschen).
How many classmates can you name?
Mt. Hebron Update:
Mt. Hebron is now officially "Buzz Aldrin Middle School. It is a STEM magnet school (Science, Technology, Engineering and math) with an enrollment of about 640 students in grades 6-8.
There have been quite a few changes in the Montclair Public School System since "our day." Take a look at their website https://www.montclair.k12.nj.us/ To see the website of your old school, find the black horizontal band at the top of the page and click on "Select a School."
Here are a few changes that I noticed:
- Edgemont Elementary (K-5) is now a Montessori School.
- Nishuane (K-2) feeds into Hillside (3-5). Both have a Gifted and Talented focus.
- Edgemont and Hillside both feed into Glenfield Middle (6-8) which is a Visual and Performing Arts magnet school.
Charles H. Bullock (55 Washington St.) is an elementary school with an environmental science theme. It feeds into Renaissance at Rand Middle School.
Bradford, Northeast, and Watchung elementary schools all feed into Buzz Aldrin Middle (formerly Mt. Hebron Jr. HS)
George Inness Jr. HS is now the "9th Grade Academy." It houses the entire 9th grade for MHS in what is now called George Inness Annex.
Here's the Feeder diagram so you can see for yourself!
While you're at it, check out the courses that MHS offers these days at https://mhs.montclair.k12.nj.us/academics/course_syllabi
Scattered among all the old familiar courses are titles that show how times have changed: Robotics, African-American Literature, Satire and Protest Literature, Environmental Science, Forensic Science, Global Studies, Women of the World, Digital Design, Mandarin, and more!
.................................................................................................................................
Surely you recognize this man.
But do you know WHERE he is?
Lawrence Robinson alerts us to a recent article in The Montclair Dispatch entitled
"Lost in History: Dr. Martin Luther King Jr.'s Visit to Montclair High School."
The article of September 11, 2018 begins:
52 years ago, during a firey time in the United States and around the world, Dr. Martin Luther King, Jr. made a controversial visit to this very town, possibly at the peak of his notoriety. Just two years prior to his assassination and untimely death, King arrived in Montclair, making town history by stopping into the Montclair High School band room.
The article tells how Dr. King went to Montclair to speak to a local church congregation. But so many people in the larger community wanted to hear him speak that he appeared first in the high school gym, and later spoke to the church congregation in the high school auditorium. As he waited in the MHS band room before going onstage, protesters were demonstrating outside on Park Street. A plaque commemorating Dr. King's speech at MHS has been placed in the band room.
The entire article gives you a good sense of the mood in Montclair in 1966, six years after our graduation. You can read the whole article here:
https://montclairdispatch.com/lost-in-history-dr-martin-luther-king-jr-s-visit-to-montclair-high-school/?fbclid=IwAR0o0uJdQj88pTuz9AywzCx9nJqGiKj4cyBC4gpJGuBgxbydH0Pi4qbePqI
Thank you, Lawrence, for sharing the article with all of us.
...................................................................................................
Are you looking for old reunion photos? You can still see all of them in the "Photo Gallery" section of this website.
Click on "Photo Gallery" in the blue sidebar directly under "Home Page." You'll come to a long list of "galleries." Scroll all the way down until you see a lot of square pictures with paperclips in the corner. The 2016 reunion photos are organized in two groups. The 1st "gallery" is called "2016 Reunion - Friday." The 2nd gallery is called "2016 Reunion - Saturday."
Each photo gallery has up to 12 photos per page, and there may be several pages in a gallery, so be sure not to miss any. If you need help telling who's who, just hold your mouse over the photo and a caption should appear. Click on the photo if you want to enlarge it.
Do you have any reunion (or other) photos to share? We welcome them all. If you want to post them yourself, click on the place at the bottom of any gallery page where is says, "Create Your Own Photo Gallery here. You should see instructions that tell you how to upload your own photos.
Don't like your picture? If you would like me to remove a photo, just let me know which one, and I'll be happy to take it off the website. (Linda.andre@verizon.net)
If you'd like me to upload your photos, that is fine. Just send them to me and I will be happy to post them on the website for you. (Linda.andre@verizon.net)
What would you like to tell your classmates about reunion weekend? Send me your stories, thoughts, memories, and I will post them here.
This is a "mini-notebook" that we gave out at the reunion so that everyone would have a place to jot down a name, address, or email address during the evening. It is about 3-3/8 by 4-1/4 inches and fits easily into a pocket. There are lined pages inside. We have about 24 left over. If you would like one, let me know and I will send it to you using our leftover stamps. Be sure to send me your correct address!
...........................................................................................................................................
SENIOR YEARBOOK PICTURES
We now have all the pages of our senior yearbook pictures posted on this website, thanks to Gene Mazzola, who brought me his yearbook to be scanned To see them all, just go to the blue sidebar on the left side of this page and click on Senior Yearbook Photos. Many thanks to John Sproston for initiating this project, and to Gene and Chris Graber for providing pages.
Would you like to find out whether other classmates share your special interests or activities? For example, I teach ESL (English as a Second Language) to adult students and would love to find out whether any other classmates do the same. Let me know if you have special interests that you would like me to publicize on this website.
HOW TO SEND MESSAGES THROUGH THIS WEBSITE
We'd like to hear from you!
If you'd like to send a message to the whole class:
1. Go to the "What's New" page at the very top of the blue margin on the left side of this page.
2. Look for the gray box on the top that says "Post a Comment to the Class."
3. Write your message in the box that says "Share Your Thoughts with Classmates."
4. Include a photo or video if you like (that would be great!)
5. Click on the blue "Post Message" box.
If you'd like to send a private message to a Classmate:
1.Go to the classmate's profile page. (Click on "Classmate Profiles" near the top of the left-hand blue margin on this page.)
2. Click on the envelope icon directly under the photo box where it says "Send [classmate's name] a private message."
3. When you get to the message screen, type in your subject and message in the boxes.
4. Click the blue "Send private message" box. That's all you have to do! It's easy!
Guest Members on this website
It is now possible for a member of another MHS class to join our website as a "Guest Member." Guest Members will be able to have their own profile page and they will be able to send and receive messages through the site. They will be able to remain guest members as long as they do not harass any class member or post objectionable material. If a member of another MHS class wishes to become a Guest Member, he/she should contact me directly to request guest membership and I will enter his or her information in the site's database and provide information about how to sign up. Nobody will be able to join the site without going through that process. If you have questions or concerns, please let me know. (Linda.andre@verizon.net)