Montclair High School
Class Of 1960
Welcome to the MHS '60 Website!
May 27, 2016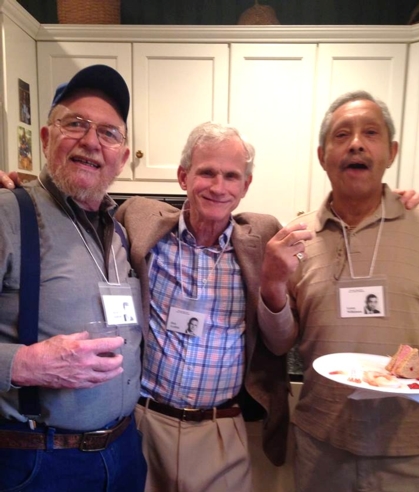 David Appleton, Dick Griffith, and Leroy Wilkinson
Janet Kipp Tribus and Doris Andrews Anderson have sent 70 reunion photos to share with you! You'll find a few of them here on this page and many more in the "Photo Gallery" section of this website. (Click on "Photo Gallery" in the blue sidebar directly under "Home Page." You'll come to a long list of "galleries." Scroll all the way down until you see a lot of square pictures with paperclips in the corner. The 2016 reunion photos are organized in two groups. The 1st "gallery" is called "2016 Reunion - Friday." It has 7 photos on one page. The 2nd gallery is called "2016 Reunion - Saturday." It has 52 photos on 5 pages. (If you have any Sunday photos, we'll make a 3rd gallery for them.)
When you click on either gallery, you'll see all its photos, up to 12 photos per page. If you need help telling who's who, just hold your mouse over the photo and a caption should appear. Click on the photo if you want to enlarge it.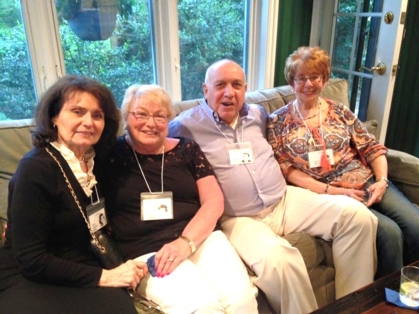 Shelly Caggiano Schait, Norma Halsey Trewhella, Jim Cestone, and Joyce Sgroi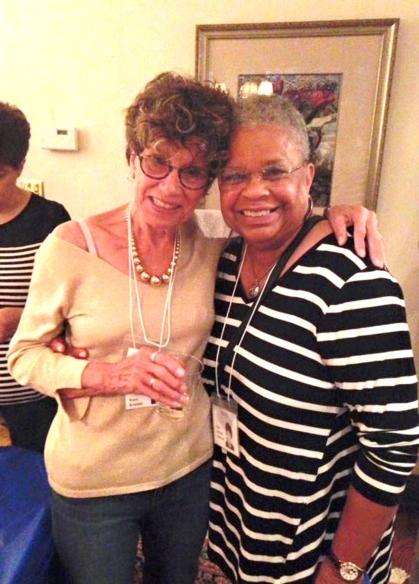 Nan Peppard Krauss and Doris Andrews Anderson
Do you have photos to share? We welcome them all. If you want to post them yourself, click on the place at the bottom of any gallery page where is says, "Create Your Own Photo Gallery here. You should see instructions that tell you how to upload your own photos.
Don't like your picture? If you would like me to remove a photo, just let me know which one, and I'll be happy to take it off the website. (Linda.andre@verizon.net)
If you'd like me to upload your photos, that is fine. Just send them to me and I will be happy to post them on the website for you. (Linda.andre@verizon.net)
What would you like to tell your classmates about reunion weekend? Send me your stories, thoughts, memories, and I will post them here.
You can't miss Leroy Wilkinson in yellow! If you look closely, you'll also find Jim Bruett, Suzy Bruett Gumm (in stripes), Kenny Robinson '59, Richard Weaver, David Appleton, Eugene Duncan, Andy Widmark, Jack Brigham, and Dick Griffith.)
We had a wonderful reunion. It was lively, relaxed, and very friendly, with lots of time to reconnect with friends, tell old stories, discuss new plans, dance (or jump around) to favorite oldies, or sit and talk with someone we didn't know very well long ago. The weekend was a delight from the very beginning at Warren and Karen Ross's home (a thousand thanks!) to the final hugs and farewells.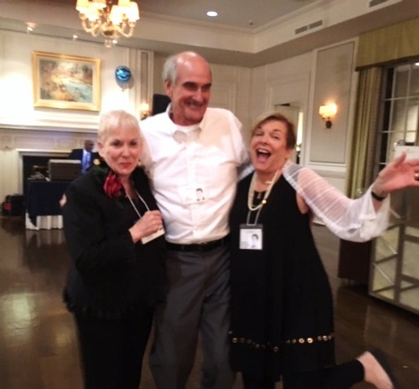 Madeleine Belanger Newman, Tom Wenner, and Rosemary DiGeronimo Sternbach
Do you have photos to share? We welcome them all. If you want to post them yourself, click on the place at the bottom of any gallery page where is says, "Create Your Own Photo Gallery here. You should see instructions that tell you how to upload your own photos.
The reunion was planned and organized entirely by email by classmates across the country who never had an actual physical meeting! It makes me think that although we are 74, we are quite modern after all!
A million thanks to everyone:
the early prodders who got us going (Paul Doran, Nan Peppard, Rick Boschen).

the dynamo pair of Rosemary DiGeronimo and Nan Peppard who thought about reunion every day for about a year, emailed like crazy about every detail, and pulled off a terrific weekend.

the super-generous Warren and Karen Ross who welcomed everyone to their beautiful home and worked out all the arrangements with the Montclair Golf Club.

the save-the-date chief, Rick Boschen, who sent sent personal postcards to everyone.

Nan Peppard who mastered the computer and produced all our nametags.

Frank Rubino and Barbara Mansell, who kept us on track financially, accepting your registrations and paying the bills.

David Appleton and Jack Brigham who prepared lists of favorite songs for our terrific DJ.

All the "callers" who attempted to reach everyone in the class and deliver the details about reunion.

All the cooks and foodies who provided a delicious spread for the Friday night table.

Everyone who came and had a good time.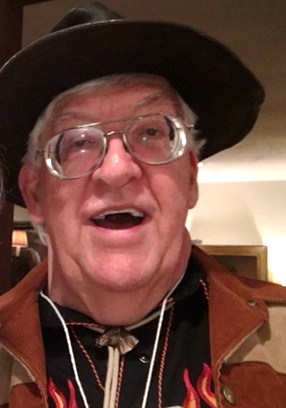 Carl Stephanus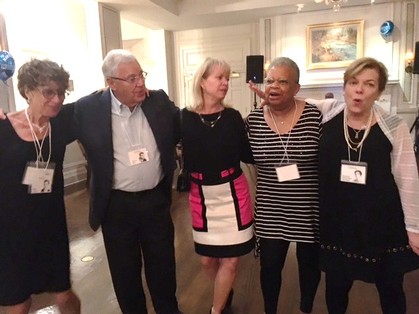 Nan Peppard Krauss, Warren Ross, Karen Ross, Doris Andrews Anderson, and Rosemary DiGeronimo Sternbach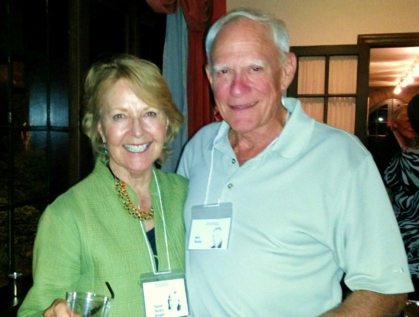 Susan Becker Knight and Bob Rutan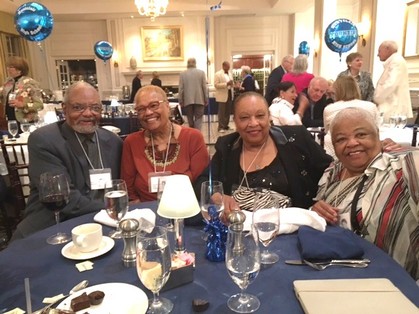 Barry Hampton, LaVerne Criss Walker, Diana Russ-Harmon, and Delores Morton Munford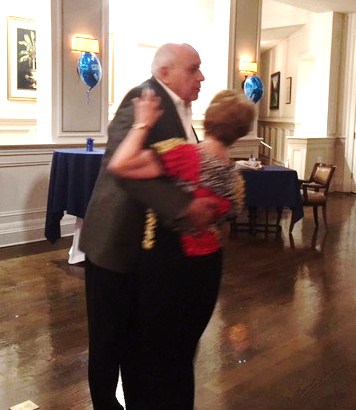 Jim Cestone and Joyce Sgroi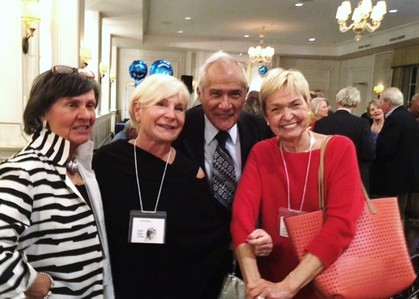 Suzy Bruett Gumm, Janet Kipp Tribus, John Williams, and Roxa Kinsey Canovaca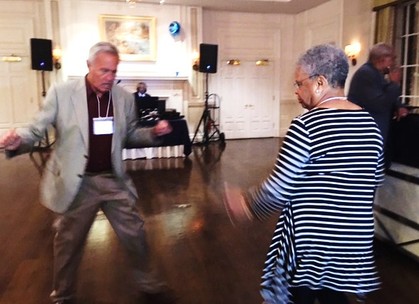 Andy Widmark and Doris Andrews Anderson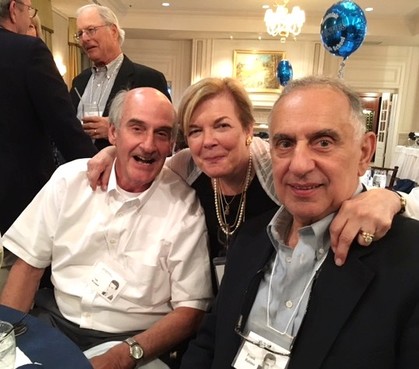 Tom Wenner, Rosemary DiGeronimo Sternbach, and Frank Rubino. Ken Wright in the background.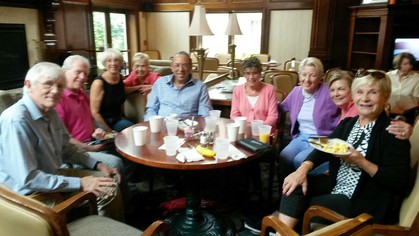 Jack Brigham, Michael Sternbach ('61), Brooke Hench Gieda, Roxa Kinsey Canovaca, Michael Pecherer, Nan Peppard Krauss, Jan Holt Wright, Rosemary DiGeronimo Sternbach, and Janet Kipp Tribus.
There are lots more photos in the Photo Gallery.
(See instructions at the top of this page.)
If you took pictures, please send them in!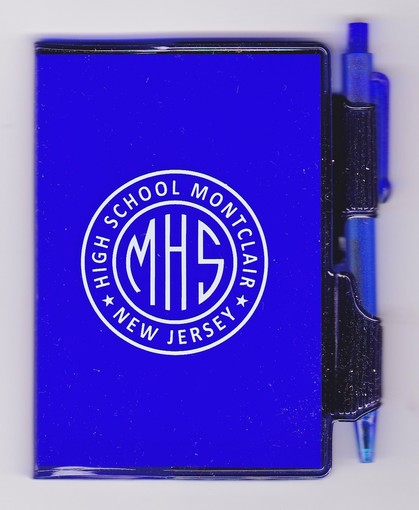 This is a "mini-notebook" that we gave out at the reunion so that everyone would have a place to jot down a name, address, or email address during the evening. It is about 3-3/8 by 4-1/4 inches and fits easily into a pocket. There are lined pages inside. We have about 30 left over. If you would like one, let me know and I will send it to you using our leftover stamps. Be sure to send me your correct address!
Who Came to Reunion?
Are you trying to remember a name? Here's a list of classmates and guests who came to the Saturday reunion dinner.
Bruce Adams
Doris Andrews Anderson
David Appleton and Wendy Appleton
Jean Banks Anderson
Susan Becker Knight
Madeleine Belanger Newman (Hillside)
Rick Boschen
Jack Brigham and Anne Bardolph
Jim Bruett
Suzy Bruett Gumm
Rochelle Caggiano Schait
Jim Cestone
LaVerne Criss Walker
Rosemary DiGeronimo Sternbach and Michael Sternbach (MHS '61)
Eugene Duncan and Kenneth Robinson (MHS '59)
Mildred Ferrara Scola
Charlotte Gerber Turner
Dick Griffith and guest (sorry, I don't have her name).
Norma Halsey Trewhella
Barry Hampton
Brooke Hench Guida
Jan Holt Wright
Stephen Holzel and Patricia Holzel
Tom Kasline
Roxa Kinsey Canovaca
Janet Kipp Tribus and Don Tribus
Donna Lake Wright and Ken Wright
Linda Linnard Andre and Peter Andre (MHS '59)
Dick Loomis
Gene Mazzola
Sally Minard
Elizabeth Morrow Edwards and David O'Dette
Delores Morton Munford
John Orders and Onil Chibas
Patricia Ann Payne Wallace
Michael Pecherer and Xiomara Di Maio
Nan Peppard Krauss
Edgar Robinson
Harry Robinson
Warren Ross and Karen Ross
Frank Rubino
Diana Russ Harmon
Bob Rutan
Joyce Sgroi
Carl Stephanus
Richard Weaver
Tom Wenner
John Wharton
Andy Widmark and Ginny Widmark
Leroy Wilkinson
John Williams
Suzie Wooster Wilsey and Dick Wilsey
Richard Yaeger
Liz Young McCann
Many thanks to the classmates who sent extra donations to support our Reunion. You can see their names under "Thanks!" in the blue navigation sidebar.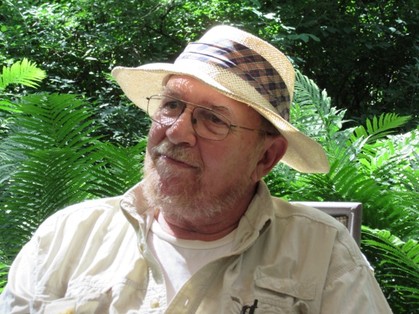 A message from David Appleton
Hey Classmates,
Ever think how important music was in our lives as we were growing up? I do. I remember my earliest awareness of popular music was Martin Block's Make Believe Ballroom radio show playing in the 40s as my brother did his homework and I played with my trucks on the floor with Nat King Cole singing "Nature Boy" in the background.
From then on, from the Ink Spots and Andrews Sisters through Satchmo, Harry Belafonte, Bill Haley, the Everly Brothers, Buddy Holly and Elvis to Pete Seeger, Brubeck, Dylan, PP&M, Miles Davis, Coltrane, and Ahmad Jamal to the Mamas & Papas, Stones, Beatles, Blood, Sweat & Tears, Glen Campbell, Motown folks like The Supremes ... These and thousands of others provided the sound track for our lives as we grew through the 40s and 50s, through the 70s and 80s to today, all the while enjoying the astounding advances in audio technology through these years. From listening to "Peggy Sue" on the primitive car radio in Mrs. Gumm's pink and black '59 Pontiac Convertible as Fred Gumm, Fred Moore, and I drove on our adventure to West Virginia to visit our chosen Institutes of Higher Learning during Spring Break 1960 ... to the Appletunes tech of today.
Dreadful to think of these decades vanishing in the wake of our lives. But these tuneful folk conjure pleasant memories to be savored. ... Sorry, I digress into maudlin verbocity.
David Appleton, dwapple@verizon.net
.You can see David and Jack Brigham's lists of favorite songs by clicking on "David and Jack's Favorite Songs" in the blue sidebar on the left of this page.
.....................................................................................................................................................
HAIR WHORLS and HANDEDNESS: an article by Gene Mazzola
"How many of you have ever looked at a young child or grandchild and wondered if he, or she, might be right- or left-handed? We did when our children were very young, even though there were, to our knowledge, no left-handed relatives in either family. As it turned out, the relationship between right/left handedness and the direction of rotation of a person's hair whorl was brought to my attention many years later.
This topic was somewhat related to one of my interests in that many molecules exist in right-hand and left-hand forms. Professor Henri Brunner, a visiting scientist from Germany claimed that there was a directional correlation between these two phenomena: the hair whorls of right-handed people swirl in a clockwise direction, and those of left-handed persons swirl in a counterclockwise direction. I wondered about this because hair whorls must go in one direction or the other. Handedness, however, is more of a gradation from completely right-handed to predominantly right-handed, to ambidextrous, to predominantly left-handed, and to completely left handed. So it seemed implausible that the relationship between handedness and hair-whorl rotation could be as simple as Prof. Brunner suggested."
[Gene's article continues with a detailed discussion of genetics that explains how the relation between hair whorl rotation and handedness can be approached. Click here to see the full article.]
Then Gene continues, "So statistically speaking, if you see a clockwise-rotating hair whorl, the person has an 88% chance (84%+4%) of being right-handed. However, if his/her hair whorl rotates in a counterclockwise direction, the person has a 50:50 chance of being left-handed. I've spent over a decade looking at the heads of kids and people on the Metro, and counterclockwise hair whorls are rare. However, when I've seen one on a child, one of the child's parents or grandparents are/were invariably left-handed. Moreover, most of the children were either confirmed left-handers or seemed to be leaning in that direction. Many of the children were so young that they didn't appear to have a preference yet. In those cases, I told the parents that if the kids did, indeed, turn out to be left-handed, they heard it here first."
And now, one more time --
This month, as you see photographs of current grads, think back to the way we looked some years back.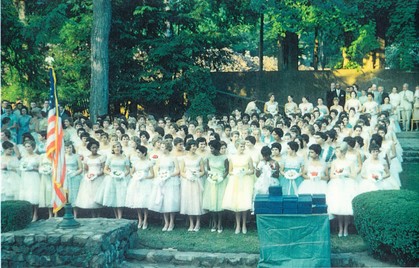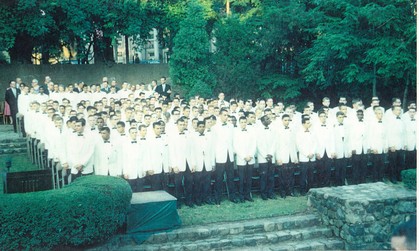 MHS '60 Graduation
Photos kindness of Susan Becker Knight, whose father was the photographer.
.....................................................................................................................................................
SENIOR YEARBOOK PICTURES
We now have all the pages of our senior yearbook pictures posted on this website, thanks to Gene Mazzola, who brought me his yearbook to be scanned. To see them all, just go to the blue sidebar on the left side of this page and click on Senior Yearbook Photos. Many thanks to John Sproston for initiating this project, and to Gene and Chris Graber for providing pages.
Would you like to find out whether other classmates share your special interests or activities? For example, I teach ESL (English as a Second Language) to adult students and would love to find out whether any other classmates do the same. Let me know if you have special interests that you would like me to publicize on this website.
HOW TO SEND MESSAGES THROUGH THIS WEBSITE
We'd like to hear from you!
If you'd like to send a message to the whole class:
1. Go to the "What's New" page at the very top of the blue margin on the left side of this page.
2. Look for the gray box on the top that says "Post a Comment to the Class."
3. Write your message in the box that says "Share Your Thoughts with Classmates."
4. Include a photo or video if you like (that would be great!)
5. Click on the blue "Post Message" box.
If you'd like to send a private message to a Classmate:
1.Go to the classmate's profile page. (Click on "Classmate Profiles" near the top of the left-hand blue margin on this page.)
2. Click on the envelope icon directly under the photo box where it says "Send [classmate's name] a private message."
3. When you get to the message screen, type in your subject and message in the boxes.
4. Click the blue "Send private message" box. That's all you have to do! It's easy!
Guest Members on this website
It is now possible for a member of another MHS class to join our website as a "Guest Member." Guest Members will be able to have their own profile page and they will be able to send and receive messages through the site. They will be able to remain guest members as long as they do not harass any class member or post objectionable material. If a member of another MHS class wishes to become a Guest Member, he/she should contact me directly to request guest membership and I will enter his or her information in the site's database and provide information about how to sign up. Nobody will be able to join the site without going through that process. If you have questions or concerns, please let me know. (Linda.andre@verizon.net)