Montclair High School
Class Of 1960
Welcome to the MHS '60 Website!
January 28, 2015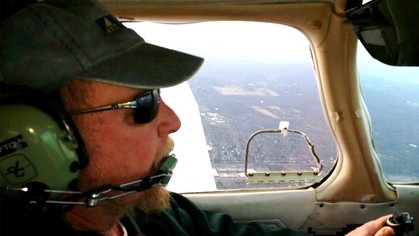 David Appleton flying!
David writes -
I've retired from the sea but still seek adventures of sorts. So I've taken up flying! I'm now working toward my private license. Funny I'm doing this since flying always scared the Bi-Jesus out of me, but also fascinated me. My first airline flight, courtesy of Uncle Sam, was from NYC to USN Boot Camp in North Chicago, IL in July 1964. I was petrified. I knew I was about to die.... I survived, not only the flight, but the Navy.
My yacht delivery business over the last 25 years or so required many flights to and from boats found hither, thither, and yon. One of the earliest of these I shared with MHS classmate Ned Watson, my crew on a 1600 nm ocean voyage from Maryland to the Virgins in 1993. During our flight home, St. Thomas to Philadelphia, Ned a flying aficionado, nearly... no really, had to hold my hand to calm me down every time we hit a patch of turbulence.
My trepidation subsided over the years and I actually began to enjoy these flights. Today I am hardly nervous at all, and am mostly enthusiastic. I usually seek a window seat aft of the wings, and I spend the flight glued to that window, watching clouds, considering weather, and trying to figure out exactly where I am, given the configuration of land and sea. (When over sea, I look for boats and try to figure surface wind speed by the sea state.) I'm a sort of scientific observer, but mostly a kid in an amusement park (remember Palisades Park).
Teaching sailing, I've had many pilots in my classes. They seem attracted to the interaction between man's machine, the physics of it, and Nature's laws. I've introduced many commercial pilots to sailing, one of whom flew 747s between NYC and Europe on a regular basis. One of my best Mates on major ocean voyages had a helicopter in Minnesota, so when I had a chance, I drove up to Hawley, MN and he gave me a ride. WOW! I wanted one, but on my budget that ain't gonna happen.
And now we have an F-18 pilot in the family, my Great Nephew-in-Law, Erik. He's an Annapolis graduate and was one of Dr. Peter Andre's (MHS '59) students. I hope to make a sailor out of him one day, but for now I'm pleased he's doing his part to defend our country... and probably having a hell-of-a-ride doing so. Read Envy!
So to get a better idea of what flying is like, I'm taking these lessons. I hope to have my private license by summer and we'll see how it goes from there. In the picture above, I am at the helm (yoke) of a Piper Warrior flying over Princeton, NJ last month. So far, so good. Wish me luck!
And more....
Today I had another flight... mastered (maybe) the finer points of preflight prep and taking off... did so and found it exhilarating. Again flew over Princeton University, looking down on the football stadium where Clary Anderson took us MHS football folk to watch a game in 1958. Johnny Buccino (MHS '59) our center, climbed the stairs to our appointed seats, turned around to look down at the field, let out a yelp, and did a sit/sat making his way down the stairs to lower ground. That was my most memorable moment. Can't even remember who Princeton played. I thought of Johnny B. and that day in Princeton as I flew over the stadium. I look forward to landing which seems a bit more challenging. Most of my efforts on simulators thus far have ended in disaster. Wish me better luck!
And more about what a "sit/sat" is..........
It was a classic full butt decent at a speed fueled by sheer terror. Much mirth followed him down. Funny the things we remember. Of course we have to realize our recollections are filtered through the fog of years and colored by our personal point of view. I'd like to know Johnny B's remembrance of that November day. He's probably repressed it. I've done this with many unsatisfactory recollections of my days in Montclair and elsewhere. Haven't we all!
David
NEWS
Jack (John) Taylor has joined our website! You can contact Jack through his profile page. Click on "Classmate Profiles" near the top of the left-hand blue margin on this page.
I am sorry to report that Leslie Tobias passed away last year on December 15, 2013. Marcia Lenkowsky Paiewonsky sent the sad news.
Pat Kaveny Gullord has moved again. Her new address is: 4500 East Sunrise Drive, Apt. B2; Tucson, AZ 85718. Phone: 520-505-4131
HOW TO SEND MESSAGES THROUGH THIS WEBSITE
We'd like to hear from you!
If you'd like to send a message to the whole class:
1. Go to the "What's New" page at the very top of the blue margin on the left side of this page.
2. Look for the gray box on the top that says "Post a Comment to the Class."
3. Write your message in the box that says "Share Your Thoughts with Classmates."
4. Include a photo or video if you like (that would be great!)
5. Click on the blue "Post Message" box.
If you'd like to sent a private message to a Classmate:
1.Go to the classmate's profile page. (Click on "Classmate Profiles" near the top of the left-hand blue margin on this page.)
2. Click on the envelope icon directly under the photo box where it says "Send [classmate's name] a private message."
3. When you get to the message screen, type in your subject and message in the boxes.
4. Click the blue "Send private message" box. That's all you have to do! It's easy!
Results of "Guest Members on the website" question
Since we had 22 "yes" votes, 10 "no" votes, and 6 "I don't care" votes, I will make it possible for a member of another MHS class to join our website as a "Guest Member." Guest Members will be able to have their own profile page and they will be able to send and receive messages through the site. They will be able to remain guest members as long as they do not harass any class member or post objectionable material. If a member of another MHS class wishes to become a Guest Member, he/she should contact me directly to request guest membership and I will enter his or her information in the site's database. Nobody will be able to join the site without going through that process. If you have questions or concerns, please let me know. (Linda.andre@verizon.net)
•

Happy New Year and Winery Update

from Michael Pecherer

Well, another year has raced by and it sure seems like they go by faster and faster. Aside from a few minor health issues, it was a great year with lots of progress with my winery. It really looks like we will be up and running in August or September of 2015 and I hope to catch the 2015 harvest. I want everyone to know that you are all welcome to visit and get the grand tour.

After much research and reflection I decided to build the winery at the east end of Placerville, CA. Placerville is located in the foothills and from the name you can guess that it is in the center of the California gold country. It is a town of about 12,000 located about thirty minutes east of Sacramento. We have a vineyard in Mendocino County and hope to acquire more vineyards closer to the winery.

Our site is located in what is called the "Apple Hill" district which is the largest apple growing area in California. It seems that grapes and apples grow well in the same environment and as a result, there are lots of vineyards and quite a few interesting wineries. The grapes in this area are particularly flavorful and that seems to be a result of the austere soil conditions which stress the vines which in turn produce great fruit. While we won't have a vineyard in the area, I have contracted for an adequate supply of grapes and will be making a number of varietals. We are also making real champagne although the actual processing will be done in Napa because the necessary equipment is cost prohibitive for the volumes we expect.

We are finalizing the construction plans for the winery and wine storage warehouse and the tasting room. The winery will be built from scratch but the tasting room will be a remodel/conversion of an old cabinet shop building. I will send Linda some renderings once they are finished. Construction should start in about March. The Placerville area gets snow so we will have to work around the weather.

I feel very fortunate to be able to do this project. It has been on my bucket list for a long time. I am not quite the winemaker that I would like to be, but I have hired a fabulous fellow with whom I share the same tastes and values. We are hard at work buying bulk wine from other wineries and blending it to our tastes.

Again, all are invited. I will post progress reports and some pictures from time to time. In the meanwhile, the very best to all.

Michael Pecherer

•

Hi:

Rick Boschen has asked for some helpers for getting together a reunion in 2015. I for one would love to get together again. I always have such a great time. So my question to each and every one of you is: Are you interested in a reunion in 2015? Please respond. And then we can try to move forward with plans. You can email me at npepcar@aol.com. Thanks. Hope to see you all soon!

Nan Peppard Krauss