Montclair High School
Class Of 1960
Welcome to the MHS '60 Website!
November 27, 2014
HAPPY THANKSGIVING!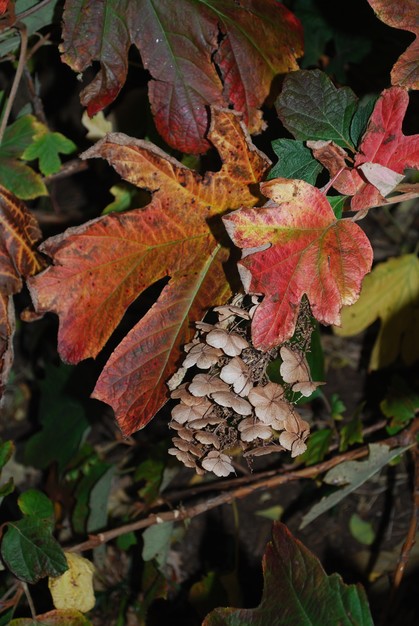 November Colors, LLA

Well, the stuffing is ready and the apple pie is made, so the only thing that's left is to put the turkey in the oven. I wish you all a delicious dinner and a happy holiday with family or friends or however you wish to spend the day.
NEWS BITS
* Liz Mackenzie Martinez has joined our website. Welcome, Liz!
* Nick Serpico has a new email address: jserpico1224@gmail.com
* John Sproston has added 9 photographs of Montclair in the "Local Views and Montclair Landmarks" section of our photo galleries. You can see Bonds and a Bonds' menu, the Clairidge Theater, the Lakawanna Railroad Station in 1913, the White Castle in Verona, and more. To see them, click on Photo Galleries in the blue margin on the left side of this home page. Scroll down to the very bottom. The last slide will say "Local Views and Montclair Landmarks." Click on John's set.
THREE IDEAS to think about:
I don't have any class stories or photos to share, (PLEASE SEND SOME!) but I do have three items that pertain to this website.
1. With the holidays here, it would be great to use this website to send greetings to the whole class. Wouldn't it be nice to find a flurry of holiday messages and good wishes from our classmates all through the next few weeks between Thanksgiving and New Years? It's FREE -- no cards to buy, no stamps required. Just use the "What's New" feature of this website. Take a few minutes to send a greeting to the class or a short note about how you spend your holidays in your part of the world. Or share a memory of holiday time in Montclair. You can even add a photo or video! And of course you can respond to a greeting that somebody else has sent.
Here's what you do:
Click on What's New" (in the blue margin at the top left side of this page. There will be an empty box that says "Share your thoughts with Classmates." Write your message in that box. If you want to add a photo or video (that would be great!) just click on the gray bar directly below. Don't forget to click on "Post Message" when you're done. Remember this message will go out to all classmates. It is not the place for a private message. If you want to send a private message, go to the classmate's profile page. Directly under his or her photo (or empty photo box) you will see a small picture of an envelope that says "Send [name of person] a private message." Be sure to use that for your personal private messages.
2. Yearbook photos on this website?
Some of you have indicated an interest in posting our yearbook photos on this website. Ordinarily, it would be a very time-consuming and tedious process, but the producer of this website (ClassCreator.com) is offering 2 options:
a. Scan and upload our entire yearbook onto this website.
b. Scan photos of individual classmates and upload them onto the classmates' profile pages. There is, of course, a fee, but the class bank account can easily afford it (if it something we want to do.)
If you have an opinion about whether this is (or isn't) a good idea, please let me know. (linda.andre@verizon.net). The problem is that ClassCreator.com would need a "clean" yearbook, and mine has writing all over the pictures. Does anybody have a "clean" yearbook that they would be willing to loan for a few weeks? If we decide to do this, the yearbook would be returned intact.
3. "Guest members" on the website?
A member of another MHS class has contacted me to ask whether he could be added to the MHS '60 website so that he would be able to contact old friends in our class. I would like to hear what you think about this as a matter of policy. If a member of another MHS class is added to the site and identified as a "guest member," he/she would have a profile page and would be able to send and receive messages through the site. I will pose the question in our poll (upper right of this page). So please use the poll to let me know what you think our policy should be.
•

A message from Ed Hanke-

Opportunity knockin'

Just a note to all that Jim Lombardi and I reconnected a couple of weeks ago after (how many years) only because we took the time to see who is living in the vicinity. We had a nice brunch and discussed our separate careers, athletic and family paths since graduation. I encourage others to do likewise as it is fulfilling and positive in so many ways.

Ed Hanke

•

Hi:

Rick Boschen has asked for some helpers for getting together a reunion in 2015. I for one would love to get together again. I always have such a great time. So my question to each and every one of you is: Are you interested in a reunion in 2015? Please respond. And then we can try to move forward with plans. You can email me at npepcar@aol.com. Thanks. Hope to see you all soon!

Nan Peppard Krauss