Montclair High School
Class Of 1960
Welcome to the MHS '60 Website!
June 12, 2015
Jack Brigham, a long way from home!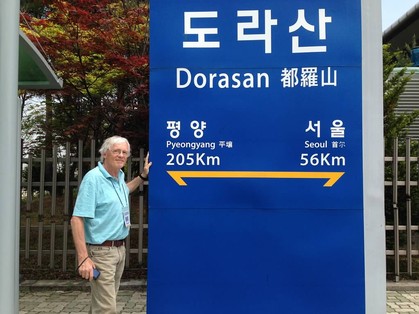 In April, Jack Brigham and his girlfriend Anne flew to South Korea to visit Jack's son Jason and his girlfriend Teresa, both English teachers. Here is Jack on a government-sponsored tour to the Demilitarized Zone (DMZ) between North and South Korea.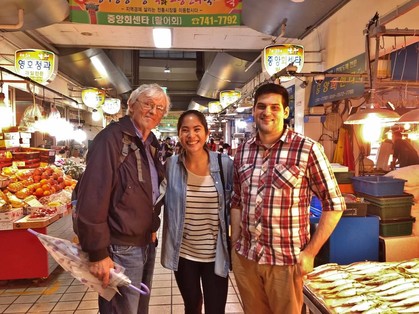 Here's Jack with Jason and Teresa at a market in Gyeongju, South Korea.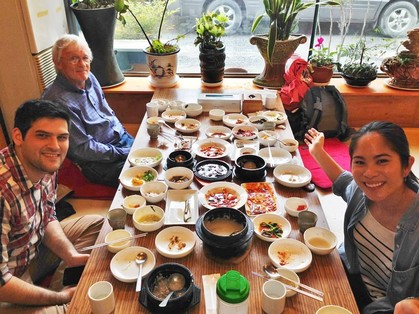 They enjoyed quite a lunch!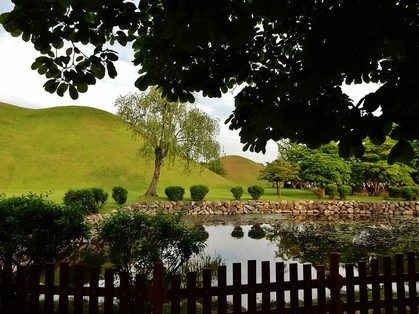 Ancient royal tombs/burial mounds in Gyeongju, dating from the 1st century AD and later.
Jack writes that Jason and Teresa "were able to be with us for two long weekends and were wonderful hosts! We traveled together to the historic small city of Gyeongju [where Teresa teaches] and also to Gimpo, about 1 hour from central Seoul, where Jason teaches. We went on our own to the Demilitarized Zone, and wandered around Seoul, through several ancient palaces, and markets. I would not have picked South Korea as a vacation spot had Jason not been there, but we found it to be a fascinatinig place, beautiful and historic. We stopped in Hawaii for about 10 days on the way back, making for a great trip. Hope you enjoy the pictures."
You can see a slide show of 95 photos from Jack and Anne's trip (including one in a dark tunnel dug by the North Koreans).
Click on this link: http://share.shutterfly.com/share/received/welcome.sfly?fid=90ae17155057f64a&sid=0ActGLls2bMmLFAg
Barry Hampton
is very proud of Groove Phi Groove Social Fellowship, Inc.

I recently learned about Barry's long-standing involvement with Groove Phi Groove, an organization that provides fellowship and camaraderie and serves people in the community, especially young black men. Members donate college scholarships, mentor high school students, and actively establish connections in West Africa. I invited Barry to tell you about Groove Phi Groove in our newsletter. Thank you, Barry!
Barry writes:"All our classmates from 1960 have done wonderful & great things throughout their lives. I'm glad to be part of that tremendous class.
In 1962, while I was a junior at Morgan State University in Baltimore, a group of us started an organization called Groove Phi Groove Social Fellowship Inc. www.groove-phi-groove.org We eventually grew to chapters in over fifty Historically Black Colleges and at one time had chapters at more than 100 universities and colleges including Penn State and Harvard University. Groove Phi Groove is still on the move. We gave $50,000.00 to Morgan State for our 50th in 2012. There have been more than 40,000 individuals who have joined our organization since 1962.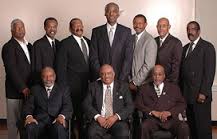 The 14 original founders of Groove Phi Groove meet after 46 years at Morgan State University in Baltimore, April 2008. Barry Hampton is in the first row at left.
In 2013, I went to Accra, Ghana to begin a chapter for young men there. We have inducted thus far thirty of those young men from the Accra/Ghana area and expect to get as many of them as possible to join us in Detroit, Michigan for our Annual Conclave in July. Actually, U.S. Congressman G.K Butterfield (a Groove from North Carolina in the mid 1960s) is working with us as we speak to secure visas for these young men. Visas are hard for them to get because there is the belief that once they get to the USA they will want to stay and not return home.
LeRoy Wilkinson from our Class (1960) and my older brother Kenny (MHS '59) joined Groove Phi Groove Social Fellowship, Inc. in the late 1960s. George Tyson (Class of 1960, Immaculate Conception in Montclair) also joined that same year. Actually George Tyson's brother was Al Gore's roommate in college at either Harvard or Yale, can't remember which.
Other notable members are: Earl "The Pearl" Monroe (professional basketball player), Doug Palmer (Mayor of Trenton, NJ for 20 years), Sylvester Ritter (professional wrestler known as Junk Yard Dog), and Congressman G.K. Butterfield. There are many more of course.
I would like to invite our Class of 1960 or anyone else who has an interest to go online and pull up www.groove-phi-groove.org and then pull up "Newsroom." Then pull up the newsletter Sword & Spear (from 1985 through 1991.) Also pull up Swing-Phi-Swing, our Sister Group that we helped get started in 1969 at Winston Salem University. As you will be able to tell, they have grown some also.
Barry served as President of Groove-Phi-Groove from 1985-1991. You can read a nice biography about his life and work in Baltimore at http://www.groove-phi-groove.org/index/president?id=47
57,991!
That is the number of times you (as a class) have visited our website since we started on August 1, 2009. By the time you get this we should be over 58,000! As far as I know, the website has led to at least one marriage, and a number of surprises. Here is one of them:
Ben Ritter writes, "I just spoke with someone who found me through the MHS website. Amazing. Fifty years ago, her late husband and I were stationed together as US Marine Security Guards at our American Embassy in Khartouom, Sudan. I had had no contact with him or her since I left Khartoum in 1966. Thanks for putting her in touch with me.
Here's more news from Ben Ritter about his latest project for helping people with disabilities. In a letter to the Tampa Tribune, Ben discusses his beef with the the new "ride-sharing" companies Uber and Lyft that "are generally cheaper and easier to hail than taxis. But they do not provide accessible transportation to mobility-impaired passengers who use wheelchairs, canes, walkers, crutches, and have guide dogs." Ben goes on to say that while taxi fleets generally have a percentage of accessible vehicles in order to serve the entire public, Uber and Lyft do not. He encourages Uber and Lyft to "get on board" [with the Americans with Disabilities Act] and require a certain percentage of its drivers to have wheelchair accessible minivans."
You can read Ben's entire letter to the Tampa Tribune, May 24, 2015 here:
http://tbo.com/list/news-opinion-commentary/transition-to-uber-and-lyft-leaves-disabled-at-curb-20150524/
You can also see Ben himself discussing the issue on News Channel 8 in Tampa. Ben appears at about 33 seconds into the news report. Click on this link.
http://www.wfla.com/story/29137704/uber-lyft-what-about-people-in-wheelchairs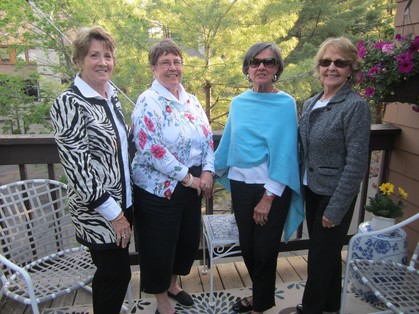 Hope Hemmersley Potts, Peggy Ruppert Lorence, Suzy Bruett Gumm, and Susan Becker Knight get together to enjoy a Junior League house tour in West Hartford, Connecticut.
New email address: Jan Holt Wright: jj30mss@aol.com
New photos: Mike Brodie has posted some new photos in the "Mike Brodie's Photographs" section of this website. There are now 3 pages of photos, 32 photos in all. Just click on "Mike Brodie's Photographs" in the blue margin on the left side of this page, 3rd from the top.
John Orders wonders whether we can all start assuming the title of "Venerable" as we move further into our 70s.
Barbara Mansell Ramsay writes, "Taj Mahal in February, incredible."
Bruce Baker sends news from the Peace Corps in Benin
Benin Politics
Bruce writes, "On April 25th, Benin had a Presidential election. As a safety precaution, Peace Corps Volunteers were put on "standfast" mode, which means we had to stay at our post sites, keep a low profile, and avoid any political rallies. We could continue our regular work routines. After four days, the "standfast" was lifted. There was very little violence reported in the country. Benin remains unique among African countries in never having had a civil war since gaining independence and having democratic elections for the last 40 years or so! This country, like many other sub-Saharan countries, has diverse languages, subcultures, and religions, but unlike the others, the Beninese people get along with each other. They show great tolerance for other's customs and beliefs. As an economist, I am particularly appreciative of this since wars are so destructive of very costly assets such as bridges, roads, and factories. So a shout out to the Beninese for their unique African politics!
Peace Corps Projects
The work of my co-Volunteers continues to amaze me, and makes me feel proud and privileged to work with them. One Volunteer designed women's handbags that were then shipped to and sold in the US; another arranged for the export of substantial quantities of baobab powder (from the nutritious fruit of the baobab tree) to the US. Another successfully raised funds to build some new schoolrooms for her village. Many Volunteers worked together to continue school-vacation camps for boys and girls (separate camps) to work on gender equity problems. (I will be helping at one such camp in July.) Other Volunteers organized the installation of hand-washing stations at schools as part of a rural helath initiative. Another Volunteer guided several Savings & Loans associations (a form of microfinance) that were very successful. The list goes on and on. They accomplish all of this in a very difficult environment, especially for the female Volunteers who are constantly subjected to behavior that in the US would be considered sexual harassment but here is a cultural norm. So the Peace Corps Volunteers, as a group, continue to represent America very well.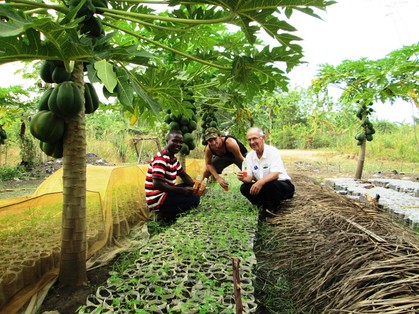 Papaya project progress in Athieme
In this picture, I am squatting in a plant nursery with papaya seedlings along with a co-Volunteer and Ghislain, the director of the NGO that owns the farm. Ghislain bought 1,000 papaya seeds and planted them in the little plastic bags that you can see. I think he achieved a better than 85% germination rate. In our hands we are holding sample bottles of papaya-based drinks. In the background are some papaya trees that were performing poorly in an earlier picture I sent out. Since then, they have received better watering and fertilizer. The result is a lot of papayas. Ghislain has transplanted over 200 papaya seedlings and intends to transplant another 300 to 400. There will be a lot of papayas coming on-stream around December to February. The [bottled and frozen] samples we prepared were very successful. So I expect they will start to market some of these producets within the next month or so. My hope and vision is that Athieme will become the Papaya Capitol of Benin!
Reflections
Now that my Peace Corps service is coming to a close I have been looking around my neighborhood trying to observe economic change, and there is a surprising amount, none of which involved me. The gas station is no longer abandoned. The one damaged pump has been fixed so that now all the pumps are operating and trucks are getting refueled there. One of the buildings under construction is now completed. Several new, large houses have been built in my neighborhood and other, new construction is being started. Economic progress is happening in my neighborhood of Bohicon. I think that a major generator of economic activity in Bohicon centers on trucks. Bohicon is a major crossroads city and there are a lot of places around my neighborhood where trucks and related equipment such as canvas tarps are repaired. The local economy seems quite busy.
What does the future hold for the Beninese economy? I see crosscurrents. The Beninese people in lower income brackets are very hard working, and their culture emphasizes working in groups. That is a plus for a good workforce. On the other hand, the national government seems to have problems. The Netherlands recently pulled all of their foreign aid out of Benin after an audit of a large project showed that almost all of the money mysteriously disappeared. Four or five years ago, a large amount of Chinese aid money also mysteriously disappeared. Major roadways are not well maintained. Unofficial roadblocks by police extract bribes routinely from commercial traffic. It is like crossing an international border and paying a tariff. It just destroys attempts to extend markets. These roadblocks could be eliminated by low-cost sting operations, but that is not done. They are just accepted. In my opinion, it will be hard for Benin to enjoy significant eonomic development unless national government officials change their priorities. I don't see that as likely. Fortunately for Benin, I have never been a good economic forecaster.
The Close-Of-Service conference my cohort attended two weeks ago was quite enjoyable. Having air conditioning provided welcome relief fom the incessant heat of the dry season (which now seems to have ended, thank goodness). The food seemed marvelous after eating my own dreary cooking day after day. Reconnecting with my friends from training was also enjoyable. Of the 52 of us who began training in June 2013, 36 remain. Of those 36, 11 are extending their service, an above-average number. They have accomplished many worthy projects. I feel very proud and privileged to have served with these people.
HOW TO SEND MESSAGES THROUGH THIS WEBSITE
We'd like to hear from you!
If you'd like to send a message to the whole class:
1. Go to the "What's New" page at the very top of the blue margin on the left side of this page.
2. Look for the gray box on the top that says "Post a Comment to the Class."
3. Write your message in the box that says "Share Your Thoughts with Classmates."
4. Include a photo or video if you like (that would be great!)
5. Click on the blue "Post Message" box.
If you'd like to send a private message to a Classmate:
1.Go to the classmate's profile page. (Click on "Classmate Profiles" near the top of the left-hand blue margin on this page.)
2. Click on the envelope icon directly under the photo box where it says "Send [classmate's name] a private message."
3. When you get to the message screen, type in your subject and message in the boxes.
4. Click the blue "Send private message" box. That's all you have to do! It's easy!
Guest Members on this website
It is now possible for a member of another MHS class to join our website as a "Guest Member." Guest Members will be able to have their own profile page and they will be able to send and receive messages through the site. They will be able to remain guest members as long as they do not harass any class member or post objectionable material. If a member of another MHS class wishes to become a Guest Member, he/she should contact me directly to request guest membership and I will enter his or her information in the site's database and provide information about how to sign up. Nobody will be able to join the site without going through that process. If you have questions or concerns, please let me know. (Linda.andre@verizon.net)
•

A new message from Michael Pecherer

Anybody else have some rock and roll left in them?

Back in 1975, I attended a Lynyrd Skynyrd concert with quite a few thousand others. It was outdoors and I can't remember where. In those days, the most famous and demanded guitar solo was the FreeBird solo and it was unbelievable the way the audience raved when they played Freebird. I stumbled upon this video of the solo and thought I would share it. I don't think I could dance to it the way I did once, but it brought back great memories along the path of time.

https://www.youtube.com/watch?v=e9C91dQFxjM&feature=youtu.be

•

Happy New Year and Winery Update

from Michael Pecherer

Well, another year has raced by and it sure seems like they go by faster and faster. Aside from a few minor health issues, it was a great year with lots of progress with my winery. It really looks like we will be up and running in August or September of 2015 and I hope to catch the 2015 harvest. I want everyone to know that you are all welcome to visit and get the grand tour.

After much research and reflection I decided to build the winery at the east end of Placerville, CA. Placerville is located in the foothills and from the name you can guess that it is in the center of the California gold country. It is a town of about 12,000 located about thirty minutes east of Sacramento. We have a vineyard in Mendocino County and hope to acquire more vineyards closer to the winery.

Our site is located in what is called the "Apple Hill" district which is the largest apple growing area in California. It seems that grapes and apples grow well in the same environment and as a result, there are lots of vineyards and quite a few interesting wineries. The grapes in this area are particularly flavorful and that seems to be a result of the austere soil conditions which stress the vines which in turn produce great fruit. While we won't have a vineyard in the area, I have contracted for an adequate supply of grapes and will be making a number of varietals. We are also making real champagne although the actual processing will be done in Napa because the necessary equipment is cost prohibitive for the volumes we expect.

We are finalizing the construction plans for the winery and wine storage warehouse and the tasting room. The winery will be built from scratch but the tasting room will be a remodel/conversion of an old cabinet shop building. I will send Linda some renderings once they are finished. Construction should start in about March. The Placerville area gets snow so we will have to work around the weather.

I feel very fortunate to be able to do this project. It has been on my bucket list for a long time. I am not quite the winemaker that I would like to be, but I have hired a fabulous fellow with whom I share the same tastes and values. We are hard at work buying bulk wine from other wineries and blending it to our tastes.

Again, all are invited. I will post progress reports and some pictures from time to time. In the meanwhile, the very best to all.

Michael Pecherer

•

Hi:

Rick Boschen has asked for some helpers for getting together a reunion in 2015. I for one would love to get together again. I always have such a great time. So my question to each and every one of you is: Are you interested in a reunion in 2015? Please respond. And then we can try to move forward with plans. You can email me at npepcar@aol.com. Thanks. Hope to see you all soon!

Nan Peppard Krauss