Montclair High School
Class Of 1960
Welcome to the MHS '60 Website!
April 24, 2015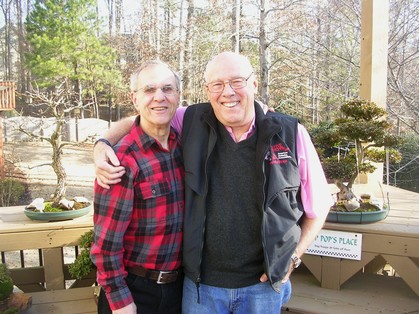 Paul Doran and Dennis McHugh on Dennis's back porch in Smyrna, Georgia
On Vacation with Paul and Denise
Paul Doran and his wife Denise sent photos of a recent trip south. Paul says, "Denise and I left snowy New Hampshire and headed south. [After a few stops in New Jersey] we drove to Smyrna, Georgia to spend time with Dennis and Norma Jean McHugh.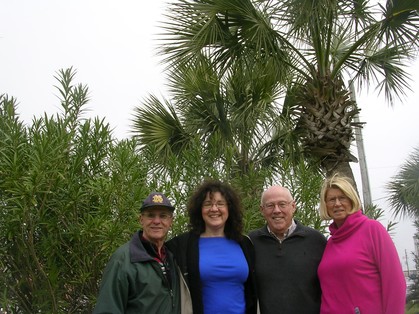 From Smyrna, we left with Dennis and Norma Jean to visit the cottage on St. George Island.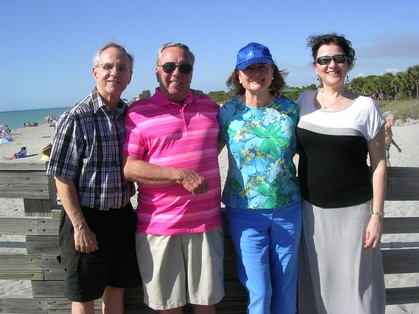 Then we headed to Venice. Here we are with friends on the Venice Fishing Pier.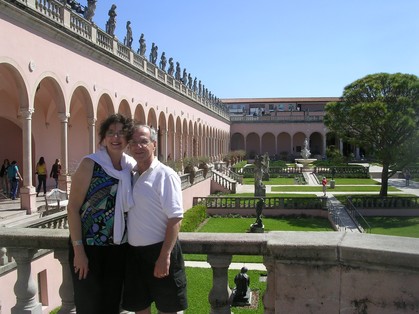 We're at the Ringling Museum in Sarasota.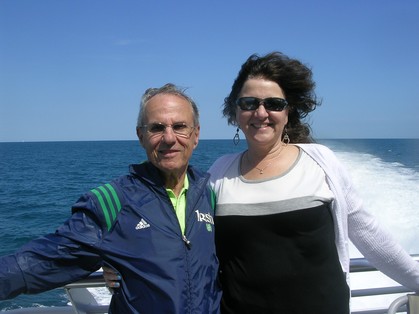 Now we're on the ferry going to Key West.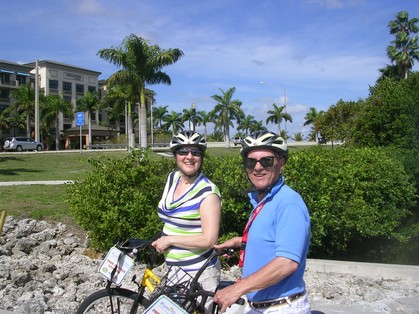 On bikes in Punta Gorda.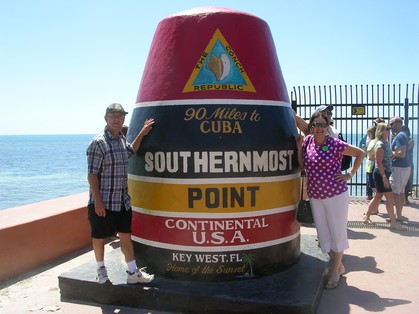 This is the marker in Key West indicating the southern-most point in the continental USA.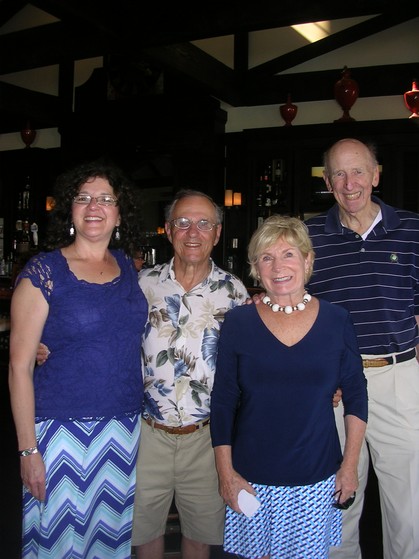 Paul and Denise with Janet (Kipp) and Don Tribus. "We had a fantastic time and warmed our bones for the trip home. We still had t two feet of snow on the ground on April 4.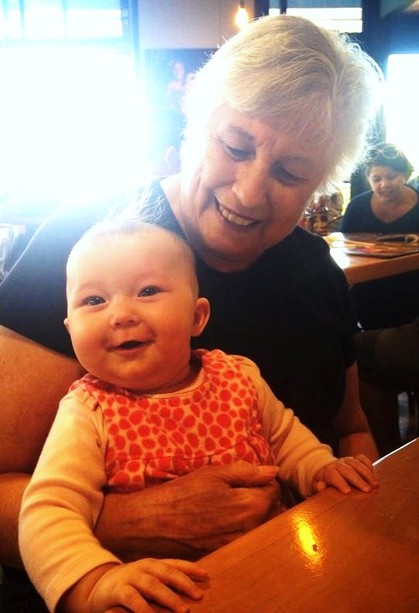 Anne Ramee Bennett says, "This is 4-month old Juliette, with grandma.... She is a sweetheart and the light of my life."
Montclair has been named a 2015 winner of the
"Great American Main Street Award"
Susan Becker Knight sent a news clip about Montclair's award. Susan says, "I am ever grateful to have grown up in such an amazing town with wonderful classmates." Here are some excerpts from the article:
Each year, the National Main Street Center awards what it calls the "best examples of comprehensive commercial district revitalization." ... Montclair is a superb example of what we're seeing nationally: Americans ... are drawn to walkable, attractive downtowns with a lively arts, shopping and restaurant scene. ... Awards are given to communities that revitalize their downtown business districts [by focusing on] local cultural, architectural, and business assets, as well as community pride, to bolster economic development. ... Several features of the township's downtown area allowed it to pull ahead in the competition, like its arts establishments and more than 85 restaurants.
This video about Montclair's award shows many views of the vibrant district around Bloomfield Avenue and the surrounding streets. You can see the see the entire article and the video (4:15 minutes) here:
http://www.nj.com/essex/index.ssf/2015/03/nj_downtown_named_2015_great_american_main_street.html
Ben Ritter sends news from Tampa.
We had one of the mildest winters here in Tampa that I can remember. Didn't have to cover our outside plants with frost cloths. It's now mid-April. The water in the Gulf of Mexico is now up to 80 degrees -- great for the tourists and the Spring-Breakers.
Interesting: Floridians define a "lake" as a body of water large enough to operate a power boat and water skis. If it's not large enough to go water skiing in, it's called a "pond." We have ponds in our neighrbood. No motorboats, but plenty of ducks and geese. One of our neighbors has a home that backs up to a pond. They have a gaggle of white barnyard geese that peruse the neighborhood daily, fertilizing our lawns and looking for handouts. A few tame mallard and muscovy ducks occasionally waggle across our lawn, poking around in the bushes.
I am still working as an ADA (Americans with Diabilities Act) consultant for our county's Public Transportation Commission. We recenty had a ribbon-cutting ceremony to celebrate moving into our new larger facilities.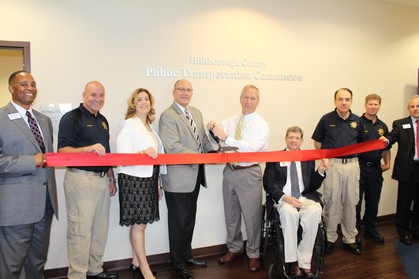 Have you been following Bruce Baker's endeavors to sucessfully grow and market hybrid papaya plants as a Peace Corps volunteer in Benin? Here are excerpts from Bruce's latest update: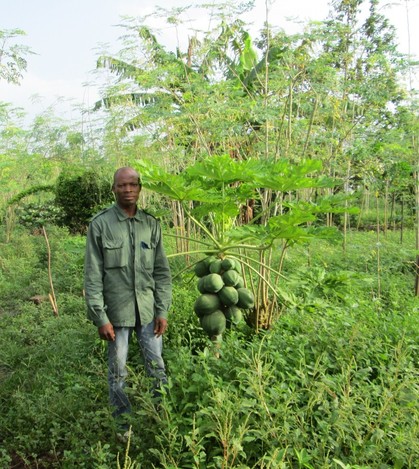 "This tree is amazing -- not even five feet tall and loaded with papayas. The man in the picture is my motorcycle-taxi driver, Mariano. He is about 5'10".
...this tree will demonstrate that the ripening of the papayas can be controlled by planting time so that, with planning, papayas can be available every week of the year, a great marketing advantage.
We have continued our experiments with formulating and perfecting a nutritious marketable processed product using papaya. We blended the mixture of papaya, citron (tropical lime) and moringa [and] bottled it in four baby-food type bottles. We had planned to pasteurize these bottles and then test the product on a couple of infants in the eight month to one year range to see if they liked it. Unfortunately, pasteurization didn't work with these bottles the two times we tried. The tops didn't stay on when the bottles were heated. So we will try another time with different bottles.
Here in Benin there are little plastic-wrapped packages of frozen milk and/or yogurt. The vendors have bicyles with an insulated Styrofoam box on the front. The thought occurred to me that the papaya blend could be frozen and sold this way. I think this could be a very successful product, and a good way to sell a lot of papaya. Fresh papaya is hard to ship because the fruit brusies easily and the roads are rough. But it could be sold over a much larger market as "popsicles."
I am also working on another project with two other volunteers. A group of about 14 farmers was given about 5 acres of farm land that is not irrigated. The group's idea is to dig a well, get a pump, and grow irrigated crops to be sold during the dry season. The idea is a good one because the price of produce typically triples or quintuples during the dry season. We have decided to raise $4,300 for the well, pump, and water reservoir through [the online site] Indiegogo. Our proposal is now up and ready for contributions at https://www.indiegogo.com/projects/benin-irrigated-vegetable-farm
Unfortunately contributions are NOT tax deductible. Sorry. This group seems to have very good leadership and we believe this project will be a good success long-term.
If you live in or around Montclair:
Here's some timely information about the Montclair Film Festival, sent by the Montclair High School All Class Reunion Committee:
"The Montclair Film Festival is presenting a unique opportunity to see films about Glenfield Middle School [now Montclair's Magnet School for Visual and Performing Arts] and the successes and challenges of teaching. Please spread the word so we can fill the Wellmont. It's also a great opportuity to meet up with classmates and freinds before and after the films.
The One That Got Away: Saturday, May 2 at 4:30 pm at the Wellmont Theater:
Dan Gill has taught at Montclair's Glenfield Middle School for years, but one student still haunts him. Tourrie Moses was a gifted student, always engaged in his work and eager to learn. But as the years went by, Moses became less and less interested in school and spent more time on the streets, until a tragic decision changed his life foreever. This film follows Mr. Gill as he reconnects with Moses, illuminating the relationship between the two men and examinng the circumstances that led to (and the aftermath of) Moses' fateful actions.
Ceremony for Our Time and Ceremony for This Time: Saturday, May 2 at 12 noon at the Wellmont Theater:
In 1995, a short PBS documentary called Ceremony for Our Time premiered. The film, featuring students from Montclair's Glenfield Middle School's performing arts program, showcased the value of arts education and aired all over the country. Cermoney for This Time returns to Glenfield to examine the impact of the school's performing arts program on the performers in the original film and to track the current state of the arts at Glenfield. This program will feature a screening of both films, a unique opportunity to explore the wonderful limpact of arts education in our community.
You can get more details and tickets for all the films at http://montclairfilmfest.org

NEW MEMBER
Alice Lutz Faas has joined our website. Alice lives in Lake Harmony, Pennsylvania. You can reach her through this web site.
HOW TO SEND MESSAGES THROUGH THIS WEBSITE
We'd like to hear from you!
If you'd like to send a message to the whole class:
1. Go to the "What's New" page at the very top of the blue margin on the left side of this page.
2. Look for the gray box on the top that says "Post a Comment to the Class."
3. Write your message in the box that says "Share Your Thoughts with Classmates."
4. Include a photo or video if you like (that would be great!)
5. Click on the blue "Post Message" box.
If you'd like to send a private message to a Classmate:
1.Go to the classmate's profile page. (Click on "Classmate Profiles" near the top of the left-hand blue margin on this page.)
2. Click on the envelope icon directly under the photo box where it says "Send [classmate's name] a private message."
3. When you get to the message screen, type in your subject and message in the boxes.
4. Click the blue "Send private message" box. That's all you have to do! It's easy!
Guest Members on this website
It is now possible for a member of another MHS class to join our website as a "Guest Member." Guest Members will be able to have their own profile page and they will be able to send and receive messages through the site. They will be able to remain guest members as long as they do not harass any class member or post objectionable material. If a member of another MHS class wishes to become a Guest Member, he/she should contact me directly to request guest membership and I will enter his or her information in the site's database and provide information about how to sign up. Nobody will be able to join the site without going through that process. If you have questions or concerns, please let me know. (Linda.andre@verizon.net)
•

A new message from Michael Pecherer

Anybody else have some rock and roll left in them?

Back in 1975, I attended a Lynyrd Skynyrd concert with quite a few thousand others. It was outdoors and I can't remember where. In those days, the most famous and demanded guitar solo was the FreeBird solo and it was unbelievable the way the audience raved when they played Freebird. I stumbled upon this video of the solo and thought I would share it. I don't think I could dance to it the way I did once, but it brought back great memories along the path of time.

https://www.youtube.com/watch?v=e9C91dQFxjM&feature=youtu.be

•

Happy New Year and Winery Update

from Michael Pecherer

Well, another year has raced by and it sure seems like they go by faster and faster. Aside from a few minor health issues, it was a great year with lots of progress with my winery. It really looks like we will be up and running in August or September of 2015 and I hope to catch the 2015 harvest. I want everyone to know that you are all welcome to visit and get the grand tour.

After much research and reflection I decided to build the winery at the east end of Placerville, CA. Placerville is located in the foothills and from the name you can guess that it is in the center of the California gold country. It is a town of about 12,000 located about thirty minutes east of Sacramento. We have a vineyard in Mendocino County and hope to acquire more vineyards closer to the winery.

Our site is located in what is called the "Apple Hill" district which is the largest apple growing area in California. It seems that grapes and apples grow well in the same environment and as a result, there are lots of vineyards and quite a few interesting wineries. The grapes in this area are particularly flavorful and that seems to be a result of the austere soil conditions which stress the vines which in turn produce great fruit. While we won't have a vineyard in the area, I have contracted for an adequate supply of grapes and will be making a number of varietals. We are also making real champagne although the actual processing will be done in Napa because the necessary equipment is cost prohibitive for the volumes we expect.

We are finalizing the construction plans for the winery and wine storage warehouse and the tasting room. The winery will be built from scratch but the tasting room will be a remodel/conversion of an old cabinet shop building. I will send Linda some renderings once they are finished. Construction should start in about March. The Placerville area gets snow so we will have to work around the weather.

I feel very fortunate to be able to do this project. It has been on my bucket list for a long time. I am not quite the winemaker that I would like to be, but I have hired a fabulous fellow with whom I share the same tastes and values. We are hard at work buying bulk wine from other wineries and blending it to our tastes.

Again, all are invited. I will post progress reports and some pictures from time to time. In the meanwhile, the very best to all.

Michael Pecherer

•

Hi:

Rick Boschen has asked for some helpers for getting together a reunion in 2015. I for one would love to get together again. I always have such a great time. So my question to each and every one of you is: Are you interested in a reunion in 2015? Please respond. And then we can try to move forward with plans. You can email me at npepcar@aol.com. Thanks. Hope to see you all soon!

Nan Peppard Krauss