Montclair High School
Class Of 1960
ANNOUNCEMENTS
Who's Coming to Reunion?
As of January 30, these classmates have already registered for Reunion! Keep checking back to see this list grow!
Susan Becker Knight
Rick Boschen
Paul Doran and Denise Doran
Charlotte Gerber Turner
Brooke Hench Guida
Jan Holt Wright
Stephen Holzel and Patricia Holzel
Donna Lake Wright and Ken Wright
Don Lefelar
Dick Loomis
Barbara Mansell Ramsay
Elizabeth Morrow Edwards and David O'Dette
Warren Ross and Karen Ross
Tom Wenner
Leroy Wilkinson
Many thanks to the classmates who have sent extra donations to support our Reunion. You can see their names under "Thanks!" in the blue navigation sidebar.
Welcome to the MHS '60 Website!
February 6, 2016
Bob Rutan posted this photo with a message for everyone:
Bruce Adams and I are looking forward to returning in May to the roots of what made us all blossom and what has been pulling us back together.
See ya soon! Bob Rutan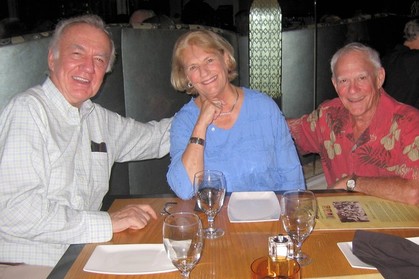 Left to right: Bruce Adams, Carole Rutan, Bob Rutan
Do you have a reunion-related message or photo that you would like to see here at the top of our website? I'll be happy to post it. Just send it to me, Linda.andre@verizon.net
Coming Up Soon!
Rockin' Robin 56th REUNION
May 20-21
By now, you should have received a paper invitation and reservation form by U.S. mail. If you haven't received it, please email your street address to Linda Linnard Andre. Linda.andre@verizon.net
You can also print up a similar invitation right now by clicking HERE.
You can also print a reunion reservation form HERE
Your invitation will look like this:

It's been 6 years since 2010.
Time to get together again!
Daytime May 20 and May 21
This is your time to see your old neighborhood, visit your old haunts, enjoy the Iris Gardens in bloom, visit the Montclair Art Museum, play golf, or whatever. If you like, join classmates gathering for lunch at De Novo European Pub at the Upper Montclair Train Station on Bellevue Ave. (See more about DeNovo below under "More Reunion Details.")
Evening of Friday, May 20
Great Get-Together at WARREN ROSS'S HOUSE
Where: 105 Clinton Avenue, Montclair, NJ 07042
Time: 6:30 pm
Cost: Free, but feel free to throw a few dollars into the pot to cover drinks, cups, and plates.
Food and drink: Local classmates are encouraged to bring a little food to share.
Attire: Casual.
Evening of Saturday, May 21
Reunion Party at MONTCLAIR GOLF CLUB
Where: 25 Prospect Avenue, West Orange, NJ 07052
Time: 6:00-11:00 pm
Cost: $80.00 per person
Food: Heavy hors d'oeuvres and delicious desserts.
Cocktails. Each person will receive a ticket for one "free" bar beverage. Cash bar after that.
DJ: JJ The DJ
Attire: Country Club Casual. Men: Jackets, no ties / Slacks, no jeans. Women: No jeans.
To print a paper version of this invitation, click "Reunion Invitation" at the top of the blue sidebar on this page, then click on the link. Or click HERE. You will also receive a paper invitation in the mail.
To print a paper reservation form see "Reunion Reservation Form" near the top of the blue sidebar on this page, then click on the link. Or click HERE. You will also receive a paper reservation form in the mail.
For information about hotels and restaurants, see "Reunion - Restaurant List" and "Reunion - Hotel List" near the top of the blue sidebar on this page.
For golf, contact Rick Boschen, flrickb2@yahoo.com
Questions: Contact: Nan Peppard, npepcar@yahoo.com or Rosemary DiGeronimo roesternbach@aol.com
Please make your reservation for Reunion by May 8.
......................................................................................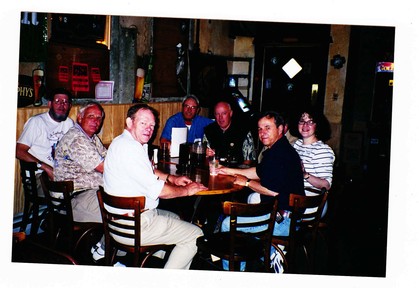 REUNION 2003
BEER BREAK AT TIERNEY'S TAVERN
Pictured heads from left to right: James Bruett, Richard Boschen, Jerry Brown, David Appleton, Dennis McHugh, Antony "Nutsy" Notori's ear - head hidden behind Paul Doran's head, and Denise Doran. Photo by Wendy Appleton.
We lost Jerry not too long after this reunion, which makes this moment poignant and a treasured memory. Hope to see you ALL in May!
David Appleton
..........................................................................................................
More Reunion Details
Rockin' Robin 56th Reunion
May 20-21, 2015

Susan Becker Knight and Mark Streuli at a past Reunion
The idea is to keep our reunion as simple and as low cost as possible so that many of us can have fun reconnecting after 56 years! The price per person for our Reunion party is only $80!
Friday, May 20 during the day
GOLF
Contact Rick Boschen if you are interested. Rick will be making arrangements regarding location and fee. flrickb2@yahoo.com. Phone: 772-521-3535
Friday, May 20 from 6:30 pm
Wonderful, warm, casual GET-TOGETHER at Warren Ross's House
105 Clinton Avenue, Montclair
A million thanks to Warren and his wife Karen for once again offering to share their beautiful Montclair home with us on our first night back together. The evening is FREE, but it would help if you could bring a few dollars to throw into the pot to pay for drinks, cups, plates etc. Local classmates: It would be wonderful if you could bring a plate of snacks, sandwiches, or sweets for the food table.
Saturday (and Sunday) breakfast/brunch
Here's a suggestion for a place to get together with classmates.
TOAST is a "brunchie place" on Bloomfield Avenue, not far from the Montclair Art Museum. It serves "creative & classic American comfort food prepared for breakfast, brunch & lunch in homey digs." It opens early at 7:30 a.m. and would be a great place to gather for breakfast on Saturday and Sunday morning. It closes at 3 pm.
700 Bloomfield Ave.
973-509-8099; http://Toastmontclair.com
Or click HERE
Saturday, May 21 during the day
Your time is your own to do as you please: visit your old homes and haunts, see how Bloomfield Avenue and Lackawanna Plaza have changed, visit the Iris Gardens (which should be in full bloom) enjoy great exhibitions at the Montclair Art Museum, or go even further afield. For example, some might want to visit the Thomas Edison National Historic Park "where American's greatest inventor changed our world." Click HERE. The park is only a 3-mile drive from the Residence Inn in West Orange where some of you might be staying.
If you would like to meet classmates for lunch, you might want to come to De Novo in the Upper Montclair Train Station, 275 Bellevue Avenue. De Novo can handle a large group, no reservations required, and there is plenty of parking. Lunch is served from 12 noon to 3 pm. Everyone will order and pay for his/her own lunch. If you are looking for a place to simply hang out and chat or enjoy the bar, that may be just the place. DeNovo is open continuously on Friday and Saturday from 12 noon through 1:30 am. and Sunday from 4 pm through 1:30 am inside and outside, rain or shine.
Here are De Novo's hours for the kitchen and bar:
Friday and Saturday:
Kitchen: 12 noon-3 pm AND 5 pm-11 pm

Bar: 12 noon - 1:30 am
Sunday
Kitchen: 4pm - 9pm

Bar: 4pm - 1:30 am
You can visit de Novo's website at http://www.denovomontclair.com or click HERE.
You'll be amazed at how many different kinds of restaurants Montclair has to offer. For a long list, just click on "Reunion - Restaurant List" at the very top of the left-hand blue sidebar on this home page or click HERE.
We can also post more ideas of things to do during the day. All ideas are welcome.
Saturday, May 21 at night
REUNION PARTY
Montclair Golf Club, 25 Prospect Avenue, West Orange, NJ 07052
Reconnect with old friends while enjoying a wide array of delicious hor d'oeuvres circulating throughout the evening. Several food stations or a buffet will offer tempting dishes as well. There will be a great DJ playing "oldie" music to make us feel young, a dance floor for the lively and fleet-footed among us, and a "quiet space" where we can enjoy quiet conversations away from the music. There is wheelchair access to all spaces.
To keep costs down to $80 per ticket, we will not have an official photographer. Everyone is encouraged to take lots of photos on smartphones so that they can be posted on this website. Instead of distributing a reunion booklet (very time-consuming to produce and costly to print), we will keep things simple by providing an updated list of classmates' contact information.
How to Register for the Reunion
Go to the left-hand blue sidebar on this page. Near the top, click on "Reunion - Reservation Form" or click HERE. Print it up, fill it in, and send it with your check to Frank Rubino, 731 Belleville Ave, Unit B4, Belleville, NJ 07109.
Or you can wait for a paper reservation form to arrive in an envelope in your home mailbox.
Where to Stay?
Classmates should make their own reservations as soon as possible since our reunion date coincides with many weddings and graduations. The Residence Inn West Orange is just a few miles away from the Montclair Golf Club and offers a free breakfast, a pool, and fitness center.
Residence Inn - West Orange
107 Prospect Ave.
West Orange, NJ 07052
973-669-4700
http://www.marriott.com/hotels/travel/ewrog-residence-inn-west-orange/
There are other hotels a little farther away from the Montclair Golf Club that might offer different types of rooms and cheaper rates. You can find a list of 5 hotels on this website. Just click on "Reunion - Hotel List" near the top of the left-hand blue sidebar on this home page or click HERE. We are not blocking rooms at any hotel since we would have to guarantee a certain number of reservations, and the savings per person would be minimal.
How to Help
These classmates have volunteered to help by calling classmates, providing information, and encouraging everyone to come together for a wonderful reunion. Calls will probably start in mid-January.
Doris Andrews Anderson, Rick Boschen, Jack Brigham, Rosemary DiGeronimo Sternbach, Brian Flynn, Charlotte Gerber Turner, Norma Halsey Trewhella, Barry Hampton, Gene Mazzola, Bob Negley, Michael Pecherer, Nan Peppard Krauss, and Ron Philpott.
More callers are welcome! If you would like to join the "caller" list, please contact Nan Peppard Krauss, npepcar@yahoo.com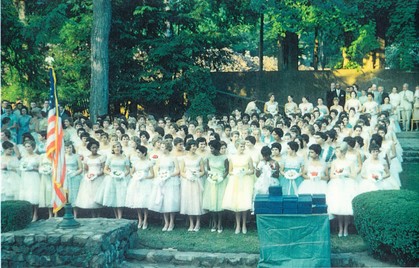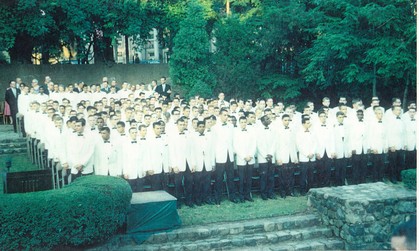 MHA '60 Graduation
Photos kindness of Susan Becker Knight, whose father was the photographer.
.....................................................................................................................................................
New NEWS
Jim Lombardi writes:
I regret that I again will not be able to attend the reunion. Our daughter and her family live in Amsterdam, and Mary Jane and I are scheduled to be visiting them in May. We are doing well in cold Meadville, PA. I taught physics at Allegheny College until I retired and we decided to stay in Meadville. When I retired, our son Jamie joined the same department. Now we have two of our grandchildren close by and two in Amsterdam. For a while, I missed teaching, but now I am happy I have more freedom to visit family. I am still running 30-40 miles a week, and that keeps me busy too.
New street addresses:
Christie Calder Salomon, 512 West Lyon Farm Drive, Greenwich, CT 06831
Phone: 203-681-2193, Cell: 203-564-6358
Ron Franciose, 10728 Ruffino Court, Trinity, FL 34655. Cell: 727-698-8522
Dorothy (Dot) Miscia Gugliotta, 21332 Mazatlan, Mission Viejo, CA 92692
Lucille (Lucy) LaVacca Miscia, 416 S. 96th St., Omaha, NE 68114
Pete Morrison, 2630 1st Ave., #203, San Diego, CA 92103
Brad Stark, 37 Old Plain St., Marshfield, MA 02050
SENIOR YEARBOOK PICTURES
We now have all the pages of our senior yearbook pictures posted on this website, thanks to Gene Mazzola, who brought me his yearbook to be scanned. To see them all, just go to the blue sidebar on the left side of this page and click on Senior Yearbook Photos. Many thanks to John Sproston for initiating this project, and to Gene and Chris Graber for providing pages.
Would you like to find out whether other classmates share your special interests or activities? For example, I teach ESL (English as a Second Language) to adult students and would love to find out whether any other classmates do the same. Let me know if you have special interests that you would like me to publicize on this website.
HOW TO SEND MESSAGES THROUGH THIS WEBSITE
We'd like to hear from you!
If you'd like to send a message to the whole class:
1. Go to the "What's New" page at the very top of the blue margin on the left side of this page.
2. Look for the gray box on the top that says "Post a Comment to the Class."
3. Write your message in the box that says "Share Your Thoughts with Classmates."
4. Include a photo or video if you like (that would be great!)
5. Click on the blue "Post Message" box.
If you'd like to send a private message to a Classmate:
1.Go to the classmate's profile page. (Click on "Classmate Profiles" near the top of the left-hand blue margin on this page.)
2. Click on the envelope icon directly under the photo box where it says "Send [classmate's name] a private message."
3. When you get to the message screen, type in your subject and message in the boxes.
4. Click the blue "Send private message" box. That's all you have to do! It's easy!
Guest Members on this website
It is now possible for a member of another MHS class to join our website as a "Guest Member." Guest Members will be able to have their own profile page and they will be able to send and receive messages through the site. They will be able to remain guest members as long as they do not harass any class member or post objectionable material. If a member of another MHS class wishes to become a Guest Member, he/she should contact me directly to request guest membership and I will enter his or her information in the site's database and provide information about how to sign up. Nobody will be able to join the site without going through that process. If you have questions or concerns, please let me know. (Linda.andre@verizon.net)