Montclair High School
Class Of 1960
Welcome to the MHS '60 Website!
March 27, 2015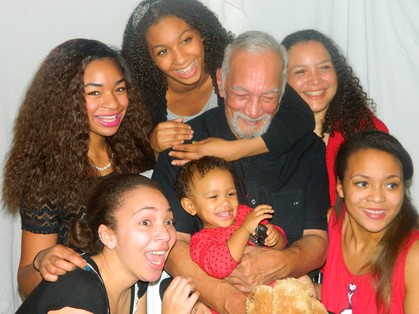 Now here's a happy father and grandfather!
Larry Robinson sent this photo of himself with 3 daughters (on the top) and 3 granddaughters (on the bottom). Larry also has 5 sons!
Larry says,"It is with great happiness and pride that I want to share with everyone the announcement that my oldest daughter, Lauren Ugorji, has decided to come back to her roots in Essex County. She has taken a new position as the Associate Vice President of Communications, Marketing, and Branding at NJIT (New Jersey Institute of Technology)."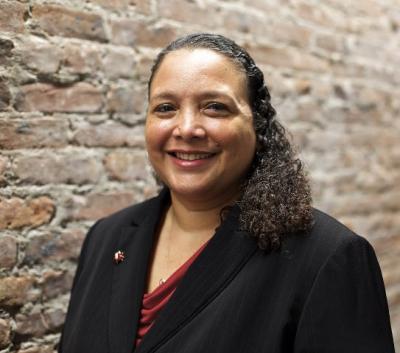 Lauren, 50, graduated from Princeton in 1985. My middle daughter Lizann is 21 and graduates from Princeton next May, and my youngest baby girl, Oilivia, 15, will enter Princeton in two years (whether she likes it or not).
Read the full press release about Larry's daughter Lauren at http://www.njit.edu/news/2015/2015-054.php
Look who appeared in Vero Beach 32963 !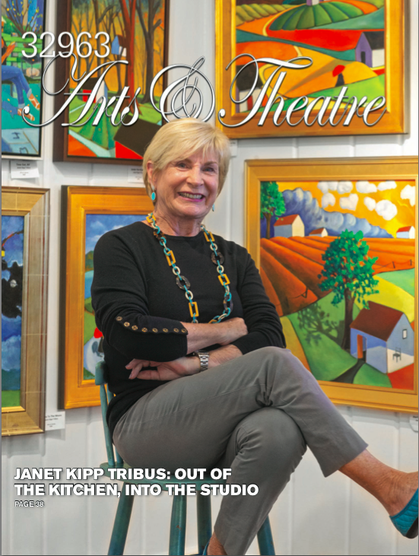 A very nice article about Janet Kipp Tribus and her paintings appeared in the February 19, 2015 issue of Vero Beach 32963. It discusses Janet's exhibitions in New Jersey and Florida and describes her studio (facing the ocean!) in Vero Beach. But it also tells how she drew "portraits" of neighbors' houses in Montclair, took classes at the Montclair Art Museum, and continued her studies at the Art Students League in New York. You can read the entire article and see some of Janet's pictures at this link:
http://www.veronews.com/32963_features/arts/janet-kipp-tribus-out-of-the-kitchen-into-the-studio/article_6161e228-b78f-11e4-a4b4-77185d80f212.html
Here is a (somewhat shortened and slightly modified) excerpt from the article:
"... As a child in the 1950s, Janet lived in Montclair, where her father was an architect who designed houses. Her mother was a real estate broker for whom Tribus later worked as an adult. 'So I've got this house thing going in my life,' she says, referring to her continuing series of paintings in which simple house forms figure prominently.
Although Tribus drew as a girl,she didn't begin again until 1981, when she picked up her pen to limn portraits of her Montclair neighbors' homes. The limitations of pen and ink line drawings soon made Tribus feel restless, and she decided to take a class at the Montclair Art Museum. Based on the exercises found in the Betty Edwards' book, Drawing on the Right Side of the Brain, the class "changed everything" for Tribus. She realized that she "just needed to be freer."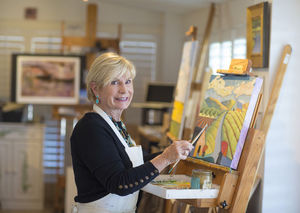 ... Armed with her new knowledge, she decided she wanted to paint. ... With [her husband] Don's encouragement, Tribus commuted by bus to New York City to attend The Art Students League, where she studied from 1984 to 1986. It was in a life painting class that Tribus found direction for her own style -- when she least expected it. Classes at the Art Students League are very crowded, she explains. "If you don't come in early enough, you get a bad spot near the door. Then people are bumping by you all the time."
One day she was working on a rather large, unwieldy canvas. Positioned at the back of the room, Tribus could barely see the model for the forest of easels in front of her. ... Tribus turned her back on the model. She had enough of the figure on the canvas already so she decided to finish the painting from her imagination. ... The result impressed her teacher who told her, "You must always hold onto that painting. That is a watermark painting." She still owns that work.
Janet's earliest professional paintings included commissioned house portraits, but in the pictures she painted for herself, she began to simplify her house forms to one elemental shape like the houses in the board game Monopoly. Tribus places these shapes in imaginary landscapes inspired by the rolling countryside of New Jersey. A recurring motif in many of these scenes are girls in white-collared black dresses under red umbrellas. Surely there is some symbolism going on here; as it turns out, it is religion-based. Tribus is a devout Christian. ... While she says that she didn't begin painting umbrellas with a specific meaning in mind, she now thinks of them as representing God's protection. ..."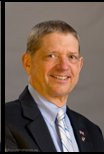 Ben Ritter sent this press release about his new job:
Ben Ritter has been hired by the Hillsborough County (Florida) Public Transportation Commission (PTC) as a consultant. He will provide advice and guidance on accessibility issues relating to the licensed "for hire" transportation industry and to the transportation network companies in the Tampa Bay area, should they choose to become legal. His primary focus will be to ensure that all transportation services are compliant with our current laws, including the federal American with Disabilities Act (ADA) with respect to affording persons with disabilities accessibility to all types of transportation services.
Ben is a former United States Marine. Originally from New Jersey, from 1997 until 2012 he was the Government Relations Director for the Florida Gulf Coast Paralyzed Veterans of America in Tampa. He served on the Hillsborough County Veteran's Council for fifteen years and is a past Council Vice President. He is an honorary member of the Tampa Chapter of the Military Officers' Association of America and a member of their Operation Helping Hand Committee. Ben is currently the Co-chairman of the Tampa Mayor's Alliance for Persons with Disabilities.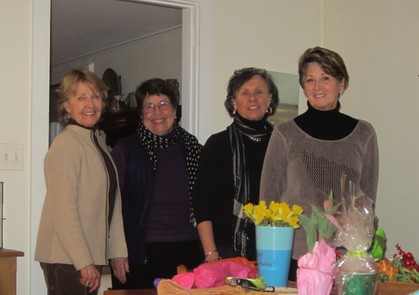 A Happy Birthday celebration at Susan Becker Knight's house.
Susan, Peggy Ruppert Lorence, Suzy Bruett Gumm, and Hope Hemmersley Potts
NEWS
I am very sorry to report that Suzanne Stutz Aasbo passed away almost two years ago on May 4, 2013. Lennie Stovel discovered the sad news online. You can read Suzanne's obituary in the "In Memory" section of this website or at http://www.27east.com/news/article.cfm/Quogue/8604/Suzanne-V-Aasbo-Of-Quogue-Dies-May-4
HOW TO SEND MESSAGES THROUGH THIS WEBSITE
We'd like to hear from you!
If you'd like to send a message to the whole class:
1. Go to the "What's New" page at the very top of the blue margin on the left side of this page.
2. Look for the gray box on the top that says "Post a Comment to the Class."
3. Write your message in the box that says "Share Your Thoughts with Classmates."
4. Include a photo or video if you like (that would be great!)
5. Click on the blue "Post Message" box.
If you'd like to send a private message to a Classmate:
1.Go to the classmate's profile page. (Click on "Classmate Profiles" near the top of the left-hand blue margin on this page.)
2. Click on the envelope icon directly under the photo box where it says "Send [classmate's name] a private message."
3. When you get to the message screen, type in your subject and message in the boxes.
4. Click the blue "Send private message" box. That's all you have to do! It's easy!
Guest Members on this website
It is now possible for a member of another MHS class to join our website as a "Guest Member." Guest Members will be able to have their own profile page and they will be able to send and receive messages through the site. They will be able to remain guest members as long as they do not harass any class member or post objectionable material. If a member of another MHS class wishes to become a Guest Member, he/she should contact me directly to request guest membership and I will enter his or her information in the site's database and provide information about how to sign up. Nobody will be able to join the site without going through that process. If you have questions or concerns, please let me know. (Linda.andre@verizon.net)
•

A new message from Michael Pecherer

Anybody else have some rock and roll left in them?

Back in 1975, I attended a Lynyrd Skynyrd concert with quite a few thousand others. It was outdoors and I can't remember where. In those days, the most famous and demanded guitar solo was the FreeBird solo and it was unbelievable the way the audience raved when they played Freebird. I stumbled upon this video of the solo and thought I would share it. I don't think I could dance to it the way I did once, but it brought back great memories along the path of time.

https://www.youtube.com/watch?v=e9C91dQFxjM&feature=youtu.be

•

Happy New Year and Winery Update

from Michael Pecherer

Well, another year has raced by and it sure seems like they go by faster and faster. Aside from a few minor health issues, it was a great year with lots of progress with my winery. It really looks like we will be up and running in August or September of 2015 and I hope to catch the 2015 harvest. I want everyone to know that you are all welcome to visit and get the grand tour.

After much research and reflection I decided to build the winery at the east end of Placerville, CA. Placerville is located in the foothills and from the name you can guess that it is in the center of the California gold country. It is a town of about 12,000 located about thirty minutes east of Sacramento. We have a vineyard in Mendocino County and hope to acquire more vineyards closer to the winery.

Our site is located in what is called the "Apple Hill" district which is the largest apple growing area in California. It seems that grapes and apples grow well in the same environment and as a result, there are lots of vineyards and quite a few interesting wineries. The grapes in this area are particularly flavorful and that seems to be a result of the austere soil conditions which stress the vines which in turn produce great fruit. While we won't have a vineyard in the area, I have contracted for an adequate supply of grapes and will be making a number of varietals. We are also making real champagne although the actual processing will be done in Napa because the necessary equipment is cost prohibitive for the volumes we expect.

We are finalizing the construction plans for the winery and wine storage warehouse and the tasting room. The winery will be built from scratch but the tasting room will be a remodel/conversion of an old cabinet shop building. I will send Linda some renderings once they are finished. Construction should start in about March. The Placerville area gets snow so we will have to work around the weather.

I feel very fortunate to be able to do this project. It has been on my bucket list for a long time. I am not quite the winemaker that I would like to be, but I have hired a fabulous fellow with whom I share the same tastes and values. We are hard at work buying bulk wine from other wineries and blending it to our tastes.

Again, all are invited. I will post progress reports and some pictures from time to time. In the meanwhile, the very best to all.

Michael Pecherer

•

Hi:

Rick Boschen has asked for some helpers for getting together a reunion in 2015. I for one would love to get together again. I always have such a great time. So my question to each and every one of you is: Are you interested in a reunion in 2015? Please respond. And then we can try to move forward with plans. You can email me at npepcar@aol.com. Thanks. Hope to see you all soon!

Nan Peppard Krauss