Montclair High School
Class Of 1960
•

A message from Ed Hanke-

Opportunity knockin'

Just a note to all that Jim Lombardi and I reconnected a couple of weeks ago after (how many years) only because we took the time to see who is living in the vicinity. We had a nice brunch and discussed our separate careers, athletic and family paths since graduation. I encourage others to do likewise as it is fulfilling and positive in so many ways.

Ed Hanke

•

Hi:

Rick Boschen has asked for some helpers for getting together a reunion in 2015. I for one would love to get together again. I always have such a great time. So my question to each and every one of you is: Are you interested in a reunion in 2015? Please respond. And then we can try to move forward with plans. You can email me at npepcar@aol.com. Thanks. Hope to see you all soon!

Nan Peppard Krauss
Welcome to the MHS '60 Website!
June 22, 2014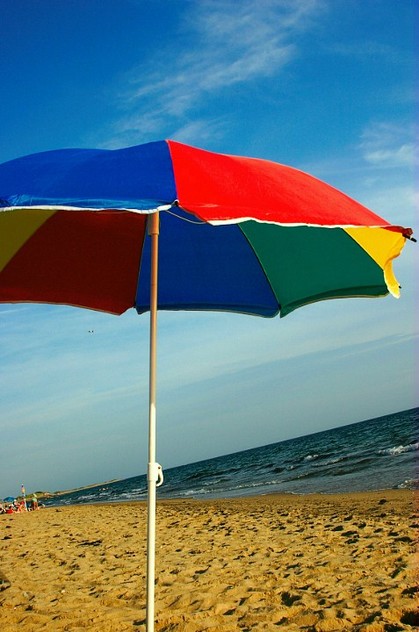 Vertical Obsession by Mike Brodie
Welcome to summer!
This picture of a bright beach umbrella is just one of the great photographs that Mike Brodie is sharing with us on this website. You can find many more by clicking on "Mike Brodie's photographs" in the blue margin on the left side of this page. Just click on any one of the pictures to see an enlargement. Then use the right or left arrows to see more: Mike's kids and grandkids, a dramatic view of the World Trade Center, gorgeous closeups of iris and rhododendron, and an even more spectacular view of water drops on a maple leaf. With camera in hand, Mike notices striking colors, shapes, and patterns all around him -- on walls, railings, staircases, awnings, lounge chairs, eyeglasses, and what appears to be the handle of a mug. "Photography," he says, "is how I give thanks for my eyesight." Mike hopes to add more photos, so watch for them! You can respond to Mike's photos by going to his profile page. If you want to send a private message to Mike, click on the envelope icon. If you want to post a comment for everyone to see, just write your message in the box under where it says "Post a Comment on Mike's profile." Thank you, Mike!

Do you have some favorite photos of your own that you would like to share with classmates? It's easy to do. In the blue margin on the left of this page, click on "Photo Gallery / 60 Selfies." Scroll down until you get to the framed pictures. Click on the first box called "Favorite Photos." You should see a few of mine there. Click "Add/Edit photos" and follow instructions to add your own. If you have trouble, or if you would like me to post your photos for you, please just let me know. linda.andre@verizon.net
THE LATEST PECHERER ADVENTURE
Michael Pecherer writes, "Some might call it a bucket list item, and some might think I am just plain nuts.
For many years I have wanted to own a winery and vineyard. Starting about six years ago, I started looking seriously in the major wine regions of California, of which there are many. I must have looked closely at about 40 winery properties and at least as many vineyards. As many might not realize, wineries and vineyards are obviously related but the majority of smaller wineries do not grow their own grapes. Because this is a risky business, I was very careful with my due diligence.
Last fall, I came upon an absolutely beautiful vineyard property located in Redwood Valley, California which is near Ukiah, about 2.5 hours drive from the Bay area. The property actually has just about 15 acres of grapes, a two-acre pond, a lovely ranch house, a guest house, a barn, and lots of other infrastructure items. And, I bought it. You can see it on Google Earth at 3201 Road J, Redwood Valley, CA. It has a teardrop-shaped pond.
Redwood Valley is an ancient river bed that has so-called "bench" soils which are rich in mineralization, drain well, and produce grapes with interesting rich flavors. The vineyard produces about 90 tons of grapes a year. Redwood Valley is an approved appellation. [Note: An "appellation" is a protected name under which a wine may be sold, indicating that the grapes used are from a specific district.]
To my delight, my kids are much involved in the project. Here is a picture of the three of us taken in mid-June in the vineyard. You can see the energetic growth on the vines.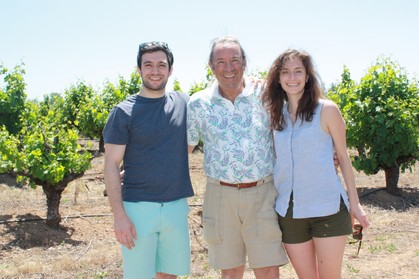 There is no winery on the property, so I am using facilities of another winery in the area and we are hopeful to release some Zinfandel and perhaps some Sauvignon Blanc in the fall. It turns out to be a complex and challenging project to put together the bottles, labels, corks, capsules, licenses, etc. We have a final label design which you can see below.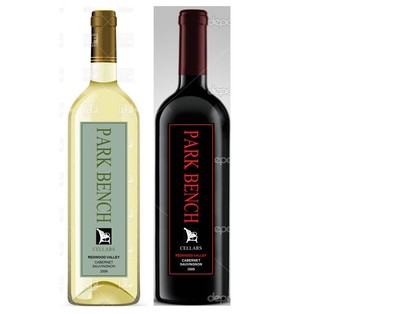 We have lots of plans for the coming year. We are going to replant the vineyard with a Cabernet grape - more than 16,000 vines. We are going to enlarge the pond and install a waterproof liner as in these soil conditions a lot of water seeps into the soil and is lost.
I expect to be selling my house in the spring and will be moving to the general area.
Here is a picture of our pond. We are very fortunate to have water this year and there is enough to irrigate through the harvest season. California has decided that a small fish in the Sacramento Delta is more important than 800,000 acres of farmland. As a result, there is devastation among the orchards and farms in the Central Valley as all water has been diverted to the Sacramento River and the farms have been completely cut off. The picture shows the mountains to the east, our precious vines, and the blue, quiet sky that characterizes this area. The pond is full of fish, turtles, and frogs that make quite a racket in the evenings.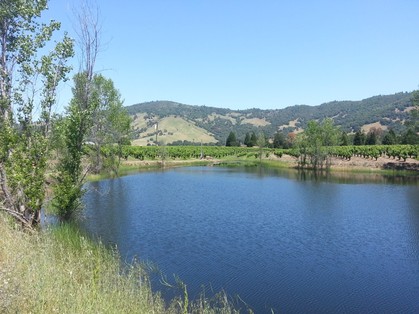 I feel very fortunate that I have this opportunity. It has brought the family very close together and it is an exciting project. I continue with my law practice, acting as a court appointed receiver in cases involving real estate.
If any of you happen to visit Northern California, please give a call or email through the class website. I would love to show you our beautiful wine country.
Michael Pecherer
NEWS BITS
* Birthday advice from Paul Doran: Eat the cake and ice cream and forget the candles."
* Email for Rob Super: robsuper@icloud.com
* Photo of Russ Krauss and information on his books on Amazon.com: http://www.amazon.com/Russell-H.-Krauss/e/B00DWQMA8Y/ref=dp_byline_cont_book_1
Offer from Rick Boschen:
"MHS Friends... If three or four people will help me, I will try to put together an "EVENING TO REMEMBER / 55 YEARS LATER" in New Jersey on Saturday, May 30, 2015.
You can respond to Rick through this website or at flrickb2@yahoo.com
In case you missed it, at the time of our last reunion, Rick sent a story that might get you thinking about the advantage of having another reunion before too many years go by. Here it is again:
The Reunion
A group of 40 year-old buddies discuss where they should meet for their reunion dinner. Finally it is agreed upon that they should meet at the Gasthof zum Lowen restaurant because the waitresses there wear low-cut blouses.
10 years later, at 50 years of age, the group again pools their thoughts and discusses where they should meet. Finally it is agreed upon that they should meet at the Gasthof zum Lowen because the food there is very good and the wine selection is good also.
10 years later at 60 years of age, the group again decides to discuss where they should meet. Finally it is agreed upon that they should meet at the Gasthof zum Lowen because they can eat there in peace and quiet and the restaurant is smoke free.
10 years later, at 70 years of age, the group again discusses where they should meet for reunion dinner. Finally it is agreed upon that they should meet at the Gasthof zum Lowen because the restaurant is wheelchair accessible and they even have an elevator.
10 years later, at 80 years of age, the group again discusses where they should meet. Finally it is agreed upon that they should meet at the Gasthof zum Lowen because that would be a great idea because they have never been there before."
NEWS from BRUCE BAKER with the PEACE CORPS in BENIN
"These documents do not reflect the views of the Peace Corps and only reflect the view of the author."
Newsletter #10 (slightly shortened)
"I would like you to meet Sandra, Olga, and Jacqueline, my three neighbors. I live in a "compound" or "concession," which is a group of apartments, all on ground level, surrounding a central courtyard about 18 feet wide. The whole complex is surrounded by a solid cement wall about 10 feet high (to deter thieves). There are five apartments in my compound. The one opposite me is used about one weekend per month by a man I don't know. I assume he is rich to be able to afford his seldom-used apartment. The other three apartments are occupied by three different families. The fathers are not often around; they work in Cotonou a lot of the time. So I mostly see the wives and children.
..... Caring for children is a full-time job in the U.S., but even more so here. Laundry is done by hand; cooking is done using a cylindrical device that burns charcoal. All housework takes longer here. So I often see the women doing laundry, cooking, or washing children. For washing water, the women haul water up from a cistern in the compound. The women are fortunate; many compounds do not have as large a cistern as ours does, and other women have to go much further to get water. Also, we have municipal water in our compound, but it costs money and is not always reliable. (A couple of weeks ago, we went a full week without municipal water.) So the three women are always very busy getting water.
Olga is a large woman... who can be distinguished by her drill-sergeant voice. Like the other two women, Olga is Fon, a tribal group that was the heart of the old Dahomey empire in the 1800s.I think the warrior culture is in her blood. Around bedtime (8 to 10 p.m.) I hear her shouting at her children [ages 3, 1-1/2, and a baby], and it sounds like a Japanese Samuari warrior practicing his martial arts -- very loud, staccato utterances.... Olga's husband is home most weekends, and I see him helping care for the children. I have noticed that Olga is fairly quiet and peaceful in the morning, but toward the end of the day her mood is more combative. This is understandable because she gets up around 6 am and works steadily all day until around 10 pm.
Jacqueline seems to be the businesswoman of the three. She collects the money for the monthly water bills and arranges to have them paid. She also collects the money for the prepayment of electricity. She has a small business of retailing children's clothing. (How she finds the time for that I cannot figure out.) Jacqueline has a boy around 3 years old and a baby girl. Her husband is around perhaps for 3 or 4 days once a month or on holidays....
Sandra is the oldest of the women, I guess in her late 30s. She seems to have a much more gentle approach to managing her two children (age 12 and about 2 or 3). I think she gives the other women help now and again with their children. Her husband works in Cotonou and is home mostly on weekends. He works with a firm that imports things to Benin, such as cashew nuts from India.
While all three women have a better standard of living than many Beninese women, they still have a very difficult life -- caring for numerous small children while their husbands are away most of the week. On top of this, women are treated like second-class citizens here. Men look down on women and almost seem to treat them like slave laborers. This is why the Peace Corps has a vigorous "Gender-Equity" program. The program gives scholarship money to girls (who are often taken out of school to help at home), runs a summer camp for girls, and also runs a camp for boys, Camp BRO, that focuses on exposing the boys to a view that women are as valuable as men. I personally think that just having female Volunteers here as examples for Beninese girls is one of the most powerful forces in promoting gender equity here. (By the way, Camp BRO is trying to raise funds. The project can be viewed at https://donate.peacecorps.gov/index.cfm?shell=donate.contribute.projDetail&projdesc=14-680-014 and tax-deductible contributions can be made at this site. The last time I looked, they needed about $2,900 to meet their goal.)
... When I hear the verbal jousting in the courtyard around 8 pm, [I think] these are the sounds of poverty being lived out by these women -- daily, grinding labor with lots of demands and no thanks. Occasionally, some writer laments economic development because it brings new problems as well as more material things, but for women in Benin, it means a lightening of heavy burdens. You won't find them objecting to economic development.
So that is part of the justification of my goals here. I would like to promote some real economic development even if it is only on a rather limited scale (although greater sucess would be very welcome.)
Newsletter #11 (slightly shortened)
I have made progress on finding some projects. I am now helping a non-profit organization here in Bohicon called ALDIPE which translates (from the French) as "Association to Fight for Integrated Development and the Protection of the Environment." ALDIPE is a large organization. Their current large project is developing approximately 1,000 acres of virgin, swampy ground into rice production surrounded by a much smaller, irrigated vegetable farm.
My rough assignments are:
Research and advise on solar panels, pumps, irrigation methods, and vegetable seed choice
Help with their fruit juice operation, especially their problems with orange juice
Experiment with the creation of a sports energy drink based on papaya
Provide basic accounting training for some of their partner organizations
Share knowledge of using Excel spreadsheets for financial models and projections
So I think I will be busy for a while.
Already I determined that the orange juice problem (bittrness in the juice) is a result of using a type of orange that, like the California Navel orange, contains a chemical that turns bitter over a period of 12 hours when the orange is juiced. Scientists have been trying for more than 50 years to find an economic way to solve this problem, so far with no success. One of ALDIPE's partners is planning to expand their orange production. So now I have been asked to do further research to find what types of orange trees in Benin could be planted and used for juice.
I also learned that a Beninese man (a CEO of another non-profit organization) has planted some of the papaya seeds that I gave him. So now I have two people who have planted these hybrid seeds that I believe will give highly superior yields. I am hopeful that ALDIPE will soon plant the seeds I gave them. I also believe that the time of fruiting can be strongly influenced by the time of planting and the watering regimen. I hope it will be possible to get the plants to bear fruit at the height of the dry season. Then the selling price should be maximized. It might even be possible to control the fruiting so well that the grower could have fresh papaya available every week of the year. I will keep you posted.
MHS All Class Reunion at Nishuane Park
All of you classmates within striking distance of Montclair may be interested in plans for a MHS "All Class Reunion" to be held the weekend of Friday, July 18 through Sunday, July 20th. The main event (free) will be on Saturday, July 19th at Nishuane Park from 12 noon-8 pm. Here's the (very fuzzy and hard-to-read) flyer that they sent out on email.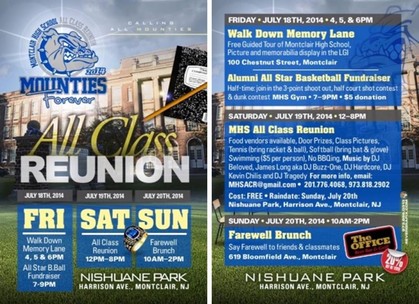 In case you can't read it, here's the program:
Friday, July 18
4, 5, and 6 p.m.: Free guided tours of MHS
7-9 pm: Alumni All Star Basketball Fundraiser, $5 donation. 3-point shoot out, half court shot contest, and dunk contest
Saturday, July 19
All Class Reunion, Nishuane Park, 12 noon-8 pm
Food vendors, door prizes, class pictures, tennis, softball, swimming ($5/person), No bbqing. Music by DJ Beloved, James Long aka DJ Buzz-One, DJ Hardcore, DJ Kevin Chilis, and DJ Tragedy.
Sunday, July 21
Farewell Brunch, 10 am - 2 pm at "The Office," 619 Bloomfield Ave.
For more information:
email: MHSACR@gmail.com
Phone: 201-776-4068 or 973-818-2902
60s Selfies
I'm about to give up on selfies since we have only two (and one of them is me.) However I'll try once more. I invite you to send me a "selfie" so that we can have a special "selfie gallery " on this website. Near the top of the blue margin on the left side of this page you'll see "Photo Gallery / '60s Selfies." Click there, then scroll down past the long list of galleries and you'll come to boxes that look like color slides. Click on the one that says '60s Selfies." Click on either picture, then double click to enlarge it. Now be brave and add your own! Serious or comical, glamorous or everyday -- it doesn't matter. Just press the "Add / Edit" button. Or send your selfie to me and i'll post it for you. linda.andre@verizon.net
...................................................................................................................................................................
Old Information about the WHAT's NEW page
This is a page where YOU can post a message FOR ALL CLASSMATES TO SEE. It's a great way to send greetings, announcements, stories, opinions (but not rants), link to an article, add a photo or video, or whatever else for all Classmates. You can post something at any time. (You don't have to wait for me to send out an Update.) PLEASE NOTE: This is NOT a place to send a private or personal message to a classmate.
When you click on What's New" (in the blue margin at the top left side of this page) here's what you'll see:
At the top in a gray bar: "Share a Message with Classmates." There will be an empty box where you can "Share your thoughts with Classmates." Write your message in that box. You'll also see a button to click if you want to add a photo or video. Don't forget to click on "Post Message" when you're done. AGAIN, A WARNING: If your message is private, this is not the way to send it. Instead, go to the classmate's profile page. Directly under his or her photo (or empty photo box) you will see a small picture of an envelope that says "Send [name of person] a private message." Be sure to use that for your personal private messages.
A little farther down on the What's New page you should see a blue bar that says "Recent Messages." This is a place where you can read messages that Classmates have posted to All Classmates. It will also copy any message that Classmates post in the "Share a Message with Classmates" box on the top of their own profile pages.
Still farther down, you'll see a red bar that says "Classmates I'm Following." This is a place where you can easily see new information, photos, or messages that have not been posted in "Share a Message with Classmates" but have been posted recently to the profile pages of Classmates of special interest to you. You can also leave comments about those messages or read other classmates' follow-up comments. No private messages sent through the "envelope icon" (see above) will ever appear here.
If you want to designate certain classmates that you would like to "follow" (keep track of), do this:
1. In the blue margin on the left side of this page, in the MEMBER FUNCTIONS section, click "Notify Me."
2. At the top of the "Notify Me" page, you'll find various options about what kind of email notifications you would like to receive, and how often you would like to receive them.
3. Farther down, you will come to "Profile Subscriptions." Place a checkmark next to the name of each classmate whom you would like to keep track of or "follow." You will receive an email telling you whenever one of your designated classmates has updated a profile, posted a message on someone else's profile, or received a message from another classmate. (See #6 below about related privacy issues and how you can control what gets posted on your profile page and the What's New page.)
4. If you don't care to "follow" any particular classmates, don't do anything.
Finally, you'll see a bar that says, "Classmates I'm Not Following." This is a place where you can find messages and updates from Classmates whose names you have not chosen to "follow." You can read and comment on any of these messages in the same way as above.
IMPORTANT: All this sharing and commenting can be fun. But you may not want any updates, messages, and comments to appear on your profile page or on the What's New page. You are in control, so everyone PLEASE do this now:
1. Go to MEMBER FUNCTIONS (blue margin left side of this page)
2. Click on Edit Profile.
3. Make sure your personal information is accurate. Delete anything that you do not want to be seen by Classmates.
4. Scroll way down to "Profile Visibility." Check the box if you want ONLY Classmates to have access to your profile information and/or any accompanying messages that have been posted on your profile page. (Private messages sent through the "envelope" icon will always remain private.) Uncheck the box if you want the information to be available to the public (friends, family, or anybody using the Internet.)
5.Under "Birthday," check whether or not you want your birthday to appear on the Home Page list.
6. Under Classmate Comments: This is especially Important: Check whether you want to allow Classmates to enter comments on your Profile Page and on the What's New page. If you check the box, you are allowing messages and comments to appear in both places for all to see. Remember also that you always have the ability to hide or delete any comments.
Thank you for bearing with me through all of this. It isn't really complicated,and it will ensure that you have the level of privacy that you wish.
Now, let's try it out. Go to the What's New page (top of blue margin on the left) and leave a greeting or message in the "Share a Message for Classmates" box for all to see. Or comment on someone else's message. If we get enough messages, we can see how all this works! Just Remember: Don't send any personal private messages this way.
.....................................................................................................................................................................
PLEASE NOTE: If your address and telephone number no longer appears on your Profile Page, here's why. This information comes from the software company (Class Creator.com) that runs our website.
"Class Creator will no longer show street addresses or telephone numbers in Classmate Profiles even if the Classmate has allowed those items to be shared with fellow Classmates. From now on, if a classmate wants the street address or telephone number of a fellow Classmate, he or she will need to contact the Classmate and ask for that information. These requests can be made by sending a message to the classmate through the Class Creator system -- the information will simply no longer be shown on the Profiles page. Privacy laws have become extremely strict. We are taking this measure to ensure that we are in compliance with current privacy laws and to protect your members from the potential unintended sharing of sensitive personal information."