Montclair High School
Class Of 1960
News from Rick Boschen:
With tears in my 70+ eyes.....
The Martin County / Florida Realtors Association
presented me with their Distinguished Service Award.
I did not expect this event. My post WALL STREET
occupation continues to be a daily challenge and
definitely unpredictable.
Ed Fitt sends us this video.
"Thought you might want to watch this.
The AWFUL-AWFUL LIVES!"
Welcome to the MHS '60 Website!
February 15, 2017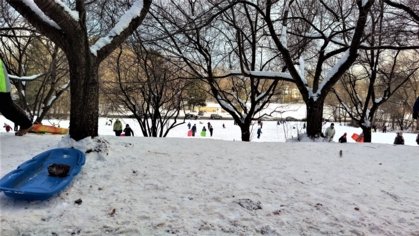 Sledding at Mountainside. Photo by Ed Fitt
Ed Fitt responds to Paul Doran's message about making snowmen, throwing snowballs, going sledding and ice skating, rolling in the snow, falling off our sleds or toboggans, and having the time of our lives.
Ed says,
"Yes, like Paul, I was thinking of those years gone by after our last 4" snowfall. I visited Mountainside Park, where I used to go sledding, since it was close to my house. I was surprised to see so many parents there with their kids, since in my youth we kids did things on our own. Parental involvement is a nice thing. However, I wonder if it will lead to their kids being unable to make decisions in their lives as future adults due to to their dependency on their parents, which is what I am hearing.
I also noticed that there were very few Flexible Flyers, with flimsy plastic disks seemingly serving as the "sleds" of the 21st Century. The trouble is you cannot steer them, as they rotate uncontrollably during the trip downhill.
I don't remember Bond's 5¢ ice cream cones [as Paul mentioned], but I do remember them at 10¢, and the great 35¢ hamburgers, with the little cup of raspberry ice included. Bond's is long gone, but sledding at Mountainside Park is thriving."
If our reunion seems long ago and far away, here are some new Reunion photos to bring the fun back again.
Susan Becker
Knight sent 44 photos of our reunion dinner at the Montclair Golf Club. To find them, click on "Photo Gallery" on the left side of this page, 2nd from the top under "Home Page." When you get to a long list of photo galleries, scroll down past the list until you see a lot of squares with paperclips attached. Click on the 2nd one. It should say "5 Galleries, 1-19-17, 2016 Reunion Saturday." Then Click on the Gallery that says "Susan Becker Knight." There are 4 "pages" of photos for you to enjoy. Thank you Susan!
And now -
an adventure story from David Appleton
"In July 1963, John Watson (MHS '62?) and I drove to Alaska. Thought we might become smoke jumpers or something ridiculous. Made it to AK and back without seat belts or air bags, negotiating many near disaster encounters through skill and determination (LOL, I think). Loved Alaska, but had to return to Montclair because I was scheduled to be Best Man for Ed Watson's wedding."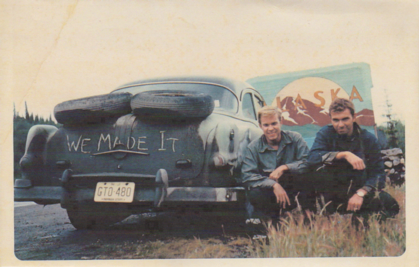 John Watson and David Appleton with their "Aleut Chief"
WE MADE IT!
"Crossing the border from British Columbia into Alaska, July 1963, in the original Pontiac GTO ... actually the "Aleut Chief," a 1954 straight-8, 3-speed stick Pontiac coup we bought for $90.00. After 1221 miles of dirt, gravel, shale, mud, and rain, and going through many tires on the AlCan Highway (only about 20 years old at this time, pre earthquake & oil rush), the Chief is dirty and John T. Watson and David R. Appleton, grimy and smelling bad, are proud of this accomplishment. From NYC to Fairbanks & Anchorage, some 3800 miles over the road. Onward! And then we made it home."
NEWS
Russ Krauss is thinking about everyone turning 75 this year! Russ writes, "Just a reminder that in 2017 most of us will be turning 75, the diamond anniversary when it comes to marriages, but so overlooked as birthdays as we age. It's quite an achievement for those of us who have hung on so long. Sadly, these aren't the best of our years, and many of us are going downhill rather rapidly now. Still, I thought it was appropriate to recognize this milestone in our lives."
New email address for Jim Bruett: JAMESWAY@yahoo.com
Ed Fitt writes "On September 16, I went to the dedication of the old Mt. Hebron Jr. High School as the Buzz Aldrin Middle School. It was a beautiful day. Lots of happy people and media scrum. Here are some pictures I took there."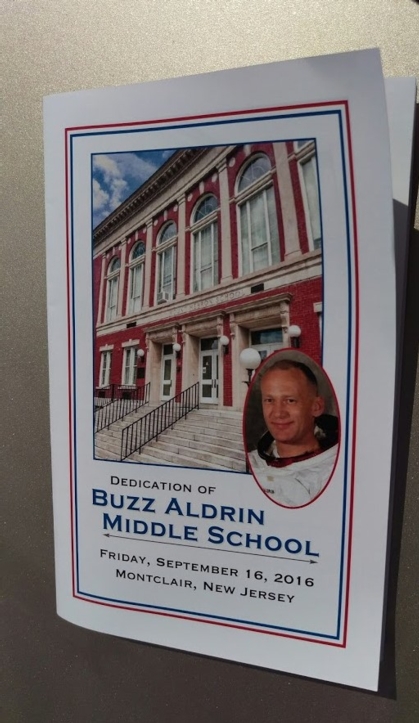 The program for the school dedication.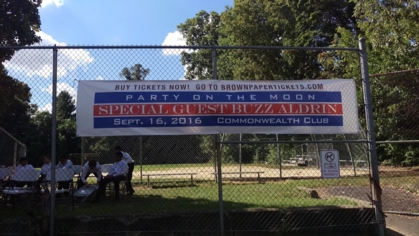 The banner on the south side of Bellevue Avenue.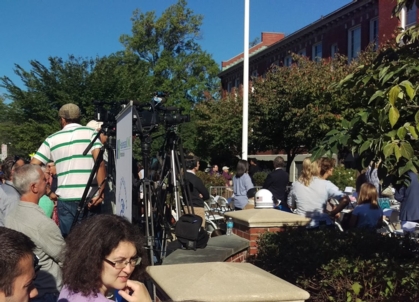 The media was there.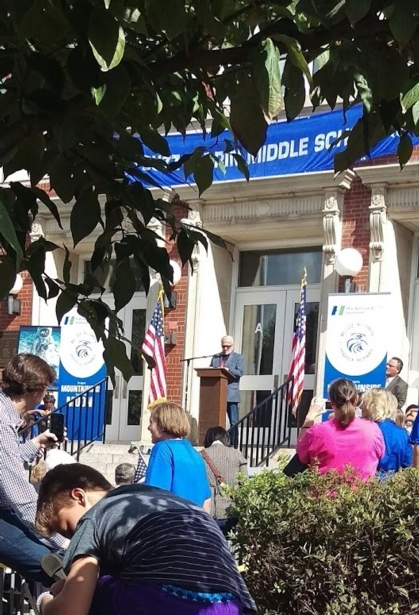 Col. Aldrin spoke of his days in Montclair.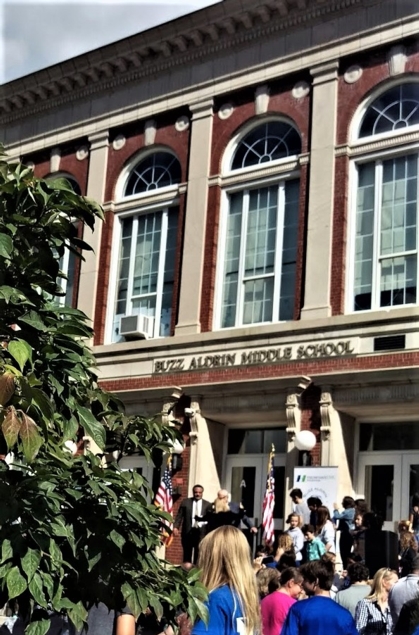 The new name of the school was revealed above the door.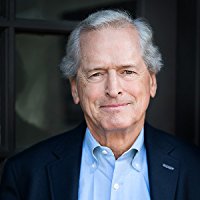 Steve Clifford's new book, The CEO Pay Machine: How it Trashes America and How to Stop it has been hailed by Publishers Weekly as one of the top 10 books on business and economics for 2017.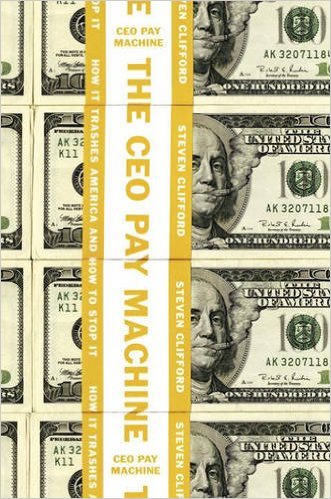 The 288-page book will be published by Blue Rider Press, a division of Penguin/Random House and will be released on May 9. Here's what Amazon.com has to say about Steve's book:
The former top CEO examines the scandalous and corrupt reasons behind obscene pay packages for corporate executives—and explains how this hurts all of us--and how we can stop it.

Today, the pay gap between chief executive officers of major U.S. firms and their workers is higher than ever before—depending on the method of calculation, CEOs get paid between 300 and 700 times more than the average worker. Such outsized pay is a relatively recent phenomenon, but despite all the outrage, few detractors truly understand the numerous factors that have contributed to the dizzying upward spiral in CEO compensation.

Steven Clifford, a former CEO who has also served on many corporate boards, has a name for these procedures and practices— "The CEO Pay Machine." The CEO Pay Machine is Clifford's thorough and shocking explanation of the 'machine'--how it works, how its parts interact, and how every step pushes CEO pay to higher levels.
As Clifford sees it, the payment structure for CEOs begins with shared delusions that reinforce one other: Once this groupthink is accepted as corporate dogma, it becomes infinitely harder to see any decision as potentially irrational or dysfunctional. Yet, as Clifford notes, the Pay Machine has caused immeasurable harm to companies, shareholders, economic growth, and democracy itself. He uses real-life examples of the top four CEOs named the highest paid in 2011 through 2014. Clifford examines how board directors and compensation committees have directly contributed to the rising salaries and bonuses of the country's richest executives; what's more, Clifford argues, each of those companies could have paid their CEOs 90 percent less and performed just as well.

Witty and infuriating, The CEO Pay Machine is a thorough and incisive critique of an economic issue that affects all American workers.
Want to read more? See Steve's Profile Page on this MHS '60 website for a longer discussion of his book.
Want to order the book? Since bookstores consider pre-orders before stocking a book, Steve hopes you will consider pre-ordering it on Amazon: https://www.amazon.com/CEO-Pay-Machine-Trashes-America/dp/0735212392/ref=sr_1_1?s=books&ie=UTF8&qid=1481655503&sr=1-1&keywords=the+ceo+pay+machine
Biography (from the Amazon site)
Steven Clifford served as CEO for King Broadcasting Company and National Mobile Television. His previous jobs included Chief Financial Officer for King Broadcasting Company and Vice President for Bankers Trust Company. As Special Deputy Comptroller for the City of New York from 1974 to 1977, Clifford played a key role in helping the city avoid bankruptcy.

He has been a director of thirteen public and private companies.

He and his wife of 46 years, Judith, have lived in Seattle since 1978. They have two daughters: Lee Clifford, former assistant managing editor of Fortune and co-founder of Altruette and Stephanie Clifford, former New York Times reporter and author of "Everybody Rise," a New York Times bestseller.

One of seven children, Clifford attended public schools in Montclair, NJ. He holds a BA from Columbia University where he majored in Art History and an MBA with Distinction from Harvard Business School. He served in the United States Army Reserves and was justifiably promoted to Pfc.

Since 2010 he has written a humor blog for The Huffington Post http://www.huffingtonpost.com/author/s-clifford-658. In June 2012 he self-published a humor book, "Fools And Knaves," in which an ignorant, mendacious and despicable TV loudmouth is elected president of the United States
.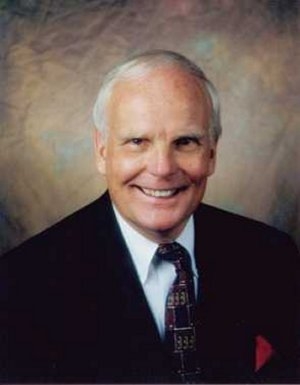 Rick Boschen is a Director at the Realtors Association of Martin County / Florida Realty. Recently he was presented with the 2016 Distinguished Service Award. He also serves as a Member of the Government Affairs Committee and Chairman for the Habitat for Humanity Golf Fund Raising Tournament. In the past, he was Vice President of the Association, Chairman of the Finance Commitee, and served on the Realtors Political Action Fund Raising Task Force.
IN MEMORY
I am very sorry to report that Brad Wells died on October 22 in Carlsbad, California. Brad attended Edgemont Elementary School and Mt. Hebron Jr. High School. You can leave comments about Brad in the "In Memory" section of this website.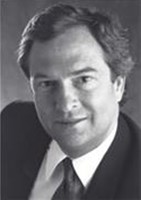 From the San Francisco Chronicle
Carlsbad, CA—Bradley Hill Wells, 73, co-founder of the direct marketing agency, Cohn and Wells, died Saturday October 22, 2016 at his home.
He was born in Toledo, OH and raised in Upper Montclair, NJ, the son of George and MaryAnna (Nicki) Wells. Bradley graduated from St. Paul's School in Concord, NH and Princeton University. After serving in the military, he entered advertising, holding positions at Young & Rubicam, BBDO and Tracy Locke agencies. In 1977, he became the Director of Advertising for Avon Products. Later, he was instrumental in making MCI a major player in communications.
In 1983, he and Martin Cohn launched Cohn and Wells, a San Francisco based advertising and marketing firm. In 1994, Advertising Age named them one of the world's top 50 advertising organizations. They also established offices in New York, Chicago, Toronto, Los Angeles, Sydney and Melbourne. Their clients included Microsoft, Bank of America, Pacific Gas and Electric, Fleet Bank of Boston, Blue Shield of California, Citibank, Wells Fargo and Pacific Bell. In 1999, Cohn & Wells merged with French advertising giant, Euro RSCG. Bradley retired from the firm at that time.
A true bon vivant, he loved wine, laughter, food, opera, horse racing and golf. He is survived by his wife, Stacy (Cowen), two daughters, Amanda and Christine Wells, and one grandchild, Penelope Wells.
Memorial contributions can be made in Bradley's name to:
Cannon Club
Princeton Cannon Dial
Elm Foundation
PO BOX 7788
21 Prospect Avenue
Princeton, NJ 08543-7788
Are you looking for reunion photos? You can still see all of them in the "Photo Gallery" section of this website.
Click on "Photo Gallery" in the blue sidebar directly under "Home Page." You'll come to a long list of "galleries." Scroll all the way down until you see a lot of square pictures with paperclips in the corner. The 2016 reunion photos are organized in two groups. The 1st "gallery" is called "2016 Reunion - Friday." The 2nd gallery is called "2016 Reunion - Saturday."
Each photo gallery has up to 12 photos per page, and there may be several pages in a gallery, so be sure not to miss any. If you need help telling who's who, just hold your mouse over the photo and a caption should appear. Click on the photo if you want to enlarge it.
Do you have any reunion (or other) photos to share? We welcome them all. If you want to post them yourself, click on the place at the bottom of any gallery page where is says, "Create Your Own Photo Gallery here. You should see instructions that tell you how to upload your own photos.
Don't like your picture? If you would like me to remove a photo, just let me know which one, and I'll be happy to take it off the website. (Linda.andre@verizon.net)
If you'd like me to upload your photos, that is fine. Just send them to me and I will be happy to post them on the website for you. (Linda.andre@verizon.net)
What would you like to tell your classmates about reunion weekend? Send me your stories, thoughts, memories, and I will post them here.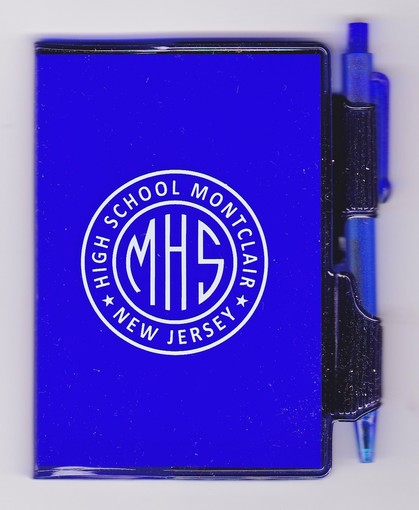 This is a "mini-notebook" that we gave out at the reunion so that everyone would have a place to jot down a name, address, or email address during the evening. It is about 3-3/8 by 4-1/4 inches and fits easily into a pocket. There are lined pages inside. We have about 25 left over. If you would like one, let me know and I will send it to you using our leftover stamps. Be sure to send me your correct address!
.....................................................................................................................................................
SENIOR YEARBOOK PICTURES
We now have all the pages of our senior yearbook pictures posted on this website, thanks to Gene Mazzola, who brought me his yearbook to be scanned. To see them all, just go to the blue sidebar on the left side of this page and click on Senior Yearbook Photos. Many thanks to John Sproston for initiating this project, and to Gene and Chris Graber for providing pages.
Would you like to find out whether other classmates share your special interests or activities? For example, I teach ESL (English as a Second Language) to adult students and would love to find out whether any other classmates do the same. Let me know if you have special interests that you would like me to publicize on this website.
HOW TO SEND MESSAGES THROUGH THIS WEBSITE
We'd like to hear from you!
If you'd like to send a message to the whole class:
1. Go to the "What's New" page at the very top of the blue margin on the left side of this page.
2. Look for the gray box on the top that says "Post a Comment to the Class."
3. Write your message in the box that says "Share Your Thoughts with Classmates."
4. Include a photo or video if you like (that would be great!)
5. Click on the blue "Post Message" box.
If you'd like to send a private message to a Classmate:
1.Go to the classmate's profile page. (Click on "Classmate Profiles" near the top of the left-hand blue margin on this page.)
2. Click on the envelope icon directly under the photo box where it says "Send [classmate's name] a private message."
3. When you get to the message screen, type in your subject and message in the boxes.
4. Click the blue "Send private message" box. That's all you have to do! It's easy!
Guest Members on this website
It is now possible for a member of another MHS class to join our website as a "Guest Member." Guest Members will be able to have their own profile page and they will be able to send and receive messages through the site. They will be able to remain guest members as long as they do not harass any class member or post objectionable material. If a member of another MHS class wishes to become a Guest Member, he/she should contact me directly to request guest membership and I will enter his or her information in the site's database and provide information about how to sign up. Nobody will be able to join the site without going through that process. If you have questions or concerns, please let me know. (Linda.andre@verizon.net)