Montclair High School
Class Of 1960
MHS All-Class Reunion. July 15-17. Picnic Saturday, July 16, 10 am-8pm at Nishuane Park. See below for more information.
Welcome to the MHS '60 Website!
June 25, 2016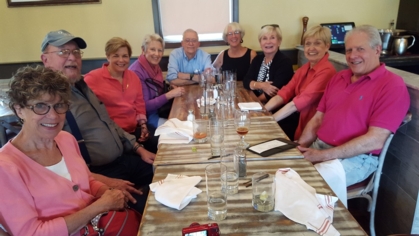 Reunion: Saturday Lunch at De Novo in Upper Montclair
Nan Peppard Krauss, David Appleton, Rosemary DiGeronimo Sternbach, Jan Holt Wright, Gene Mazzola, Brooke Hench Gieda, Janet Kipp Tribus, Roxa Kinsey Canovaca, and Michael Sternbach, '61
Lots more reunion photos have been posted in the "Photo Gallery" section of this website. Click on "Photo Gallery" in the blue sidebar directly under "Home Page." You'll come to a long list of "galleries." Scroll all the way down until you see a lot of square pictures with paperclips in the corner. The 2016 reunion photos are organized in two groups. The 1st "gallery" is called "2016 Reunion - Friday." It has 10 photos from Doris Andrews Anderson as well as 7 from Janet Kipp Tribus. The 2nd gallery is called "2016 Reunion - Saturday." It has14 new photos from Brooke Hench Gieda and 33 new photos from Leroy Wilkinson as well as the earlier 32 photos from Janet Kipp Tribus, and 1 from Doris Andrews Anderson.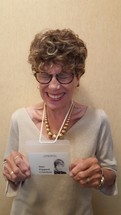 Nan Peppard Krauss masquerades as her sister Jane, who could not attend reunion this time.
Each photo gallery has up to 12 photos per page, and there may be several pages in a gallery, so be sure not to miss any. If you need help telling who's who, just hold your mouse over the photo and a caption should appear. Click on the photo if you want to enlarge it.
Here are two of the new photos from Leroy Wilkinson.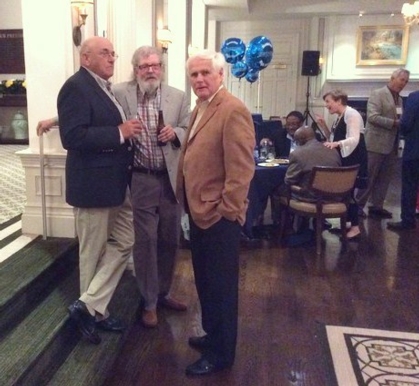 John Wharton, Jim Bruett and Richard Yaeger. Background: Harry Robinson, Eugene Duncan, Rosemary DiGeronimo Sternbach, and Andy Widmark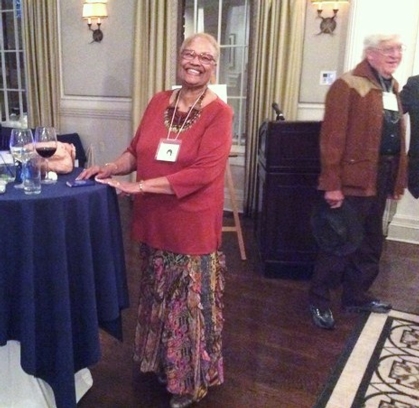 LaVerne Criss Walker and Carl Stephanus.
Do you have any reunion (or other) photos to share? We welcome them all. If you want to post them yourself, click on the place at the bottom of any gallery page where is says, "Create Your Own Photo Gallery here. You should see instructions that tell you how to upload your own photos.
Don't like your picture? If you would like me to remove a photo, just let me know which one, and I'll be happy to take it off the website. (Linda.andre@verizon.net)
If you'd like me to upload your photos, that is fine. Just send them to me and I will be happy to post them on the website for you. (Linda.andre@verizon.net)
What would you like to tell your classmates about reunion weekend? Send me your stories, thoughts, memories, and I will post them here.
Here are some new non-reunion classmate photos: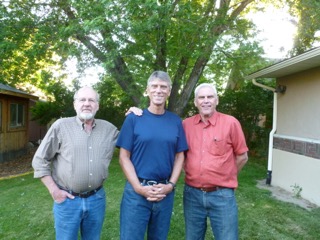 Ralph Germann sent this photo from June 2012. He says, "I rode my motorcycle fom Portland, Oregon to Draper, Utah to visit Dave Conine. I was pleasantly surprised when Dave told me that Dick Loomis lived in the area, and on that day Dave asked him to drive over for a visit. Here's a photo of us in Dave's yard. We had a great couple of hours together."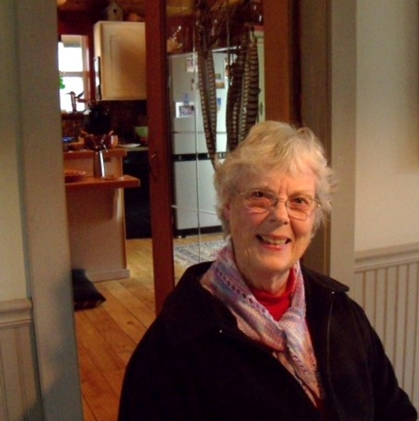 Jane Taylor Cook in Maine.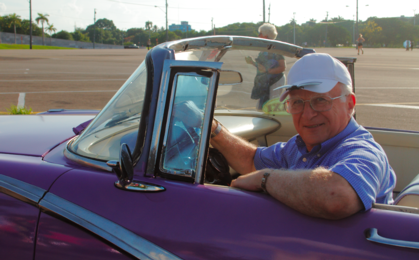 Mike Brodie poses in one of the old style American cars that he saw on a recent trip to Cuba. He writes, "Cuba presents the traveler with a time machine in terms of its American cars. After the Cuban Revolution and the failed coup that was 'highlighted' by the Bay of Pigs Invasion, no more big ticket American things were likely to find their way to Cuba.
Cars of other nations are present and are much newer, but the American cars are the most brightly colored and most lovingly maintained. They are used primarily as taxi cabs and riding around in one of them was a high point for us. Even in the 50s here, I never saw such a concentration of cars with these color schemes. The cars had 'moxie' and they didn't look like they all came out of the same wind tunnel. Chrome plating and futuristic lines were so full of optimism that everyone was brimming with expectation when it was time for the next year's models to appear. What struck me most was that while many were truly outlandish, they were different from each other and daring instead of the timid sameness we tend to see today.
Here are a few of the cars Mike saw in Cuba: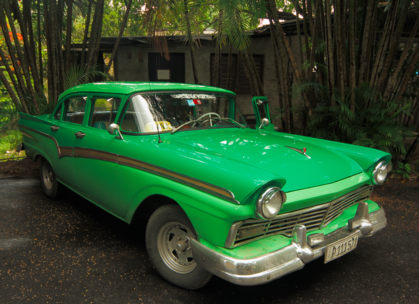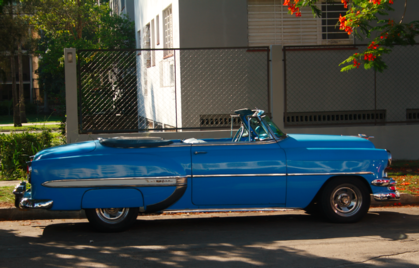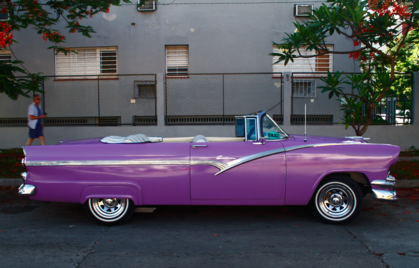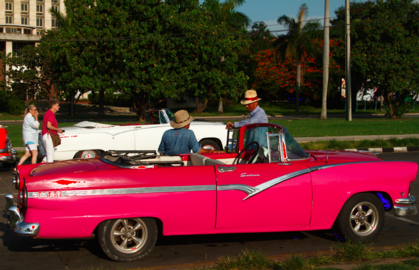 NEWS:
MHS All Class Reunion Friday, July 15 through Sunday, July 17
for classes 1927-2015!
The main event is a picnic, Saturday, July 16 at Nishuane Park 10am - 8pm.
Other events include school tours, all-star basketball game, music and entertainment, non-denominational service in Amphitheater.
For list of events go to http://www.mhsallclassreunion.com/events
*****************************
Are you forgetting things? Janet Kipp Tribus thinks you might like to sing along with this song. https://www.youtube.com/embed/prfCkIOdeAc?rel=0&controls=0&showinfo=0
*******************************
Here are the reunion photos that were posted on this page last month. We'll keep them up a while longer. Remember to look for more photos in the Photo Gallery section of this website. (See above.)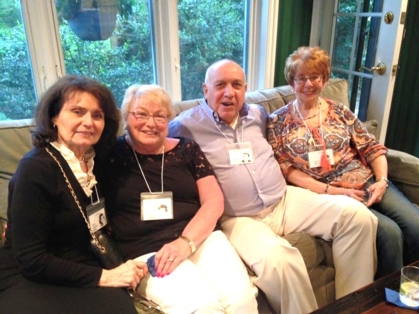 Shelly Caggiano Schait, Norma Halsey Trewhella, Jim Cestone, and Joyce Sgroi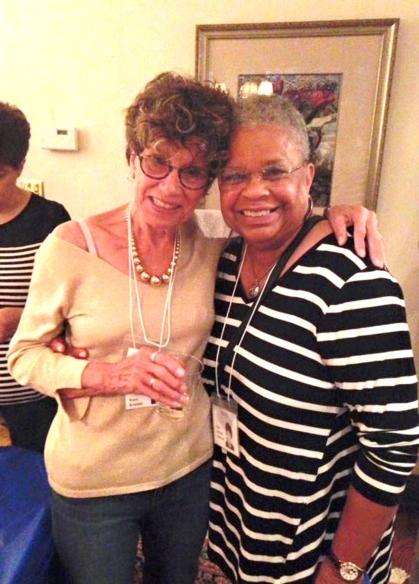 Nan Peppard Krauss and Doris Andrews Anderson
You can't miss Leroy Wilkinson in yellow! If you look closely, you'll also find Jim Bruett, Suzy Bruett Gumm (in stripes), Kenny Robinson '59, Richard Weaver, David Appleton, Eugene Duncan, Andy Widmark, Jack Brigham, and Dick Griffith.)
We had a wonderful reunion. It was lively, relaxed, and very friendly, with lots of time to reconnect with friends, tell old stories, discuss new plans, dance (or jump around) to favorite oldies, or sit and talk with someone we didn't know very well long ago. The weekend was a delight from the very beginning at Warren and Karen Ross's home (a thousand thanks!) to the final hugs and farewells.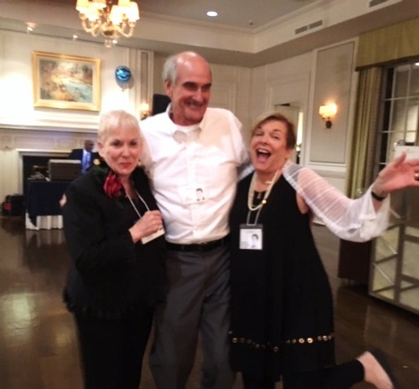 Madeleine Belanger Newman, Tom Wenner, and Rosemary DiGeronimo Sternbach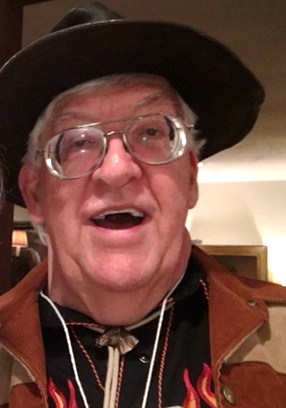 Carl Stephanus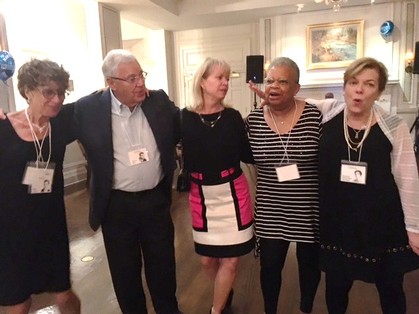 Nan Peppard Krauss, Warren Ross, Karen Ross, Doris Andrews Anderson, and Rosemary DiGeronimo Sternbach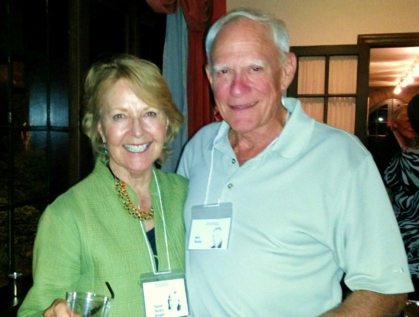 Susan Becker Knight and Bob Rutan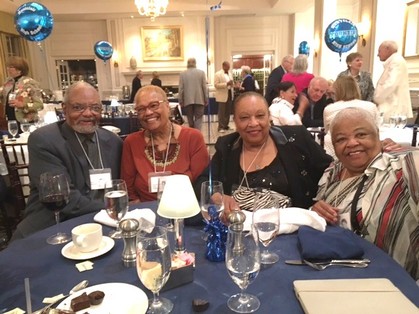 Barry Hampton, LaVerne Criss Walker, Diana Russ-Harmon, and Delores Morton Munford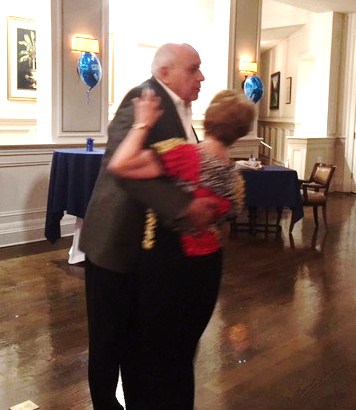 Jim Cestone and Joyce Sgroi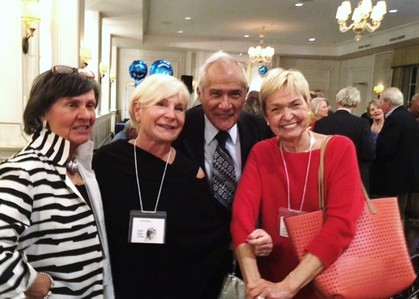 Suzy Bruett Gumm, Janet Kipp Tribus, John Williams, and Roxa Kinsey Canovaca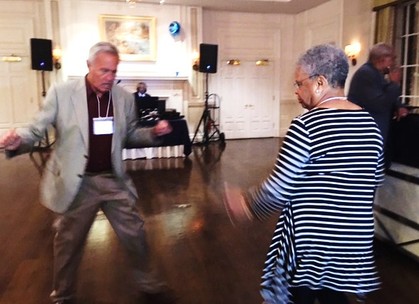 Andy Widmark and Doris Andrews Anderson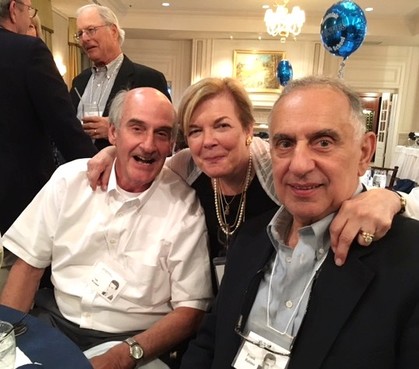 Tom Wenner, Rosemary DiGeronimo Sternbach, and Frank Rubino. Ken Wright in the background.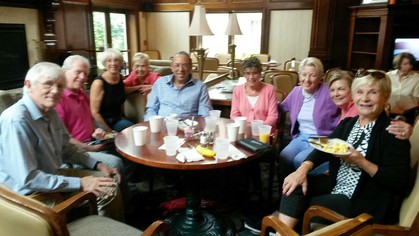 Jack Brigham, Michael Sternbach ('61), Brooke Hench Gieda, Roxa Kinsey Canovaca, Michael Pecherer, Nan Peppard Krauss, Jan Holt Wright, Rosemary DiGeronimo Sternbach, and Janet Kipp Tribus.
There are lots more photos in the Photo Gallery.
(See instructions at the top of this page.)
If you took pictures, please send them in!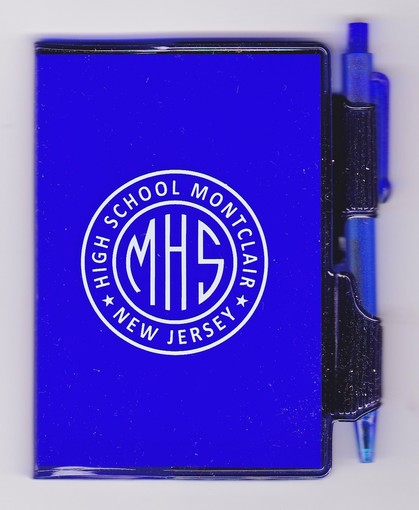 This is a "mini-notebook" that we gave out at the reunion so that everyone would have a place to jot down a name, address, or email address during the evening. It is about 3-3/8 by 4-1/4 inches and fits easily into a pocket. There are lined pages inside. We have about 30 left over. If you would like one, let me know and I will send it to you using our leftover stamps. Be sure to send me your correct address!
Who Came to Reunion?
Are you trying to remember a name? Here's a list of classmates and guests who came to the Saturday reunion dinner.
Bruce Adams
Doris Andrews Anderson
David Appleton and Wendy Appleton
Jean Banks Anderson
Susan Becker Knight
Madeleine Belanger Newman (Hillside)
Rick Boschen
Jack Brigham and Anne Bardolph
Jim Bruett
Suzy Bruett Gumm
Rochelle Caggiano Schait
Jim Cestone
LaVerne Criss Walker
Rosemary DiGeronimo Sternbach and Michael Sternbach (MHS '61)
Eugene Duncan and Kenneth Robinson (MHS '59)
Mildred Ferrara Scola
Charlotte Gerber Turner
Dick Griffith and guest (sorry, I don't have her name).
Norma Halsey Trewhella
Barry Hampton
Brooke Hench Guida
Jan Holt Wright
Stephen Holzel and Patricia Holzel
Tom Kasline
Roxa Kinsey Canovaca
Janet Kipp Tribus and Don Tribus
Donna Lake Wright and Ken Wright
Linda Linnard Andre and Peter Andre (MHS '59)
Dick Loomis
Gene Mazzola
Sally Minard
Elizabeth Morrow Edwards and David O'Dette
Delores Morton Munford
John Orders and Onil Chibas
Patricia Ann Payne Wallace
Michael Pecherer and Xiomara Di Maio
Nan Peppard Krauss
Edgar Robinson
Harry Robinson
Warren Ross and Karen Ross
Frank Rubino
Diana Russ Harmon
Bob Rutan
Joyce Sgroi
Carl Stephanus
Richard Weaver
Tom Wenner
John Wharton
Andy Widmark and Ginny Widmark
Leroy Wilkinson
John Williams
Suzie Wooster Wilsey and Dick Wilsey
Richard Yaeger
Liz Young McCann
Many thanks to the classmates who sent extra donations to support our Reunion. You can see their names under "Thanks!" in the blue navigation sidebar.
.....................................................................................................................................................
SENIOR YEARBOOK PICTURES
We now have all the pages of our senior yearbook pictures posted on this website, thanks to Gene Mazzola, who brought me his yearbook to be scanned. To see them all, just go to the blue sidebar on the left side of this page and click on Senior Yearbook Photos. Many thanks to John Sproston for initiating this project, and to Gene and Chris Graber for providing pages.
Would you like to find out whether other classmates share your special interests or activities? For example, I teach ESL (English as a Second Language) to adult students and would love to find out whether any other classmates do the same. Let me know if you have special interests that you would like me to publicize on this website.
HOW TO SEND MESSAGES THROUGH THIS WEBSITE
We'd like to hear from you!
If you'd like to send a message to the whole class:
1. Go to the "What's New" page at the very top of the blue margin on the left side of this page.
2. Look for the gray box on the top that says "Post a Comment to the Class."
3. Write your message in the box that says "Share Your Thoughts with Classmates."
4. Include a photo or video if you like (that would be great!)
5. Click on the blue "Post Message" box.
If you'd like to send a private message to a Classmate:
1.Go to the classmate's profile page. (Click on "Classmate Profiles" near the top of the left-hand blue margin on this page.)
2. Click on the envelope icon directly under the photo box where it says "Send [classmate's name] a private message."
3. When you get to the message screen, type in your subject and message in the boxes.
4. Click the blue "Send private message" box. That's all you have to do! It's easy!
Guest Members on this website
It is now possible for a member of another MHS class to join our website as a "Guest Member." Guest Members will be able to have their own profile page and they will be able to send and receive messages through the site. They will be able to remain guest members as long as they do not harass any class member or post objectionable material. If a member of another MHS class wishes to become a Guest Member, he/she should contact me directly to request guest membership and I will enter his or her information in the site's database and provide information about how to sign up. Nobody will be able to join the site without going through that process. If you have questions or concerns, please let me know. (Linda.andre@verizon.net)