Montclair High School
Class Of 1960
Welcome to the MHS '60 Website!
November 15, 2015
REUNION REPORT
Rockin' Robin 56th Reunion
May 20-21, 2015
Countless emails have been flying back and forth, and many people (in New Jersey and across the country) have worked hard to come up with a plan for a wonderful reunion. The idea is to keep it as simple and as low cost as possible so that many of us can have fun reconnecting after 56 years!
Some details must still be worked out, and I will keep adding details to this website, but here is what we know so far:
Friday, May 20 during the day
GOLF
Contact Rick Boschen if you are interested. Rick will be making arrangements regarding location and fee.
flrickb2@yahoo.com
Phone: 772-521-3535
Friday, May 20 from 6:30 pm
Wonderful, warm, casual GET-TOGETHER at Warren Ross's House
105 Clinton Avenue, Montclair
A million thanks to Warren and his wife Karen for once again offering to share their beautiful Montclair home with us on our first night back together. The evening is FREE, but it would help if you could bring a few dollars to throw into the pot to pay for drinks, cups, plates etc. Local classmates: It would be wonderful if you could bring a plate of snacks, sandwiches, or sweets for the food table.
Saturday (and Sunday) breakfast/brunch
We will post names and addresses of Montclair breakfast/brunch spots on this website.
Saturday, May 21 during the day
Your time is your own to do as you please: visit your old homes and haunts, see how Bloomfield Avenue and Lackawanna Plaza have changed, visit the Iris Gardens (which should be in full bloom) enjoy great exhibitions at the Montclair Art Museum, or go even further afield. If you would like to meet classmates for lunch, you might want to come to DeNovo in the Upper Montclair Train Station, 275 Bellevue Avenue. DeNovo can handle a large group, no reservations required, and there is plenty of parking. Lunch is served from 12 noon to 3 pm. Everyone will order and pay for their own lunch. DeNovo will remain open after lunch so if you are looking for a place to simply hang out and chat or enjoy the bar, that may be just the place. You can visit deNovo's website at http://www.denovomontclair.com
As time gets closer we will post names of other lunch spots in Montclair on this website.
We can also post more ideas of things to do during the day. All ideas are welcome. (For example, some might want to visit the Thomas Edison National Historic Park http://www.nps.gov/edis/index.htm "where American's greatest inventor changed our world." The park is only a 3-mile drive from the Residence Inn in West Orange where some of you might be staying. See below.)
Saturday, May 21 at night
REUNION PARTY
Montclair Golf Club, 25 Prospect Avenue, West Orange, NJ 07052
Reconnect with old friends while enjoying a wide array of delicious hor d'oeuvres circulating throughout the evening. Several food stations or a buffet will offer tempting dishes as well. There will be a great DJ playing "oldie" music to make us feel young, a dance floor for the lively and fleet-footed among us, and a "quiet space" where we can enjoy quiet conversations away from the music. There is wheelchair access to all spaces.
To keep costs down, we will not have an official photographer. Everyone is encouraged to take lots of photos on your smartphone so that they can be posted on this website. And instead of distributing a reunion booklet (very time-consuming to produce and costly to print), we will keep things simple by providing an updated list of classmates' contact information. At this point, we cannot announce an exact cost for the Reunion Party, but the cost per person will be announced on this website as soon as possible.
Where to Stay?
Classmates should make their own reservations as soon as possible since our reunion date coincides with many weddings and graduations. The Residence Inn West Orange is just a few miles away from the Montclair Golf Club and offers a free breakfast, a pool, and fitness center.
Residence Inn - West Orange
107 Prospect Ave.
West Orange, NJ 07052
973-669-4700
http://www.marriott.com/hotels/travel/ewrog-residence-inn-west-orange/
There are other hotels a little farther away from the Montclair Golf Club that might offer different types of rooms and cheaper rates. You can find a list of 5 hotels on this website. Just click on "Reunion Hotels and Restaurants" at the very top of the left-hand blue margin on this home page or click HERE. We are not blocking rooms at any hotel since we would have to guarantee a certain number of reservations, and the savings per person would minimal.

How to Register for the Reunion
A registration form will be posted on this website as soon as the cost of a reunion ticket has been determined.
How to Help
These classmates have volunteered to help by calling classmates, providing information, and encourage them to join us in a wonderful reunion. More callers are welcome! Just let us know.
Doris Andrews Anderson, Rick Boschen, Jack Brigham, Rosemary DiGeronimo Sternbach, Brian Flynn, Charlotte Gerber Turner, Norma Halsey Trewhella, Barry Hampton, Gene Mazzola, Bob Negley, Michael Pecherer, Nan Peppard Krauss, and Ron Philpott.
These classmates continue to work hard to plan our reunion. Feel free to contact them through their profile page on this website with ideas, questions, concerns, or offers to help.
Rosemary DiGeronimo Sternbach
Nan Peppard Krauss
Warren Ross
Rick Boschen
Charlotte Gerber Turner
Paul Doran
Steve Holzel
Frank Rubino
Barbara Mansell Ramsay
Linda Linnard Andre
Have you heard?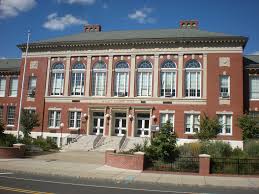 According to our classmate Ed Fitt, Mount Hebron Middle School will be renamed for astronaut Buzz Aldrin, who was the second man to walk on the moon in 1969. The school on Bellevue Avenue is currently a STEM magnet school for grades 6-8. When all arrangements have been made, it will be officially renamed The Buzz Aldrin Middle School in honor of its famous alum. The Board of Education's vote was a culmination of months of effort by a group of residents who had formed the Man on the Moon Committee.
Buzz Aldrin lived on Princeton Place. To read more, check out these newspaper articles provided by Ed Fitt:
http://www.northjersey.com/mobile/news/education/the-eagle-has-landed-1.1438377
http://www.nj.com/essex/index.ssf/2015/10/buzz_aldrin_tours_nj_childhood_home_photos.html#incart_river_mobile
Ed has a special interest in all this because he met Buzz Aldrin some years ago. Here's Ed's story:
"I met Buzz back in 1976 when I was serving on the Montclair Fourth of July Committee. I had the bright idea of suggesting to the committee that we should do something special for the Fourth that year since no other events had been offered by either the town government or any other groups.
I suggested inviting Buzz Aldrin to serve as Grand Marshal of the annual Montclair parade inasmuch as the moon landing was such a landmark event that had taken place only 7 years earlier and had involved a Montclair native.
The committee ultimately adopted my suggestion. An invitation was sent through our Congressional representative and was accepted, if the committee would pay for the airfare for him, his wife, and her child. We agreed, hoping to sell sufficient NJ Bicentennial License Plates and Montclair Bicentennial Medals -- another one of my crazy ideas. The medal had an image of a Minuteman and an astronaut on the face, and the Town Seal on the reverse (the town gave permission). The sales would pay for the added cost beyond the normal parade, band, and fireworks expenses.
I and a friend of mine on the committee were given the honor of meeting Buzz and his family at Newark airport to take him to Mayor Grant Gille's house, where he was scheduled to stay during his visit to Montclair. Rather than go directly to the Mayor's house, Buzz asked to be taken on a tour of the town including Montclair State College, as I remember. While we were a bit surprised by his request, we were happy to comply, as he related some of this childhood memories to us as we toured.
On July Fourth, Buzz rode in the parade to the reviewing stand at Edgemont Park, where he gave out the plaques for the winning parade entries as the crowd looked on cheering. It was a great success!"
In Memory: Shirley Eason Williams.
Roxine Clark Garriss remembers Shirley: Shirley and I, along with so many others from the Glenfield School area, all went from kindergarten to MHS and have remained close all of these years even though we're spread out all over the country. Shirley will be sorely missed. She had two masters degrees in education and she loved teaching. I well remember her entire family, her father was a master plumber, her mom a homemaker. Shirley, her sister and brother, myself and all the kids on Maple Avenue played together in Glenfield Park. My mom and Shirley's mom met at Mountainside Hospital during their pregnancies and he have been friends since then.
In Memory: Anita Molinari Langkowsky
Dot Misica Gugliotta remembers Anita: I was very close to Anita and her cousin Sue during high school. We went to the Jersey Shore for senior week with a group of girls and had a blast. Lost touch after high school but the fond memories of love and friendship are still there.
In Memory: Bill Taebel
Memories of Bill have been posted by Anne Ramee Bennett, Rosemary DiGeronimo Sternbach, Barry Hampton, Ed Fitt, David Appleton, and Charlotte Gerber Turner. Click on "In Memory" in the blue margin on this page, then click on Bill's name.
NEWS
We now have all the pages of our senior yearbook pictures posted on this website, thanks to Gene Mazzola, who brought me his yearbook to be scanned. To see them all, just go to the blue margin on the left side of this page and click on Senior Yearbook Photos. Many thanks to John Sproston for initiating this project, and to Gene and Chris Graber for providing pages.
Michael DelliSanti (Butch) has joined our website. You can send him a message through his profile page.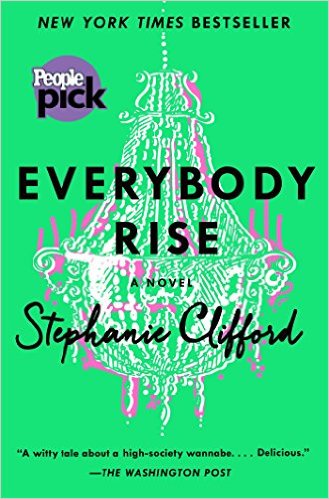 Steve Clifford writes that his daughter Stephanie Clifford has published a first novel, Everybody Rise, about "a 26-year-old woman who tries to fit into old-money New York with regrettable consequences." The book quickly became a New York Times best seller. Critics have called the story "an intoxicating blend of class, ambition, and money " and have said that Clifford provides "sharp-eyed access to a moneyed world and its glamorous inhabitants." The book is available at Amazon.com, Barnes & Noble, and other bookstores. Here is a review from the New York Times Sunday Book Review http://www.nytimes.com/2015/08/23/books/review/everybody-rise-by-stephanie-clifford.html
New email addresses:
Jim Cestone: jdcestone@verizon.net
Gorham Voight: walterscarpetaspen@gmail.com
Sally Minard: sminard@mindspring.com
New street address:
Don Errico
207 Ashton Drive,
Moore, SC 29369
"Glad to be out of the big snow."
Would you like to find out whether other classmates share your special interests or activities? For example, I teach ESL (English as a Second Language) to adult students and would love to find out whether any other classmates do the same. Let me know if you have special interests that you would like me to publicize on this website.
Bruce Baker has returned home from his volunteer service with the Peace Corps in Benin. Here are some of his final thoughts before leaving.
... I have started reflecting back on my service. I roughly dollarized the impact of my papaya project. I figure approximately 800 hybrid papaya trees are growing now pretty much as a direct result of my service. The increased yield of papaya from those 800 trees is worth approximately $8,000 per year. It cost the US taxpayer around $112,000 to send me here, so while they are not getting a great return on their expenditure, it isn't so bad either. Most liekly, more of these trees will be planted next year.
... From a personal standpoint, my Peace Corps service has been very rewarding, allowing me to pursue a long-time dream -- helping economic development in a Third World country. Surprisingly, it also seems to have benefited my health as I have lost almost 30 pounds of excess weight.
... The Irrigated Farm project for which I helped raise funds has started digging their well. This well will be around 75 yards deep and perhaps 4 feet in diameter. The well will be dug by hand with the dirt being hauled up in buckets and dumped nearby. Usually concrete cylinders the diameter of the well and about 1 meter long are periodically added to the well as it goes deeper. This prevents the side walls from caving in on the diggers. Still, it is hazardous work. Fortunately the crews that do this are specialists in their work, and I am told that accidents are uncommon. A year ago, a similar well was completed near my home without incident.
... On September 7, I began my Close-Of-Service procedures. After I finished all the paperwork, I had my final medical briefing where I was given anti-malaria drugs to take for the first 30 days after I return. On September 15, I boarded an airplane to start my trip home. My Peace Corps service in Benin was completed. I was officially an RPCV (a Returned Peace Corps Volunteer) for the second time.
The Peace Corps of 2015 is changed from the Peace Corps of1964. The administration is not as crisp now as it was then, and now there is a big, thick administrative manual that country staff has to follow. This is inevitable bureaucratization. After all, the Peace Corps is now over 50 years old. The Volunteers, though, are as good as ever, and for all its shortcomings, I think the Peace Corps still represents the best way to do grass-roots international development work. I can even see myself possibly applying again in a year or so!
HOW TO SEND MESSAGES THROUGH THIS WEBSITE
We'd like to hear from you!
If you'd like to send a message to the whole class:
1. Go to the "What's New" page at the very top of the blue margin on the left side of this page.
2. Look for the gray box on the top that says "Post a Comment to the Class."
3. Write your message in the box that says "Share Your Thoughts with Classmates."
4. Include a photo or video if you like (that would be great!)
5. Click on the blue "Post Message" box.
If you'd like to send a private message to a Classmate:
1.Go to the classmate's profile page. (Click on "Classmate Profiles" near the top of the left-hand blue margin on this page.)
2. Click on the envelope icon directly under the photo box where it says "Send [classmate's name] a private message."
3. When you get to the message screen, type in your subject and message in the boxes.
4. Click the blue "Send private message" box. That's all you have to do! It's easy!
Guest Members on this website
It is now possible for a member of another MHS class to join our website as a "Guest Member." Guest Members will be able to have their own profile page and they will be able to send and receive messages through the site. They will be able to remain guest members as long as they do not harass any class member or post objectionable material. If a member of another MHS class wishes to become a Guest Member, he/she should contact me directly to request guest membership and I will enter his or her information in the site's database and provide information about how to sign up. Nobody will be able to join the site without going through that process. If you have questions or concerns, please let me know. (Linda.andre@verizon.net)