Montclair High School
Class Of 1960
Welcome to the MHS '60 Website!
December 16, 2017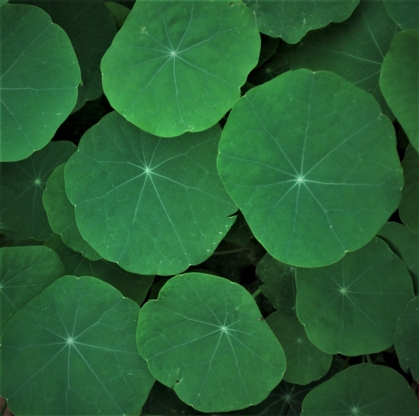 Christmas Stars
The starburst patterns on my front-yard nasturtium leaves make me think of our star-filled holiday season. Very best wishes to everyone for happy holidays and good health, energy, purposefulness, a bit of excitement, comfort, contentment, and calm weather (!) in the year to come. Linda
Thanks to Janet Kipp Tribus for calling my attention to this interview with Jonathan Wells (known to us in 1960 as John Wells). And special thanks to Jonathan for generously granting permission to post the video on our website. As we witness (or participate in) the many protests of our time, it is interesting to look back on the protests of our youth.
Jonathan Wells: Biologist, Author of Zombie Science and...Ex-Con?
Published in Discovery Science News on May 10, 2017
"Biologist Jonathan Wells, author of Zombie Science and Icons of Evolution, opens up about his likes, dislikes, and college years in this Up Close and Personal video. Jonathan Wells does scientific research and writes about science education and textbooks. Find more information about Jonathan Wells' work at www.iconsofevolution.com."
Jonathan writes of recent travels:
We returned home on November 15 from a wonderful all-expenses-paid two-week trip to Brazil, where [I] gave seven lectures at five different universities on evolution and intelligent design, focusing on [my] new book, Zombie Science. Several hundred people attended, and [the] lectures were translated into Portuguese and posted on the Internet. We also got to shop at the busy Mercado Municipal (City Market) in São Paulo and enjoy the beautiful beach of Fortaleza, in northeast Brazil near the equator.
Michael Brodie
Did you happen to venture out with your camera on August 22 to record the eclipse? Here are 5 beautiful screen shots taken over 5 minutes by Michael Brodie.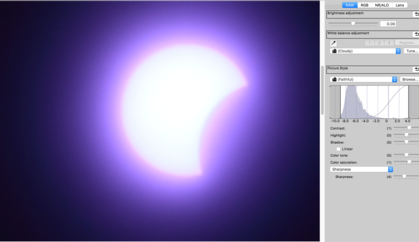 8:50,01 a.m.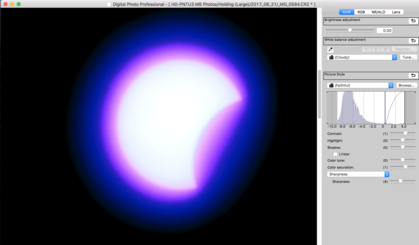 8;52.51 a.m.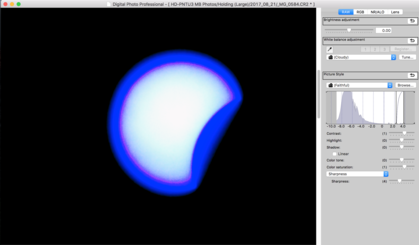 8:53.39 a.m.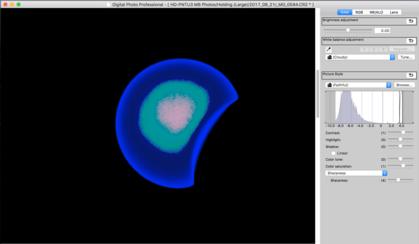 8:54.20 a.m.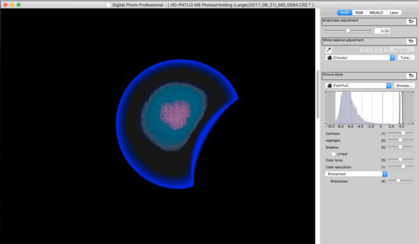 8:55.02 a.m.
For camera enthusiasts, Michael explains that in this series of images he manipulated the same shot, using "the Canon software to change the 'black point.' This had the effect of removing the halos from the overloaded original image and produced successively darker images -- which surprised me when I saw details that were completely absent from the lighter renditions."
Sanford Sherman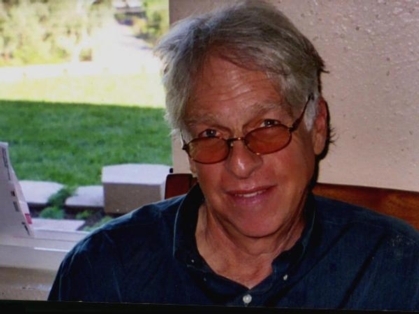 Sanford Sherman
is dedicated to photographing the beauty of Italian culture. He has shown his work in galleries, fine art fairs, and Italian restaurants, which have collected his work for display. He and his wife Anne visit Italy often to refurbish and increase his Italian portfolio.
Click on "Sanford Sherman's photographs" in the blue sidebar on this page to see nine photographs of Venice. Sanford may be adding more photographs to this gallery in the coming months. You can see a lot more scenes of Italy at his website https://www.zhibit.org/sanfordshermanphotography/venice-scenes.
Here is one of Sanford's shots of Venice, and then a photo of a pizza baker in Pompeii.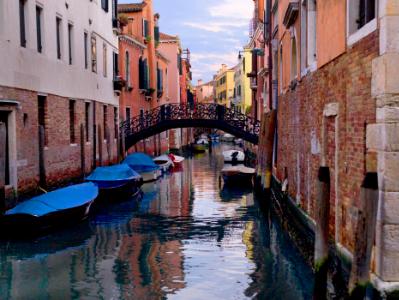 Black Lace Bridge, Venice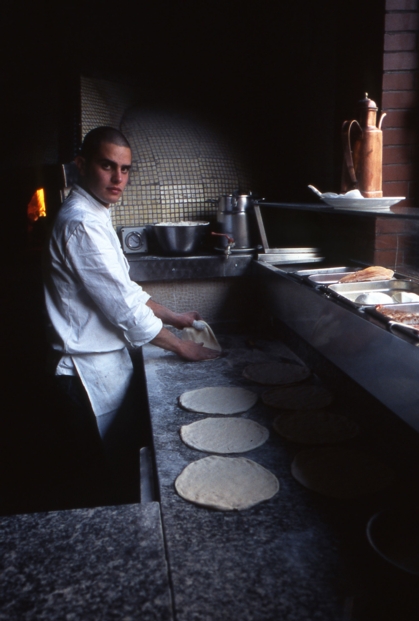 Francesco Ruggiero, il fornaio, in the modern city of Pompeii, Italy.
TRAVELS
Joan Crunden Lewis writes: "For the third year in a row, I am writing from ARIZONA, where I continue to take care of dear friends whom I met at a senior living facility. We are here mid-October to Christmas, and New Years to mid-May. I go home to Boulder, Colorado for Christmas and live at home there during the summer. I have enjoyed some marvelous trips with the Senior Living groups. Starting in January, there was a cruise from New Orleans to Belize and back featuring a submarine adventure in Cozumel, a visit to an iguana farm in Honduras where the residents tried to eat our shoes, a butterfly sanctuary in Belize, and a lively day at the beach. In early June, we flew to Washington State ... for a driving tour around the Olympic Peninsula. I was stunned by the dark beauty of the rain forests - huge, towering cedar and spruce and pine, covered top to bottom with mosses - the vast, sparkling beaches and majestic, glacier-crowned mountains appearing to leap out of the sea.
Jack Brigham
Our tireless traveler, Jack Brigham enjoyed a May/June visit to Italy (Cinque Terre, Lake Como, and Milan). You can travel vicariously with Jack and Anne by going to
https://photos.shutterfly.com/story_invite/9797730b-8925-4158-a742-92359485180f/60153333624
Jack says, "I am rejoicing at finally finding a gelato shop on a hot day in the town of Portovenere, just south of Cinque Terre.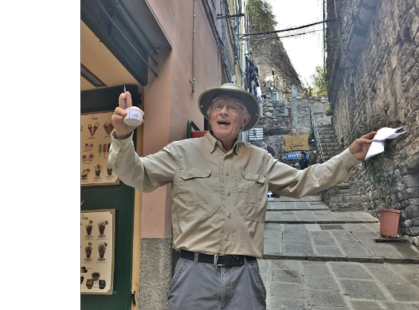 Jack is biking from the town of Levanto to the town of Bonassola, along the coast via the old railway tunnels.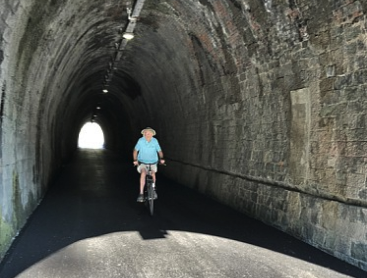 Jack on a bridge overlooking a canal in Milan.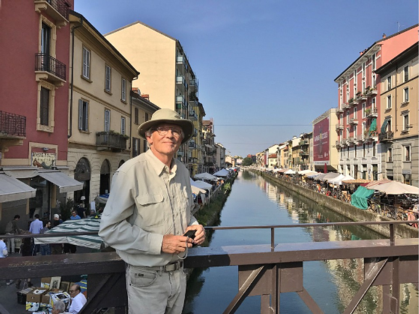 Jack writes: My next trip is to NYC next month with Anne to attend an international coin show (I'm a collector) and a couple of Broadway shows. We are going on a Road Scholar trip to Moscow and St. Petersburg in April and a cruise to Alaska in July. I have been to all of these places, but Moscow was way back in 1974, so I imagine things have changed a wee bit since then.
Rick Boschen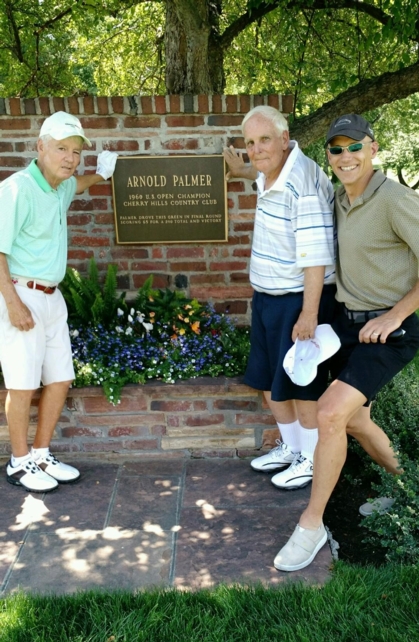 This SUMMER VACATION PHOTO was taken at The Cherry Hills Golf Club in Denver, Colorado. The Cherry Hills G.C. is the location where Arnold Palmer won the 1960 US Open. In the photo are Host Ned Milner and my son Kyle.
Montclair News
Football News from Harry Robinson
Thought you might like to know that the Montclair football team won the Group 5, Section 1 state championship tonight in Met Life (Giants and Jets) Stadium, 35-14, over Union City. It was their 4th state championship in the last six years. Share the information. Cheers. Harry Robinson
Montclair's Bellevue Theatre closes after 95 years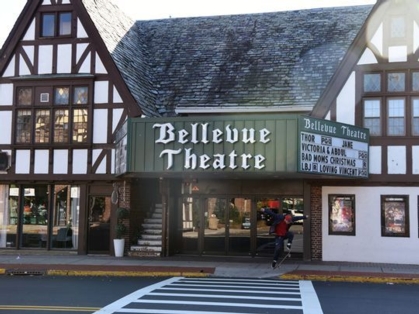 The national movie chain, Bow Tie Cinemas, ended operations of the 95-year-old theater on Sunday, November 12. The lease was not renewed for the movie theater. Bow Tie plans to dismantle the theater and remove all the equipment. "Once that happens, it's going to be very difficult, if not impossible, for another private entity to come in and operate the theater," a spokesman said, "because it would take a substantial investment to refit the theater again to operate."
Montclair residents and business owners expressed surprise and disappointment that the Bellevue Theatre will no longer show movies.
Right now, there are no discussions about what to put in the theater building in the future, but some people have started a petition to either keep the theater going forward or to open a theater in another site somewhere in town. The petition states: "The Montclair Bellevue Theatre has been nestled in Upper Montclair for almost one hundred years, and it has recently announced that it will be closing its doors by the end of November. This space is iconic to Montclair and beloved by many, it would be a shame to let it waste away into another gentrified retail or office space. Help keep Montclair's tradition and culture alive and save the Bellevue Theatre!"
Regardless of its future, the almost century-old Tudor-style Bellevue Theatre will look the same...on the outside. Any changes or modifications to the exterior of the building would have to be approved by the Historic Preservation Commission. Inside, however, the owner can remove the seats and concession stand and convert the theater into a clothing boutique, a hair salon, or a crullers-and-cappuccino café.
Adapted from article in NorthJersey.com, November 10, 2017
http://www.northjersey.com/story/news/essex/montclair/2017/11/10/montclair-bellevue-theatre-closing/852586001/
Addresses etc.
New email address for Ralph Davidson: RBD738@aol.com
New address for Nancy Pierson Tolley in England:
28 Hillside Road, Verwood, Dorset, BH31 7HE, UK
Nancy writes: "We are now getting used to our new environment here in Verwood, having spent much of the first year on the house and garden. The local U3A (University of the 3rd Age) is very active and a great opportunity to meet like-minded folks. It's for retired folks who volunteer to hold classes in a variety of subjects (I'm in a book group and a woman's discussion group), meeting once a fortnight for an hour or two. Subjects include history, foreign languages, art, etc.
Two new members of our website:
Sally Washer Greco
Dominick Ciccarella
You can reach both classmates through this website.
IN MEMORY of two classmates
Full obituaries may be found in the "In Memory" section of this website. You may post your own tributes or stories in the "Comments" section below the obituary.
Joanne Corrado Grogg
Angela Zambri Gervasio writes, "I am very sorry to report that Joanne Corrado Grogg has passed away." The Roberts Funeral Home in Ocala, Florida reported, "It is with great sadness that we announce the death of Joanne Grogg, who passed away on September 24 2016 in Ocala, Florida."
Richard Flynn
Richard's wife, Karen writes, "It is with great sadness that I am contacting you to let you know that my husband Richard Flynn passed away on May 24th, 2017. Richard was a member of the Montclair High School Class of 1960." The following is a portion of Richard's obituary from http://www.vandermay.com/Obituaries.aspx?from=obtDet&obituaryid=18524
Richard R. Flynn, Sr., age 74, of Wayne, passed away on Wednesday, May 24, 2017.

He was born in Newark. At an early age, the family moved to Montclair, where Richard was raised. He lived in Lake Tamarack before moving to Wayne in 1975.

When Richard was just two years old, his mother Catherine (Dacey) Flynn passed away. He was raised by his father Francis and his stepmother Helen (Conrad) Flynn. Richard met his future wife Karen Crescente on a double date; they fell in love, he proposed, and they married on February 3, 1973 at Saint Francis RC Church in Wanaque. They have enjoyed forty-four years of loving marriage and are best described as "absolute soul mates."

He will be remembered as a funny, fun loving, Mr.-Fix-It who was always cracking jokes and just loved to laugh. He always had a project and was constantly building or making something – he just couldn't sit still. He enjoyed classic cars and liked to go to area car shows. Richard was a lifelong crossword puzzle enthusiast who regularly tackled the "expert" and "challenger" puzzles. For many years he and his family enjoyed vacations at Wildwood and other locations on the Jersey Shore, where he loved the ocean, boogie boarding, and playing shuffleboard.

Richard served in the U.S. Army National Guard from 1964 to 1970. He was a union electrician, having worked with IBEW Local 52 in Newark and later Local 164 in Paramus. He was a foreman for the Reynolds Electric Company in East Hanover, where he was a valued employee for over forty years before retiring in 2005.

For many years Richard coached for the Wayne Little League and served on their Board of Trustees. He was also an avid weekly league bowler at the T-Bowl Lanes in Wayne. Richard served as an Officer and Trustee of the Honorable Judge Joseph J. Crescente Lodge 2382, Order Sons of Italy in America, in Wanaque. You will notice the lodge carries Richard's wife's maiden name, as it was named in honor of her father.

Richard is survived by his beloved wife Karen (Crescente) Flynn; dear sons Richard Flynn, Jr. of Pompton Lakes and Sean Flynn of Wayne; dear brother James Flynn of Myrtle Beach, SC; dear sister Mary Rutan of Whiting; and many nieces and nephews. He was predeceased by his loving parents Francis and Catherine (Dacey) Flynn; his stepmother Helen (Conrad) Flynn; and four dear sisters: Joan Lawson, Patricia Lockhart, Barbara Bannon, and Nancy Hall.

In lieu of flowers, the family would appreciate donations to the Wayne First Aid Squad, PO Box 2004, Wayne, NJ 07470.
Are you looking for reunion photos? You can still see all of them in the "Photo Gallery" section of this website.
x
Click on "Photo Gallery" in the blue sidebar directly under "Home Page." You'll come to a long list of "galleries." Scroll all the way down until you see a lot of square pictures with paperclips in the corner. The 2016 reunion photos are organized in two groups. The 1st "gallery" is called "2016 Reunion - Friday." The 2nd gallery is called "2016 Reunion - Saturday."
Each photo gallery has up to 12 photos per page, and there may be several pages in a gallery, so be sure not to miss any. If you need help telling who's who, just hold your mouse over the photo and a caption should appear. Click on the photo if you want to enlarge it.
Do you have any reunion (or other) photos to share? We welcome them all. If you want to post them yourself, click on the place at the bottom of any gallery page where is says, "Create Your Own Photo Gallery here. You should see instructions that tell you how to upload your own photos.
Don't like your picture? If you would like me to remove a photo, just let me know which one, and I'll be happy to take it off the website. (Linda.andre@verizon.net)
If you'd like me to upload your photos, that is fine. Just send them to me and I will be happy to post them on the website for you. (Linda.andre@verizon.net)
What would you like to tell your classmates about reunion weekend? Send me your stories, thoughts, memories, and I will post them here.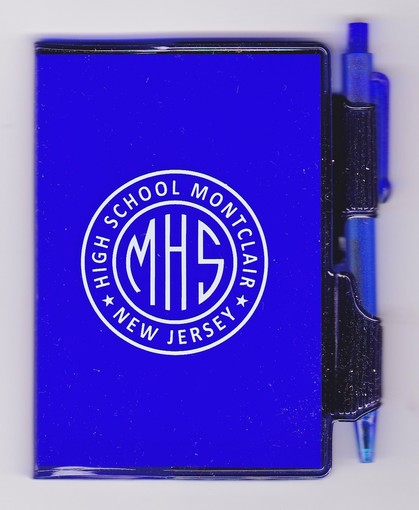 This is a "mini-notebook" that we gave out at the reunion so that everyone would have a place to jot down a name, address, or email address during the evening. It is about 3-3/8 by 4-1/4 inches and fits easily into a pocket. There are lined pages inside. We have about 24 left over. If you would like one, let me know and I will send it to you using our leftover stamps. Be sure to send me your correct address!
.....................................................................................................................................................
SENIOR YEARBOOK PICTURES
We now have all the pages of our senior yearbook pictures posted on this website, thanks to Gene Mazzola, who brought me his yearbook to be scanned To see them all, just go to the blue sidebar on the left side of this page and click on Senior Yearbook Photos. Many thanks to John Sproston for initiating this project, and to Gene and Chris Graber for providing pages.
Would you like to find out whether other classmates share your special interests or activities? For example, I teach ESL (English as a Second Language) to adult students and would love to find out whether any other classmates do the same. Let me know if you have special interests that you would like me to publicize on this website.
HOW TO SEND MESSAGES THROUGH THIS WEBSITE
We'd like to hear from you!
If you'd like to send a message to the whole class:
1. Go to the "What's New" page at the very top of the blue margin on the left side of this page.
2. Look for the gray box on the top that says "Post a Comment to the Class."
3. Write your message in the box that says "Share Your Thoughts with Classmates."
4. Include a photo or video if you like (that would be great!)
5. Click on the blue "Post Message" box.
If you'd like to send a private message to a Classmate:
1.Go to the classmate's profile page. (Click on "Classmate Profiles" near the top of the left-hand blue margin on this page.)
2. Click on the envelope icon directly under the photo box where it says "Send [classmate's name] a private message."
3. When you get to the message screen, type in your subject and message in the boxes.
4. Click the blue "Send private message" box. That's all you have to do! It's easy!
Guest Members on this website
It is now possible for a member of another MHS class to join our website as a "Guest Member." Guest Members will be able to have their own profile page and they will be able to send and receive messages through the site. They will be able to remain guest members as long as they do not harass any class member or post objectionable material. If a member of another MHS class wishes to become a Guest Member, he/she should contact me directly to request guest membership and I will enter his or her information in the site's database and provide information about how to sign up. Nobody will be able to join the site without going through that process. If you have questions or concerns, please let me know. (Linda.andre@verizon.net)