Montclair High School
Class Of 1960
In Memory
Sandy Toth (Guido) VIEW PROFILE
Obituary for Sandra Toth Guido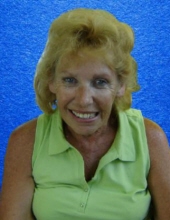 Sandra "Sandy" Guido, died on February 13, 2021 at the age of 78 in Bangor, PA.

Sandy, daughter of Virginia and Charles, is survived by her husband, Richard; children Christopher, his wife Candace and their three children, Elliott, Spencer and Nicolette; Cherilyn, her husband Christopher and their three children, Luke, Lindsey and Logan; Daniel and his daughter, Alee; her brother William "Bill", his wife Lynne; her nephews, Ryan and his wife Heather and their four children, Michael, Logan, Elizabeth and Owen; Charlie and his wife Alessia and their two daughters, Isabel and Victoria; her sisters-in-law, Judy and Marie, as well as many extended family members.

Sandy was born in Newark, NJ on December 31, 1942. She grew up in Montclair, NJ where she graduated high school. She attended two years of college at William Paterson State College. Shortly thereafter in 1967 Sandy and Richard wed. After marrying, Sandy and Richard moved into a two family home in Verona. During this time, Sandy was a medical assistant for a pediatrician, Dr. DeLorenzo in Upper Montclair. Three years later, upon the arrival of their first son, Sandy and Richard moved to Park Street in Upper Montclair.
Not long after, they moved to Hackettstown, NJ where they lived for seven years. During their time in Hackettstown, Sandy helped raise several dogs for the Seeing Eye (in Morristown, NJ). With the addition of Daniel to their family, Sandy and Richard decided to relocate to Long Valley.

While in Long Valley, Sandy raised her children, volunteered for Catholic Charities as a member of the Child Placement Review Board and taught Child Abuse Prevention in elementary schools, was an active member of the PTA, sold high school rings and babysat for several families over the years.

After 17 years in Long Valley, Sandy, Richard, Danny and their dogs settled in Pennsylvania. Here, Sandy was able to enjoy her seven grandchildren, her many poodles and mixed dogs.

Sandy was a proud and dedicated mother and grandmother who truly enjoyed attending her children's activities and helping her friends and neighbors. Sandy had a knack for decorating, entertaining and cooking.

Sandy was an amazing wife, mother, sister, aunt, friend and babysitter that had an unparalleled work ethic, spirit and love of life. Sandy's personality was exceedingly distinct and authentic.

If there was a single word that best described Sandy, it would be "present." Regardless of the situation or circumstance, she listened intently to the facts, stirred in her vast experiences, filtered her opinion and offered sound advice. Her advice was not always easy to hear, but hearing it most always would result in a restoration of order to chaos, rhyme to reason, calm to the storm. She applied her "presence" with grace, compassion and love to any and all situations whether it be to family, friend, grandchild, or newest puppy. We all should strive to be that "present."

Sandy had an uncanny gift for "seeing the Forrest for the trees." She was often sought out by family and friends for her sage advice and learned wisdom. Given a "problem" she made it her mission to find a solution. Her no nonsense, straight to the point, outspoken attributes served her well especially when fighting for what she was passionate about. She was the fighter you wanted in your corner and she was a fighter to the end. She will be deeply missed by all she touched and all who loved her.

As Sandy would say, "Carry On!"

A visitation followed by a memorial service will be held at the Hillsborough Funeral Home, on Wednesday, February 17th from 1:30 pm to 3:30 pm. A funeral service will be held on Thursday, February 18th at 10:00am at the Restland Memorial Park , 77 Deforest Ave., East Hanover, NJ 07936.

In lieu of flowers, and for those who desire, memorial donations may be made in Sandy's honor to the American Lung Association.
From the Hillsborough Funeral Home, Hillsborough, New Jersey
https://www.hillsboroughfuneralhome.com/obituaries/Sandra-L-Guido?obId=19971946#/obituaryInfo
Click here to see Sandy's last Profile entry.