Montclair High School
Class Of 1960
In Memory
David Fitzpatrick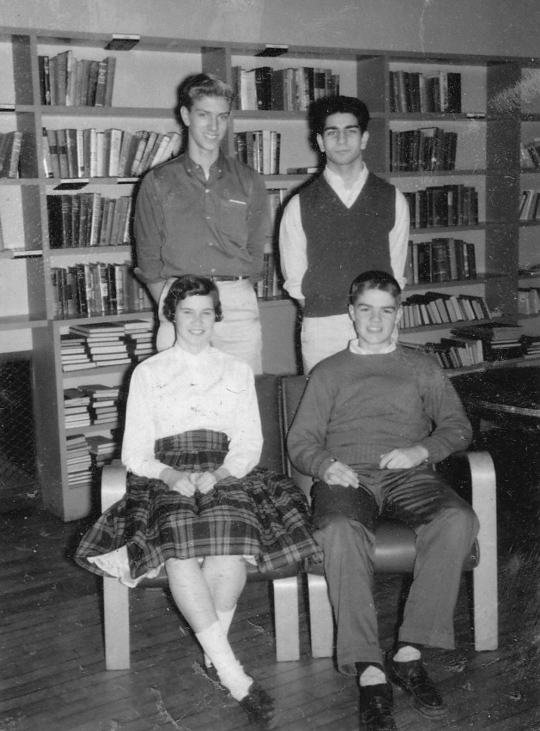 Here's David as our Junior Class president
along with other officers, Ralph Germann, Pete Cuozzo, and Linda Linnard.
David's daugther, Alexa Fitzpatrick, sent the following obituary for our website. She says, "MHS and Montclair meant so much to him. He saved every report card from Mt Hebron on, and I found them all (and a bunch of fun letters from the high school years) as I was cleaning out his files.
OBITUARY
David Stockton Fitzpatrick
6/4/42 to 9/1/20
PHOENIX, A.Z. - David Fitzpatrick died at his home in Sun City West, Arizona, on September 1, 2020, surrounded by his family.
Born in Montclair, NJ, he graduated from Montclair High School (1960), Princeton University (1964), and the University of Virginia Law School (1967).
After graduating from law school, David practiced in a midtown NYC law firm for three years before striking out on his own. He specialized in entertainment law and handled litigation in copyright, trademark, and an extended series of federal criminal trials involving off-shore banking. He promoted rock and roll concerts (including 1974's "largest indoor concert in the world," Alice Cooper in Sao Paolo Brazil), managed acts (Kool and the Gang, The Stairsteps), and produced theater on Broadway (Broadway Opry '79 at the St. James Theater).
In 1981, David met Jenny (his wife) in Denver, Colorado. It was love at first sight and he moved to Reno, Nevada, to be close to her, becoming the executive director of the Reno Rodeo (even though he'd never seen a rodeo before taking the position). He later served as the Director of Marketing for the Nevada Commission on Tourism and taught copyright law at the Old College School of Law. In Nevada, he also went back to event promotion, co-founding Hot August Nights, producing rodeos around the Western states, and promoting The Virginia City Camel Races, Kit Carson Rendezvous, Truckee Lions Sled Dog Races, and the Nevada State Fair.
David and Jenny retired to Arizona in 2004. An avid golfer, his lifetime goal was to shoot his age.
David is survived by his wife Jenny, his sister Carol Commette, four children Cailen Hollenback, Alexa Fitzpatrick, Brenda Waller, and Brad Reeves, and six grandchildren (Austin, Jake, Cole, Morgan, Connor, and Molly).
A memorial service will be held in the spring of 2021 in Old Saybrook, Connecticut.
Contact: Alexa Fitzpatrick
323-839-7723
David Fitzpatrick passed away Tuesday morning (9/1/2020). David's wife-Jenny resides @ 13542 W. Spring Meadow, Sun City West, AZ 85375
I was saddened to hear about David Fitz. He was a good man with a lot of spirit and style.
David or Dave and I shared many positive moments together during the Montclair Little League Seasons. We were both CATCHERS always on opposing teams. Defensively I believe we were more or less equal but when it came to hitting he was far superior. Just pulled off my home office shelf our 1960 yearbook. Dave did wish me good luck at Rollins and told me to "Watch out for the Southern Belles , they are murder!" Another indication of the great classmate and friend we lost.