Montclair High School
Class Of 1960
ANNOUNCEMENTS
Warren Ross has new contact information.
New address: 12 Aspen Drive, Cedar Grove, NJ 07009
New email: wk.rossjr@gmail.com
New phone number: 201-704-2667 (Cell)
Warren writes, "Sadly I will not have room in our new townhouse to host Friday nights for our reunions!! 37 years in the Clinton Ave home...but, honestly, we love our new downsized digs. It was very cleansing and makes for a easier life style by getting rid of so much "stuff."
Many of us remember how Warren and Karen opened their beautiful Montclair house to us so that we could have a place to gather together as we arrived back in our hometown. Their house was the site of many delightful and powerful moments of reconnection after so many years. One more round of applause for Warren and Karen for making that happen!
...........................................................................
Dennis McHugh has good news about how his Atlanta-area restaurant, 15th Street Pizza & Pub, has survived the pandemic.
Dennis writes, "The restaurant not only survived, but thrived! Thanks to our Governor, we only closed 5 weeks. We opened up doing delivery and take-out and got to about 50% of normal revenue. A month later, we were allowed to open at 50% capacity and the place was packed. We actually ended 2020 up 20% from 2019. This year, Year to Date, we are up 36% from last year. Truly amazing. Now if we could find staff to take care of all the customers, that would be wonderful.
You can see photos of Dennis at the restaurant at https://15thstreetpizza.com/Gallery.aspx
Take a few minutes to explore the rest of the website too!
.........................................................................
Normally, I don't send links to videos that are making the rounds, amusing as they might be. There are just too many. But Paul Stephanus sent one that might be just the thing for anyone who has been missing a good hug during the pandemic. Take a look ---
https://www.youtube.com/watch?v=GaKtI4QfhH0
........................................................................
Send me your stories about getting (or trying to get) a COVID-19 vaccination, and I'll post it here. (Send to Linda.andre@verizon.net).
I am clearing the Live Poll results for the week of February 1-7 and am starting a new poll to reflect our vaccination status as of February 14. Please record your vaccination situation as of now so that we can see if we've made any progress. The Live Poll is just to the right of this yellow column.
Nancy Pierson Tolley in England 2/17/21
It's been interesting to see how classmates are getting their vaccinations in different parts of the country. Here in the UK, there is rapid progress with first vaccine shots. We won't be getting our second shots until 12 weeks after the first, under Government rules. The idea is to give some protection to the most vulnerable members of society (who are most likely to fill hospital beds if they catch the virus) with a delayed booster. This way, the initial vaccination program reaches twice as many people initially and reduces strain on the NHS (National Health Service). At the moment, the over 65's are being invited to vaccinate. I had an AstraZeneca vaccine on February 10. My husband had his Pfizer shot on January 29.
We have both been participating in the ONS/Oxford survey since July, which has involved monthly swab tests (PCR) done at home by their survey team. The purpose of the survey is to find out where the virus is in the country. My turn to be vaccinated was delayed because I had had a positive Covid test on Dec 29 and had to wait a month before making an appointment. A further test on Jan 26 was negative for both of us. Fortunately we live in a fairly rural county in England with relatively low rates of infection since March. Keep well!
David Appleton in Pennsylvania 2/15/21
Greetings, Classmates. Wendy and I are on a waiting list here in Bucks County, PA. It seems supplies of Vaccinate are short. I suspect some shenanigans by the previous administration since our Representative, Fitzpatrick (R), and Senator, Toomey (R), both offered harsh words and voted against the previous occupant of the White House in the recent Impeachment imbroglio. Whatever! I've curtailed my Lyft and transportation activities since November due to the Covid 19 virus. We're suffering financially because of this, but I'm pleased to have the excuse to avoid personal contact with unsavory and misguided folks, Once vaccinated I'll reengage with the masses. Anyone in the Philly area needing a ride should contact me.
Ralph Germann (Update) in Hawaii 2/15/21
My second shot of Pfizer's vaccine was on Feb. 10. The experience was a duplicate of the first one except this one resulted in less pain in the arm from the injection and no reaction at all from the vaccine. I feel grateful Hawaii has enough vaccine to give to all who want it. So far that's 51% of the population. Tier 1b is still restricted to age 75 and up which is probably why there is enough to go around in this category.
Wishing everyone good health,
Joyce Sgroi (Update) in New Jersey 2/15/21
Glad to hear progress is being made with everyone receiving their vaccines.
Update to mine: My first shot was rescheduled from Feb. 2 to Feb.7 due to the monstrous snowstorm we had. However, I still had to venture out in the middle of a snowstorm on Super Bowl Sunday. It was a good thing I didn't have far to go - K-Mart in West Orange just up the road apiece from Cedar Grove. I had a 1:10 appointment but was told I could come earlier, which I did. It was so efficiently run. I arrived at 10:45 and was out of there by 11:15. Great job Joe D. My second dose had already been scheduled when I registered and remained the same, Mar. 2nd. I hope we don't have another snowstorm that day. I only had a slight sore arm for a couple of days. I understand however that the second dose has side effects.
Linda Linnard Andre in Maryland 2/14/21
We celebrated Valentine's Day with a trip to a CVS Pharmacy, about 17 miles away, to get our first Covid-19 vaccinations (Moderna). Not quite candlelight and roses, but much better! Most of the people were in the 75+ age group, and many were accompanied by a younger person. I suspect many of these companions were adult children who had tackled the frustrating online registration system to find available appointments for their parents.
Wayne Hansen (MHS '61, Guest Member) in Massachusetts 2/13/21
Yesterday my wife Barbara and I obtained the Moderna product at Gillette Stadium in Foxboro, Massachusetts. This is one of the state's mass distribution sites. Fenway Park in Boston is providing the Pfizer product. We qualified under the state's Phase 2 program because we are 75 or older. There were many people there but the site was well managed and efficient. Later last evening we experienced soreness in the arm, typical of a flu shot, that continued today. That was the extent of our discomfort. Once home, we were able to book appointments on the state's website for the second shot on March 12th.
Rob Super in Oregon 2/5/21
By some metrics, Oregon is doing better that most states at getting the juice into muscles. You'd never know that judging by all the complaints and confusion here—which are all real, and valid. Be that as it may, Sadie and I are lucky to be residents in an independent living situation that's not only part of a CCRC—classified by the state as a "congregate living" facility, which puts us high in the state's vaccine priority hierarchy—but which also has a strong relationship with an effective pharmacy-cum-healthcare company. We've not been hampered by the problems encountered many similar facilities: actually getting their hands on vaccine doses and/or enough needle wallahs. We're fortunate to be getting our 2nd shots (Pfizer) this Wednesday, the 10th. Carry on.
Dick Loomis in Utah 2/5/21
I just returned on the 13th of this month from Mali in Africa, and I'm happy to report that I left Bamako with a negative test and arrived back in the states and again had a negative test. The reason for the trip to Africa is that I was asked to set up the first mosquito abatement project. Last week I was able to get the vaccine. I may be required to go back to Africa in April of this year. I wish you all the best and stay healthy.
Mildred Ferrara

Scola in New Jersey 2/5/21
I was fortunate to receive my first vaccine the first day I volunteered for Essex County as a vaccinator. I have since received my second vaccine without any side effects. I did have have a very sore arm, but they recommend exercise and with all the snow we just got in N.J., exercise was not a issue. My husband was finally able to receive his first a week ago , so we both feel very lucky.
And more from Mildred on 2/6/21
I hope you will be able to receive your vaccines soon it does give you a little peace of mind. New Jersey has been slow except for Essex County. They have put together a wonderful plan. They have five huge sites dividing the towns in Essex County between the five sites, plus smaller sites throughout the county. The problem is that only those towns are able to use those sites, so it is much more manageable to run, but others throughout the state cannot. t I don't live in that county so theoretically I could not use, but because I volunteered I was given my vaccine. I tried to volunteer in my own county but they are so disorganized I was unable to help out. It really was a win for me. I so wanted to give back to my community during covid , that I was able to win on both fronts. Be safe, God will watch over you.
Susan Palmer Hauser in New Jersey 2/5/21
After much stressing, Rupe and I were able to get our first shot 1/28 and will get second shot 2/25. Hard to believe the confusion and effort needed to land that first appointment. We both got Moderna. Snowing again this morning. Mendham made the news with 30" on Monday/Tuesday.
Michael Brodie in Connecticut 2/5/21
I got the first installment of my pair of Moderna COVID-19 injections last Friday, Jan 29.2021. The only reaction was "some soreness at the injection site." My wife, Nanette, isn't eligible because she isn't 75, yet. If we had been in Florida, she would have qualified, since the threshold there is 65. Go figure. I'm scheduled for the second shot Feb 26, 2021, four weeks after the first one.
The only hassle was having to shed 2-3 layers of clothing before I could get down to bare arms - not to be confused with the right to bear arms. Florida doesn't present the same problems as the weather does here, but in Connecticut we live in a single family house and are automatically socially distanced. In Florida, we would be in a building with 50+ apartments and would be using the elevator to get up and down. This is why we didn't drive down through COVID territory just to be in proximity to people who don't always have their best manners or concern for others on full display.
The vast majority of people in Connecticut are masked pretty much at all times when out in the 'real world.' It seems that everyone, not just Connecticut folks, is living in a newly discovered day - Blursday. Time is really stretched and compressed in odd and disconcerting ways.
Best wishes, be well and stay safe.
Jim Newman

in Virginia -- Part 2 on 2/8/21
We had to drive about 45 minutes to the county where we used to live. Our present county hopes to have vaccine for over 65 folks about 2/19. They have been vaccinating (all!) hospital staff.
Meanwhile, the VA dept of health has taken over the distribution from the health centers. It is now going out to selected pharmacies as well as VDH floating sites. The VDH site we heard about popped up on short notice and gave 1500 shots in one day. They reached more people, but I did like our rural hospital which gave 150 in a day. By appointment, and it took 20 minutes in and out. No waiting.
But it seems that the supplies aren't there. Today I read that it takes Phizer 100 days to make a batch, so they can't ramp up deliveries fast. Someday we will know where the missing doses went and how much Trump and his family made from them.
Meanwhile I have been studying up to prepare taxes with AARP again this season. However the site I used to run and the Harrisonburg site have both closed and I will have to work remotely with another site about an hour away. Those two sites prepared almost 800 returns last season. I don't know where they will all go. And the tax returns just get more complex each year. This year the lawyers got into it with a vengeance, and I am amazed that any of the site coordinators are still willing to do this!
The second shot gave us some soreness around the site and I think we were dragged out all weekend, but I'm happy that is all it was. We have to keep isolating to protect our son's family, but at least we know we are fairly well protected.
Susan Oppel Parker in Ohio 2/4/21
I've been a vaccinator for OhioHealth (for whom I work) since before Christmas. I volunteered to do so with the ulterior motive of getting in line for a vaccine. It worked because I got my first shot on January 4 and finished getting my second on February 1. We are finishing all 16,000 employees next week. It feels very liberating to be done. Maybe now I can make plans to travel.
Sheila Albright Hogan in Arizona 2/4/21
I had a bad case of Covid19 starting December 20th, but I was able to be at home. My doctor came twice. I was lucky to have my daughter and friend take care of me. I have put my name in to get the shots, but have to wait a few more weeks.
Charlotte Gerber

Turner in New York 2/4/21
am getting my second "jab" today. For me the first one was rough. I got back and hardly had the strength to pull my sweatpants off when getting into bed. The top was impossible to remove and stayed on me in bed for two days. I had a 101 temp the next day and couldn't get up. Afterward I spoke to a nurse who told me that she had the same reaction and couldn't get off of her couch. I discovered later that I had

covid

when I got the vaccine. She didn't have it. I haven't been told that this was a factor in my reaction. My suggestion to classmates is that all leave the day after inoculation free for recovery if necessary. None of my friends had such extreme inconvenient problems. Only a rare stiff arm.

My shot was administered at the

Javitz

Center in NYC which is a state location. It was organized by the NY National Guard. Having never been in a national disaster, this fortunately was my first experience seeing how the National Guard operates. There were crowds of young polite recruits in fresh uniforms eager to help. More personnel than there were patients. Snaking paths were clearly signed. There was a long open distance to where the deed actually took place. I asked about the large unused spaces and was told that they rotate what is used to disinfect and use new space for the next group.

Since I have had previous

anaphylactic

reactions I was reluctant to have the vaccine in a non-hospital setting. No need - there was a field hospital equipped emergency tented area at the center of the open space where serious problems could be addressed. Should you have medical concerns and have a choice to go to either a small location - say in a school or community center or a large venue run by the army I strongly suggest the latter. The professional operation that I experienced was most reassuring. When I thanked one soldier he responded, "This is what we do Madame." And well they do do it.
Dot Miscia Gugliotta in California 2/4/21
Fortunately, through our granddaughter, Brooke, who is a Pharmacy student at USC (University of Southern California), We received our first Pfizer-BioNTech vaccination last week at Keck Medical Center at USC. No reaction from first one!! Scheduled on February 18 for second one. Good luck to all!
Lennie Stovel

in California 2/4/21
I am happy to report that I have both my Pfizer vaccinations. I live in a retirement community, Channing House, in Palo Alto. Back in November, when the CH administration heard about vaccinations, they put staff on the job of getting on the list. These folks stayed with it, and as a result, Channing House was one of the first (if not the first) to get vaccinated by CVS, on December 28 and 29. Our second vaccinations were January 18 and 19. Vaccinations were optional; about 97% of the 250 or so residents were vaccinated. All staff, regardless of age, were eligible; a much smaller percentage took advantage. However some who skipped the first vax event decided to get their first shot during the second event. The HR department has done a lot of staff education around vaccinations. Even though we are vaccinated, our lockdown restrictions have largely remained the same, as we are in the Purple Tier. One bright exception: now two people can ride in an elevator instead of just one!
Barbara Stoeber Greene in Georgia 2/4/21
Here in Georgia it has been difficult to get an appointment. Systems either crash or appointments are full. My daughter was able to procure one for me at 6am once the vaccine was released to pharmacies. One down and the second one on February 25th.
Joyce Sgroi in New Jersey 2/4/21
I had an appointment for Feb. 2 but it was rescheduled for Feb. 7 at K-Mart in West Orange. My second shot was scheduled at that time for March 2. Essex County is very well organized. I just hope it doesn't snow, again, Sunday.
Diana Crane Harris in Georgia 2/3/21
Diana Crane Harris has had both her shots of Pfizer vaccine in Atlanta Georgia.
Kate Winter in California 2/3/21
In Sonoma County CA, where I live, vaccination appointments are now available only for the over-75 cohort. There had been confusion and miscommunication about this, as our CA governor had announced that those 65 and older could now receive the vaccine — few people in my community realized that we live in one of four counties not yet ready to vaccinate under-75s. Liz and I had been waiting to get our shots together (she's in the 65+ cohort), since we're basically cooped up at home anyway and there didn't seem to be any advantage in my having the shot first. People were spending hours on hold on the phone, or online, trying to get their appointments — some friends under 75 got appointments only to have them cancelled when the provider realized that 85% of their bookings had gone to under-75s! When I finally realized that folks under 75 would not start to get their vaccinations until my cohort had been vaccinated, I got online and very easily made appointments for both shots at a state-run pilot vaccination clinic about 20 minutes from home. My first shot will be next Wednesday; my second will follow 21 days later. Liz, meanwhile, is on a notification list but will not be issued appointments for awhile yet.
Jim Newman

in Virginia 2/3/21
Ginny and I get our 2nd on Friday. We have to drive 45 minutes because our current county has not received enough for the class 1a folks. Even though the county went overwhelmingly for Trump.
Our daughter-in-law is a contact tracer and tells horror stories. The people who die insisting it is a hoax and cursing the nurses for deliberately making them sick. The little church where half of the congregation has it and refuses to tell the tracers which church it is or who else is in it (except one let slip the pastor's name). The woman she talked to today who has it now so badly she can't deal with burying her mother who died a few days ago. The idiots who promote herd immunity deserve whatever punishment we can give! 500,000 thousand dead in 12 months! In one year, lowering the average American life expectancy by two years!
But - in less than a year, modern medical science has produced 5 vaccines and has more on the way. Those 5 use four very different approaches. And that is because our government has invested in medical research over decades. And that is very good news for the future.
Ed Hanke in Pennsylvania 2/3/21
Got my first vaccine a week or so ago and have the second one coming up on Feb 10. First one let me know it was effective by having a sore arm for a couple of days. Couldn't really tell if any of my other symptoms were from the shot or a result of my own sticking with my exercise program. I got mine from the VA and boy, do they have their "stuff" together when it comes to covering all the bases. Bing, bing, bing, schedule, arrive, shot, wait 15 minutes and out the door in 20 minutes. The problem now is to get my wife a shot which appears to be a lot more complicated than for those of us who are ex-military. She's on the list but it doesn't look good for any time soon.
Ralph Germann

in Hawaii 2/3/21
I had my first Pfizer shot on Jan. 20. My second one is on Feb 10. No reaction to the first one. There was a little soreness that lasted a few days in my shoulder where the needle was inserted. Reports say the second shot could have a worse reaction. I'll let you know. Yes, I am grateful to have the opportunity to get the vaccine. An ideal situation would be if everyone got the vaccine and a herd immunity developed. I'm tired of wearing a face mask everywhere in public. I've isolated myself at home so long I don't recognize my friends anymore.
Recent statistics say only 50% want the vaccine. Hawaii doesn't have a shortage of vaccine. The state received 109,000 doses. Only 50,000 have been vaccinated so far. More is coming according to the news. When I got my first shot there were only two vaccination sites configured to accommodate 1,800 people a day. With so few people showing up, they are now sending vaccines to many drug stores that are equipped to keep the vaccines cold. Pretty soon all neighborhoods will have a drug store available to just walk in and get vaccinated as if it was a flu shot. Let's hope this will all be a bad memory in a couple of years.
John (Jack) Taylor

in Maryland 2/3/21
The VA called in mid-January to offer an opportunity to get the vaccination about four days later. For various reasons, that wasn't possible for two weeks, so they gave me a date on 27 January and another on 17 February for the second shot. Much to my surprise, they still had the vaccine available on 27 January and assured me they would again on 17 February. Clearly my best experience with the VA yet.
My wife on the other hand is getting nowhere. We've been advised to sign-up everywhere possible and hope one comes through. She has done that with Walmart, Rite-Aid, county health services and hospitals in three counties. None even responded with an estimated date. Theoretically you are put on a waiting roster, and wait. Clearly, I have been blessed. This is going to be a long wait for many. Stay safe and persevere.
More on 2/4/21: The Washington Post this morning had an interesting story about difficulties with vaccinations comparing the centralized system used by West Virginia and most other states like Maryland that are decentralized. I don't have any data for other counties, but in Talbot (Maryland, Eastern Shore) we were told we would receive 600 vaccines a week but are only receiving 300, which obviously aggravates the situation here. We shall wait and stay home.
Jim Cestone in New Jersey 2/3/21
I am on to get my first vaccination shot in Woodland Park N.J. on February 9th at 3PM & my second shot on March 9th also at 3PM . We shall see how it goes?
Michael Pecherer

in California 2/3/21
I have been hunkered down practicing law from my home since the pandemic started. California has had very severe lockdowns and the court system is essentially broken down. You can't get documents filed and if you are lucky enough to get them filed, they go into a black hole, and you never know and cannot learn what happens next. Very frustrating!!
I was notified that persons 75 or older received a vaccination preference, and I signed up and got the shot. No side effects and no issues. I am scheduled for the second dose on Feb 20th.
Other than the pandemic, things are well and I am managing to keep busy.
Jack Brigham in Florida 2/3/21
My partner Anne and I got very lucky in Tallahassee. The city originally said vaccinations would be by appointment only, and had a phone number to call which, of course, crashed under the load. Then they created a website, which also crashed. Utter chaos. Then they said they would start vaccinations for those with appointments on December 28, then switched and said it would start on December 30 instead. On December 28 Anne suggested we drive by the county Health Department anyway, just to see if anything was happening. Lo and behold, turned out there was a line of cars there, so we joined it. 45 minutes later, with no appointments, we got our first Moderna shot. We got the second shot last week. According to our local paper, there were 408 lucky people who got the vaccine on that first, unannounced day. Pure luck!
I hope that you have had similar luck.
Ben Ritter

in Florida 2/3/21
I got my two CORONA VIRUS vaccine shots recently at the Tampa VA Hospital. My wife, Alder Allensworth, who works at the Tampa VA Hospital as a Registered Nurse, has also received two vaccine shots.
[FYI, I did not win a new roof from BEACON OF HOPE. Thanks to everyone who voted for me! However, I was chosen as their "Runner Up" and will soon be presented with a check for minor repairs.]
My best to you, and be safe! Ben in sunny Tampa.

GO, BUCS!
Diane Fisher

Gibbs in Virginia 2/3/21
I was in the first phase 1a to get the shots because I work in an Emergency Department -- 2nd shot early January. No reactions. Having the vac makes us a little more comfortable, but still need to practice precautions. Hoping all get the shots ASAP.
Patsy O'Shea

in Oregon. 2/3/21
I'm scheduled for my first shot Feb.8 at the Oregon Convention Center in Portland. I applied the day I qualified, Jan.25, as part of frontline status as an educator. Here in Oregon, the Governor has shifted the CDC suggestions a bit to enable educators and all school personnel vaccinations before the senior categories that many other states have first. (After the major 1A categories, of course.) Gov. Brown wants to get the schools open as soon as possible. So far in my family, the two fully vaccinated are medical personnel: a doctor in CA, a physician's assistant in NM. Next my brother Carbery in WA got his 1st shot at the VA. The 4 major health systems here have pooled energies together and it's working well with good organization and communication between them. I'm so HAPPY my day is coming up! Can't wait to feel FREE, yet I'll still be masking up for some time to come. During the pandemic, I've taken up birding. Just yesterday I saw two huge American Pelicans, and an Eagle at nearby Sauvie Island.
Dick Mann in South Carolina 2/3/21
I got my 1st round last month and get my 2nd tomorrow morning. I was able to jump the line because I still function as a Paramedic and I'm still running a rescue squad. North and South Carolina have been good about getting our generation vaccinated early and some can actually cross the line into North Carolina if their doctors are located there.
Barbara Mansell Ramsay in Florida 2/3/21
I am now living in Florida and Idaho…the vaccine has been a lottery here for 65 and over. You must remember that most everyone in Florida are 65+ and a lot from out of state. Websites were overwhelmed, but both myself and my boyfriend(?) of 18 years have managed to get them. But, one had to to spend a lot of time, recruit family members; and, so, like all over the country, those privileged to have the time to spend on line, or phone, got the vaccine.
Rick Boschen

in Florida 2/3/21
Yesterday, I received my 2nd vaccine shot. I feel very fortunate. Only 376,222 Florida residents have had both shots as of today. Our "COUNTY WEBSITE" has been truly priceless. Sign-up, First appointment, Follow-up, 2nd appointment and Final Follow-up. Notifications both by e-mail and TEXT messages to my cell phone. I'm really grateful and wish all our classmates success in the near future to obtain the -2- shots. Be safe 24/7. Keep warm.
Anne Ramee Bennett in Arizona 2/2/21
Here in Arizona the vaccine is becoming available to most of us over 75. I got mine last week and get #2 on February 18th. Hope our new president can get it out in a timely manner. I had a reaction because I actually had the COVID-19 in December. Doing well now. This will enable me to take my therapy dog back into a nursing facility. My two Cavalier King Charles dogs have been going to this nursing facility for four years. We really miss the patients.
Betty Sproston

Martin in South Carolina 2/2/21
We are in South Carolina for the winter and we were able to get appointments for shots with no problem. They are being given at the North Charleston Coliseum for one. There are also other locations doing mass immunizations in the area. The organization at the Coliseum was impressive with several lanes open and short wait times. The fact that we weren't South Carolina residents made no difference. Judging from what we hear from friends back home in Sag Harbor, we're lucky to be here. What's up with that New York?
Steve Kessler

in Nebraska 2/2/21
As far as getting the vaccine, I was very fortunate being a vet and using the VA for my medical needs. Here in Omaha, they have been wonderful, and very caring. A great operation compared to many from what I've heard. They called me the end of January and asked if I wanted it, and I said "you bet." Got an appointment for February 4th. Got my second last week. I'm very thankful. Wife Jean is hoping for an appointment phone call next week to start hers. Nebraska is a little slow. They're doing 90+ right now.
Be interesting to hear how others are doing.
CLASSMATES' ADVICE and COMMENTS for 2021
Send me your advice or comments for 2021 (Linda.andre@verizon.net) and I'll post it here.
From Mildred Ferrara Scola
I begin on Monday to volunteer to give covid vaccines in Essex County. I am so happy about that. I retired from my nursing career about two years ago, and have felt guilty not being able to help in this time of crisis. My kids would not hear of me going into a hospital environment at 77, so this opportunity to volunteer giving vaccines to healthy people makes me feel good about myself. I will receive the vaccine, so I feel safe and my kids are ok with it. Please be safe and have a healthy 2021.
From Brad Stark
When I was seventeen, it was a very good year.
A lifetime ahead with little to fear.
Now at seventy-eight, dark winter draws near.
Despite three hospital stays, life is good 'round here.
After fifty-five years, Mar-Mar's still a dear,
Four grandkids bring cheer, and the golf course is near.
Let's each think of life as rare vintage wine
That even in strife still tastes bright and fine.
Happy New Year classmates,
Stark Raving Brad
From Pete Morrison
The Universe is a sucker for gratitude. I write down at least 5 things I am grateful for each day. Happy N. Y.
From Don Lefelar
Three years ago, I bought a book on a whim. It's called The Daily Stoic by Ryan Holiday. It has about one page of reflections for each day of the year. Contains lots of practical wisdom to keep the birds of worry from building nests in your head, as old Martin would say. [The Daily Stoic: 366 Meditataions on Wisdom, Perseverance, and the Art of Living by Ryan Holiday. On Amazon]
Best wishes to all the Montclair folks for a better 2021. Also I would recommend a young man, Coleman Hughes, who grew up in Montclair. He has a podcast. [Conversataions with Coleman. See colemanhughes.org] Coleman is a jazz musician (2 years at Julliard) and also has a degree in philosophy from Columbia. He is a free thinker, very data driven, and I guarantee regardless of your political views, he will both piss you off and the next moment you will want to give him a high five.
Young Coleman has messed with some of my assumptions. I find him extremely stimulating. The guy is brilliant. But I think I admire most that the lad is courageous and takes some very unpopular stances . He has some big ones. Whoever thought I would look up to a 24-year-old. I was kinda fixated on a 33-year-old 🙏.
From Rick Boschen
A quote from Arnold Palmer... "The road to success is always under construction." For me and probably our classmates, we all look forward to the 2021 road for many reasons.
From Betty Sproston Martin
I hope people on both sides of the issue would read this op-ed including the comments. We need to drop all the posturing and proselytizing and get this country moving in the right direction again. That's my suggestion for the New Year - come together.
From The New York Times: "My Joe Biden Story" by Linda Greenhouse
In a career as a journalist, I had never encountered a politician like him.
From

John Wells

(Jonathan Wells
This came out several months ago, but I just learned of it two weeks ago. If others haven't seen it, it might bring a note of cheer into their lives, as it did mine.

Hope you have a happier new year.
https://www.youtube.com/watch?v=XB6yjGVuzVo
[This is a video of One Voice Children's Choir singing "Memories," a song by the band Maroon 5. This video was made during the covid-19 quarantine using videos recorded by choir members at their homes.]

From Linda Linnard Andre
As we look toward 2021 with hope for better days, here's a bit of advice from 16th-century Martin Luther: "You cannot stop the birds of worry and sorrow from flying over your head, but you can prevent them from building nests in your hair."
Welcome to the MHS '60 Website!
February 14, 2021
David Appleton
writes, "My genealogically enthusiastic wife, Wendy, just discovered my Great Grandmother, Marian or Marion or Mary Ann (nee Bill) Appleton and her husband William, are buried in the Ivy Hill Cemetery along with "Smokin" Joe Frazier. Who'da thunk it?
Also buried here with several of my ancestors was Germantown-born tennis great, Big Bill Tilden. So there you are. If you've missed or avoided a Brush With Greatness thus far, there's still a chance to do so in the Hereafter.
Smokin Joe's memorial in Ivy Hill Cemetery in Germantown, Philadelphia, PA, with son Derek Frazier.
Diane Fisher Gibbs sent sad news.
"I have sad news to report.
Sandy Toth
Guido passed away on Saturday, February 13,2021. Her family was by her side at her home in Bangor, PA."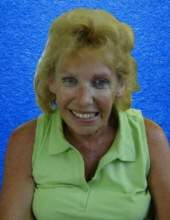 You can read Sandy's fully obituary in the "In Memory " section of this MHS '60 website. (Go to "In Memory" in the blue sidebar of the home page. Click on Sandy Toth (Guido). If you would like to share a story or memory of Sandy, click on "Post Comment" under her obituary. Remember to click "Submit" under the box.
Ben Ritter was honored as "Hero of the Game" at the September 29, 2013 Tampa Bay Buccaneer's football game at Raymond James Stadium. The program honored men and women who have served in our nation's armed forces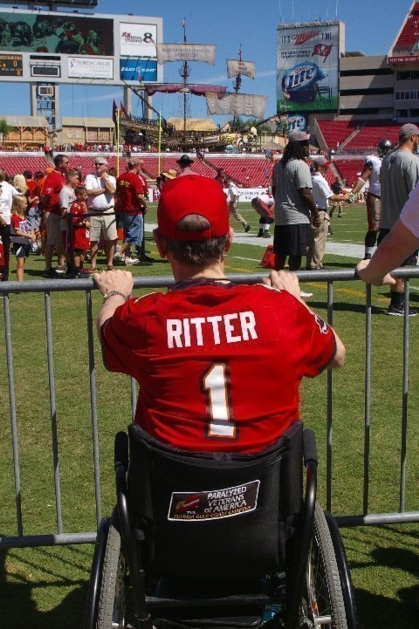 Read a full-page story about Ben as "Member of the Month" of the Tampa Chapter of the Military Officers' Association of America. This link takes you to the November, 2020 issue of the RETROSPECT.
https://03fa24d.netsolhost.com/wordpress1/wp-content/uploads/2020/10/November-2020.pdf
To find Ben's article, scroll down to page 8.
Thoughts for the New Year
Here's something to bring a smile to your face as you prepare to bring in the New Year! Jack Brigham sent me this clip of amazing dancing robots. Maybe you can dance along!
https://www.youtube.com/watch?v=fn3KWM1kuAw
And as we look toward 2021 with hope for better days, here's a bit of advice from 16th-century Martin Luther (via a Christmas letter I received from a German friend):
"You cannot stop the birds of worry and sorrow from flying over your head, but you can prevent them from building nests in your hair."
Do you have any advice for 2021 to share with classmates? Send your advice to me (Linda.andre@verizon.net) and I'll post it here on our website.
I wish you a very happy and healthy New Year!
...............................................................
With the dark days of winter upon us, take a moment to read this favorite poem that celebrates the solstice and the return of the light.
And so the Shortest Day came and the year died
And everywhere down the centuries of the snow-white world
Came people singing, dancing,
They lighted candles in the winter trees;
They hung their homes with evergreen;
They burned beseeching fires all night long
And when the new year's sunshine blazed awake
Through all the frosty ages you can hear them
Echoing behind us — listen!
All the long echoes, sing the same delight,
As promise wakens in the sleeping land:
They carol, feast, give thanks,
And dearly love their friends,
And now so do we, here, now,
This year and every year.
Welcome Yule
Janet Kipp Tribus is featured in Vero Beach 32963,
the "newsweekly" of Vero Beach, Florida.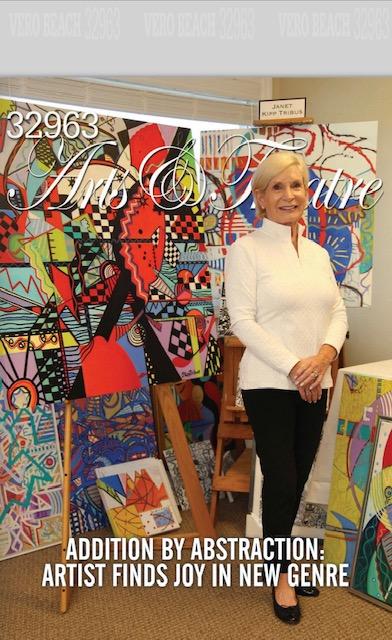 After many years working in a shared studio and gallery space with other artists, Janet has established a private studio in Vero Beach and has made a major change in her painting style. For many years, she was "known for her painted idylls of rolling farmland dotted with little houses and crisscrossed with lanes where, rain or shine, women and girls strolled under open red umbrellas... . "
But four years ago, she became excited by abstraction and started building up a new body or work, exploring the "sharp corners and sensual thrills of the big city -- or at least, sophisticated suburbs." Janet says that she starts each painting by drawing directly onto the canvas with her brush. "I never know what it's going to end up being. I just start with lines and swooping arm movements. I try to keep some lines straight, so that my curvy lines don't make you woozy." But I like to do swooping things."
You can read the entire article here:
http://veronews.com/2020/10/15/addition-by-abstraction-artist-finds-joy-in-new-genre/
From June 2020
The last few weeks have given us a lot to think and talk about. Here are some thoughts from Jack Brigham.
"I hope that you are doing ok during these tough times. Anne and I are staying isolated and this is one time that I am glad I am retired and don't have to deal with a job and daily childrearing responsibilites. Messing with my coin collection and doing genealogical research is keeping me kinda busy. But still bored, too.
I worry particularly about my Seattle daughter's two adopted 12 and 13-year-old sons from Ethiopia in the current racial climate. Esayas is very dark and large, and I worry that he will be seen as threatening by some whites (like police). He is a great kid, but he is also loud and impulsive, which is a scary combination, I think. I wish that I were nearer to them so that I could talk with him about his future. (The same kind of talk that Black parents have had to have with their sons all along in this country.)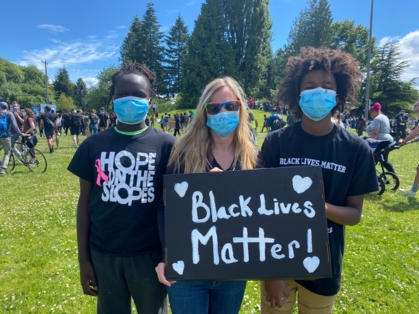 Jack's daughter Tracy and her two sons from Ethiopia. Esayas (left side of photo) is 12 and Zavion is 13. Tracy teaches at a college south of Seattle. One of her courses, which she created herself, is called World Health.
Almost 50 years ago, I coedited a book, Racial Attitudes in America: Analyses and Findings of Social Psychology (1972, Harper & Row). The current situation motivated me to dig out my only copy to see how (or if) it relates to our current troubles. My coeditor and I wrote a 16-page Conclusions section at the end of the book, and I found it interesting to read it today. Parts seem naive to me, and some parts seem not too relevant, but all too many issues are still all-too-relevant today, I'm afraid. I can't decide whether I think that today's seeming societal "awakening" to the horrors of racism is just a blip and things will just go back to "normal" once emotions subside, or if we might have the opportunity to make some meaningful, long-lasting changes in our society.
Jack
If you would like to add your thoughts to this conversation here on our website, please send comments to me (Linda.andre@verizon.net) and I will post them. All comments are welcome, but no over-the-top rants, please.
OR you can send comments privately to Jack through this website. Here's how you do it:
1.Go to Jack's profile page. (Click on "Classmate Profiles" near the top of the left-hand blue margin on this page.) Then find Jack Brigham's name on the list and click on it.
2. Find the envelope icon directly under the photo box. Click where it says "Send Jack a private message."
3. A message screen should appear. Type in your subject and message in the appropriate boxes.
4. Click the blue "Send private message" box at the bottom. That's all you have to do! It's easy!
Ourselves in Masks
There's always room for more mask pictures! Send your photo to Linda.andre@verizon.net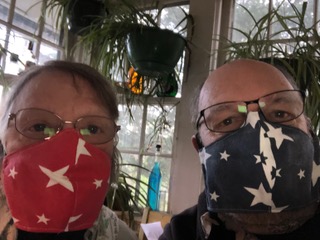 Here are David Appleton and his wife Wendy sporting their new masks. SEE MORE MASKED CLASSMATES BELOW!
Let's add lots more pictures of ourselves in our masks so that we can see that we're all in this together. Send your photo to Linda.andre@verizon.net
..............................................................................
A. Who is this?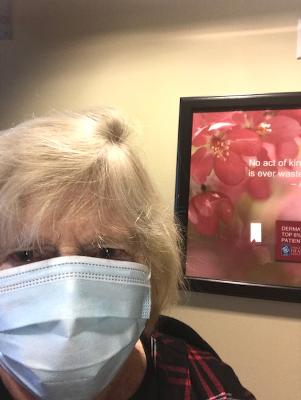 B. Who is this?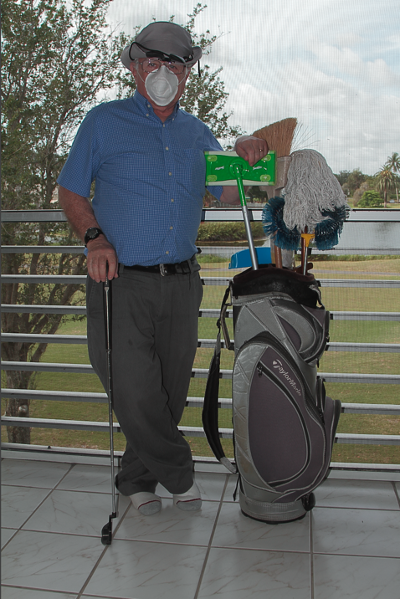 C. Who are they?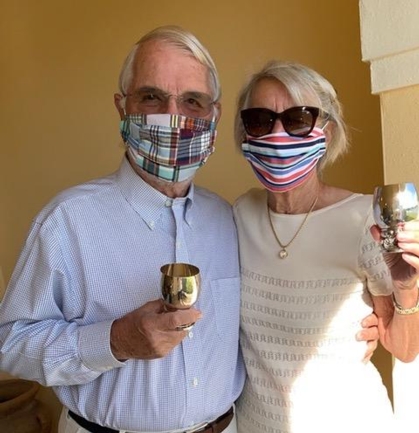 D. Who is this? (2 photos)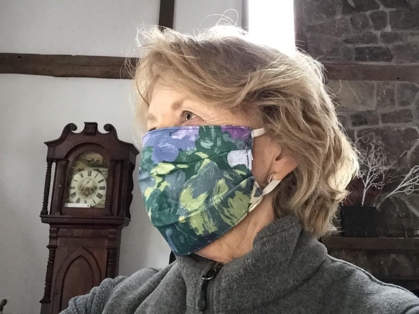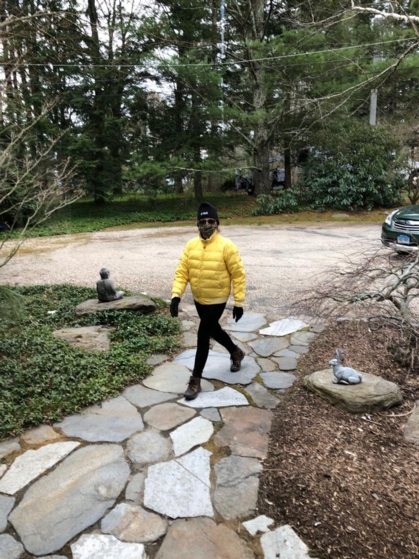 E. Who is this?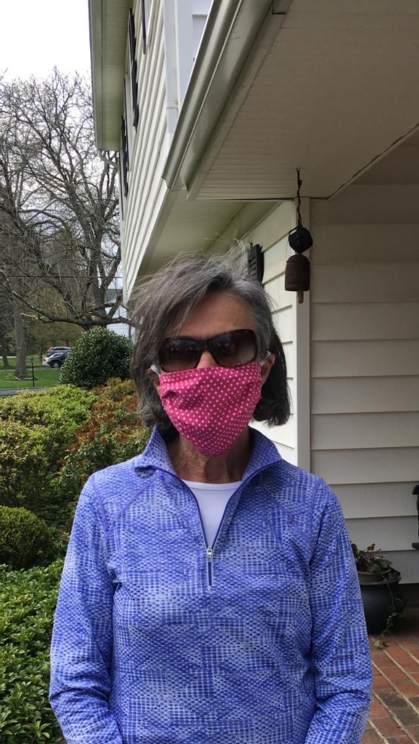 F. Who is this?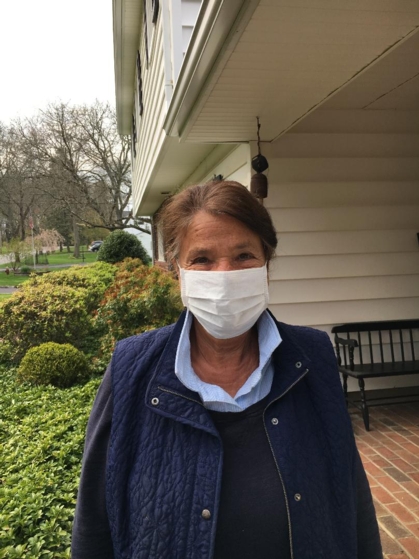 G. Who is this?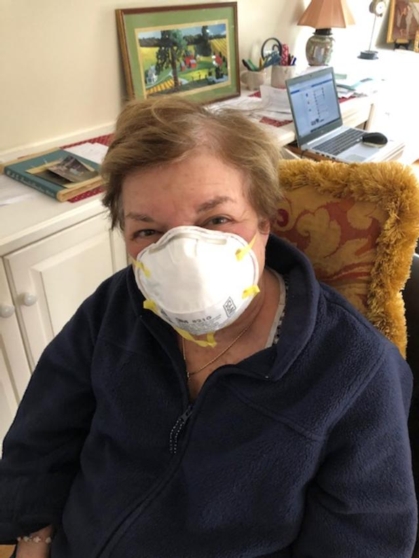 H. Who is this?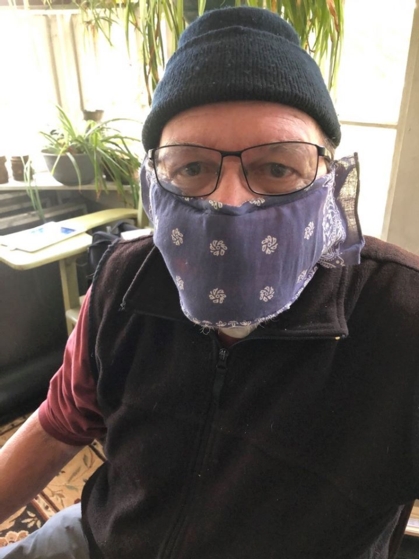 I. Who is this?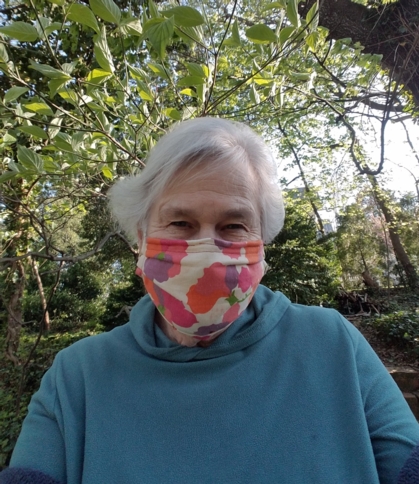 J Who is this? (Hint: Guest member from MHS '61)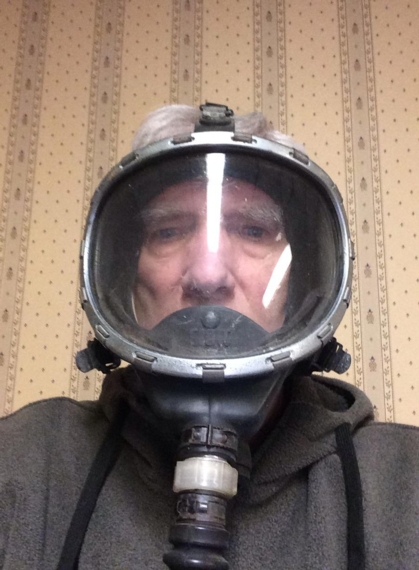 K. Who is this?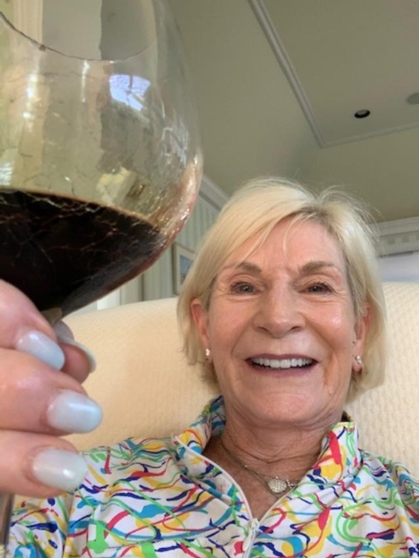 .
Now -- SEND YOUR PHOTO to Linda.andre@verizon.net
...............................................................................................
Mask Photo Answers
A. Patsy O'Shea in Oregon
Patsy explains that she is wearing a surgical mask while waiting to be called into a doctor's office for MOHS surgery that had been delayed due to the pandemic.
Patsy adds, "I loved seeing Mike Brodie's hilarious shot -- especially his array of "golf clubs."
B. Mike Brodie in Connecticut (?)
Mike writes, "I took this picture of myself in home-grown COVID-19 attire."
C. Carol Letson Christensen and her husband, Erik, in Florida
Carol writes, "Erik and I recently celebrated our wedding anniversary outside, safely distanced, with neighbors."
D: Susan Becker Knight in Connecticut
E. Suzy Bruett Gumm in New Jersey
Suzy writes, "Mildred Ferrara Scola lives near me so on some nice days (which have been rare) we have had fun visiting spacing ourselves at least 6 ft apart. A friend made my mask and now I am making some masks for a local organization and Mildred's was more of a paper one."
F. Mildred Ferrara Scola in New Jersey
G. Rosemary DiGeronimo Sternbach in New Jersey
H. David Appleton in Pennsylvania
I. Linda Linnard Andre in Maryland. "I made my mask out of cloth from an old ironing board cover. I made my husband's mask out of his old plaid flannel pajamas."
J. Wayne Hansen, MHS '61. "This is not exactly what is being suggested or recommended here on Massachusetts. But had this mask from doing field work in a chemical plant many, many years ago.
K. Janet Kipp Tribus in Florida. "Me in isolation! No mask, but happily with wine and a smile!
Here's Janet again, working in her studio. To see more of Janet's dazzling paintings, be sure to check out her updated website at www.jkipptribus.com From the Home page, click on "Works" to see lots more!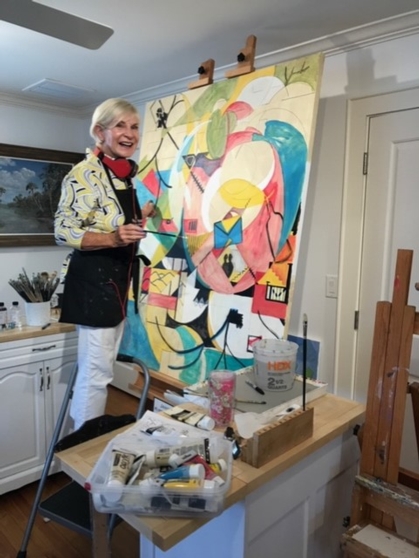 ...................................................
Jim Cestone sent these photos of the pandemic of 1918. It looks like we have a lot in common with these people from about 100 years ago when our parents were young. Thank you, Jim.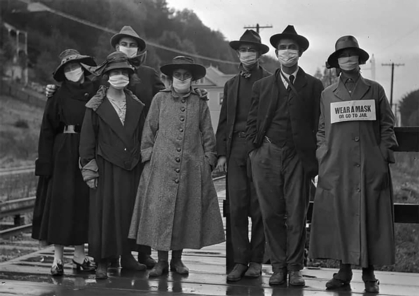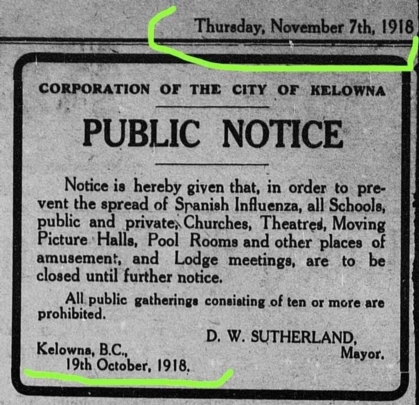 Here's a poem that's just as good now as when it was written.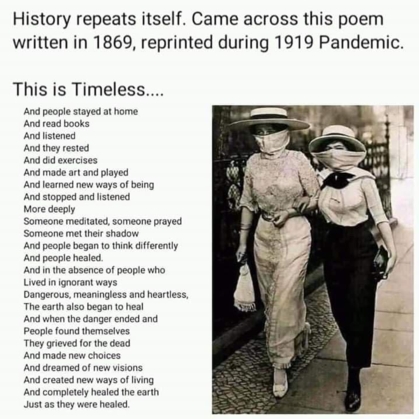 BOB and CAROLE RUTAN
PAUL and DENISE DORAN
enjoying a "micro-reunion" in Estero, southwest Florida on March 12.
They all send greetings to MHS '60 and wish everyone good health!
Are you planning a mini-reunion of classmates in your part of the world?
Be sure to send a photo for everyone to enjoy.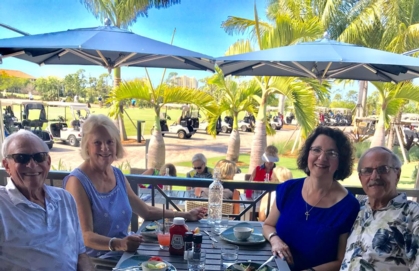 Our Class Fund
We have a considerable amount of money in our class fund. Should we let it just sit in the bank in case somebody wants to plan a reunion in Montclair? Should we rethink the way we do reunions? Should we join forces with another MHS class? Should we split up the money and let classmates plan mini-reunions in various parts of the country? Should we forget about reunions and use the money to establish a Class of 1960 Scholarship for MHS students? All ideas are welcome!
............................................................................................
I've moved a few things around --
I moved four of David Appleton's stories to the "Stories From My Past" section. (Click on it in the blue sidebar on the left side of the home page, 6th item from the top.)
In Spit Valve Humiliation, we see David auditioning to play the trumpet in the Watchung Elementary School Bend.
In Good Humor Man Career we drive with David on his ice cream truck.
In Patsy's and the Allure of New York: Bringing in the '60s, we join David and his buddies on a drinking expedition to New York City.
Since we are all about 77 years old, there must be a lot of good stories from our past out there, just waiting to be told. If you have your own stories to share, please send them to me (Linda), and I will add them to the site.
If you're looking for Jack Brigham's, Ralph Davidson's, or Lawrence Robinson's genealogy stories, just click on "Genealogy" in the blue sidebar on the left. If you have your own genealogy stories to offer, I'll be glad to add them any time.
If you'd like to write a memoir about a family member or friend, there's a link to a "Family and Friends Memoirs" section, also in the blue sidebar. Brad Stark's memoir of his father is in that space. Please feel free to write about someone important to you.
There's plenty of room for new contributions from you!
Looking back to graduation
Here's the 9th grade graduating class from Mt. Hebron.
(The photo is split up into 3 parts, kindness of Rick Boschen).
How many classmates can you name?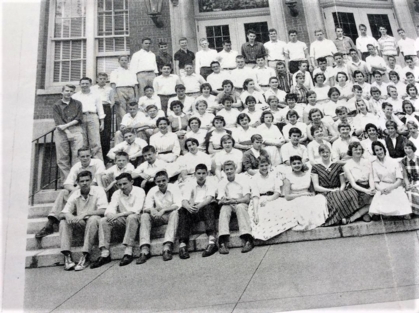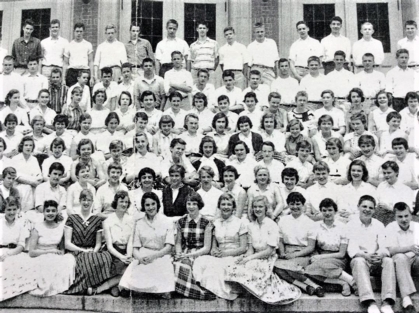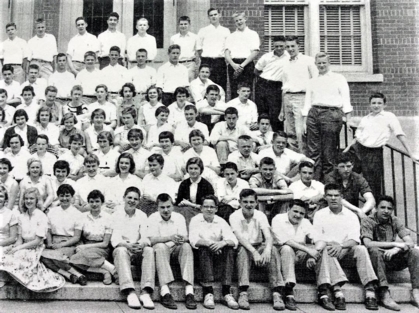 Mt. Hebron Update:
Mt. Hebron is now officially "Buzz Aldrin Middle School. It is a STEM magnet school (Science, Technology, Engineering and math) with an enrollment of about 640 students in grades 6-8.
There have been quite a few changes in the Montclair Public School System since "our day." Take a look at their website https://www.montclair.k12.nj.us/ To see the website of your old school, find the black horizontal band at the top of the page and click on "Select a School."
Here are a few changes that I noticed:
- Edgemont Elementary (K-5) is now a Montessori School.
- Nishuane (K-2) feeds into Hillside (3-5). Both have a Gifted and Talented focus.
- Edgemont and Hillside both feed into Glenfield Middle (6-8) which is a Visual and Performing Arts magnet school.
Charles H. Bullock (55 Washington St.) is an elementary school with an environmental science theme. It feeds into Renaissance at Rand Middle School.
Bradford, Northeast, and Watchung elementary schools all feed into Buzz Aldrin Middle (formerly Mt. Hebron Jr. HS)
George Inness Jr. HS is now the "9th Grade Academy." It houses the entire 9th grade for MHS in what is now called George Inness Annex.
Here's the Feeder diagram so you can see for yourself!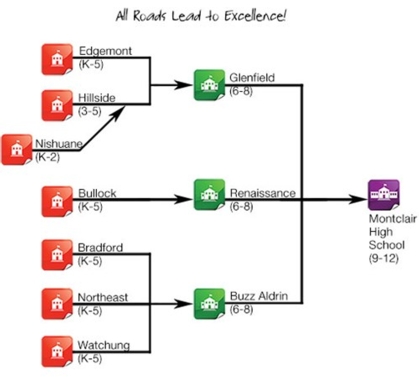 While you're at it, check out the courses that MHS offers these days at https://mhs.montclair.k12.nj.us/academics/course_syllabi
Scattered among all the old familiar courses are titles that show how times have changed: Robotics, African-American Literature, Satire and Protest Literature, Environmental Science, Forensic Science, Global Studies, Women of the World, Digital Design, Mandarin, and more!
.................................................................................................................................
Surely you recognize this man.
But do you know WHERE he is?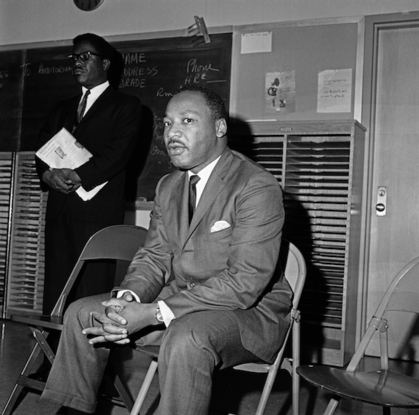 Lawrence Robinson alerts us to a recent article in The Montclair Dispatch entitled
"Lost in History: Dr. Martin Luther King Jr.'s Visit to Montclair High School."
The article of September 11, 2018 begins:
52 years ago, during a firey time in the United States and around the world, Dr. Martin Luther King, Jr. made a controversial visit to this very town, possibly at the peak of his notoriety. Just two years prior to his assassination and untimely death, King arrived in Montclair, making town history by stopping into the Montclair High School band room.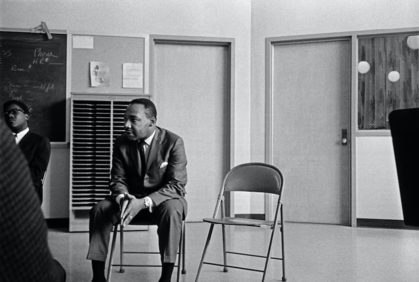 The article tells how Dr. King went to Montclair to speak to a local church congregation. But so many people in the larger community wanted to hear him speak that he appeared first in the high school gym, and later spoke to the church congregation in the high school auditorium. As he waited in the MHS band room before going onstage, protesters were demonstrating outside on Park Street. A plaque commemorating Dr. King's speech at MHS has been placed in the band room.
The entire article gives you a good sense of the mood in Montclair in 1966, six years after our graduation. You can read the whole article here:
https://montclairdispatch.com/lost-in-history-dr-martin-luther-king-jr-s-visit-to-montclair-high-school/?fbclid=IwAR0o0uJdQj88pTuz9AywzCx9nJqGiKj4cyBC4gpJGuBgxbydH0Pi4qbePqI
Thank you, Lawrence, for sharing the article with all of us.
...................................................................................................
Reunion Survey for 60th Reunion in 2020
33 classmates have responded to our Reunion Survey. (If you haven't returned the survey yet, click on "2020 Reunion Survey" -- the 3rd item from the top in the blue sidebar on this page.)
Here's a brief summary of what we have learned so far. Please feel free to respond with comments or more ideas about what kind of reunion you would like to have. (Email Linda.andre@verizon.net or use the "Post a Comment to the Class" on the "What's New" page described above.)
1. Of the 33 responders, 27 said they would "absolutely" or "probably" attend a reunion. However, many classmates have not responded to the survey. Does this mean most classmates are not interested in a reunion? Or ambivalent? If so, should we rethink the way we have always done reunions? For example, should we "downsize" and have a dinner at a private room in a restaurant instead of renting a hall with a DJ? Join forces with another MHS class?
2. Classmates who said they would not attend explained that they did not want to travel because of health or financial issues, or because they didn't like high school very much. Some preferred to "let the past stay in the past."
3. Spring and Fall were the preferred times of year for a reunion.
4. A weekend or long weekend was preferable to mid-week.
5. Most said they would attend both daytime and evening events although some said they would attend evenings only.
6. Most said they would be able to drive to events (day or night) although some indicated that they would be more interested in excursions to places outside of Montclair if they did not have to drive. Can local classmates suggest some interesting places to visit?
7. The great majority favored casual, informal, events with open seating and opportunities to mingle and roam. (Many people mentioned the wonderful atmosphere at our Friday night gatherings at Warren's house.) Again, can local classmates suggest suitable places for daytime gatherings?
More individual comments from various classmates:
Offer a FaceTime Virtual reunion with people who can't make the trip.
Hold the reunion dinner at a hotel location so people don't have to drive somewhere else.
Keep the price low so that everyone feels welcome.
How about having some programing on Sat. night (at dinner or cocktail party) that would mold us into a group rather than individual islands of "old" high school friends? Ice-breaking activities that would highlight individual personalities, experiences, and interest and get us moving around? One reward that I took away from previous reunions was meeting classmates with whom I had only a nodding relationship with in High School. I would like to have such opportunities repeated. We need activities to mix us up and introduce unexpected common threads.
I vote for no loud music that makes conversation during the greeting period or dinner an insurmountable challenge.
A balance between non-program time and group togetherness would work for me.
A visit to the High School on a Friday if that could be arranged. Perhaps ask if small numbers of us could observe a class to see how technology is used in classrooms today? Or perhaps we could use a high school classroom for interesting discussions among ourselves? We have a lot of money in our class account. Should we think about contributing to the High School's Scholarship fund?
Offers to help: We have quite a few people who have offered to help by phoning, emailing, texting, sending postcards to classmates, or helping in other ways to spread the word about reunion and encourage classmates to come. They are: Don Lefelar, Rick Boschen, Donna Lake Wright, Paul Doran, Gene Mazzola, Barry Hampton, Christie Calder Salomon, Rob Rutan, Michael Pecherer, and Susan Becker Knight.
However, at this point we do not have any information for them to disseminate! In order to have a reunion, we need to have a group of planners who could make some decisions about when and where it will be, and what kind of activities we would like to have. For most of our reunions, a group of Montclair area classmates met togther to enjoy each other's company and plan an engaging reunion weekend. Last time, there were no physical meetings -- everything was discussed and decided by email between committee members across the country.
The software system that operates this website (ClassCreators.com) also offers very straightforward FREE online systems for Event Planning (posting information, registration, taking payments, making nametags, etc.) This might be an option for classmates who would like to help and are comfortable with the computer.
So far, three classmates have offered to help with some aspects of reunion planning, but we clearly need more help to make a reunion happen.
Warren Ross has again offered to host a Friday night gathering at his Montclair house and reserve the golf course. Thank you Warren!
Barbara Mansell Ramsay, who served as treasurer on previous reunion committees has offered to help again. Thank you Barbara!
Delores Morton Munford has offered to help organize the reunion. Thank you Delores!
**************************************************************************************************************************
Are you looking for old reunion photos? You can still see all of them in the "Photo Gallery" section of this website.
Click on "Photo Gallery" in the blue sidebar directly under "Home Page." You'll come to a long list of "galleries." Scroll all the way down until you see a lot of square pictures with paperclips in the corner. The 2016 reunion photos are organized in two groups. The 1st "gallery" is called "2016 Reunion - Friday." The 2nd gallery is called "2016 Reunion - Saturday."
Each photo gallery has up to 12 photos per page, and there may be several pages in a gallery, so be sure not to miss any. If you need help telling who's who, just hold your mouse over the photo and a caption should appear. Click on the photo if you want to enlarge it.
Do you have any reunion (or other) photos to share? We welcome them all. If you want to post them yourself, click on the place at the bottom of any gallery page where is says, "Create Your Own Photo Gallery here. You should see instructions that tell you how to upload your own photos.
Don't like your picture? If you would like me to remove a photo, just let me know which one, and I'll be happy to take it off the website. (Linda.andre@verizon.net)
If you'd like me to upload your photos, that is fine. Just send them to me and I will be happy to post them on the website for you. (Linda.andre@verizon.net)
What would you like to tell your classmates about reunion weekend? Send me your stories, thoughts, memories, and I will post them here.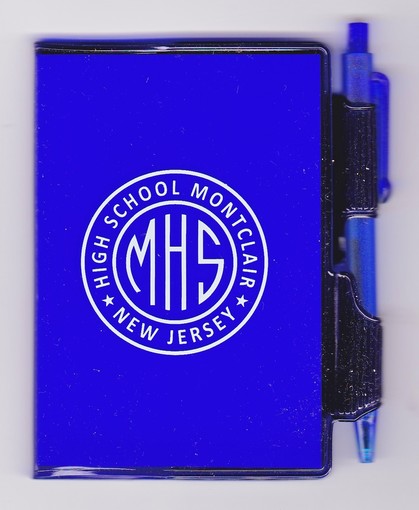 This is a "mini-notebook" that we gave out at the reunion so that everyone would have a place to jot down a name, address, or email address during the evening. It is about 3-3/8 by 4-1/4 inches and fits easily into a pocket. There are lined pages inside. We have about 24 left over. If you would like one, let me know and I will send it to you using our leftover stamps. Be sure to send me your correct address!
.....................................................................................................................................................
SENIOR YEARBOOK PICTURES
We now have all the pages of our senior yearbook pictures posted on this website, thanks to Gene Mazzola, who brought me his yearbook to be scanned To see them all, just go to the blue sidebar on the left side of this page and click on Senior Yearbook Photos. Many thanks to John Sproston for initiating this project, and to Gene and Chris Graber for providing pages.
Would you like to find out whether other classmates share your special interests or activities? For example, I teach ESL (English as a Second Language) to adult students and would love to find out whether any other classmates do the same. Let me know if you have special interests that you would like me to publicize on this website.
HOW TO SEND MESSAGES THROUGH THIS WEBSITE
We'd like to hear from you!
If you'd like to send a message to the whole class:
1. Go to the "What's New" page at the very top of the blue margin on the left side of this page.
2. Look for the gray box on the top that says "Post a Comment to the Class."
3. Write your message in the box that says "Share Your Thoughts with Classmates."
4. Include a photo or video if you like (that would be great!)
5. Click on the blue "Post Message" box.
If you'd like to send a private message to a Classmate:
1.Go to the classmate's profile page. (Click on "Classmate Profiles" near the top of the left-hand blue margin on this page.)
2. Click on the envelope icon directly under the photo box where it says "Send [classmate's name] a private message."
3. When you get to the message screen, type in your subject and message in the boxes.
4. Click the blue "Send private message" box. That's all you have to do! It's easy!
Guest Members on this website
It is now possible for a member of another MHS class to join our website as a "Guest Member." Guest Members will be able to have their own profile page and they will be able to send and receive messages through the site. They will be able to remain guest members as long as they do not harass any class member or post objectionable material. If a member of another MHS class wishes to become a Guest Member, he/she should contact me directly to request guest membership and I will enter his or her information in the site's database and provide information about how to sign up. Nobody will be able to join the site without going through that process. If you have questions or concerns, please let me know. (Linda.andre@verizon.net)