Montclair High School
Class Of 1960
Stories from My Past
The Place Where I was Born
by Roxine Clark Garriss, MHS '60
A friend of mine from the Bay Area where I used to live, called me and said he was doing a story about Montclair, N.J. I asked why, and he said that he's been told that it has become the 'Park Avenue' of New Jersey. I thought about that for awhile and thought of Whoopi Goldberg on The View who commented recently about the "glories of a town in New Jersey called Montclair" where she has friends who've opened a diner/restaurant there. Then, HGTV did a bit on our town. All of this has reminded me of the 'glories' of living and being raised in Montclair. I went to Glenfield school from Kindergarten to the 8th grade. I learned how to ride my bike in Glenfield Park. I remember on Woodland Ave. watching older Italian men playing bocci ball and the smells of good cooking coming from the many homes in the 4th ward. Once a year there was what was called 'the Italian Feast' which was held on Pine Street by a large Catholic Church. A parade of the Virgin Mary and other saints, all of the food vendors and crowds of people were so exciting. I'm sure a lot of you will remember these times.

I remember the camaraderie of all the students at Glenfield, and Montclair High. Remember the first prom at Glenfield, the fourth of July fireworks, ice skating at Edgemont pond. My dad was raised in Montclair, skated the same pond, graduated from the same school. So much to remember about home. I'm proud of the fact that I've these wonderful memories. My PCP doctor is a young woman from Fort Lee, NJ and when she asked where I was from (because I don't have a southern accent here in Atlanta) and I told her, she replied, "really nice area!" I guess Montclair is the Park Ave. of NJ.
New recollections from David Appleton!
"As the holidays approach my thoughts, like all of ours, yearn to the days of our youth and growing up in Montclair. I find it extraordinarily satisfying, even comforting, to be able to reach out (hate that term) and touch friends over vast distances and time, to remember our time together growing up in an idyllic time and place. We were miraculously shielded and innocent.
Today's technology is both wonderful as well as terrifying. Our innocence was eroded quickly in the turbulent 60's, but it's soothing to recollect those days of gentle grace and affection. This makes me happy."
In this newsletter, David posts his recollections of Gordon Lightfoot's 1976 ballad Wreck of the Edmund Fitizgerald which tells the story of a shipwreck on Lake Superior. The references to the "gales of November" may make you glad that you're warm inside. Thank you, David.
Edmund Fitzgerald's Grave
By David Appleton
The legend lives on from the Chippewa on down
Of the big lake they called Gitche Gumee
The lake, it is said, never gives up her dead
When the skies of November turn gloomy
To read the entire 14-verse ballad, scroll down to the end of David's article.
To hear the song, go to: https://www.youtube.com/watch?v=9vST6hVRj2A
Gordon Lightfoot's "Wreck of the Edmund Fitzgerald" ranks high among my favorite ballads. So in September of 2011, when I found myself traversing Michigan's "UP" [Upper Peninsula] from Marquette to Mackinaw once again after many years' absence, and as a former sailor on big waters, I was irresistibly drawn to Whitefish Bay, the scene of the wreck. There I visited the Great Lakes Shipwreck Museum dedicated to the Fitzgerald tragedy along with many others.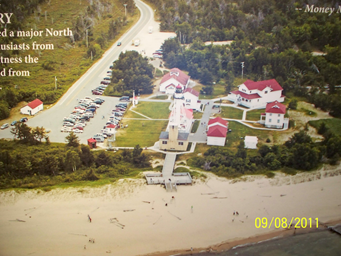 An aerial view of the Great Lakes Shipwreck Museum compound built around Whitefish Point's critical light house.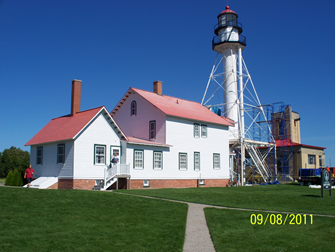 Whitefish Point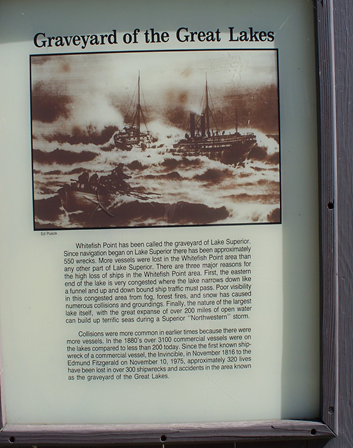 Whitefish Point is a legendary dangerous piece of water, like Cape Hatteras on North Carolina's Coast, the "Graveyard of the Atlantic." Both have a confluence of currents, winds, shallows, narrows, weather and traffic that conspire to create Neptune's Witch's Brew of boiling seas and general nautical mayhem. More than 260 wrecks occurred in the Whitefish Bay and Point area costing many lives, including the 29 crew on the Fitzgerald.
I've not sailed off Whitefish Point but I have sailed many times off Cape Hatteras, even daringly in November. Often while there, I felt something from foolish, to cautious and terrified. All sailors will empathize.
I lived on Michigan's Upper Peninsula for a couple of winters in the early 70's where I saw ice chunks piled high on Lake Superior's southern shore, hurled there by fierce North winds. These ice piles, sometimes reaching over 20 feet high, attested to the power of winds blowing unchecked across many miles of Lake Superior, from Thunder Bay to the UP. Such winds contributed to the demise of Edmund Fitzgerald and many more unfortunate "Lakers."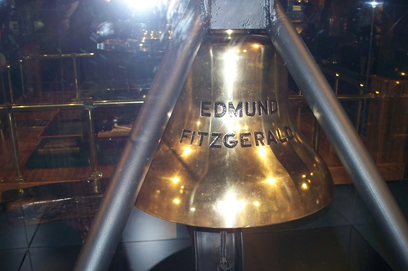 The carefully encased display of Fitzgerald's ship's bell summoned my tears. The effort to recover it from the wreck was heroic. This too is documented in the museum.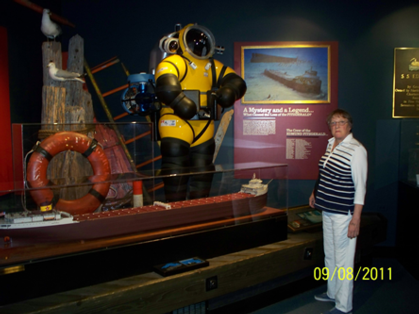 My wife, Wendy, contemplates the display depicting the July 4, 1995 recovery of Fitzgerald's Ship's Bell. The display features the atmosphere diving suit used in the recovery, a model of Fitzgerald, and a painting depicting how she lies broken in half like the hearts of her crew's families and Lightfoot's listeners.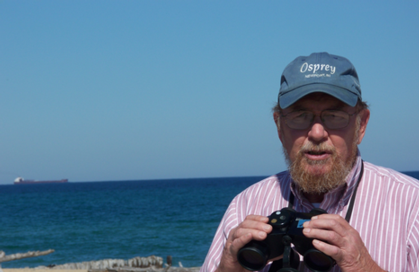 Here I'm standing on the Whitefish Point beach with the Bay in the background. Over my right shoulder looking NNW is an ore boat "Laker" similar to the Fitzgerald sailing East toward Sault Ste. Marie. She's near the area where the Fitzgerald went down on November 10, 1975. Fitzgerald lies there broken in half on the bottom in 530 feet of water -- her grave and that of her crew. Maritime authorities in Canada and the US have restricted diving on the wreck out of respect for the sailors aboard and entombed within the Fitzgerald wreck.
Wikipedia has an extensively thorough entry on the Fitzgerald covering all aspects of the ship and the wreck. https://en.wikipedia.org/wiki/SS_Edmund_Fitzgerald. But my interest in this event, like many, was poet Gordon Lightfoot's searingly poignant ballad that captures the emotion of the wreck, sharing it with all who listen and feel the peril of those who sailed on Fitzgerald's last voyage and all who sail on troubled waters.
The legend lives on from the Chippewa on down
Of the big lake they called Gitche Gumee
The lake, it is said, never gives up her dead
When the skies of November turn gloomy

With a load of iron ore twenty-six thousand tons more
Than the Edmund Fitzgerald weighed empty
That good ship and true was a bone to be chewed
When the gales of November came early
The ship was the pride of the American side
Coming back from some mill in Wisconsin
As the big freighters go, it was bigger than most
With a crew and good captain well seasoned

Concluding some terms with a couple of steel firms
When they left fully loaded for Cleveland
And later that night when the ship's bell rang
Could it be the north wind they'd been feelin'?
The wind in the wires made a tattle-tale sound
And a wave broke over the railing
And every man knew, as the captain did too,
T'was the witch of November come stealin'

The dawn came late and the breakfast had to wait
When the gales of November came slashin'
When afternoon came it was freezin' rain
In the face of a hurricane west wind
When suppertime came, the old cook came on deck sayin'
Fellas, it's too rough to feed ya
At seven p.m., a main hatchway caved in, he said
Fellas, it's been good to know ya

The captain wired in he had water comin' in
And the good ship and crew was in peril
And later that night when 'is lights went outta sight
Came the wreck of the Edmund Fitzgerald
Does any one know where the love of God goes
When the waves turn the minutes to hours?
The searchers all say they'd have made Whitefish Bay
If they'd put fifteen more miles behind 'er

They might have split up or they might have capsized
They may have broke deep and took water
And all that remains is the faces and the names
Of the wives and the sons and the daughters
Lake Huron rolls, Superior sings
In the rooms of her ice-water mansion
Old Michigan steams like a young man's dreams
The islands and bays are for sportsmen

And farther below Lake Ontario
Takes in what Lake Erie can send her
And the iron boats go as the mariners all know
With the gales of November remembered
In a musty old hall in Detroit they prayed,
In the maritime sailors' cathedral
The church bell chimed till it rang twenty-nine times
For each man on the Edmund Fitzgerald

The legend lives on from the Chippewa on down
Of the big lake they called Gitche Gumee
Superior, they said, never gives up her dead
When the gales of November come early
By Gordon Lightfoot
Spit Valve Humiliation
By David Appleton
David says, "We all have suffered failed hopes and ambitions, beautiful but unrealistic, but nonetheless helpful in forming our lives. Reflecting on them helps us understand who we are. So I share this one with you....
I was in about 3rd or 4th grade in Watchung School on Fullerton Avenue in Montclair and I aspired to be a trumpeter like Louis Armstrong. Thinking about it now in 2019, I'm amazed at the heroes I worshipped as a kid. Many were black, and this was during the intensely racist 40's and 50's and I was a white kid. In baseball it was Roy Campanella, Brooklyn Dodger legend, so I aspired to be catcher; in music it was Louis Armstrong and later Harry Belafonte. Louis prompted my desire to play the trumpet, and Harry led me into the world of folk music which I enjoyed and practiced into my college years and beyond, even to today.
But my efforts to follow Louis Armstrong into cornet and/or trumpet fame proved most humiliating. At the tender age of 7 or so, inspired by Louis, I took trumpet lessons on Saturday mornings in George Inness Jr. High School on Park St. in Montclair, NJ. After achieving a smattering of competence I approached Miss Ellis, 6th grade teacher and music director of the Watchung School Band, a group of maybe 8 or 10 kids of varying degrees of musical ability, seeking membership in this elite group of fledgling musicians.
Miss Ellis granted me an audition. I was scheduled to appear before the band during an after school rehearsal and play a short piece, solo, this in front of this group of my peers all of whom had achieved membership in this band enthusiastically flaunting their accomplishment.
To say I was nervous would be a gross understatement. I was damn near peeing my pants. I got my "axe" and practiced the piece in a vacant classroom, " My Country, 'Tis of Thee," (or 'Tis a V as the case may be) several times before going to the audition. I had it down pat thus my nervousness subsided.
So I marched down the stairs and on through the hallways to the Watchung School Auditorium just across from the gym at the appointed hour with a measure of confidence and found there the band seated quietly with defiant smirks plastered on their faces awaiting the events. Miss Ellis introduced me, I smiled at the group as they smirked back, and I confidently began to play my audition piece….
Out of the bell end of my horn came the most Godawful sound imaginable. It was like an ill-formed fart, full of airiness but lacking proper timber or tone. I blew harder as if to banish this hateful noise but this only made it worse. My face reddened with the added effort and associated embarrassment. The audience's smirks morphed into suppressed giggles. This went on for a minute or so before Miss Ellis put a merciful end to my humiliation, suggesting I should, "Practice some more and come back in a week or two.."
I slunked out of the auditorium in tearful despair. Behind me I heard Miss Ellis admonish the band, whose giggles had now become near belly laughter, telling them they were being impolite to "our guest." My despair now grew into anger and visions of revenge danced in my brain as I returned to the classroom to put my horn back in its case.
"What happened??" I thought. I tried playing the instrument again….. same fartlike sound. I investigated, carefully surveying the rented trumpet. Then I discovered the culprit. The spit valve was operating properly, but missing the pad that keeps it sealed when not in use. Air leaked out with each blow into the mouthpiece thereby creating the hated fart sound.
Apparently during my practice sessions I had operated the spit valve too vigorously and the pad had come loose and ejected just before my audition. God knows my salivary glands worked overtime as my apprehension grew.
I frantically looked around the room scouring the floor looking for the errant pad. Not finding it I explored the notion of a substitute. The image of a rubber band insinuated itself and I found one. I balled it up and stuffed it into the spit valve hole with the valve lever sprung closed holding in place. It worked.
Thus repaired I played my audition piece again. The sound left the horn with something less than graceful beauty I might have wished for but at least without the vile fartlike sound of my audition.
I was overjoyed at discovering the flaw in my audition was not my fault. I thought of racing back to the auditorium to explain and retry my audition piece with my spit valve repair in place.
But then I thought of the smirks, the giggles and laughter and Miss Ellis's condescending remarks. I put my rented horn in its case and walked home.
I did not reapply to join the Watchung School Band. I gave up the trumpet and dreams of becoming the next Louis Armstrong.
June 30, 2019
Patsy's and the Allure of New York:
Bringing in the '60s
by David Appleton - 12-31-2018
Growing up in Montclair in the 1950s meant looking forward to the time we could drink with impunity as "grown ups." This was not a good goal, nevertheless many of us aspired to it. This was much like the appeal of drugs to our current youth, seeking oblivion or escape from the pain of adolescence. For us drinking looked like being an adult, so we emulated maturity with booze. Drinking age in New Jersey in the 50s was 21, while in New York it was 18. Montclair was situated conveniently about 17 miles from New York City and about the same distance from Greenwood Lake, New York.
Starting at about 14 many of us thought drinking to intoxication would be a good thing to do, a short course to oblivion, pain relief and/or our perception of adult behavior, a rite of passage of sorts. Some of us started raiding our parents liquor cabinets for a quick buzz or high. I did this before winter ice skating evenings on Edgemont Pond, thinking a short snort would fortify me against the cold, and loosen my inhibitions regarding talking to girls. As for the former it had the opposite effect; and I don't think it helped with the latter either. We also looked east or north to the less restrictive laws of NY State. I was in both groups, regrettably. New York City was an urban prize for aspiring drunks. Greenwood Lake offered a more rustic setting. Both were frequented with enthusiasm by me and many of my cohorts.
Patsy's, actually The Coliseum Bar and Grill situated directly across West 58th street from the Coliseum, somehow became the watering hole of choice for generations of Montclair High School imbibers. Perhaps this was because the duty barkeeper seldom asked for proof of age. I remember being taken there by some upper classmen when I was maybe 15 or 16. I was promised there would be a floor show at midnight. I was eager to see this, imagining scantily clad girls with alluring smiles and loose morals. I was disappointed. The "floor show" turned out to be a couple of smelly trash collectors dragging garbage cans filled with even more smelly contents noisily through the bar and out the front door to their truck. They were on time. It was midnight. We drank the drink of choice at Patsy's, 7&7s, to drown our disappointment.
Despite my disappointment I frequented Patsy's many times over the next couple of years. Rides back to Montclair were often scary to terrifying. I remember one such with Alan Jacobus when I found myself trembling on the floor of the back seat of his car as he meandered through the Lincoln Tunnel, bashing wall to wall at 3 am. I lay on the floor petrified, scared sober as we sped along route 3 passed the Rizzuto/Bara bowling alley. We got home somehow and I found myself miraculously unscathed but in need of another pair of shorts. I prayed giving thanks.
So as December 31, 1959 drew near a bunch of us scheduled to graduate Montclair HS next June thought, "wouldn't it be a great idea to watch the ball drop at Times Square IN Times Square?!" Alternative destinations included Patsy's and nearby Ames Billiard Parlor but we focused on Times Square and the traditional ball drop into the next decade, the '60s.
We hopped on a DeCamp bus in Upper Montclair and headed to NYC early that evening. I can't recall the entire entourage, but I know John Wharton, Bob Mills, Jack Hook and others were in attendance. We were the somewhat less desirable members of the MHS graduating class social hierarchy. But we were proud of our ability to consume liquor and beer in respectable quantities. Once in the city we found a liquor store and bought some booze, no doubt of the rotgut variety since our taste was inadequate to poor.
Proceeding to Times Square we soon found the crowd oppressive and the whole situation not to our liking. We resolved to leave. By 11 pm 12/31/1959 we worked our way back to Port Authority Bus Terminal and boarded the next DeCamp 66 bound for Montclair. As the '60s rolled in on the East Coast of the United States and New Jersey, we celebrated in the back of that DeCamp bus, while crossing the fragrant meadows of Secaucus, swilling communally from bottles of rotgut whiskey and behaving badly.
Once home in Montclair Hook offered his mom's apartment as a place to continue the party. His mom was gone for the Holidays so the venue was available free of parental restraint. We staggered there and spent the rest of the night drinking boastfully …. and barfing furiously, then resolving never again to pursue such destructive behavior. These resolutions were not honored.
That Friday morning, 1/1/1960, we found ourselves severely hung-over, seeking remedies, finding none. Thus began for me, perhaps for many of us, the most tempestuous decade of our lives, the '60s. Was there a message, a meaning in this event? …. I wonder.
David Appleton
12/31/2018
David Appleton's story of how he became a Good Humor Man.
David first posted this story on Facebook's "Growin' Up in Montclair" site. It is a closed Group which you can join by going to:
https://www.facebook.com/search/str/growin'+up+in+montclair+nj/keywords_search
David says, "This is a great place for us codgers to browse and reminisce."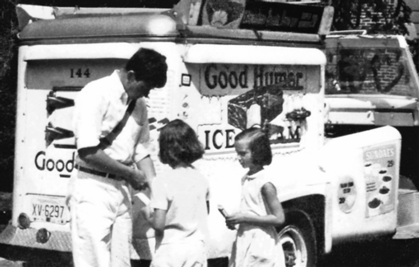 Good Humor Man Career, May to July 1964
by David Appleton
My Good Humor Man Career was short but it provided some enjoyable and/or memorable mini adventures.
I was inspired to become a Good Humor man by Horace, a black fellow from Newark, NJ who drove a Good Humor route in Montclair, NJ. He drove one of those classic Ford trucks with a four-speed stick transmission that made a lot of gear grinding noise going down the street, especially in first gear.
There was no roof over the cab of these white trucks which featured a large freezer on the back with two refrigerator-like doors, one in the back and one on the right side. We filled this cold box with various Good Humor popsicles and ice cream treats. As a kid, I loved Good Humor …. toasted almond was my favorite. I remember Horace visiting Woodman Field after football practice 1957-60 when I pretended to play both offensive defensive end and sometimes linebacker for Montclair High School. Mostly I warmed the bench. I devoured toasted almond ice cream popsicles on my walk home from practice.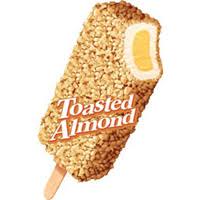 These Good Humor trucks also featured a set of bells on the front which the driver would ring with a rope lead to the driver position. These bells provoked a Pavlovian response from neighborhood kids as Horace cruised by slowly, bells a-ringing, stopping at regular spots so the kids could purchase Horace's GH treats. Kids flocked to the street like ducks chasing bread crumbs on Edgemont Pond!
Horace became something of a local hero in Montclair. He often visited Zeevalk's Sunoco on Valley Road in Upper Montclair, about a half block down the street from Bond's famous ice cream parlor. He'd come in, bells a-ringing, about 7:00 or 7:30 on spring and summer evenings in '60 through '64. I often would be working the pumps at Zeevalk's when Horace stopped by. I worked there evenings for a couple of years. And usually we had a bunch of my friends or other Zeevalk aficionados hanging around working on their cars and tellin' lies. We occasionally bought a popsicle but we were more interested in the freezer on the back his truck.
Since Horace was in his twenties, and he could legally buy beer and other goodies in New Jersey, we enlisted his aid. We (all 18 or less seeking suds) recruited him, giving him some money, enough for a case of beer or two plus an extra few bucks for a "runner" fee. Horace would drive off to the nearby liquor store, buy our order and return with this contraband cooling in his freezer which we denizens of Zeevalk's promptly transferred to the soda vending machine. This routine was limited to Friday nights and weekends mostly.
This went on for several years. Horace was exceptionally reliable, and well rewarded. I left college in June 1961 and worked at Zeevalk's on and off from then through July 1964 part time, mostly evenings and weekends. During Fall '61 I worked for Union Carbide in New York during the day. And at night I got off the 66 DeCamp bus in Upper Montclair near Zeevalk's at about 6:00 and ran down Valley Road exchanging my white shirt and tie for a Sunoco shirt to work the evening shift at Zeevalk's pumps until about 10 pm. Horace was always a welcome visitor during the summer months.
In January of '62, I had enrolled in college again locally but still worked at Zeevalk's to help pay tuition while living at home. I bought a '49 Willy's Jeep and plowed snow to augment my income. But my 2nd attempt at college did not work out well. I was asked to leave after spring semester of '64 due to academic underperformance.
At this point, I was at 6's and 7's not knowing what to do next. I thought of Horace.
So I asked Horace about becoming a Good Humor man and he gave me some advice, which I followed. I went to the Newark office on my '63 Honda 305 SuperHawk motorcycle and filled out the application. And in May of 1964, I became a Good Humor driver/vender, shortly after being asked to terminate my college career by the Administration. I went through the training and soon had my own classic Good Humor truck and route.
Actually I had several routes, mostly in Weehawken and Jersey City. I liked the Jersey City route best because it was the most lucrative. But mostly I was assigned to the Weehawken territory, which covered some of West New York as well. This soon became My Route on the Palisades overlooking the Hudson.
While Weehawken didn't pay as well as Jersey City (which actually belonged to a GH perennial, Jake, who lived in Florida during the winter but returned to Newark every year for the Good Humor Season) I was just a sub for his days off. So I settled for Weehawken which offered Hamilton Park (named for Alexander Hamilton and the famous duel) on the NJ Palisades directly above the Lincoln Tunnel. What a marvelous view of the Hudson River and New York City this site offered. This was a great place to park my truck and enjoy the view while peddling my wares.
I spent most of my time in Weehawken stationed in or near this park, high on the Palisades over the river. I loved the view of the New York Harbor and enjoyed working the park every day. I watched the ships come and go, even seeing the Queen Mary arrive and dock and depart. I have always been enamored of the sea and the vessels that sail thereon. Watching these ships stirred my soul.
On the weekend celebration of the 4th of July in 1964, I watched the annual arrival of the US Navy ships for Fleet Week. This spectacle was really impressive; the USS Forrestal (?), a couple of cruisers and a bunch of destroyers arrived and docked. I was stirred. I determined to join the Navy which I did 7/27/1964. But that's another story.
Often in Weehawkin I'd do the Horace trick and stop by a liquor store to pick up a six pack of Bud or Schaefer and a sub for lunch and throw them in the fridge of my truck and enjoy a nice lunch and brew in the park while contemplating the NYC skyline. Looking back, these seem truly halcyon days.
But it wasn't all pleasant. The drive from the Good Humor base in Newark to Weehawken and back was long and stressful. And the ride to Newark from my home in Montclair on my Honda 305 Super Hawk motorcycle was not without challenge. I rode to work for about an hour in the morning ending up in the bowels of Newark at 9:30 am. Then I'd get to my truck, check out my Good Humors and load up. Then I'd head out to Weehawken.
At the end of the day, say 7 or 9 pm, I'd head back to the Newark base to check in, count up my receipts, then head home at about 11 pm and to bed sometime after midnight. It was a long tiring day.
My Good Humor career was not lucrative. We Humor sales folk had to buy all we carried on the truck. So we had to account for all the items we signed for at the Newark GH headquarters. Well, when I ended my career in July of 1964, I found I was something like $40 short, meaning I owed Good Humor $40 because I had not accounted for all the popsicles I had drawn.
I attribute this shortage to the excessive number of "Nickel Whammy Sticks" I gave away. Whammy Sticks were a half a double stick popsicle which a kid could buy for 5 or 10 cents. I had a lot of kids answer my GH bells with no money but wearing a cute smile on a dirty face and I'd say, "OK kid. Here's a Whammy Stick!" Apparently I did this far too often. And I probably enjoyed more than several toasted almond Good Humors for dessert during this time. This combined with my lack of math skills accounted for the money I had to pay Good Humor on my severance in late July.
The drive from the Good Humor base in Newark to Weehawken was long and stressful. So was the drive back to Newark. But the drive home on my motorcycle was the most stressful. Usually this happened around after 11 p.m. or so.
My most memorable home-bound ride on my Honda 305 Superhawk happened mid-July when I collided with a car deep in Newark, not far from the Good Humor base. Riding slowly through the city streets I heard a horn barking frantically as I approached a green light (mine) intersection at under 20 mph. A car flashed through the crossing in front of me.
I swerved left to avoid a collision but failed. My bike struck the rear quarter of the car and stopped dead… I continued flight over the trunk of the car somersaulting onto the street head first, fortunately helmeted, and found myself seated in the middle of the intersection bewildered. The car continued on with no thought of stopping until a bunch of residents taking the evening air on their stoops jumped out in the street to stop the car. The horn continued to beep.
This happened in a predominantly unsavory neighborhood at midnight and I was scared. But the cops arrived and took information, most of which I forget, but my street had the green light so I was not at fault.
But there I was in Newark at midnight with my ride broken. Just then a big black guy rode up on a huge rumbling Harley Hog sayin', "What's happenin,' Bro?" I pointed at my Honda's twisted fork in despair. He dismounted, put the front wheel of my bike between his knees, grabbed the handle bars … and wrestled the fork back into line. "There!" he said, remounted, and rode off.
My faith in human decency and brotherhood enjoyed a strong boost. I was able to ride home and shortly thereafter, threated with the draft, I quit Good Humor to join the Navy.
At the end of the month I found myself in USN Boot Camp in North Chicago, IL where I learned of the Tonkin Gulf Resolution passed on August 7, 1964. I was in for the duration and not in good humor.
David Appleton, June 2018