Montclair High School
Class Of 1960
Stories from My Past
Patsy's and the Allure of New York:
Bringing in the '60s
by David Appleton - 12-31-2018
Growing up in Montclair in the 1950s meant looking forward to the time we could drink with impunity as "grown ups." This was not a good goal, nevertheless many of us aspired to it. This was much like the appeal of drugs to our current youth, seeking oblivion or escape from the pain of adolescence. For us drinking looked like being an adult, so we emulated maturity with booze. Drinking age in New Jersey in the 50s was 21, while in New York it was 18. Montclair was situated conveniently about 17 miles from New York City and about the same distance from Greenwood Lake, New York.
Starting at about 14 many of us thought drinking to intoxication would be a good thing to do, a short course to oblivion, pain relief and/or our perception of adult behavior, a rite of passage of sorts. Some of us started raiding our parents liquor cabinets for a quick buzz or high. I did this before winter ice skating evenings on Edgemont Pond, thinking a short snort would fortify me against the cold, and loosen my inhibitions regarding talking to girls. As for the former it had the opposite effect; and I don't think it helped with the latter either. We also looked east or north to the less restrictive laws of NY State. I was in both groups, regrettably. New York City was an urban prize for aspiring drunks. Greenwood Lake offered a more rustic setting. Both were frequented with enthusiasm by me and many of my cohorts.
Patsy's, actually The Coliseum Bar and Grill situated directly across West 58th street from the Coliseum, somehow became the watering hole of choice for generations of Montclair High School imbibers. Perhaps this was because the duty barkeeper seldom asked for proof of age. I remember being taken there by some upper classmen when I was maybe 15 or 16. I was promised there would be a floor show at midnight. I was eager to see this, imagining scantily clad girls with alluring smiles and loose morals. I was disappointed. The "floor show" turned out to be a couple of smelly trash collectors dragging garbage cans filled with even more smelly contents noisily through the bar and out the front door to their truck. They were on time. It was midnight. We drank the drink of choice at Patsy's, 7&7s, to drown our disappointment.
Despite my disappointment I frequented Patsy's many times over the next couple of years. Rides back to Montclair were often scary to terrifying. I remember one such with Alan Jacobus when I found myself trembling on the floor of the back seat of his car as he meandered through the Lincoln Tunnel, bashing wall to wall at 3 am. I lay on the floor petrified, scared sober as we sped along route 3 passed the Rizzuto/Bara bowling alley. We got home somehow and I found myself miraculously unscathed but in need of another pair of shorts. I prayed giving thanks.
So as December 31, 1959 drew near a bunch of us scheduled to graduate Montclair HS next June thought, "wouldn't it be a great idea to watch the ball drop at Times Square IN Times Square?!" Alternative destinations included Patsy's and nearby Ames Billiard Parlor but we focused on Times Square and the traditional ball drop into the next decade, the '60s.
We hopped on a DeCamp bus in Upper Montclair and headed to NYC early that evening. I can't recall the entire entourage, but I know John Wharton, Bob Mills, Jack Hook and others were in attendance. We were the somewhat less desirable members of the MHS graduating class social hierarchy. But we were proud of our ability to consume liquor and beer in respectable quantities. Once in the city we found a liquor store and bought some booze, no doubt of the rotgut variety since our taste was inadequate to poor.
Proceeding to Times Square we soon found the crowd oppressive and the whole situation not to our liking. We resolved to leave. By 11 pm 12/31/1959 we worked our way back to Port Authority Bus Terminal and boarded the next DeCamp 66 bound for Montclair. As the '60s rolled in on the East Coast of the United States and New Jersey, we celebrated in the back of that DeCamp bus, while crossing the fragrant meadows of Secaucus, swilling communally from bottles of rotgut whiskey and behaving badly.
Once home in Montclair Hook offered his mom's apartment as a place to continue the party. His mom was gone for the Holidays so the venue was available free of parental restraint. We staggered there and spent the rest of the night drinking boastfully …. and barfing furiously, then resolving never again to pursue such destructive behavior. These resolutions were not honored.
That Friday morning, 1/1/1960, we found ourselves severely hung-over, seeking remedies, finding none. Thus began for me, perhaps for many of us, the most tempestuous decade of our lives, the '60s. Was there a message, a meaning in this event? …. I wonder.
David Appleton
12/31/2018
David Appleton's story of how he became a Good Humor Man.
David first posted this story on Facebook's "Growin' Up in Montclair" site. It is a closed Group which you can join by going to:
https://www.facebook.com/search/str/growin'+up+in+montclair+nj/keywords_search
David says, "This is a great place for us codgers to browse and reminisce."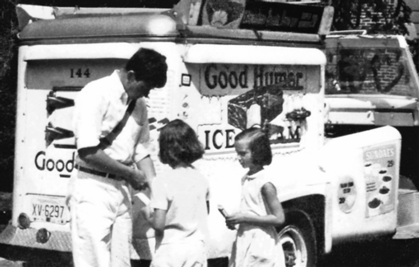 Good Humor Man Career, May to July 1964
by David Appleton
My Good Humor Man Career was short but it provided some enjoyable and/or memorable mini adventures.
I was inspired to become a Good Humor man by Horace, a black fellow from Newark, NJ who drove a Good Humor route in Montclair, NJ. He drove one of those classic Ford trucks with a four-speed stick transmission that made a lot of gear grinding noise going down the street, especially in first gear.
There was no roof over the cab of these white trucks which featured a large freezer on the back with two refrigerator-like doors, one in the back and one on the right side. We filled this cold box with various Good Humor popsicles and ice cream treats. As a kid, I loved Good Humor …. toasted almond was my favorite. I remember Horace visiting Woodman Field after football practice 1957-60 when I pretended to play both offensive defensive end and sometimes linebacker for Montclair High School. Mostly I warmed the bench. I devoured toasted almond ice cream popsicles on my walk home from practice.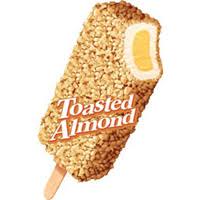 These Good Humor trucks also featured a set of bells on the front which the driver would ring with a rope lead to the driver position. These bells provoked a Pavlovian response from neighborhood kids as Horace cruised by slowly, bells a-ringing, stopping at regular spots so the kids could purchase Horace's GH treats. Kids flocked to the street like ducks chasing bread crumbs on Edgemont Pond!
Horace became something of a local hero in Montclair. He often visited Zeevalk's Sunoco on Valley Road in Upper Montclair, about a half block down the street from Bond's famous ice cream parlor. He'd come in, bells a-ringing, about 7:00 or 7:30 on spring and summer evenings in '60 through '64. I often would be working the pumps at Zeevalk's when Horace stopped by. I worked there evenings for a couple of years. And usually we had a bunch of my friends or other Zeevalk aficionados hanging around working on their cars and tellin' lies. We occasionally bought a popsicle but we were more interested in the freezer on the back his truck.
Since Horace was in his twenties, and he could legally buy beer and other goodies in New Jersey, we enlisted his aid. We (all 18 or less seeking suds) recruited him, giving him some money, enough for a case of beer or two plus an extra few bucks for a "runner" fee. Horace would drive off to the nearby liquor store, buy our order and return with this contraband cooling in his freezer which we denizens of Zeevalk's promptly transferred to the soda vending machine. This routine was limited to Friday nights and weekends mostly.
This went on for several years. Horace was exceptionally reliable, and well rewarded. I left college in June 1961 and worked at Zeevalk's on and off from then through July 1964 part time, mostly evenings and weekends. During Fall '61 I worked for Union Carbide in New York during the day. And at night I got off the 66 DeCamp bus in Upper Montclair near Zeevalk's at about 6:00 and ran down Valley Road exchanging my white shirt and tie for a Sunoco shirt to work the evening shift at Zeevalk's pumps until about 10 pm. Horace was always a welcome visitor during the summer months.
In January of '62, I had enrolled in college again locally but still worked at Zeevalk's to help pay tuition while living at home. I bought a '49 Willy's Jeep and plowed snow to augment my income. But my 2nd attempt at college did not work out well. I was asked to leave after spring semester of '64 due to academic underperformance.
At this point, I was at 6's and 7's not knowing what to do next. I thought of Horace.
So I asked Horace about becoming a Good Humor man and he gave me some advice, which I followed. I went to the Newark office on my '63 Honda 305 SuperHawk motorcycle and filled out the application. And in May of 1964, I became a Good Humor driver/vender, shortly after being asked to terminate my college career by the Administration. I went through the training and soon had my own classic Good Humor truck and route.
Actually I had several routes, mostly in Weehawken and Jersey City. I liked the Jersey City route best because it was the most lucrative. But mostly I was assigned to the Weehawken territory, which covered some of West New York as well. This soon became My Route on the Palisades overlooking the Hudson.
While Weehawken didn't pay as well as Jersey City (which actually belonged to a GH perennial, Jake, who lived in Florida during the winter but returned to Newark every year for the Good Humor Season) I was just a sub for his days off. So I settled for Weehawken which offered Hamilton Park (named for Alexander Hamilton and the famous duel) on the NJ Palisades directly above the Lincoln Tunnel. What a marvelous view of the Hudson River and New York City this site offered. This was a great place to park my truck and enjoy the view while peddling my wares.
I spent most of my time in Weehawken stationed in or near this park, high on the Palisades over the river. I loved the view of the New York Harbor and enjoyed working the park every day. I watched the ships come and go, even seeing the Queen Mary arrive and dock and depart. I have always been enamored of the sea and the vessels that sail thereon. Watching these ships stirred my soul.
On the weekend celebration of the 4th of July in 1964, I watched the annual arrival of the US Navy ships for Fleet Week. This spectacle was really impressive; the USS Forrestal (?), a couple of cruisers and a bunch of destroyers arrived and docked. I was stirred. I determined to join the Navy which I did 7/27/1964. But that's another story.
Often in Weehawkin I'd do the Horace trick and stop by a liquor store to pick up a six pack of Bud or Schaefer and a sub for lunch and throw them in the fridge of my truck and enjoy a nice lunch and brew in the park while contemplating the NYC skyline. Looking back, these seem truly halcyon days.
But it wasn't all pleasant. The drive from the Good Humor base in Newark to Weehawken and back was long and stressful. And the ride to Newark from my home in Montclair on my Honda 305 Super Hawk motorcycle was not without challenge. I rode to work for about an hour in the morning ending up in the bowels of Newark at 9:30 am. Then I'd get to my truck, check out my Good Humors and load up. Then I'd head out to Weehawken.
At the end of the day, say 7 or 9 pm, I'd head back to the Newark base to check in, count up my receipts, then head home at about 11 pm and to bed sometime after midnight. It was a long tiring day.
My Good Humor career was not lucrative. We Humor sales folk had to buy all we carried on the truck. So we had to account for all the items we signed for at the Newark GH headquarters. Well, when I ended my career in July of 1964, I found I was something like $40 short, meaning I owed Good Humor $40 because I had not accounted for all the popsicles I had drawn.
I attribute this shortage to the excessive number of "Nickel Whammy Sticks" I gave away. Whammy Sticks were a half a double stick popsicle which a kid could buy for 5 or 10 cents. I had a lot of kids answer my GH bells with no money but wearing a cute smile on a dirty face and I'd say, "OK kid. Here's a Whammy Stick!" Apparently I did this far too often. And I probably enjoyed more than several toasted almond Good Humors for dessert during this time. This combined with my lack of math skills accounted for the money I had to pay Good Humor on my severance in late July.
The drive from the Good Humor base in Newark to Weehawken was long and stressful. So was the drive back to Newark. But the drive home on my motorcycle was the most stressful. Usually this happened around after 11 p.m. or so.
My most memorable home-bound ride on my Honda 305 Superhawk happened mid-July when I collided with a car deep in Newark, not far from the Good Humor base. Riding slowly through the city streets I heard a horn barking frantically as I approached a green light (mine) intersection at under 20 mph. A car flashed through the crossing in front of me.
I swerved left to avoid a collision but failed. My bike struck the rear quarter of the car and stopped dead… I continued flight over the trunk of the car somersaulting onto the street head first, fortunately helmeted, and found myself seated in the middle of the intersection bewildered. The car continued on with no thought of stopping until a bunch of residents taking the evening air on their stoops jumped out in the street to stop the car. The horn continued to beep.
This happened in a predominantly unsavory neighborhood at midnight and I was scared. But the cops arrived and took information, most of which I forget, but my street had the green light so I was not at fault.
But there I was in Newark at midnight with my ride broken. Just then a big black guy rode up on a huge rumbling Harley Hog sayin', "What's happenin,' Bro?" I pointed at my Honda's twisted fork in despair. He dismounted, put the front wheel of my bike between his knees, grabbed the handle bars … and wrestled the fork back into line. "There!" he said, remounted, and rode off.
My faith in human decency and brotherhood enjoyed a strong boost. I was able to ride home and shortly thereafter, threated with the draft, I quit Good Humor to join the Navy.
At the end of the month I found myself in USN Boot Camp in North Chicago, IL where I learned of the Tonkin Gulf Resolution passed on August 7, 1964. I was in for the duration and not in good humor.
David Appleton, June 2018